Minneapolis-based entrepreneur Houston White has completed a brick-and-mortar expansion into specialty coffee with the opening of The Get Down Coffee Co..
The 1,100-square-foot coffee shop in North Minneapolis is co-branded with Houston White Apparel & Accessories, a clothing company committed to "Black excellence."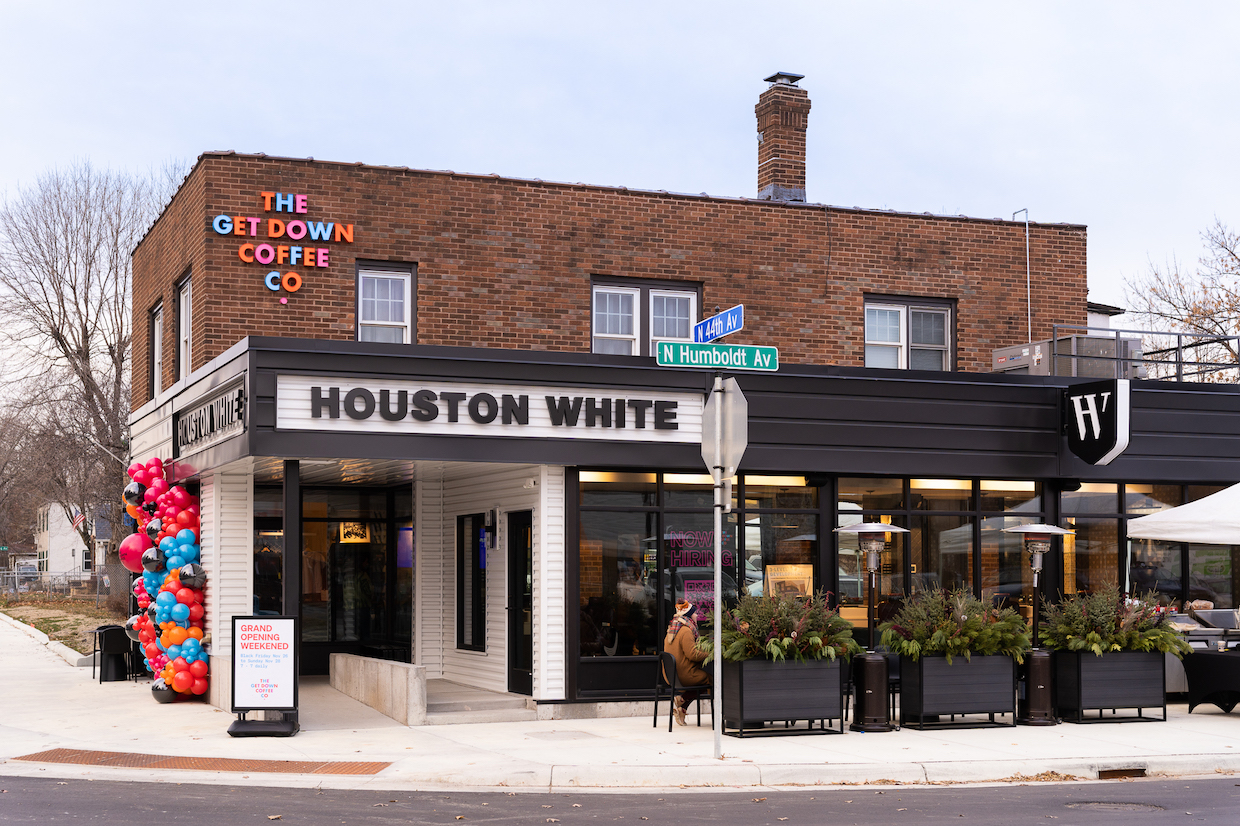 Since a grand opening that took place last month on Black Friday, The Get Down baristas have been connecting with the community over a counter equipped with a 2-group Modbar espresso system paired with grinders made by Mazzer and an ever-present backdrop of hip-hop coming through speakers, screens and works of art around the space.
A Curtis batch brewer generates quick cups of drip while a manual pourover program involving Fellow Stagg drippers offers customers a more detailed approach to the beans roasted by The Get Down Director of Coffee CJ Porter Born.
"The mission is to bring coffee and culture together, using everything from our cafe space to our music to our drink names to achieve that goal," Born told Daily Coffee News.
Get Down Coffee Owner Houston White told DCN that the new brand is guided by an "Afro-futurist" vision combining music, coffee, community and couture.
---
Related Reading
---
A selection of limited-edition and small-run Houston White clothing and accessories live on racks at the front of the shop. Works from Bronx-based street photographer Joe Conzo hang on the shop's walls and live on The Get Down's coffee bags. Various eras of hip-hop are represented in the music played all day, and on one wall a custom tile mural created by Mercury Mosaics honors White's late wife.
Said White, "We want there to always be a nod to the past, while also being the urban coffee shop of the future."
The seed for Get Down Coffee was planted by a collaboration between White and Dogwood Coffee Co. Owner Dan Anderson in 2019, as the two came together for the Mixtape series of roasted blends that were sold online and at Houston White's Men's Room (HWMR) barber shop.
"I called a number of different roasters here in town, and Dan was the only person that returned my call," White told Daily Coffee News of how the friendship started roughly four years ago. "He invited me to the roastery and spent time teaching me a tiny bit of what he knows about coffee, and I was hooked. We bonded over music and became friends, then I started serving Dogwood drip coffee at my barbershop (HWMR) and before we knew it, that became the hangout spot."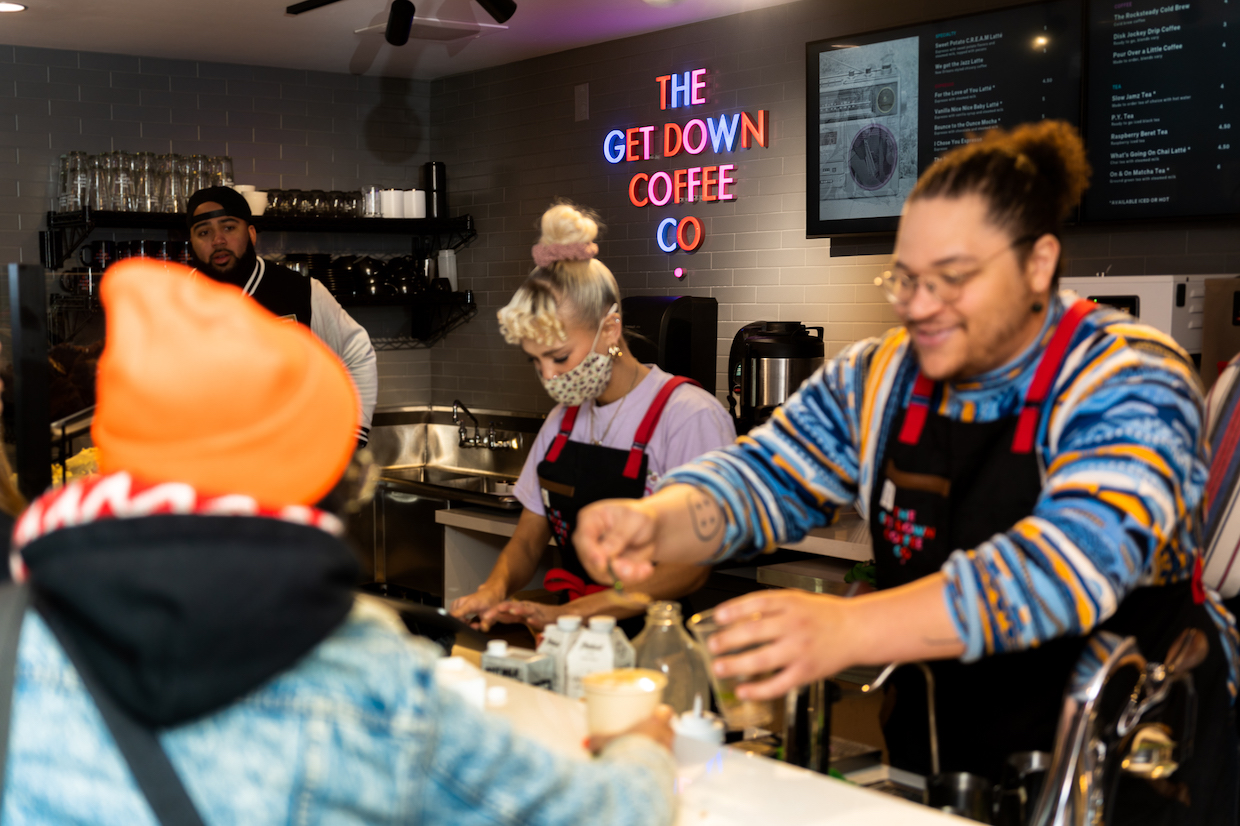 Encouraged by how well the coffee played at HWMR, White launched an IndieGoGo campaign last year to support the creation of a standalone coffee brand and retail shop. An array of colorful vinyl records on one wall of The Get Down features the names of key backers of that campaign, which raised roughly $42,000 in support of the project.
"[The campaign] was a great proof of concept that the community supported and wanted this business in the neighborhood," said White. "Most of those donations were less than $50, but with broad support from the community, all those backers can have a huge impact."
The collaboration with Dogwood continues today as Born roasts on Dogwood's 30-kilo-capacity Mill City Roasters machine in the Dogwood Coffee roastery. From there, The Get Down coffees make their way to the cafe or direct to consumers, as well as to 42 Target store locations throughout the Minneapolis area.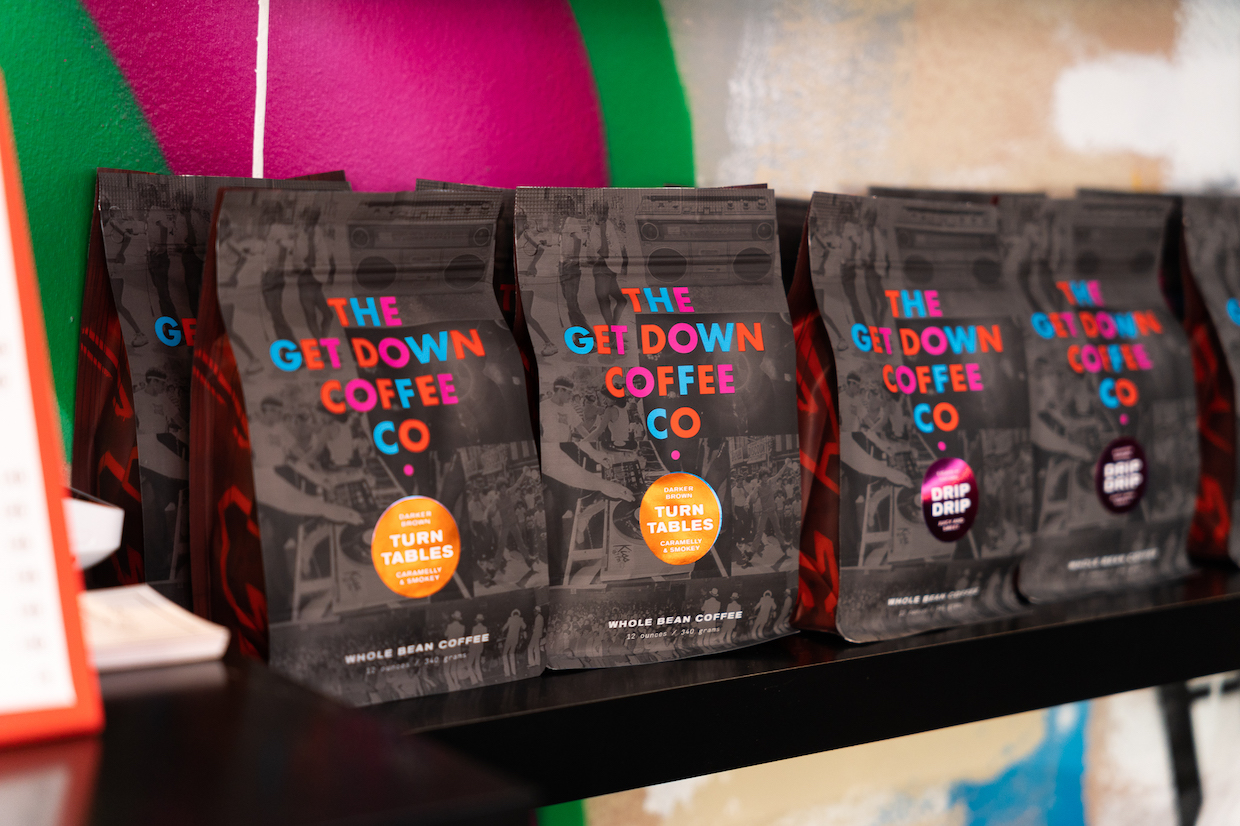 "We launched there in August 2021 and the performance has been excellent, said White. "Consumers are voting with their dollars and it's cool to finally see the groundswell of support for Black-owned businesses. With Minneapolis being ground zero for much of that energy after the murder of George Floyd, it makes sense that consumers locally are in tune to that."
Plans call for a dedicated The Get Down roastery to open in the first quarter of 2022, at which time the company will seek additional growth in its wholesale roasting program.
---
The Get Down Coffee Co. is located at 1500 N 44th Ave in Minneapolis. Tell us about your new coffee shop or roastery here.
Howard Bryman
Howard Bryman is the associate editor of Daily Coffee News by Roast Magazine. He is based in Portland, Oregon.