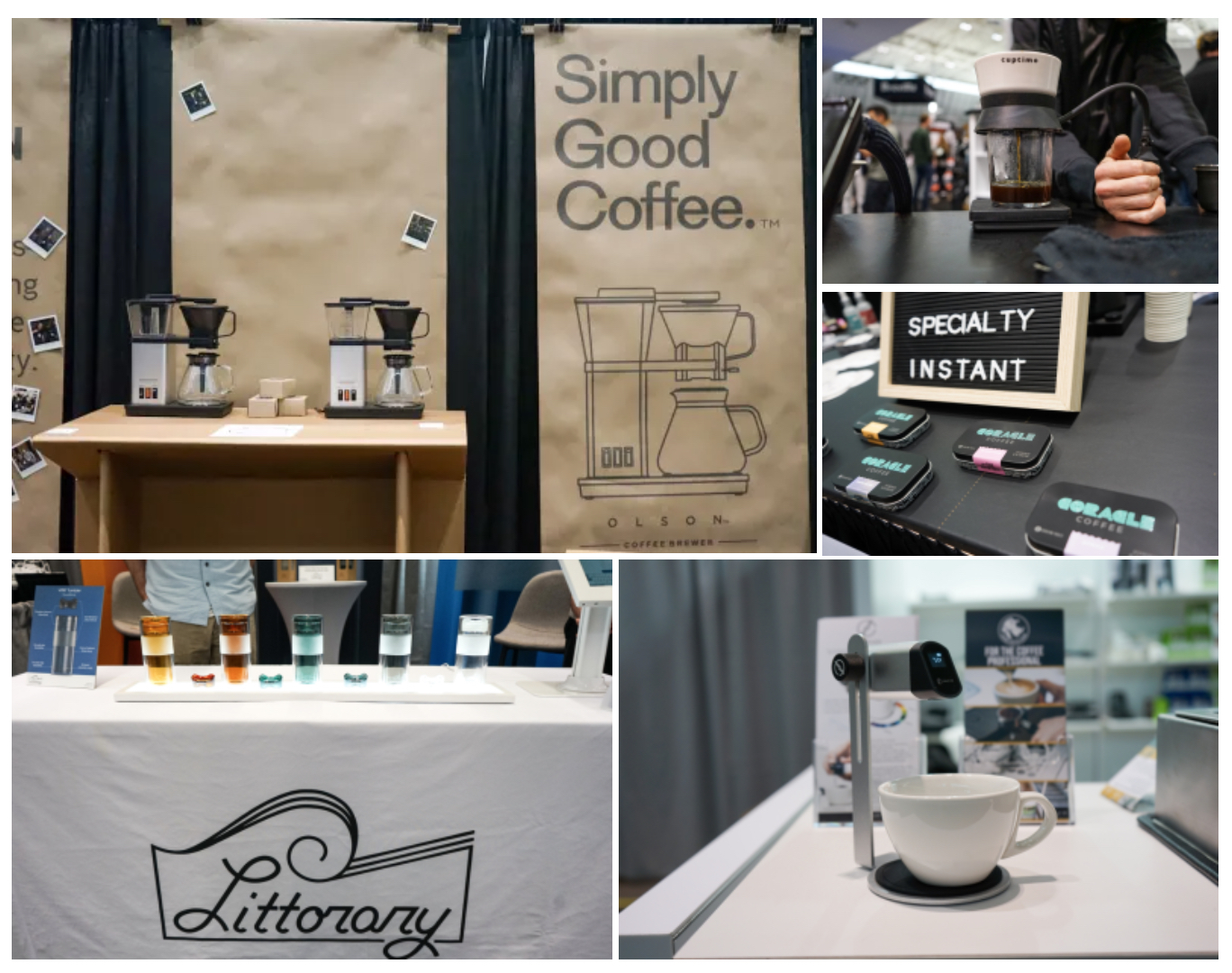 Part one of our three-part review of new product releases at this month's Specialty Coffee Expo in Boston focused on several highly anticipated releases in roasting and brewing equipment. Part two ventured even further, offering some of the first looks at brand new and forthcoming products in the United States.
Today's part three explores a number of coffee accessories and some interesting startup brands that made their public debut at the show.
(See DCN's complete 2022 SCA Expo coverage here.)
Littorary Vitri Tumbler
New Hampshire-based startup Littorary showed off its clear, flame-polished Vitri Tumbler, which features a grippy texture on the outside and a secure sip-through lid while remaining composed entirely of pure borosilicate glass.
The exterior grip as well as the grip on the lid are achieved through sandblasting, while the clingy interior "precision seal" texture holding the lid in place is created through grinding the glass. Littorary Founder Patrick McCluskey told DCN that pre-orders being accepted now for an initial production run.
Radik Labs BoseTamper
Startup Radik Labs presented the final beta version of its Boston Electronic Tamper, or BoseTamper. The portable, battery-operated auto-tamper features adjustable tamping depth and wireless recharging. An optical sensor detects when the ears of a portafilter are fully threaded into channels on the bottom sides of the tamper, at which point the device essentially hugs the basket with a quick tamping action from a 58.5-millimeter stainless steel flat tamper head.
Coracle Coffee
Tyler Duncan, formerly of Topeka Coffee, founded instant coffee company Coracle Coffee in 2019. At a table situated between the Roasters Villages and coffee competitions at the SCA Expo last week, Duncan presented the full line of Coracle Coffee products, which includes coffees labeled as Americas, Africa, Asia Pacific, and Blendytown — a combination of all three of the others. Each serving of instant coffee comes sealed in a cellulose gum-based dissolving paper pouch. The user drops the whole thing into hot water and stirs.
Nucleus Compass
Nucleus Coffee Tools is a brand of coffee-focused accessories launched by 2015 World Barista Champion and Ona Coffee Founder Sasa Sestic last year. The Compass, which launched in Australia two months ago and was displayed at the SCA Expo in Boston by distribution company Rhino Coffee Gear, is a device assisting baristas in monitoring the temperature of beverages as they cool, without the untidiness or questionable hygiene of contact with a physical probe.
Simply Good Coffee
A fresh business concept from coffee industry veteran Laura Sommers has culminated in the launch of Simply Good Coffee. With an inaugural electric home brewer model called the Olson, the business offers a unique model: Coffee retailers can display the machine to home users within their shops, then receive commissions for each unit sold. Meanwhile, Simply Good handles all the backend sales, logistics and service. Stay tuned to DCN for more on this.
Cuptimo
Displayed by startup distribution company Functional Accessories, the Cuptimo brewer combines immersion and vacuum brewing principles within a fully manually operated system. Capable of accommodating a range of grind sizes and coffee/water ratios, the Cuptimo involves a paper filter through which the finished brew is drawn by vacuum force, resulting in cup clarity. Stay tuned for more from DCN.