A new line of cups that are made both for and of coffee is forthcoming, courtesy of a Florida startup with Colombian roots called Coffee Kreis.
The Kreis cups are made of a durable composite material, approximately 30% of which is derived from spent coffee grounds.
Moving forward, Coffee Kreis aims to collect as much spent ground coffee as possible from restaurants, hotels and coffee shops in order to prevent material from entering the waste stream, while instead using it to produce something new and long-lasting.
A Kickstarter campaign to support Kreis cup production has raised more than $11,400 with just over two weeks to go.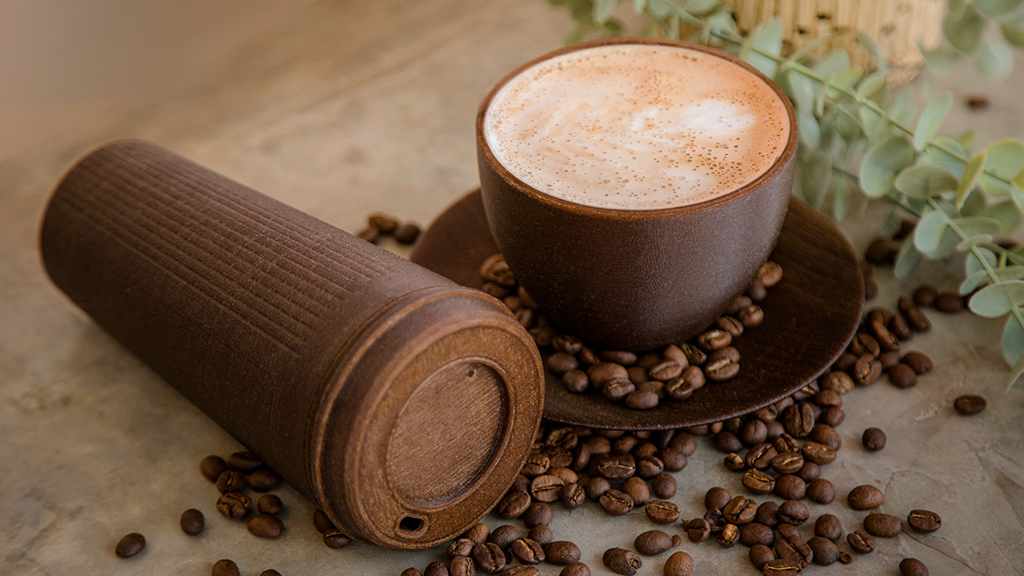 The initial products in the line will include the 14-ounce Kreis Travel Cup, featuring a dual-walled construction and lid, and a 12-ounce latte cup with saucer. Both products are naturally coffee-scented, according to the company.
"We have partnered with several coffee shops that will be ready to provide the spent coffee grounds once we start production," Coffee Kreis Co-Founder and Co-CEO Ricardo Garcia told Daily Coffee News. "We utilize PLA from renewable sources combined with a reinforcement agent, a compatibilizer, lubricant and anti-oxidants. All of the materials used come from renewable/organic sources, free of petroleum-based plastics."
The cups are designed to be sturdy, lightweight and safe for dishwasher use.
---
Related Reading
---
Garcia, an IT consultant who has specialized in analytics and process improvement, co-founded the company earlier this year with industrial engineer Daniela Insignares. Coffee grounds collection and manufacturing currently take place in Colombia, while an LLC is registered for the company in Fort Lauderdale, Florida.
"We both have prior founder experience in startups/ecommerce businesses," said Garcia. "[We] share a passion for coffee due to our Colombian origin, which led us to embark on this journey."
Coffee Kreis joins a growing list of companies seeking to upcycle organic waste discarded at different stages of coffee's journey from tree to cup.
Berlin-based Kaffeeform also makes cups and other products out of a spent coffee-based material, though the specific materials and styles differ from those used by Kreis.
Incorporating coffee husks discarded by coffee farms during post-harvest processing, Australian company Huskee makes cups durable enough for cup-sharing programs at retail cafes.
Another Colombian company called Woodpecker makes coffee parchment-based construction materials. Further repurposing of coffee waste has come by way of North Dakota-based filament maker C2Renew, which has made coffee-based 3D printer filament, and Finnish footwear company Rens, which has combined coffee with plastic for the construction of sneakers.
And yet while coffee grounds, husks and other organic materials are easily compostable by themselves, none of the existing cups or other products made from coffee-based composites are.
However, Garcia said Kreis Cups can be composted through certain industrial means. Like its fellow cup makers, Coffee Kreis also prioritizes durability for long-term use.
"The Kreis Cup is designed to last around 10 years," said Garcia. "At the end of the cup's life, or if at any given point someone wants to return their used cups, the Kreis Way program will receive used cups and reprocess them into new ones, diverting them from going to the landfill."
Retail pre-orders are expected to launch through the company's website next month, with pricing at $25.99 for the Kreis Travel Cup, $14.99 for the Kreis Latte Cup and $5.99 for the saucer.
A 3-ounce Espresso Cup and 6-ounce Cappuccino Cup will also be introduced later this year. Products are expected to begin shipping to customers in January 2023.
---
Does your coffee business have news to share? Let DCN's editors know here. 
Howard Bryman
Howard Bryman is the associate editor of Daily Coffee News by Roast Magazine. He is based in Portland, Oregon.