Evoke Coffee Company has expanded from its strictly mobile setup to create one of the first Black-owned brick-and-mortar specialty coffee spots in Charlotte, North Carolina.
Evoke Coffee Founder Joe Keenan is taking advantage of a spacious 1,800-square-foot central Charlotte location to go beyond the traditional coffee shop model, offering mobile setups and configurations for community events and conversations, including an ongoing series called "Coffee After Dark."
The space is currently open to the public during the day on Friday through Sunday, and is available for larger events requiring bookings and reservations.
"It's important to me to not only serve high-quality specialty drinks but to build connections with the people who I interact with daily," Keenan told DCN. "For me, every major conversation, good or bad, revolved around sitting down with a cup of coffee. I want to continue creating those moments for other business owners and individuals who come to Evoke."
To fuel the conversation, the shop offers a traditional menu of espresso drinks and cold coffees with optional housemade syrups such as blueberry cinnamon, caramel, mocha, bourbon maple and vanilla.
The core espresso blend comes from the Arkansas-based Leiva's Coffee, which sources beans directly from its family-owned farm in Guatemala before roasting in Little Rock. Charlotte-based roasting outfit Enderly Coffee supplies the remainder of the shop's beans for other preparations.
A La Marzocco Linea AV espresso machine is supported by a Eureka Atom 75 espresso grinder on the mobile bar that helped build Evoke's business. The bar remains truly mobile, both for in-shop service and for pop-ups elsewhere.
"It's deeper than coffee at Evoke," Keenan said of the multifaceted space. "This shop is for people to come and enjoy a relaxed, inclusive environment, where they can either work or play."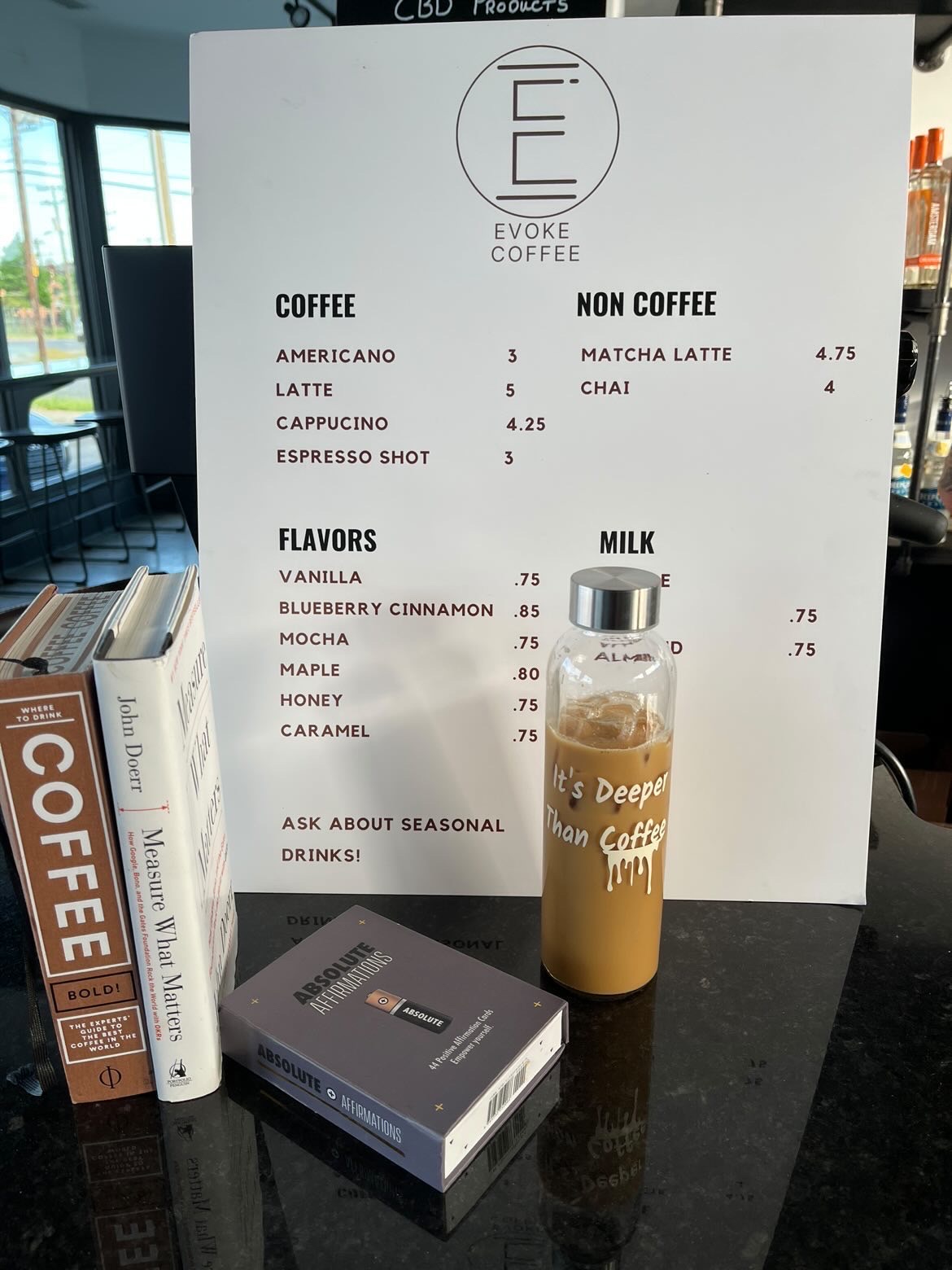 Inside, the Evoke space features modern decor of high-top tables and chairs, a pool table and murals from resident artists like Alex Duncan, a.k.a. DUNC.
Two garage doors open up to pour in sunlight while leading to an outside area with three small tables and two cabanas.
A corporate executive for a private real estate firm in Charlotte, Keenan acquired his coffee knowledge largely through self-education and endless questions to coffee businesses as a consumer.
"I was genuinely curious about how coffee was made because I had only ever had Starbucks before I moved to Morehead in 2016," Keenan said. "Each time I went into a different shop, I would build a rapport. What started out with an order, always ended with me picking a barista or owner's brain on how this coffee thing worked."
Keenan is continuing to develop coffee knowledge and recipes, including his most recent creation, the Southern Gentlemen cortado, made with an Enderly blend that combines bourbon and maple with caramel and oat milk.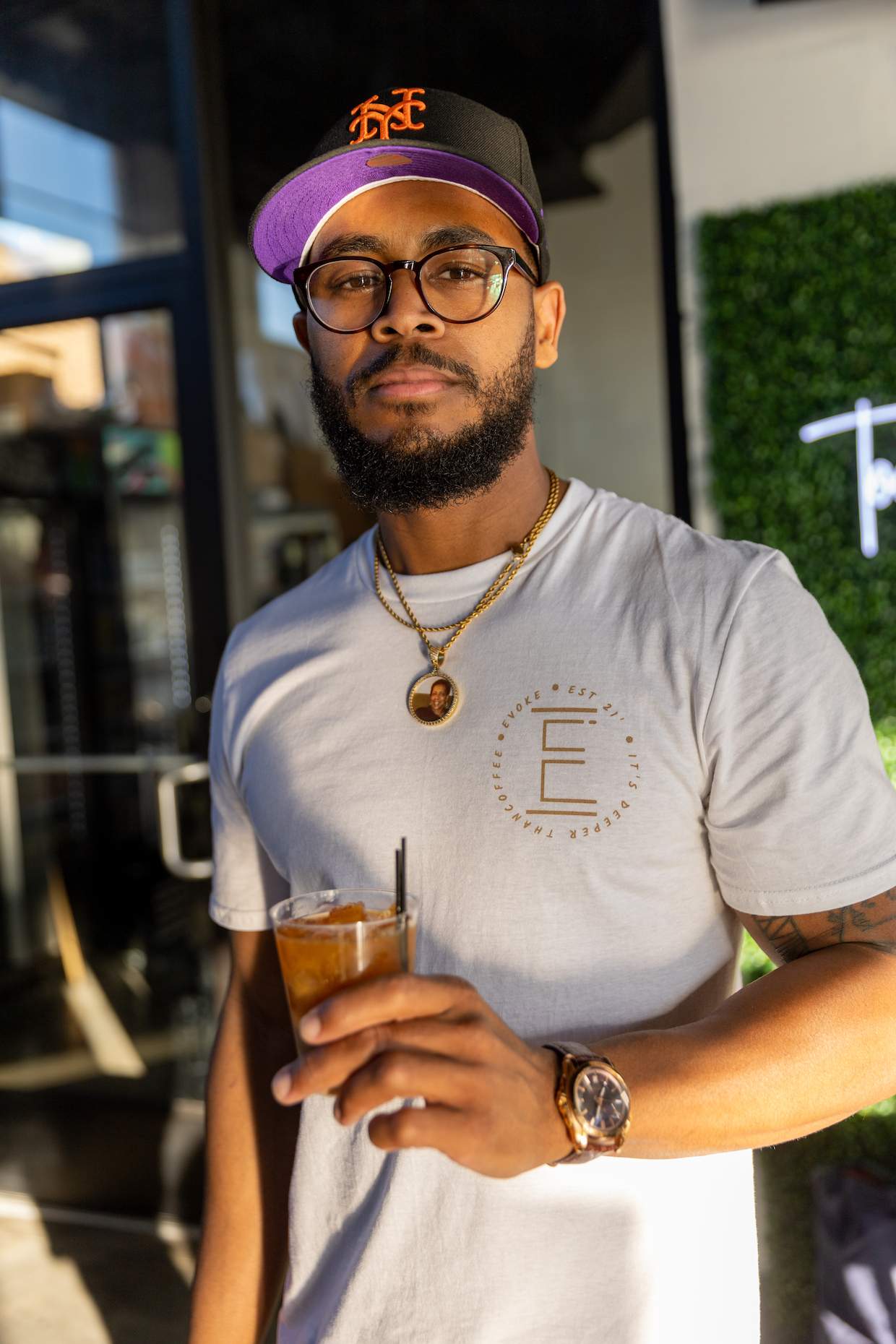 Said Keenan, "My favorite parts about being a coffee owner [are] creating new flavors, enjoying those first-time experiences from my customers and being an advocate for good community."
---
Evoke Coffee is located at 750 W Morehead St in Charlotte, NC. Tell DCN's editors about your new coffee shop or roastery here.
Shavantay Minnis
Shavantay Minnis is a writer based in sunny South Florida. She enjoys nature, giving back to the community and her sugar with a side of coffee.