Welcome to DCN's Weekly Coffee News. Keep up with all the latest coffee industry stories and career opportunities by subscribing to DCN's newsletter. Tell our editors about your news here.
Toper Factory Hosts Turkish National Roasting Championship
Roasting professionals from throughout Turkey convened last week at the factory of roaster manufacturer Toper for the 2023 National Coffee Roasting Competition, co-organized by SCA Turkey. The four-day competition included green coffee grading skills, sample roasting and roasting plan evaluation. Parsa Abedini won the competition, followed by Orkun Üstel and Alireza Razzaghzadeh.
Atlanta Woman Receives $3 Million in Dunkin' Spilled Coffee Suit
A 70-year-old unnamed Atlanta woman reached a $3 million settlement with retail coffee giant Dunkin' after she allegedly suffered third-degree burns from coffee that spilled on her during a drive-through visit.
Keurig Dr Pepper Investing $100 Million in South Carolina Factory
Coffee capsule and beverage maker Keurig Dr Pepper is investing $100 million more into a Spartanburg, South Carolina, production facility. The investment is on top of $380 million that the company invested beginning in 2018.
Bettr Group Boosted by $1.4 million through Heritas Capital Asia Fund
Singapore-based specialty coffee company Bettr Group, led by incoming Specialty Coffee Association Board President Pamela Chng, has received an approximately $1.45 million investment from Heritas Capital's Asia Impact First Fund.
Bio-Tech Firm Amatera Raises $1.58 Million for Coffee Breeding
Paris-based biotech firm Amatera has raised approximately $1.5 million in a pre-seed round led by Finnish coffee giant Paulig's venture arm, PINC. Amatera said the funds will advance its non-GMO coffee-breeding activities, according to a Tech.eu report.
San Francisco Coffee Festival Coming Next Month
The San Francisco Coffee Festival is returning to the Festival Pavilion at the Fort Mason Center for Arts & Culture on Nov. 11-12. Standard and VIP ticket packages are currently available for the consumer-focused coffee show.
Robert McKeon Aloe Kickstarts New Book on Espresso
Espresso enthusiast and coffee author Robert McKeon Aloe launched a Kickstarter campaign to support production of his new book, Advanced Espresso: Elements of Coffee. As of this writing, the campaign had generated more than $12,000. Read DCN's recent interview with Aloe here.
Hawaii Coffee Association Hosts Leaf Rust Webinar Series
The Hawaii Coffee Association is in the middle of a series of expert-led webinars exploring coffee leaf rust disease and mitigation. The next webinar, titled "Controlling CLR: From the Lab to the Field with Lisa Keith" is scheduled for Nov. 9. The date for the third webinar in the series is TBD. By June 2021, coffee leaf rust was discovered on all of Hawaii's major islands.
Private Survey Finds Support for Ban on Plastic Cups
A survey commissioned by Dutch compostable to-go cup maker Jungle Cup found that 79% of Germans support a ban on plastics in coffee cups. The poll of 2,000 adults also found that nearly half of respondents were not aware that paper cups typically contain a thin plastic lining.
Perc Coffee Boasts of Making 'Best Dark Roast Ever'
Georgia-based specialty coffee company Perc Coffee recently launched Darrrk (styled as "DARRRK"), which the company brazenly describes as "the best dark roast ever." The coffee behind the roast is a natural-process Ethiopian coffee from the Sasaba mill.
New from CoffeeIndustryJobs.com
In Case You Missed It
Here are some of DCN's top stories from the past week…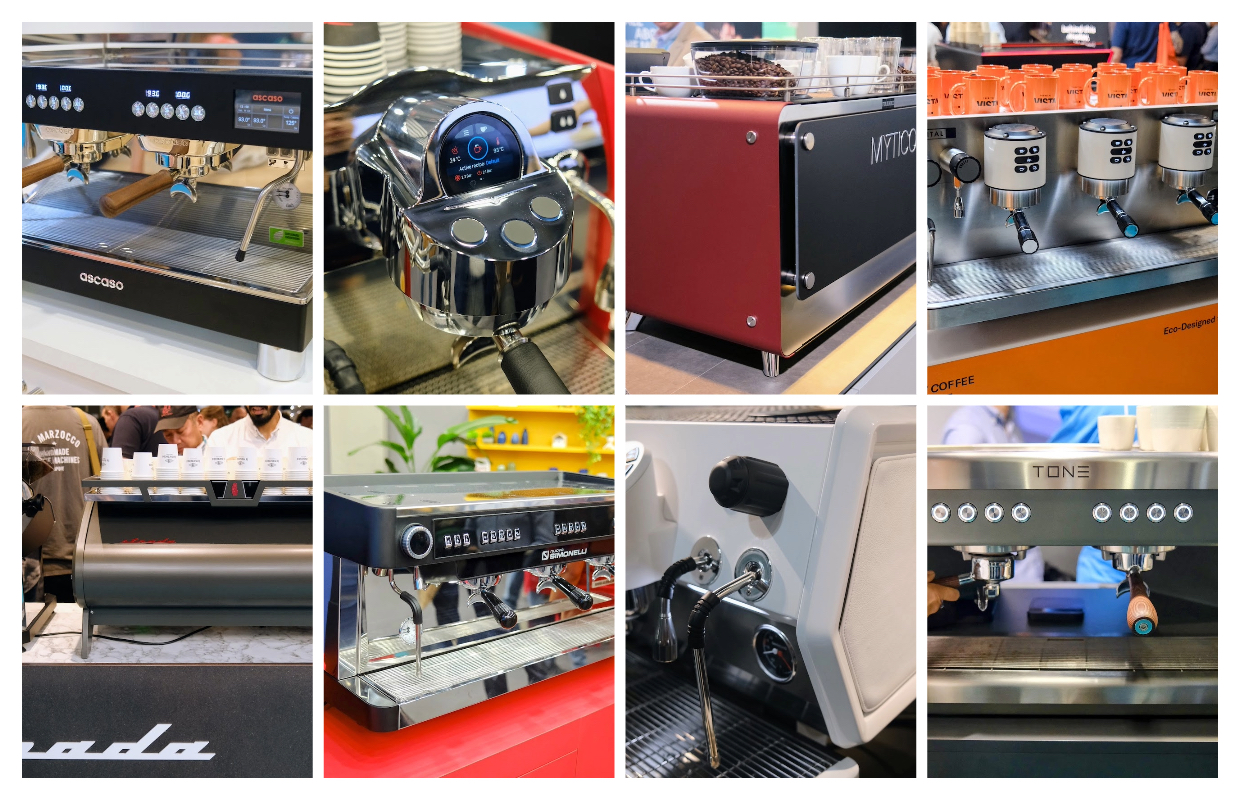 Eight New Commercial Espresso Machines from HostMilano 2023
The 2023 version of the HostMilano trade show last week in Italy presented a sea of glimmering new coffee-making equipment… read more
Eight New Commercial Grinders at HostMilano 2023
Thousands of coffee professionals descended upon Milan, Italy, earlier this month for the 2023 incarnation of the HostMilano trade show and expo… read more
NCA Economic Impact Report: US Consumers Spend $301 Million Per Day on Coffee
Consumers in the United States spent nearly $110 billion on coffee and related goods in 2022, which breaks down to approximately $301 million per day, according to a new economic impact report commissioned by the U.S. National Coffee Association (NCA)… read more
Led by Big Chains, US Coffee Shop Market Surpasses 40,000 Stores
The value of the United States coffee shop market grew 8% to $49.5 billion over the past year, resulting in a 4% increase in the market's pre-pandemic value, according to the newly released Project Café USA 2024… read more
Study: Coffee Consumption Associated with Reduced Frailty Later in Life
Adults who regularly drink coffee in their midlife adult years may have significantly reduced physical frailty later in life, according to a new study involving 12,000 participants… read more
La Marzocco Launches Next-Generation Strada X and S Machines
Italian espresso equipment company La Marzocco revealed the latest models in its Strada line of commercial espresso machines, the Strada X and Strada S… read more
1st Line and Torre Introduce Machine with Adjustable Steam Boiler Capacity
High-end coffee equipment retailer 1st Line Equipment recently launched the Torre Peppina EVO Premium, a dual-boiler espresso machine that grants baristas control over the steam and water capacity of the steam boiler… read more