Welcome to DCN's Weekly Coffee News. Keep up with all the latest coffee industry stories and career opportunities by subscribing to DCN's newsletter. Tell our editors about your news here.
Report: Certified Arabica Stocks Reach 24-Year Low
A report this week from Reuters said that the amount of arabica coffee at Intercontinental Exchange (ICE) certified warehouses recently fell to its lowest level in 24 years. The report notes that such low certified stocks typically indicate that market prices of physical stocks of green coffee are actually higher than futures contract prices through the ICE commodities market (a.k.a. the "C price"). As of this writing, the base price for ICE arabica futures was $1.654 per pound for December contracts.
Cafe Imports Achieves B Corp Certification
Approximately 30 years after buying its first green coffees, Minneapolis-based specialty coffee importing company Cafe Imports announced this week that it achieved B Corp status. "We can say, without question, that we are a better company due to the work done to achieve this certification, which is far more important than bearing the cute little B logo," the company announced on its blog this week.
France's Ecotone Opens $10.6 Million Organic Coffee Production Facility
Lyon, France-based packaged foods manufacturer Ecotone has opened a production facility called Caféière, which the company says is the largest 100% organic coffee factory in Europe. The company said the $10.6 million project responds to growing demand for certified drinks and coffee products.
Newly Unionized Coffee By Design Closes Original Coffee Shop
Portland, Maine-based Coffee by Design, which last week announced its industry-unprecedented decision to voluntarily recognize an employee union, days later announced it was permanently closing one of its three retail locations. The shuttering shop is the original Congress St. location, which opened in 1994.
Olga Cuéllar Gomez Raises Funds in Cancer Recovery
Coffee professional Olga L. Cuéllar Gomez, the founder of Colombia-based Promising Crops, has launched a fundraising campaign following a cancer diagnosis and treatment this past summer. Currently self-employed, Gomez has been a champion of coffee producers throughout her coffee career, which has included prominent positions at Sustainable Harvest Coffee Importers and S&D Coffee and Tea.
Ratio Kickstarts the Ratio Four Coffee Brewer
Portland, Oregon-based home coffee equipment maker Ratio Coffee has launched a Kickstarter campaign to support the continued development of its forthcoming Ratio Four coffee brewer. The campaign had raised more than $33,000, as of this writing. See DCN's initial report on the Ratio Four platform.
The Coffee Deck Shows its Cards on Kickstarter
Graphic designer Ben Barrett-Forrest has launched a Kickstarter campaign to support the publication of a deck of playing cards called The Coffee Deck. The deck is designed in part to inform and inspire home coffee drinkers.
New Rules Changes for 2024 World Barista Championship
The Specialty Coffee Association's World Coffee Events division has released several minor rules changes taking effect with the forthcoming World Barista Championship in Busan, South Korea. The changes are focused on minor language clarifications to current practices around judging, conflicts of interest and the milk beverage.
SCA Accepting Booth Orders for 2024 Chicago Expo
The Specialty Coffee Association announced it is accepting booth sign-ups for its upcoming 2024 Specialty Coffee Expo in Chicago, taking place April 12-14.
Oatly Lands Supply Deal for 275 European Coffee Fellows Shops
Oat milk giant Oatly will now be carried at 275 European retail locations of Germany-based coffee chain Coffee Fellows, the companies announced last week. Sweden-based Oatly AB is traded on the Nasdaq market.
New from CoffeeIndustryJobs.com
In Case You Missed It
Here are some of DCN's top stories from the past week…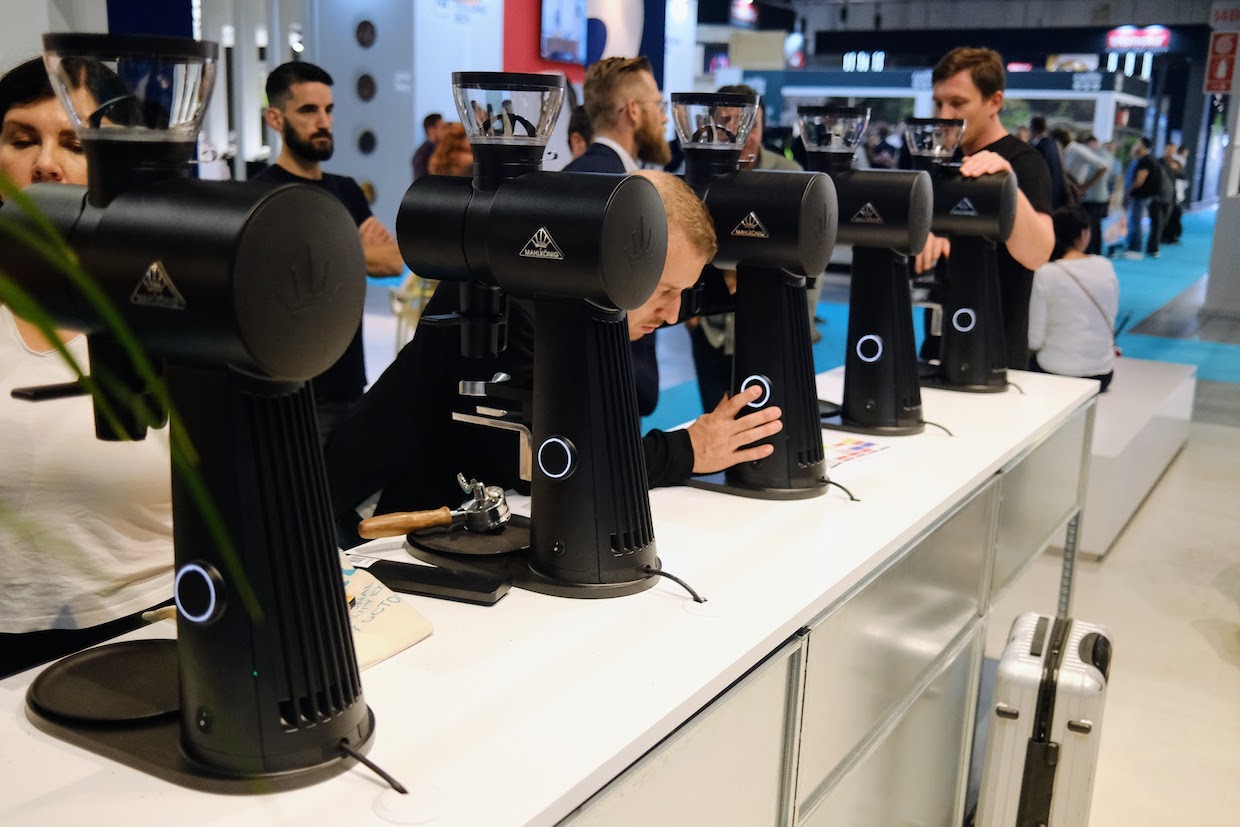 Mahlkönig Launches the EK Omnia Atop the Iconic EK Range
German grinder maker Mahlkönig has expanded upon its iconic EK grinder platform with the launch of the high-tech Mahlkönig EK Omnia… read more
La Marzocco and Acaia Launch Brew-By-Weight Scale for Linea Mini
Italian espresso equipment company La Marzocco has teamed with coffee accessories brand Acaia to launch the La Marzocco Home Brew-By-Weight Scale… read more
Design Details: Agriculture References in the Coffee Silo/Mill
London, UK-based industrial designer and devoted coffee drinker Alexander Shayle has introduced the Silo/Mill, a vacuum storage jar and coffee grinder product set that playfully captures agricultural architecture forms… read more
US Labor Department Accuses a Fourth Louisville Cafe Chain of Wage Violations
The United States Department of Labor has recovered $72,564 from an illegal tip pool managed by a small cafe chain in Louisville, Kentucky… read more
Maine's Coffee By Design Voluntarily Recognizes Employee Union
The owners of Portland, Maine-based roasting and retail company Coffee By Design have voluntarily recognized an employee union among baristas… read more
Cafe Imports Launches ed+u Program for Coffee Learners and Educators
Minneapolis-based green coffee importer Cafe Imports is diving deeper into professional training through a new education hub called ed+u… read more
E&B Lab Launches All In One Basket for Espresso, Filter-Style Coffee and Tea
Italian coffee equipment brand Espresso & Brewing Lab (E&B Lab) has launched the All In One filter basket for espresso machine portafilters… read more