One of the most exciting things to emerge from last weekend's National Coffee Association Convention was the introduction of Grace Hightower & Coffees of Rwanda, a new humanitarian-based coffee venture led by Grace Hightower De Niro.
The prominent actress and philanthropist, who is also known for her marriage to Robert De Niro, decided to launch the coffee company after she was profoundly moved by a visit to Rwanda last Spring. Hightower says she was inspired by Rwandans' collective ability to rebuild their lives, establish some economic stability and become a largely peaceful nation less than two decades after the 1994 genocide that killed more than 500,000 people.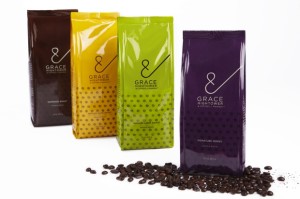 In an effort to help improve the livelihoods of more Rwandans, Hightower set her sights on coffee, something she says she sees as a "symbol of hope" for the country, as well as a path to economic empowerment.
"While in Rwanda, I met a woman with her own co-operative washing station.  I learned of her work to inspire other Rwandan women by helping them form community co-operatives to share resources and ultimately improve their lives.  This single woman has literally generated a movement and empowered others to open their minds to a more independent future," Hightower said in an official announcement of the venure.  "In sitting down and speaking with Rwandans I came to realize that it is far more rewarding to work your land with your hands than to accept handouts."
Here's more from the new company on its operations:
For Coffee of Grace, Grace has tapped top coffee consultants Tom Mitchell and Patty Johansen-Mitchell to help bring life to her vision and this new brand.  They have assisted Grace by bringing together the best resources in the coffee industry and helping her select the best coffees, materials and partners in the U.S. and Rwanda.  With over 30 years of combined experience in the industry, Tom and Patty through their company, Strategic Coffee Concepts, have dedicated their lives to expanding and promoting the specialty coffee industry on a global basis.
Coffee of Grace Coffees are currently available at select Whole Foods locations. For more on the company, check out its Facebook page.
Nick Brown
Nick Brown is the editor of Daily Coffee News by Roast Magazine.