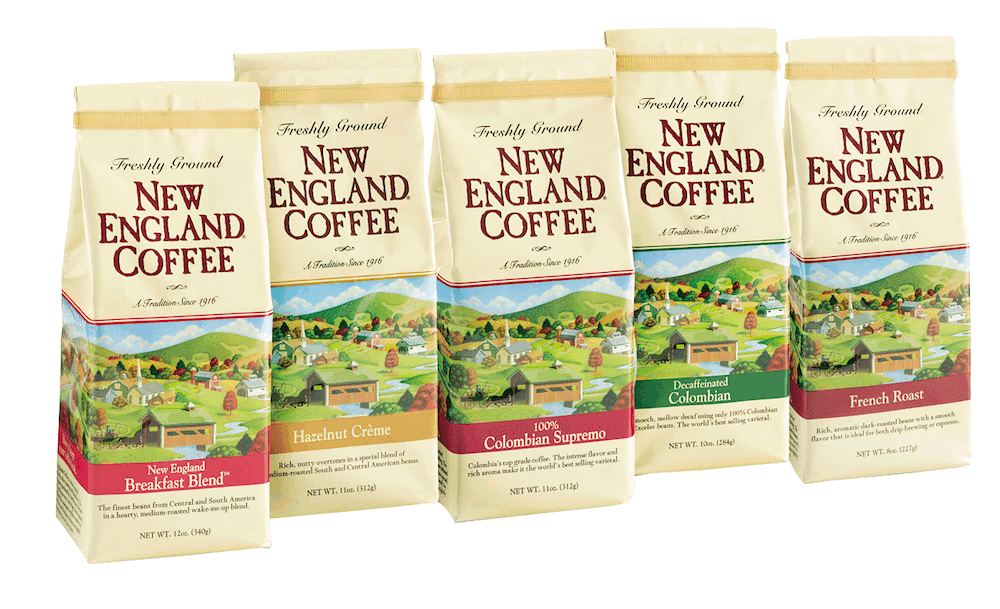 Ninety-seven-year-old Malden Mass.-based New England Coffee & Tea has been acquired by New Orleans-based Reily Foods, makers of packaged coffee, seasonings, dressings and other grocery products.
Reily says the transaction will not affect the day-to-day operations of New England Coffee, an extremely popular retail brand throughout New England behind only Dunkin' Donuts and Green Mountain Coffee Roasters. As part of the deal, New England Coffee third generation owners James M. Kaloyanides, John C. Kaloyanides, Michael Kaloyanides, Stephen Kaloyanides, Jr., and James Dostou will all walk away from daily operations.
(more: Green Mountain to Lay Off 110 Employees in North America)
"New England Coffee and Reily Foods are both multi-generation, family-owned companies with many shared values," says David Darragh, president and chief executive officer of Reily Foods. "New England Coffee enjoys a strong, well-earned reputation in the industry.  We look forward to working with all of the New England Coffee Company employees to achieve strong growth and expanded opportunities."
(more: Dunkin' Donuts Officially Not Officially the 'Best Coffee in America')
New England Coffee currently has five roasting and production facilities in Malden, and the pod segment has been at the center of its most recent growth segments. Reily's coffee brands include JFG Coffee, Bonus Blend Coffee, CDM Coffee, French Market Coffee, Luzianne Coffee and Tea, RT Coffee and Union Coffee. The acquisition of New England Coffee will give Reily its first roasting facilities in the Northeast.
Nick Brown
Nick Brown is the editor of Daily Coffee News by Roast Magazine.