Four-year-old Corvus Coffee has opened its new roastery, tasting lab and retail bar at 1740 S. Broadway in Denver, after outgrowing its original roastery and small retail space less than half a mile away in the up-and-coming craft-heavy Platt Park neighborhood.
Led by owner owner Phil Goodlaxson, Corvus has been all about traceability from seed to cup, seeking direct relationships with farmers and maintaining a focus on education and an involved consumer experience. Despite its position in a former warehouse space, the new 3,000-square-foot facility reflects the concept of openness through a U-shaped bar that draws consumers to baristas and equipment, large windows and direct visual connections to the roasting and cupping areas, including the Giesen W15.
We asked Goodlaxon, who comes from a family of entrepreneurs and first got bit by the specialty coffee bug while visiting Intelligentsia in Chicago some 10 years ago, to tell us about the new space, what's going on in Denver and what he sees for Corvus in the new digs and moving forward.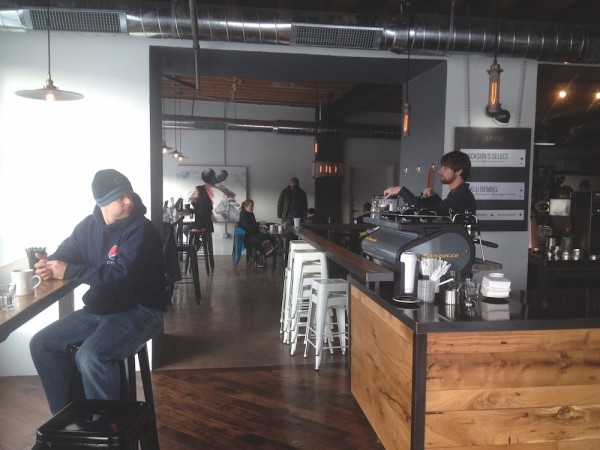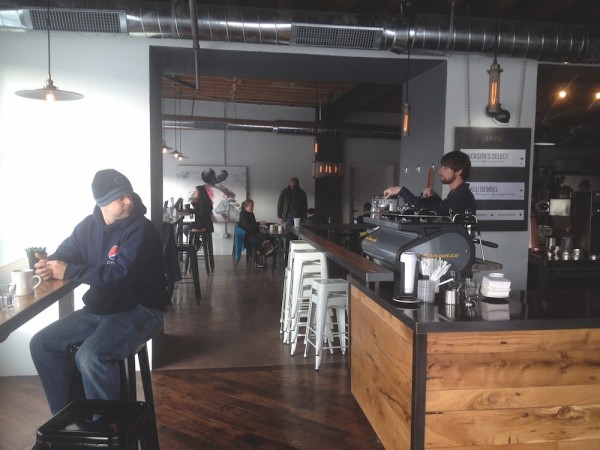 So, what is really going on in Denver?
Denver has amazing potential. The average consumer seems to be above average when it comes to caring about visibility in their food, wanting to stop and taste things, and they already have an elevated appreciation for beer and spirits due to the explosion of local producers over the past years. People here are also very friendly, compared to my experiences in Chicago, and they want to hang out at the bar and chat with baristas, which is really great for education and communicating who we are, and what specialty coffee is.
How did your visits to Intelligentsia begin to draw you into the coffee world?
I remember things that turned out to be paradigm-changing for me: the story of the farmers; the notecard on the Chemex brewer describing why it was Michael Phillips' favorite brewer, and that he was head of sourcing coffee — I had never even thought about the idea of coffee being sourced; the professionalism and extreme engagement of the staff in their product and preparation. I believe this was the first time I had ever seen latte art or had a traditional cappuccino explained to me. Most of all, the coffee was mind-alteringly good compared to what I had experienced to that point. I was hooked, and less that two months later I quit my full-time corporate job to work as a barista downtown.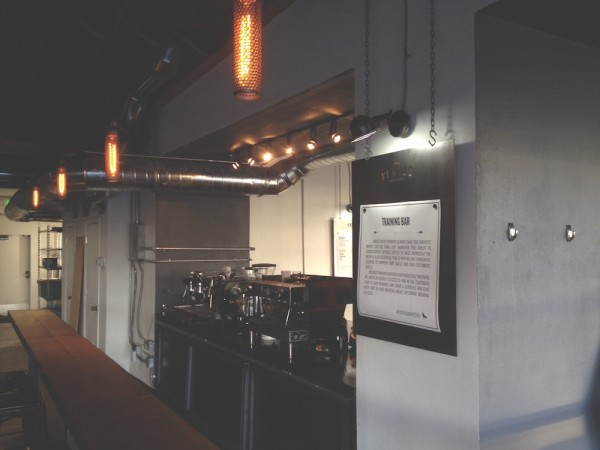 When did you develop the idea to start your own company?
This whole period from there to now is a bit fuzzy. I put in a stint at Starbucks as a store manager, worked through a couple other shops, took multiple coffee trips around the country to visit shops and roasters, and took a great trip to Norway to visit Tim Wendleboe, Solberg and Hansen, and a few other Norwegian coffee roasters and shops. This was around the time I contacted Jeff Babcock from Zoka, and I would credit him with a lot of simple, but very helpful direction as I was moving closer to beginning my own company.
What did Norway do for you?
It was there I really solidified the idea that we would always focus on visibility and the farmer over all other things. Shortly after that trip, I quit everything and purchased a Ambex YM5 off ebay and converted the garage into a complete coffee roast works. We found a couple of local farmers markets to sell at, and began to start looking for a physical location. My first shop was very hidden, in the back corner of a parking lot, but it served the purpose of having a small espresso bar and more room to roast for a small group of local wholesale customers. It was here I hired my now business partner, Travis Gilbert, and we set out looking for a different space which better served our needs. 1740 S. Broadway was a great space for us.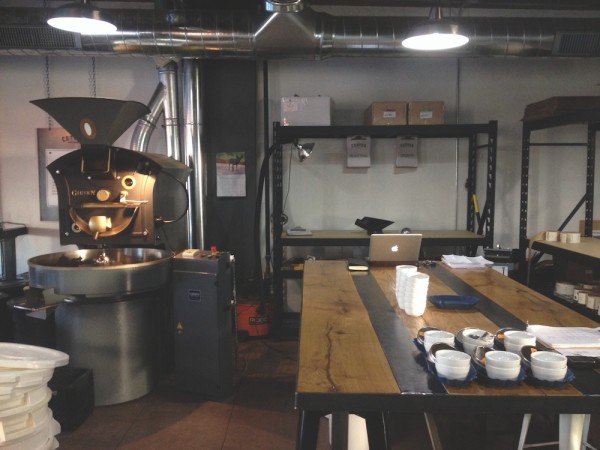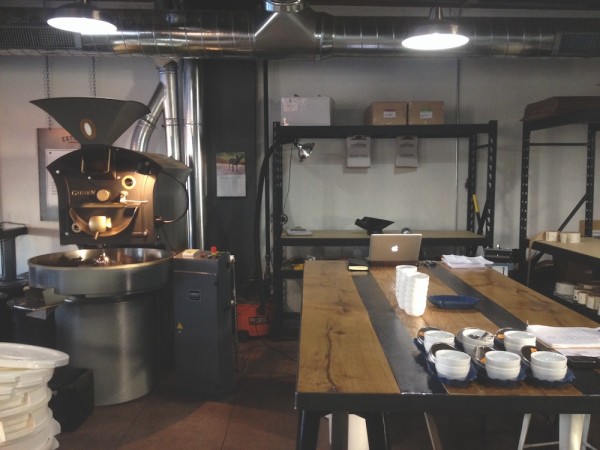 What was going on in the early days of Corvus?
Corvus Coffee started in 2010. I had the intention of starting a company that would have an intense focus on the farmer, and sharing those stories with our customers. In the first year we worked very hard to find single-farm coffee and also understand what was really impacting quality and vibrance in the cup. As we kept learning and looking to other great roasters as examples, we started to realize even more how true it is that coffee quality is a direct result of the quality on the farm, and as a result we have put a lot of work into networking with farmers and importers who share similar values. We've put in a lot of time working with a Q-Grader from a large coffee mill in Kenya to develop our green grading knowledge, and have been really fortunate to be able to work with Chris Schooley, who is a wealth of knowledge. As we've seen the Denver coffee scene coming up, we have begun putting a big focus on being a leader and member of the community, helping put together the Rocky Mountain Craft Coffee Alliance (RMCCA). The purpose from the beginning has been to create an organization for community and learning for all people interested in coffee — professionals and home enthusiasts alike.
Why the name Corvus?
Corvus is the genus that includes ravens/blackbirds/crows etc. As I was looking into all the original coffee myths, I found one where Kaldi was reportedly led to the discovery of the coffee shrub by the calls of ravens from a mountainside. Ravens are not only extremely intelligent, they are the only animal in the world who calls out to attract attention when they find food, and this played in well to my direction for the company. I named this Corvus Coffee because we want to be a leader and help others succeed, and approach coffee intelligently.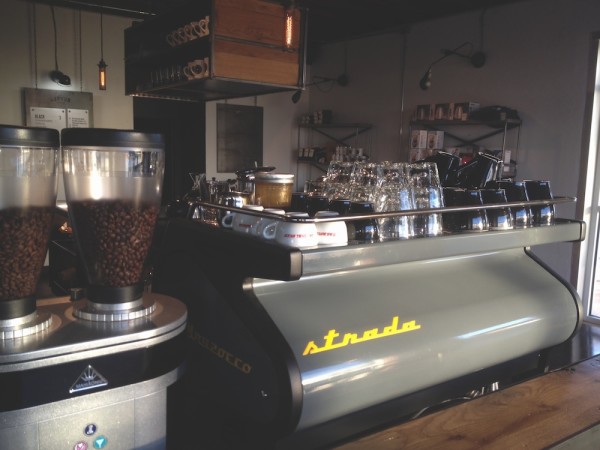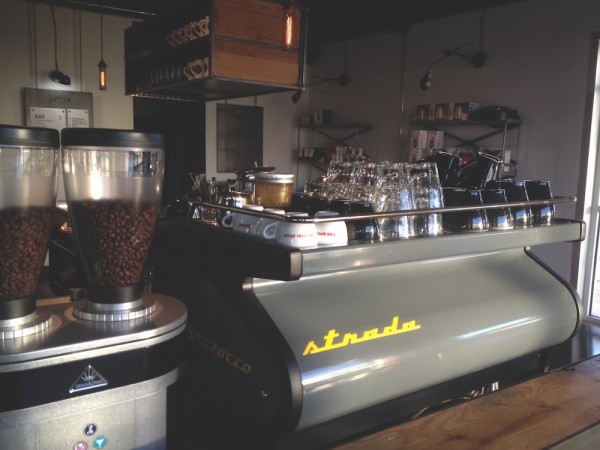 What drew you to the 1740 S. Broadway space?
We started meeting some very creative people who had businesses just starting up in the area: distillers, brewers, and the like. It became clear that there was a fast-growing community of craft people who don't want to be in the newer areas, and are drawn to these older buildings and the close-knit neighborhoods nearby. The space itself was laid out really well, with room for roasting and production, a retail espresso bar that fed nicely into a training bar area, and enough openness for everything to be visible from the retail seating, without being awkward.
What was your thinking behind the heavily industrial design elements?
We really wanted to reinforce our identity as a roaster, so we used multiple elements which give the shop a production look. We designed the entirety of the bar, tables, and retail shelving to be made out of steel and oak we'd found in our head roaster's barn. We had a local industrial welder put everything together in the shop, and used factory-type lighting with mesh cages and exposed bulbs. With the exception of our large pole sign, all signage on the outside of the building is hand-painted by a local sign painter.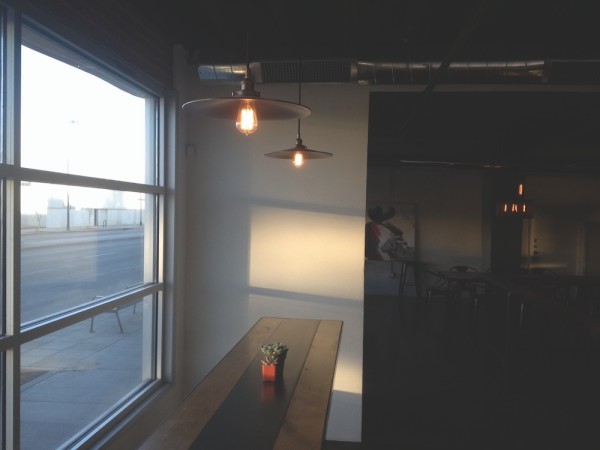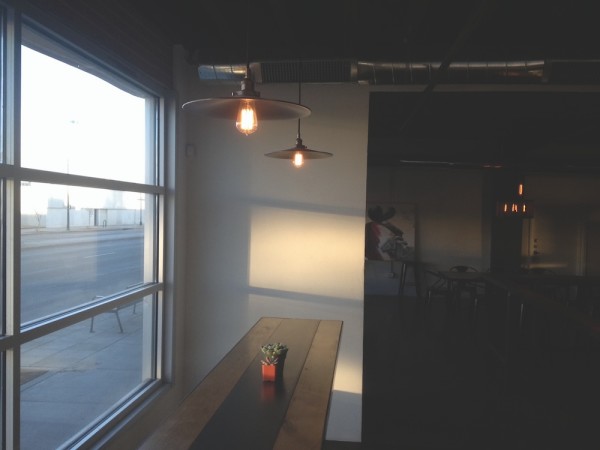 What will be the brewers of choice?
We're starting with just V60s as we get everyone comfortable and trained over the first couple of months. After we feel we have a good core group of baristas, we are going to open it up to their preferences. I've always felt that brewing is a barista tool, and less appropriate as a menu option, so we will be encouraging baristas to experiment with different coffees in different methods and coming up with a brewer/coffee combination they feel is appropriate for their shift. We are brewing espresso on a Strada 2MP and Mahlkonig K30 Twin, which I have begun to really like.
What's on the menu?
The menu is broken down into "Black," "White," and "Other." Black options are espresso, americanos, and filter coffee that share the same price. White is cortado, cappuccino, and lattes (4, 6 and 10 oz.) which are all the same price as well. The idea behind this is that coffee is accented secondarily by the amount of milk in the drink, instead of the view that coffee is one of a couple ingredients. Our baristas introduce people to this menu and this concept on their first visit. We're getting pastries from Breadworks in Boulder. They use all natural ingredients and do very traditional baking in stone ovens. It's pretty addictive stuff.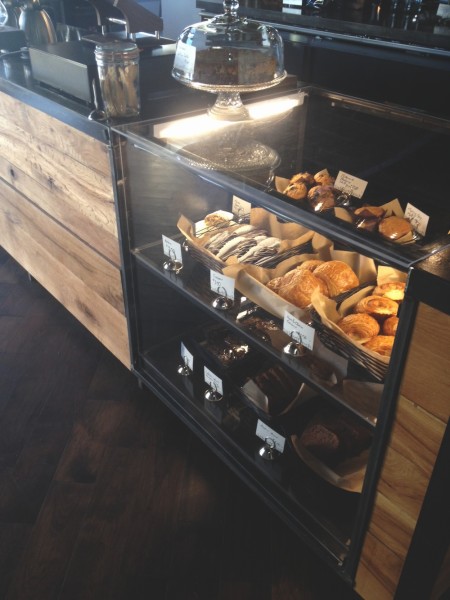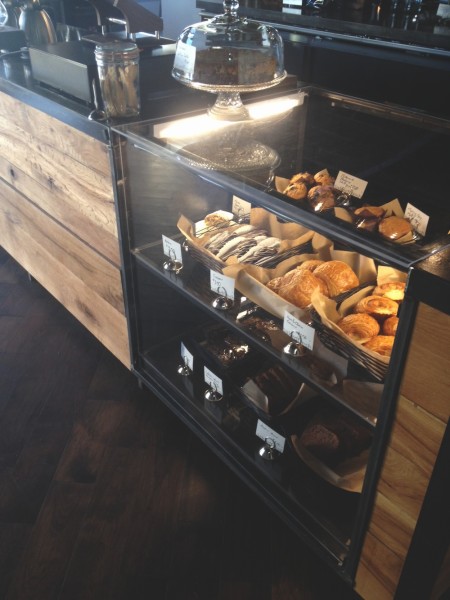 Nick Brown
Nick Brown is the editor of Daily Coffee News by Roast Magazine. Feedback and story ideas are welcome at publisher (at) dailycoffeenews.com, or see the "About Us" page for contact information.