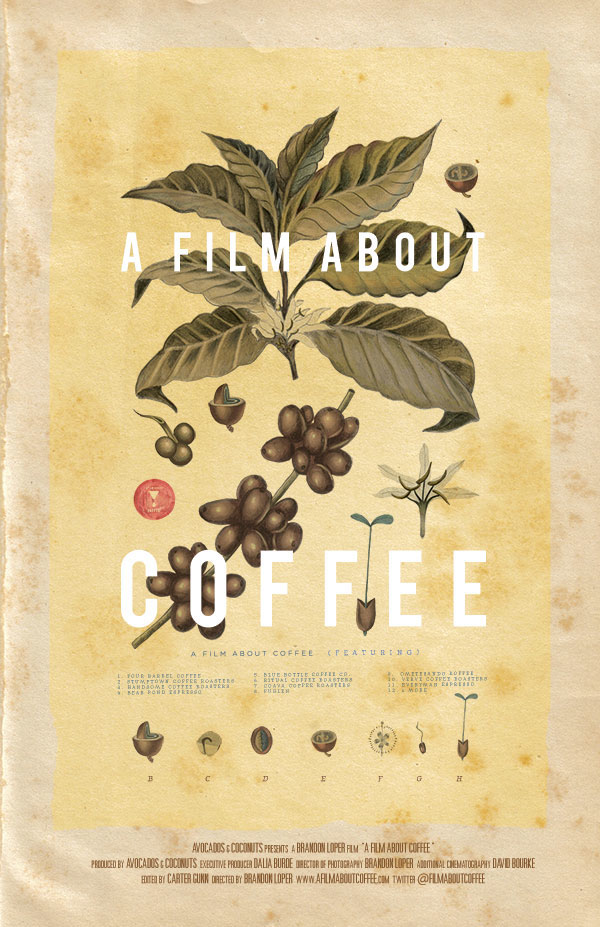 A Film About Coffee, the highly anticipated feature-length film on specialty coffee from seed to cup, is debuting this Saturday, April 26, in conjunction with the Specialty Coffee Association of America Event in Seattle.
(more: Must-See Video: The Transparent Portafilter in Slo-Mo)
Directed by Alabama native and and current San Francisco-based videographer Brandon Loper, the film moves from farms in Rwanda and Honduras to some of the best roasteries and cafes in Portland, New York and Tokyo. In total, Loper and the crew sifted through 34 interviews at 25 locations. And all of it is totally beautiful.
(more: Seven of the Best Coffee Shops in Tokyo Right Now (Plus Hype Video))
In a recent interview with Loper, FastCompany has some insight into the filming process:
The focus might oscillate between various technicalities of the craft (steeped vs. pour-over, burr-grind vs. roller, etc.), but the photography is consistently gorgeous. Loper, who's represented by San Francisco production houseAvocados and Coconuts, had recourse to the company's RED Epic camera. It's similar to the one used for Jiro Dreams of Sushi, another edible doc rich with luscious cinematography. Loper's lens, too, takes the time to linger on its subjects, hovering patiently above a barista streaking the top of a cappuccino or poised at the edge of a table waiting for a customer to take his first sip.
The film will debut at 7 p.m. at the AMC Pacific Place 11 at 600 Pine St., where it will be shown with 4k digital projection with Dolby 5.1 sound. Guests will be treated to one of the coffees profiled in the film, a Rwanda Huye Mountain sourced and Roasted by Stumptown Coffee Roasters. Here is the ticket information.
(more: Short Film Beautifully Explores Stumptown's Inner Workings)
The film will be followed by a Q&A with several specialty coffee professionals who appeared as subjects.
You might just have to go after seeing this trailer:
A Film About Coffee // Theatrical Trailer from Avocados and Coconuts on Vimeo.
Nick Brown
Nick Brown is the editor of Daily Coffee News by Roast Magazine.