La Colombe has officially opened its sprawling coffee bar/restaurant/rum distillery/bakery inside an 11,000-square-foot warehouse space in Philadelphia's Fishtown neighborhood.
In a recent interview regarding La Colombe's plans for nationwide expansion, Co-founder Todd Carmichael told Daily Coffee News that the Fishtown location is by far the company's most ambitious retail operation to date, combining a range of food and drink options that are, as he said, "a little out of our wheelhouse."
(related: Boston's Barismo Relocates Roastery to Somerville Farm-to-Table Food Hub)
Namely, La Colombe Fishtown is big on food, with a bakery on-site and a fresh food menu that Carmichael hopes will stand up to Philadelphia's advanced restaurant scene. Much of the menu is bakery-focused, including tartines like an "onion soup on toast" with gruyere and fresh herbs and a "wild smoked salmon" with crème fraîche, red onion and capers, and sandwiches like a "French drip" with coffee roast beef, onions, aged cheddar and horseradish, and a "porchetta" with long hots and aged provolone. There are also fresh salads and skillets including buscuits and gravy, duck confit and shrimp & grits.

Carmichael's business partner JP Iberti has been involved with baking for La Colombe for the good part of 15 years, although this is the first foray into a full-scale commercial baking operation backed by a fresh food menu. Says Carmichael, "When we were first thinking about this, I said I'll go real with this distillery if you go real with your baking."
(related: The Good Food Awards: How it Works, How to Win, and Coffee 'Elitism')
Carmichael says rum will be the distillery's signature drink because of its ability to maintain and enhance coffee flavor. "With the process I'm using it to infuse coffee into the rum, you can use a single origin coffee and it doesn't get all dark and syrupy," says Carmichael. "It has a way of preserving the natural flavors of the coffees and hanging them there in the rum." The company us marketing its "Different Drum" rum as "a rum for the bourbon drinker."
The coffee bar includes La Colombe's typical full espresso drink menu, but Fishtown introduces a manual brew bar with Yama Silverton pour overs featuring a rotating selection of single-origin and limited-offering coffees.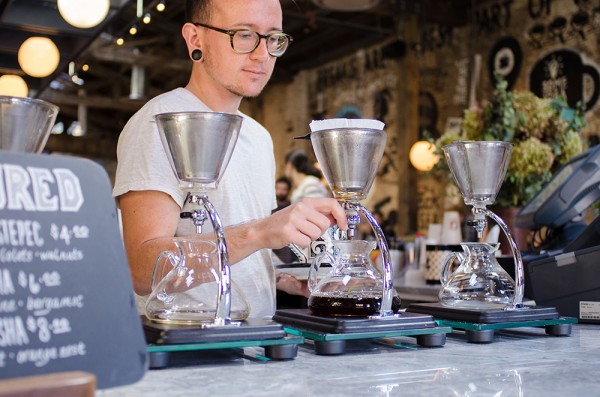 (related: Coffee Recommendations From the World's Greatest Restaurant Chef)
Bringing all these elements together under one roof, Carmichael says La Colombe Fishtown in many ways an homage to some of the more progressive food-forward coffee bars he's seen in recent trips to Australia and New Zealand. "It's hard for me to understand a future in coffee that doesn't include these kinds of food environments," Carmichael said. "Instead of the restaurant guys figuring out coffee, why don't we figure out menus?"
Nick Brown
Nick Brown is the editor of Daily Coffee News by Roast Magazine.