As part of a test project for HKU University of the Arts in The Netherlands involving potential food uses for sweet lupine beans, two young food and product designers recently visited Roast Magazine friend and obsessive tinkerer Frans Goddijn.
The plan: roast, grind and brew some sweet lupine beans and see what happens. The experiment was part of the LupinFood project, led by Johanna Lundberg of Sweden and Lydeke Bosch of The Netherlands.
Inside Goddijn's workshop, the sweet, edible lupine beans — not to be confused with other varieties of lupine beans that can present a threat of alkaloid poisoning when consumed — were roasted an a Fracino Roastilino roaster. While not common, roasting lupine is certainly not unprecedented, and Goddijn was able to find some basic information about roast temperatures as a starting point.
The roast the yielded the best results, says Goddijn, is presented here, through open-source software Artisan: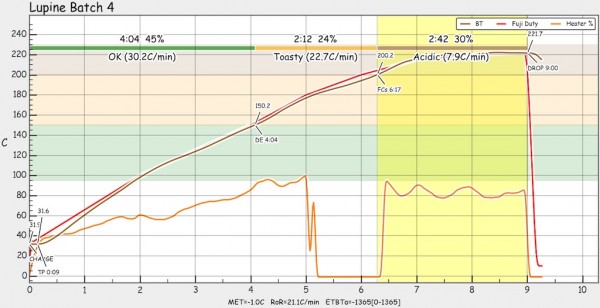 Once the lupine beans were roasted, the inner seeds bore a remarkable resemblance to coffee in shape and color.
From there, Goddijn learned a lesson the hard way: lupine seeds and conical burr grinders do not mix.  "I now understand better why some grinder manufacturers explicitly state that their grinder should only be used to grind roasted coffee beans," says Goddijn, who had to buy replacement burrs after his grinder began producing inconsistent results following the experiment.
Back at HKU, Lundberg and Bosch led a tasting with fellow graduate students, and Goddijn shares with us the following results:
The light roast smelled and tasted like peanut butter but the darkest roast was found sweet and pleasant. The Aeropress was the most convenient method.
While the results seem promising, we're still a ways off from launching Daily Lupine News.
For more on Goddijn's coffee-focused experimentation, follow his Kostverlorenvaart blog.
Nick Brown
Nick Brown is the editor of Daily Coffee News by Roast Magazine.