It seems like every other week there's a new pourover dripper on the market, each with its own slight performance tweak. Pourover filtration media, meanwhile, hasn't changed much over the years, with its full variety of products amounting to a material dichotomy of paper versus metal. Yet while these tend to be the most practical filters, particularly in a commercial setting, they are by no means the only two materials of coffee filter currently in use. Kyuemon, a tiny brand of housewares owned by the Japanese company Kubota Minoru Ceramics Ltd, has for decades been quietly making an entirely different sort of pourover filter, composed of a unique porous ceramic material that looks and feels like charcoal.
The Kyuemon porous ceramic coffee filter is quite unlike any other commonly used filter. It is light, rough and feels delicate in the hand. As a product, it comes packaged with its own ceramic holder/dripper, which has one large hole at the bottom and can be positioned on top of a mug or other vessel like any other dripper. International development for this product has been slow to the point of non-existence, as after almost 30 years it is still only available through the Kyuemon website or one or two other Japanese retail sites.
Kyuemon's porous ceramic material was first developed in 1986 and was introduced to the domestic market that same year in the form of the coffee filter as well as a self-watering planter, the latter of which employs a negative pressure irrigation principle to utilize a plant's natural ability to draw water upward through a rod of the porous ceramic material inserted into a container of water. Ten years later the company was given an award from the Science and Technology Office of the Japanese Government for their contribution to the development of this technology, particularly in its self-watering planter application.
Exports of Kyuemon's porous ceramic products did not begin for another eleven years, with shipments to Singapore starting in 2007. According to Kyuemon representative Shuhei Hayashi, the company is still in search of a U.S. distributor. Their website purports that the coffee filter enhances or otherwise alters the flavor of coffee through an "exclusive far infrared effect produced in the porous ceramics," a phenomenon which Hayashi reiterated in an email exchange with Daily Coffee News but was unable to clarify due to the language barrier.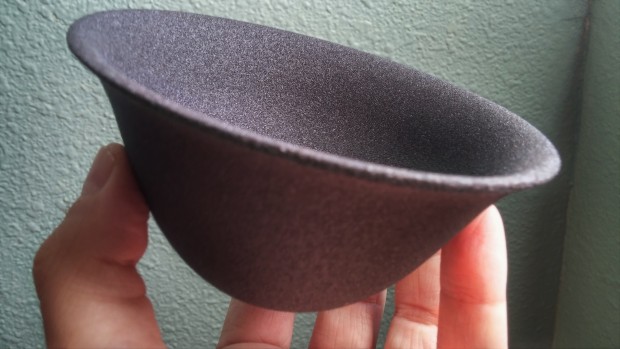 A professional roaster/barista associate of Daily Coffee News did observe a difference in flavor in the cup when comparing a Kyuemon porous ceramic filter to its more familiar counterparts. The effect was attributed to greater filtration of acids and oils, resulting in a cup akin to heated cold brew. In terms of performance, using a ratio of 25 grams of coffee to 400 milliliters of water, with beans ground to Chemex-style medium-coarseness, extraction time averaged between three and four minutes, which is on par with other more conventional filter types.
Kubota Minoru Ceramics is based in the town of Arita in the Saga Prefecture of Japan, a heritage in which Hayashi takes pride. "Our town is famous worldwide for porcelain table wares called Koimari that has 400 years of history," wrote Hayashi, adding that the porous ceramic technology derives from these centuries of the study and culture of ceramic. The company's sole focus is the manufacture and sale of traditional and fine ceramics for the consumer market, with the Kyuemon line of porous ceramic goods constituting an intriguing offshoot.
For its fragility and its requirement of manual cleaning and maintenance, it is unlikely that Kyuemon porous ceramic coffee filters would ever be suitable for use in a bustling commercial coffee setting, apart from as a product for sale on a coffee shop's retail shelves. Yet as a technological curiosity, the Kyuemon filter presents some fascinating and largely unexplored possibilities.
Howard Bryman
Howard Bryman is the associate editor of Daily Coffee News by Roast Magazine. He is based in Portland, Oregon.