Coffee and wine share the essence of terroir. Coffee and beer share a crafty, localized entrepreneurial spirit. And as anyone that's worked at a coffee bar can attest, coffee and music share personnel.
A creative industry that welcomes big personalities, coffee is a fitting daylight mirror to any town's music scene, given the robust percentage of baristas that also play in bands. "If you're in a band, you're either a barista or a bartender. You know how that goes," Tampa-based roaster and guitarist Tim McTague told Daily Coffee News. Yet what happens when the young people involved grow up without sacrificing either of these passions?
The answer is currently evolving within the Tampa, Fla., specialty coffee landscape. Nate Young and Tim McTague cofounded the retail/wholesale micro-roastery King State Coffee in 2014, centered on a Proaster 1.5 located in a built-out room alongside McTague's home garage in the Lutz neighborhood. Greens have come from a variety of importers and couple direct relationships, while sales have spread to a few wholesale accounts including multi-roasters around the country, and one whole-bean retail partner in the Seminole Heights neighborhood, the Jug and Bottle beer, wine and spirits store.
"We're trying to dive in deep with a few key partners," said McTague. "Instead of taking a blanket approach and casting a wide net, we'd rather cast a much more refined net of quality places that we believe in, and drive as much business to them as possible to make it worth their time as well."
Prior to his life in coffee, Young joined the successful Tampa-based Christian alt-rock band Anberlin on the drums in 2002, and rocked around the world until the band broke up in 2014. Meanwhile, his high school buddy McTague was in another Tampa band, the Christian hardcore punk outfit Underøath. McTague joined Underøath on lead guitar in 2001 and stayed through a wildly successful run until the group disbanded in 2013. That band's fifth album, "Define the Great Line," debuted on the Billboard 200 chart at number 2. Their album packaging and other production elements were nominated for Grammies.
"Locally we're known more for the coffee scene than we are for our music," said McTague, noting that online orders have shipped all over the US and beyond. "We look at our business as more of a national brand than a local brand."
Neither Young nor McTague would ever ham-handedly co-opt the legacies of their bands to sell coffee, although they're not so naïve as to ignore the potential, either. "It's something that we tread lightly on," said McTague. "We take leveraging our past very seriously. Obviously that is an audience we have, and we're not stupid to think that we shouldn't utilize that, but we want to make sure it's done respectfully and classily, and we want people to judge our product based on the product."
And yet it's not just music and coffee that bind these partners together. Not only were Young and McTague old friends, scene-mates, and label-mates on the Seattle-based independent Tooth and Nail Records. The women they eventually married also happened to be sisters, making them literally family. "We've been friends for almost 15 years, labelmates for 10 or 11, and sworn-in brother-in-laws for almost eight years," said McTague. "To say King State runs deep is an understatement."
Meanwhile, on the same Tampa Bay music scene in 2008, musician and fellow coffee lover Joel Davis started the Christian indie rock band that would become Ascend the Hill. In 2011 Davis also started a folkier and more secular solo project called Fistful, to express the side of his creativity not as well suited to performance in churches or Christian music festivals. "Joel was in the scene with me and Nate," McTague said. I've known Joel for 15 years, too. We're all old friends."
In 2013, Davis added another number to his professional repertoire in the form of Commune + Co., which serves proprietary, patent-pending pressure-brewed cold coffee on nitro tap via cargo-tricycle on the streets of Tampa. "It was really developed in response to our disdain for cold brew," owner and brewer Joel Davis told Daily Coffee News.
"We get all the benefits of brewing in a cold environment, but our brewing method allows us to more properly extract what makes these coffees exciting," Davis said. The pressure-brew process borrows some "wisdom and technology" from the beer- and wine-making worlds, and is both scalable and effective at preserving the nuance, sweetness, balance and acidity of hot brews, according to Davis.
When Commune + Co incorporated, Davis and his cohorts intended to take a hiatus from Ascend the Hill to focus fully on establishing the coffee business, although that hiatus became permanent when they fell in love with being home. "After a year of everyone being home and loving it and not traveling or touring, we realized that we wanted to keep doing that," said Davis.
So while Ascend the Hill is still a band, Davis doubts they'll ever tour again, or at least not extensively. Davis is ready to anchor his life into the Tampa Bay community, with a grounded and stable business that speaks to his passions. At the same time, McTague believes that the experiences with different coffees and coffee shops as touring musicians are what set businesses like KS and C+Co apart.
"Nate and I have toured around the world. We've had coffee on six continents, in probably 40 different countries," said McTague. "We've been able to taste the good and bad, and pull from what we want." McTague sees this wide perspective as valuable, although often not applicable to local consumer tastes.
KS debuted last year with an "everyman" Colombian coffee, then followed that up with a slightly boundary-pushing Yirgacheffe. Currently they're tinkering with a Kenyan micro-lot coffee that McTague thinks may challenge local palates as well as wallets. "That's going to be the riskiest thing we've done," said McTague. He's confident that once local coffee drinkers experience the difference in the cup, they'll understand what makes it worth more, which will constitute an important step locally. "We want to push this thing forward."
For its part, Commune + Co. has brewed and served King State coffee as well as offerings from the Michigan-based MadCap Coffee Company and Wisconsin-based Ruby Coffee Roasters. The two Tampa businesses have appeared together at events and cupped coffees together, sharing perspectives and collaborating but without strings attached. "They're also pushing the boundaries and they're picking up the roasters that have those robust and complex Kenyas and the really deep, high-quality roasts," said McTague. "If Joel wants to use Ruby and Madcap, by all means, do it, man. Those dudes crush and they're fantastic roasters."
McTague clearly relishes the power of excellent coffee to inspire, and to open people's eyes to parts of life and the world they may not have considered before — a power also often found in music. Davis, meanwhile, seems drawn just as much to coffee's music-like power to draw people together and foster community. The interactive nature of creating a quality product and entering a community of businesses is also not unlike starting a band, writing songs and entering a music scene.
"As much as I'm a coffee nerd and as much as I love coffee, Commune + Co is about community," said Davis. "Allowing other people into that process is the most natural way to do what we do best, which is create space and opportunity for people to hang and do life together."
Davis is more interested in teaming up with passionate roasters than becoming one himself. "Roasting is a pretty solitary lifestyle and a completely different skillset," said Davis. "Obviously our success depends on people being able to do that really well. Instead of recreating the wheel for Commune + Co., I would rather depend on people who have made that their life's passion."
As for the future of Tampa's rockin' coffee scene pioneers, McTague recently picked up the keys to a prospective brick-and-mortar location, with an eye towards a first-quarter 2016 opening if all goes well. They've picked out their gear and have a clear concept for a King State café. Underøath has also reunited and plans to tour in 2016, although that won't keep McTague away for too long.
C+Co meanwhile has two more tricycles under construction, to add to the one currently out on the streets. Each trike features custom carpentry done by Ascend the Hill bassist Hayden Davidson, who's also a semi-pro woodworker. The company has an office for their administrative needs, gated parking for their growing pedal-powered fleet, and space inside a licensed commissary kitchen for brewing and kegging in accordance with state regulations that treat the business essentially like a food cart. Their next step is find a "more grown-up" production facility, which may or may not include a public-facing service component.
"I just don't want to get caught up so much in the rat-race of 'oh, we gotta have a coffee bar now, we gotta be the next new hot thing for these neighborhoods,'" said Davis. "I want our craft to sustain the people who are involved, and create a comfortable and enjoyable lifestyle for us, and be good for our community."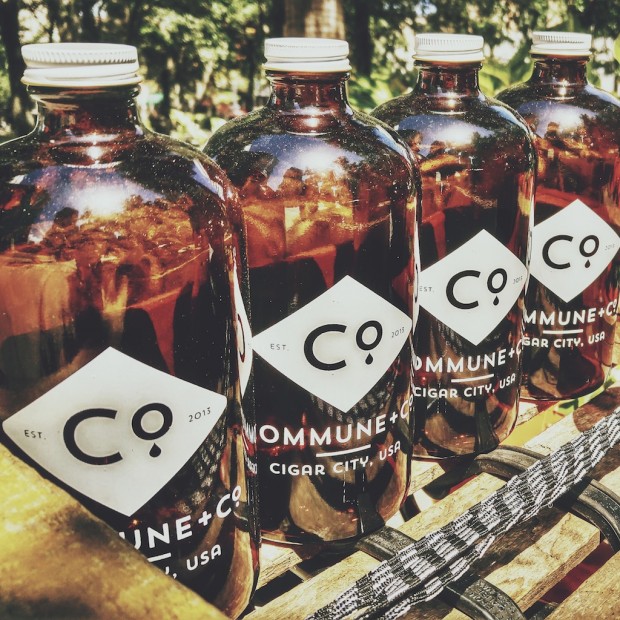 Howard Bryman
Howard Bryman is the associate editor of Daily Coffee News by Roast Magazine. He is based in Portland, Oregon.