After raising more than $21,000 through a Kickstarter campaign last year — a second attempt that followed lessons learned through a failed first effort — the owners of Flatlands Coffee have finally realized their dream of opening a craft-focused multiroaster café.
The shop is located in the heart of Bowling Green, Ohio, just a few blocks west of the main campus of Bowling Green University. While the central location at 138 N. Dixie Highway puts Flatlands nearby independent mainstays for long hours of studying, as well as near many of the ubiquitous quick coffee chains, Flatlands' craft-centric approach to sourcing and manually brewing is sure to set it apart in a coffee landscape that to this point has been, well, somewhat flat.
We reached out to Flatlands co-founder Ben Vollmar to discuss the shop and its ambitions within the Bowling Green community.
What kind of grinding and brewing gear did you go with?
For drip coffee, we are primarily doing pourovers using Takahiro kettles, Acaia scales, and the La Marzocco Uber Boiler. We also secretly have a Fetco under the counter and off menu that we can whip out for that uninterested, rushed customer — the third-wave concept is completely new in this town after all — and the batch brewer helps our ability to cater.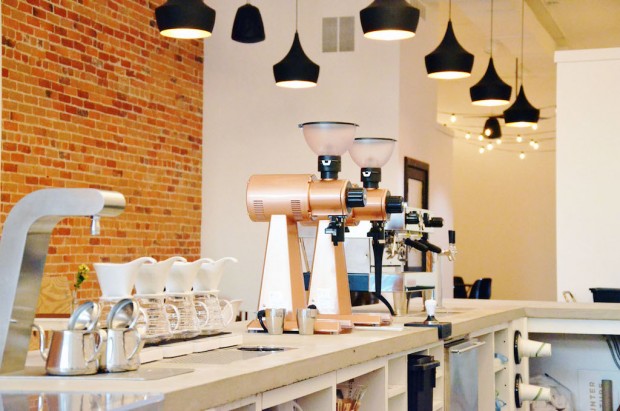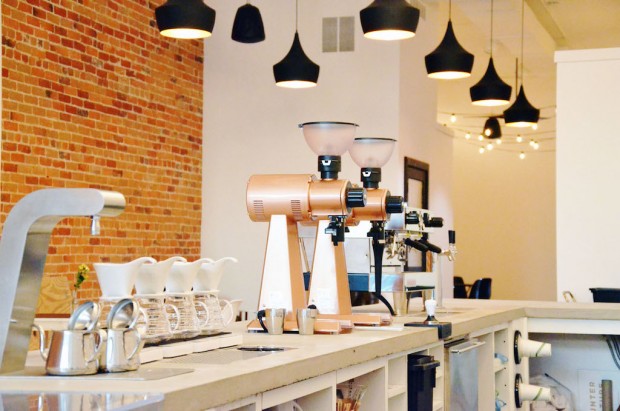 Our primary method for pourover is Bee House drippers because I feel like it is a great in-between from the V60 and Kalita Wave. It more easily highlights the brighter flavors and requires a little more attention like the V60, but also with the quasi-flat bottom, it extracts those deeper rich flavors more associated with the Kalita. I simply love the balanced complexity and well-rounded snapshot of a coffee I can quickly get in the Bee House. Nonetheless, we also have other drippers available upon request.
For both drip and espresso preparation, we use and love the Mahlkonig EK43s for their unmatched precision in grind evenness, which produces a sweeter and cleaner cup. This also enables us to prepare any coffee we currently have as drip or espresso. We also added a funnel to the espresso EK43 to assist in even coffee distribution.
For espresso, we're currently slinging on the La Marzocco Linea EE, but will be switching to a 2-group Modbar in January that is on super backorder. We weigh our shots on the Acaia Lunar and have VST baskets coming in to pair with our Cat + Cloud Big Step tamper.
In short, we wanted to get all the best precision tools to help us get wherever we want to go on our coffee journey.
What does the drink menu look like?
Our menu consists of coffee, iced coffee, coffee on nitro, espresso, latte, cappuccino, cafe dulce (our latte with homemade caramelized sweetened condensed milk), mocha and hot chocolate made with single-origin chocolate sourced by Askinosie.
We will shortly be adding one espresso-based specialty drink that will change regularly with our coffee that we design to compliment a specific coffee. This technique of enhancing the coffee, rather than masking it may look similar to that of the specialty drinks common in the USBC.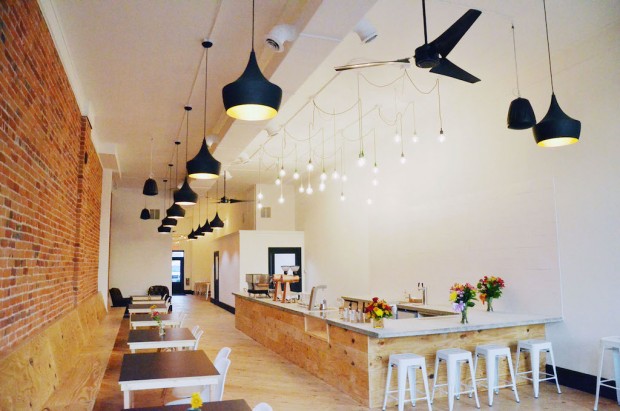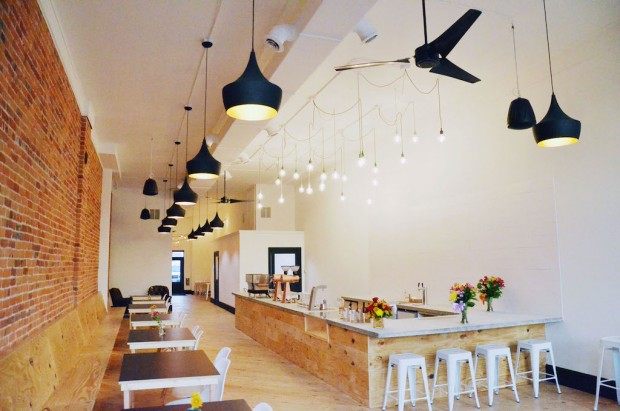 We'll usually have about four spectacular caffeinated coffees and one decaf. We have a Global Customized Water RO unit that enables us to dial in our ideal water mineral content and our milk is local and vat-pasteurized, which makes it much more sweet.
What considerations went into the interior design?
My wife, Cassy, is an interior designer who really led the whole design aspect. She pulled together what was most inspiring and pretty to her. It has a simple modern look, while also bringing in some of the history of the 200-year-old building. She played a lot with old and new, using a lot of unfinished natural materials.
Cassy designed the space to make people feel at home, while also something different that can be visually inspiring.
The coffee bar itself was designed with a very minimalistic approach with the intention of breaking the barrier between customer and barista. The counters are not as wide and are shorter than standard — we actually had to cut into the floor to fit the kegerator under counter. We want customers to feel involved with the brewing process.
What challenges do you foresee in serving upscale coffee in a community that has largely been underserved in that regard?
We most definitely foresee the challenge of bringing upscale coffee to a small town with no third wave experience, especially because Flatlands is kind of over-the-top even for most larger cities. We do however have a college demographic that will likely be more readily receptive.
Nonetheless, we are assuming the average coffee drinker will be blown away, just as it took me one trip to the Intelligentsia Monadnock to completely melt my face and win me over, several years ago.
I even had the privilege to work alongside a coffee shop 15 minutes away, also in a small town, that is gradually shifting to higher-quality coffees and is starting to do a great job. People seem receptive to higher quality coffees if they are presented well. Fantastic service, tailored to each customer, is absolutely critical.
What roasters are you working with?
We are super excited about this part, but also have experienced some skepticism from some. We have a limitless number of partnering roasters. We enjoy getting our hands on the most fantastic coffees while enjoying a wide array of experiences, and the best way to do that is to bring in coffees from several roasters.
How do you approach that selection process?
To select the coffees, we are continually tasting an array of coffees by getting samples in from various roasters and noting the most memorable ones. Usually we first try them brewed in the Bee House then cup them for a quick back-to-back comparison. Some of these coffees are given to us by roasters to try and some of it we seek out and purchase. Hopefully we'll be able continually expand the amount of coffees we'll be testing regularly as time goes on and offer free public cuppings for the community to taste with us.
Nick Brown
Nick Brown is the editor of Daily Coffee News by Roast Magazine. Feedback and story ideas are welcome at publisher (at) dailycoffeenews.com, or see the "About Us" page for contact information.