The alleged largest kachelofen in North America is gently and efficiently warming the patrons of a brand new coffee bar in the icy northeastern clime of Buffalo, N.Y., this winter.
The shop is Tipico Coffee, and the kachelofen — a traditional Austrian masonry heater design that channels heat from a fireplace through brick passages to radiate out into a room — is also a fitting analogy to coffee. Each brick represents a human link in the supply chain through which the goodness of coffee radiates from origin into our lives, although it was pure serendipity that Tipico owner Jesse Crouse came upon the space readymade for a warming, top-shelf coffee experience.
Crouse told Daily Coffee News that the owners of the building partnered with the firm Davidson Rafailidis Architecture to begin work on the space in 2011. It was finished three years later, then sat vacant while they waited for the perfect tenant to come along. "Along comes little old me," said Crouse, who moved to Buffalo with a business plan finished, loans in the works and clear intent to start some kind of coffee company. Said Crouse, "I didn't know what I would be doing, but I was starting."
"They knew they wanted to have a café there," said Crouse, who learned of the space while checking out an apartment in the neighborhood through the same landlord. "They weren't sure if they could find the right tenant, so they were waiting for one to come to them instead of seeking out people and making a rash decision."
Crouse was sold on the space immediately. "I really wanted a fireplace in the space. To find one serendipitously, randomly, in the city that I wanted to, and to be able to lease it and open a café — it's absurd happenstance," Said Crouse. All that was left to do was a bit of plumbing and electrical work to accommodate the incoming gear, and in less than three months after the September 1 start date of the lease the doors opened.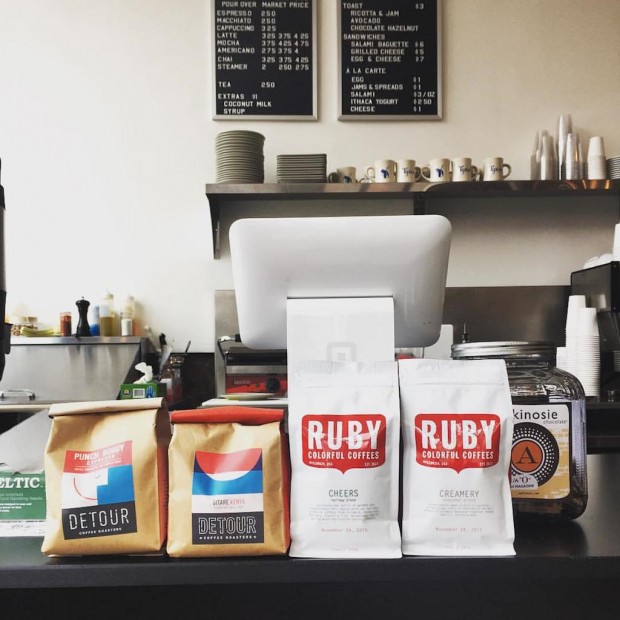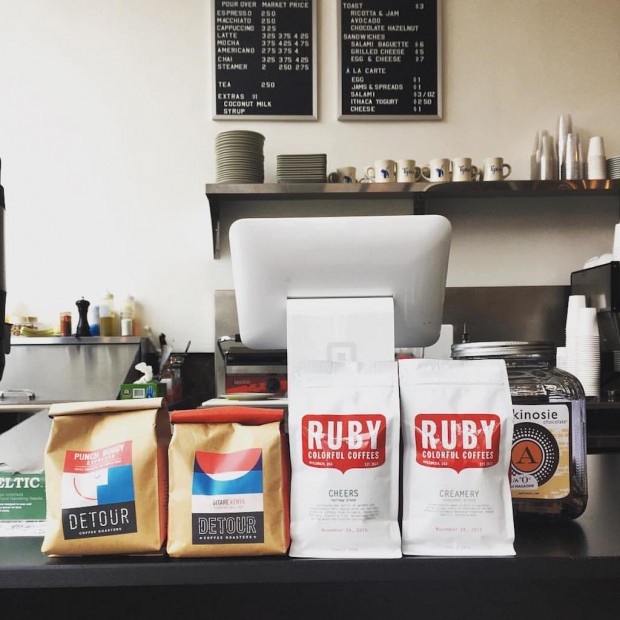 Tipico now serves coffees roasted by Wisconsin's Ruby Coffee Roasters and Ontario, Canada's Detour Coffee Roasters in the elegantly tiled café under delicate pendant lighting, centered on the impressively practical hearth. "It's definitely the largest horizontal kachelofen," said Crouse. "It's one of those things — who's going to debunk our claim? Probably the owner of the largest one. He owns it in a lair somewhere, and he's saying, 'No! No, I have the largest one.'"
Like heat through the kachelofen, Crouse's coffee career has carried him some great distances, while he's also worked shoulder to shoulder with some of the heavier bricks in the industry. As a barista turned barista trainer at Intelligentsia, Crouse worked alongside Michael Phillips, helping to coin the term and define the position of "Retail Educator" for the company. He later succeeded Geoff Watts in his position as the managing technician of a QC lab for the Chicago company. From there he moved with his wife to Ithaca, NY, where he worked with and learned from Director of Coffee Colleen Anunu while roasting and doing QC with Gimme! Coffee for the year that company was a finalist for Roast Magazine's Roaster of the Year award, and was on his way out the following year when the company took top honors.
Crouse then head west to Santa Cruz, taking the position of Head of Product Development for Verve Coffee, directing the roasting, green-buying and QC programs for the company while traveling three months out of the year to origins around the world. He judged for the Cup of Excellence in Guatemala in 2013 and again in Honduras in 2014, and now he serves fine coffees to the good people of Buffalo, near family. All this is to say, while Tipico takes a modest multi-roaster approach for now, one can expect a roastery to be established nearby soon.
"I'm a roaster and a coffee buyer. Running a café has been a lot of fun, but it's nerve-wracking," said Crouse, noting that he only worked on the retail side for two years before moving into roasting, green-buying and quality control. "I'm going to take it as it comes. I definitely want to open another space, another café that I have full creative design over."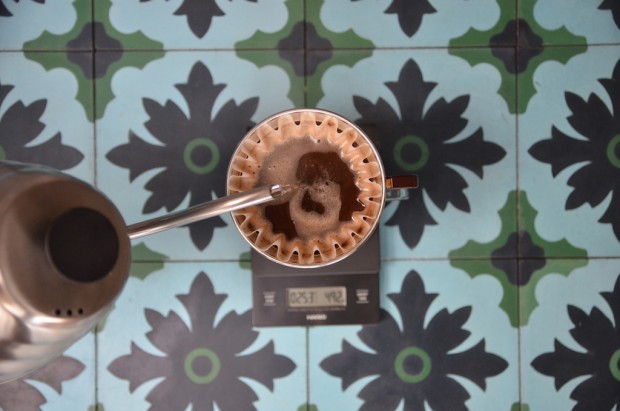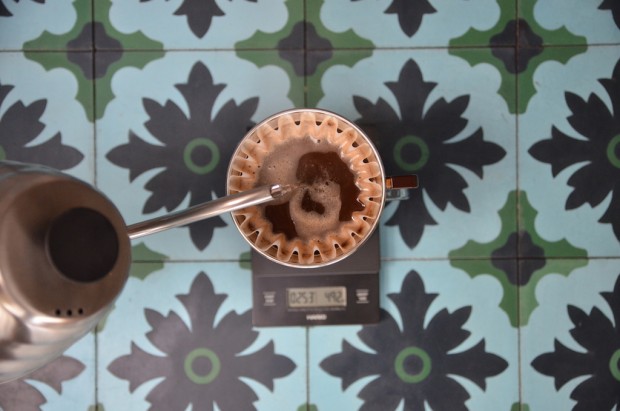 Crouse would design the next space from the ground up to accommodate a roastery. "I want to make sure that when I do find a space that we have room for a 5-kilo or a 12-kilo. I love shop roasters. I almost was a theater major, and I was a poetry major, so talking in front of people and performing for people is something I like doing," said Crouse, who also appreciates how roasting in public requires a smooth and orderly operation. "I like that it makes you rethink your cleanliness, and rethink your processes so you aren't just throwing crap at people. There's no smoke and mirrors anymore."
Crouse projects early 2017 as the time for pursuing the second location with a roastery on site.
Howard Bryman
Howard Bryman is the associate editor of Daily Coffee News by Roast Magazine. He is based in Portland, Oregon.