Kojima Kenji, manager of Fuglen Tokyo and head roaster at Fuglen Coffee Roasters, is at once frank and charming. His road through the coffee industry has been characterized by hard work and the willingness to switch paths and take risks, and he now stands as a pillar of one of Tokyo's most exciting and creative coffee operations.
Opened to much fanfare in 2012, Fuglen Tokyo is the sister location of Fuglen Oslo. The shop is tucked into a relaxed area by Yoyogi Park, yet is just minutes from the hustle and bustle of downtown Shibuya. Dimly lit and full of teak woodwork and vintage furnishings, the shop has a distinct mid-20th-century feel, and in the evenings it boasts a craft cocktail program that equally reflects the kind of care put into Fuglen's coffee.
Fuglen Coffee Roasters supplies the shop, which, prior to the 2014 launch of the roasting operation in Shibuya, had been serving coffees shipped from multiple Oslo-based roasteries.
With its Scandinavian connections and progressive approach, the shop remains a popular attraction among coffee-loving tourists, while somehow maintaining the laid back atmosphere and friendly service that has retained locals seeking a comfortable place for coffee or cocktails with companions.
(note: Parts of this interview with Kojima Kenji have been paraphrased. The interview was conducted in a combination of Japanese and English and was adapted to English by the author.)
How did you get into coffee?
I think I've been drinking coffee since I was 10, but only sweet coffee with milk. I guess I've always liked coffee. I even worked at a kissaten (Japanese-style coffeehouse) when I was 20. When I was around 24, a Starbucks opened in my town. Back then they were still using real espresso machines — they were real baristas. They seemed so cool, so artisanal. They would talk to the customers about espresso and seemed really into it. That really made me start to think about coffee as a profession.
What is your favorite thing about coffee?
Now that I'm a roaster my favorite thing is to develop the taste of the bean. All beans have their own flavors, all I can do is bring that out. Just like a fruit, the tastes change with the seasons and depending on how you cook them. Culturally, I like the idea of the old coffeehouses in London. All members of society were at the same level at a coffeehouse. When people come together for coffee, people talk. Caffeine is a stimulant, and as you talk you begin to get excited. This is good for new ideas and for getting business done.
Why did you decide to make coffee a career?
I used to manage an izzakaya (Japanese style bar/restaurant) before I pursued coffee. It was very demanding and very stressful. One particularly busy night I passed out from the stress. I even threw up blood. I had to rest for four days after that. I thought I was going to die, and that made me think about life. I thought, "I should be doing something I like." Well, I liked coffee. I thought it was cool. I liked artisan crafts. If I was going to die, I was going to do something I like with my time left. That's when I got serious about coffee.
What's the philosophy behind the roasting and service of your coffee?
I can't make a flavor. The coffee already has a flavor, and all I can do is extract that. Finding the best way to extract that flavor is what a roaster should do, so the green bean is the most important part of coffee to the roaster. To the customer, however, service is the most important part of coffee. Service greatly influences the taste of coffee. If you get bad service, then the coffee suddenly tastes bad. You also have to think about the atmosphere of the cafe. Music, glassware, all of these things influence the taste of the coffee. The human mind is really strange, and it will perceive taste differently depending on the experience around it.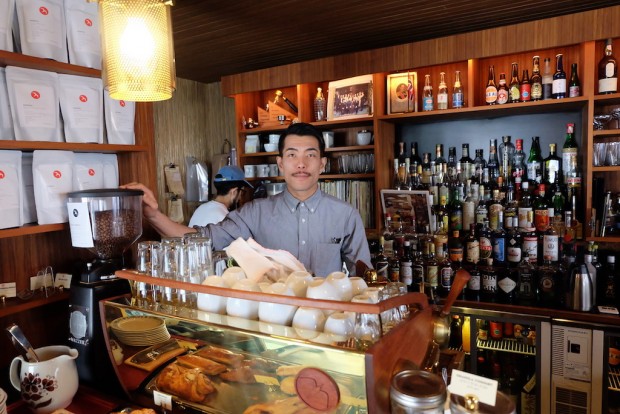 Where do you see the coffee scene going in Tokyo?
Right now is the most interesting time for coffee in Tokyo. It's so exciting. What's this new cafe like? What's this roaster's coffee taste like? We are catching up to the rest of the world when it comes to how coffee tastes. But it may get boring soon. Good coffee will just become normal. But will dark-roast coffee go away? I think it might. The aftertaste of coffee is very important. If you are leaving a cafe and all you can taste is something burnt and unpleasant for five minutes that makes an impression. But if the aftertaste is sweet and clean then your whole experience has been pleasant.
Any other cafes you recommend?
Onibus Coffee. They offer simple service and try bring out the flavor of the bean. Bar Zingaro. Fuglen helped to produce this cafe. You have to see the design by artist Takashi Murakami.
Fuglen Tokyo is located at 1-16-11 Tomigaya, Shibuya, Tokyo
(note: an earlier version of this story incorrectly identified Kojima Kenji as owner of Fuglen Coffee Roasters.)
Eric Tessier
Eric Steven Tessier is a writer and coffee lover. He is based in Tokyo, Japan.