Cuban-born competitive barista Camila Ramos has expanded her passion for specialty coffee excellence from behind the bar into the foundation of an establishment all her own, the much-anticipated shop, All Day, in Miami.
In keeping with Ramos' momentum to excel, All Day brings it. The menu is not just visible; it's written in bright green neon tubing. While most multiroaster programs launch with offerings from two or three roasters, All Day made its debut with coffees from no fewer than 10 exceptional roasters from around the United States. Rather than going with a standard La Marzocco Linea, or even a more advanced Strada, the shop features a custom-built five-group machine that Ramos characterizes as both of those machines combined.
The one-of-a-kind hybrid espresso machine was built by Seattle-based espresso machine designer, builder and customizer Pantechnicon Design to incorporate three Strada EP groups with individual boilers and gear pumps, and two EE-style groups that share a boiler and rotary pump. Steam wands are spread out on opposite sides of the machine for more convenient access by additional baristas, and pitcher rinsers are integrated into the drip tray.
Ramos was able to collaborate with her architect sister to design the machine's external shape and profile, as well. "We would really dig into the aesthetics of the machine to the last detail, so that was really nice," said Ramos. "That was cool for us."
Ramos's first step into the barista world came through Volta Coffee Tea & Chocolate in Gainesville, Fla., in 2008. Three years later she joined Miami-based Panther Coffee, eventually ascending to the position of director of retail operations. Three years after that, Ramos took top honors at the 2014 Southeast Regional Barista Championship then moved on to land in fifth place at the national U.S. Barista Championship, all of which also earned her recognition of being named on Eater's 2014 "Young Guns" list, which highlights culinary up-and-comers roughly age 40 and under.
With high-end chef Charles Lutka at the helm of a full kitchen turning out hearty, creative breakfast, lunch and "after five" fare, All Day patrons can choose to settle in on any of the five tables outside, 10 inside with space for more, and eventually an upstairs seating area still under construction.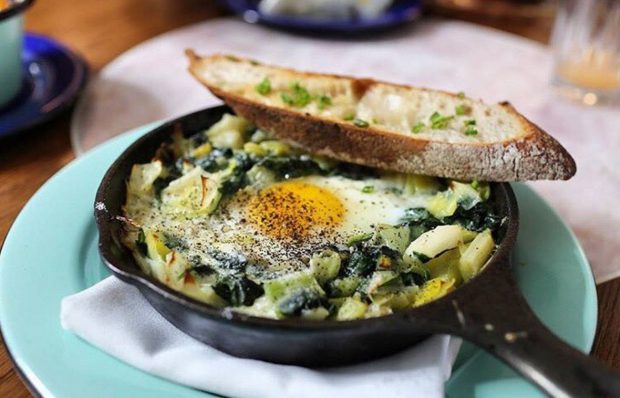 The collaboratively customized All Day house espresso is roasted by Wisconsin-based Ruby Coffee Roasters, while the extended menu currently includes coffees from Camber Coffee (Washington), Counter Culture (North Carolina), Revelator Coffee (Louisiana), Neat Coffee (Connecticut), Spyhouse Coffee Roasting Co. (Minnesota), Heart Coffee Roasters (Oregon), Intelligentsia Coffee (Illinois), Per'La Specialty Roasters (Florida) and Toby's Estate Coffee Roasters (New York). Coffees will rotate in and out more or less weekly, though the flow is oriented more by freshness, supply and excitement rather than by adherence to a particular schedule.
Grinding for the five-headed beast is achieved on a Mahlkonig K30 Air, with an Mahlkonig EK43 breaking beans for All Day's Kalita pourover  and Curtis batch brew. Espresso is served straight or with milk, and rather than relying too heavily on such terms as "latte" or "cappuccino" — vague terms in the consumer sphere given their difference in meaning shop to shop, region to region and country to country — Ramos directs baristas to politely zero in on what patrons actually want by clarifying the amount of milk and inquiring whether they prefer it "wet" or "dry."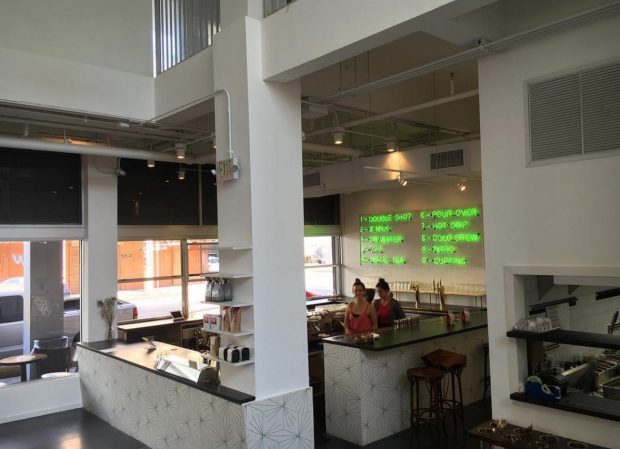 "When someone says they want a latte, it's like, are you asking for a ratio, or are you asking for a texture?" postulates Ramos on how, while they'll use traditional drink names while interacting with customers, none actually appear on the All Day menu.  Since "latte" can mean so many different things to different people, Ramos find the surest route to actually pleasing people is simply to ask. Said Ramos, "We just make sure that we're getting someone exactly what they want."
The equipment, the menu, the selections and the service all play into Ramos's endless pursuit of excellence in the field of specialty coffee, which for Ramos also means that there will be no additional All Day locations — at least not in Miami, and not anytime soon — and they will never attempt to bring roasting in-house, given how many outstanding roasters exist.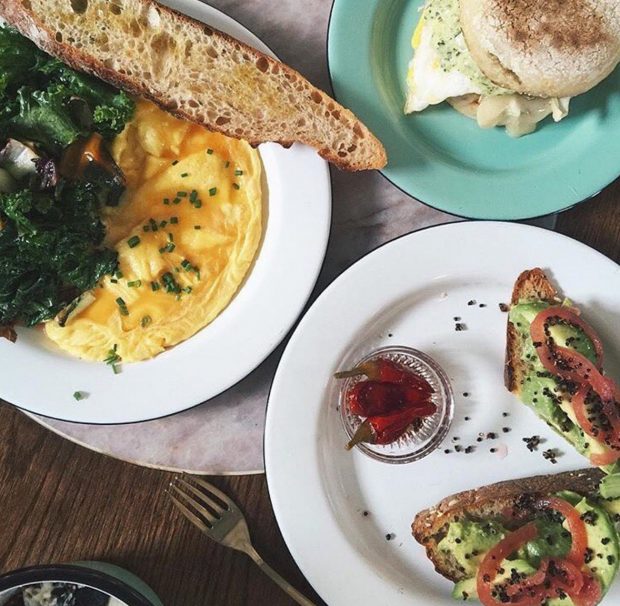 "Our vision and our goals are about doing everything the right way, and our passion is retail and the customer experience," said Ramos. "We want to be seen as an institution and be known for being excellent, and I think growth comes at the price of that."
Howard Bryman
Howard Bryman is the associate editor of Daily Coffee News by Roast Magazine. He is based in Portland, Oregon.