The official motto of the city of Fargo, N.D. is "Gateway to the West." In the space of a former pastry shop in the city's downtown, Tim and Elisha Griffin are providing exactly that: A local introduction of area consumers to the light, sweet and nuanced approach to coffee championed by roasters on the West Coast.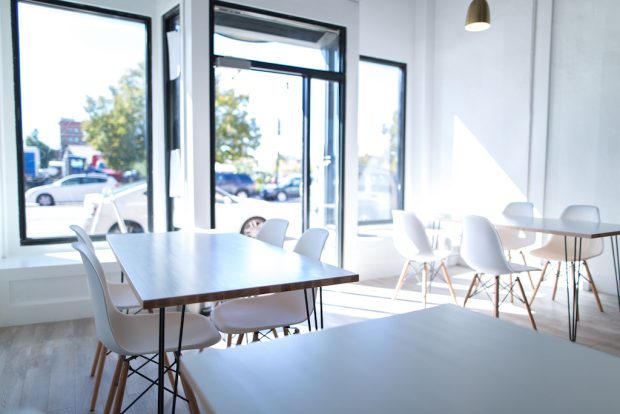 Young Blood, which opened last month, is about 600 square feet and seats about 25. In contrast to the darker, woodsier retail and hospitality spaces of the area, the Young Blood shop welcomes patrons in between its clean white walls and up to a bright white counter, where a white Mahlkonig EK43 grinds for 2-cup Chemex and single-cup Kalita manual brews while vinyl records spin and a gleaming two-group Kees Van Der Westen Spirit Duette espresso machine paired with a Mahlkonig K30 prepares drinks based on coffees from San Francisco, Calif.-based Four Barrel and the 4B sub-brand De La Paz.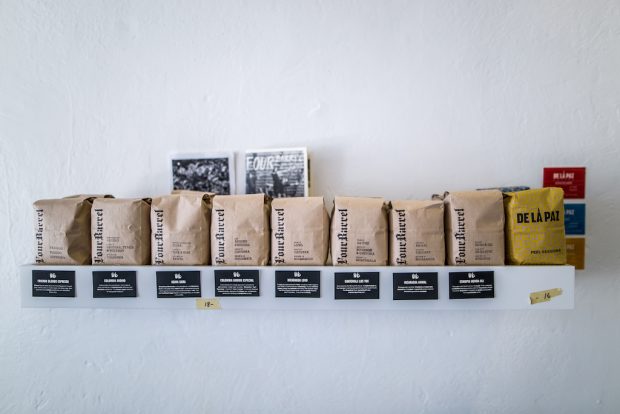 Tim met Elisha while the two worked Four Barrel. Elisha came to that job after a stint at the Venice, Calif. location of Intelligentsia Coffee, while Tim had experience both starting and working at various spots around Fargo, and later in such Portland, Ore. bars as Stumptown and the multiroaster Barista. While at Four Barrel together, they voyaged to origin along with 4B staff, and remain intimately familiar with the coffees, the staff, the sourcing practices and the overall ethos of fairness and quality inherent to the brand by which they're proud to stand.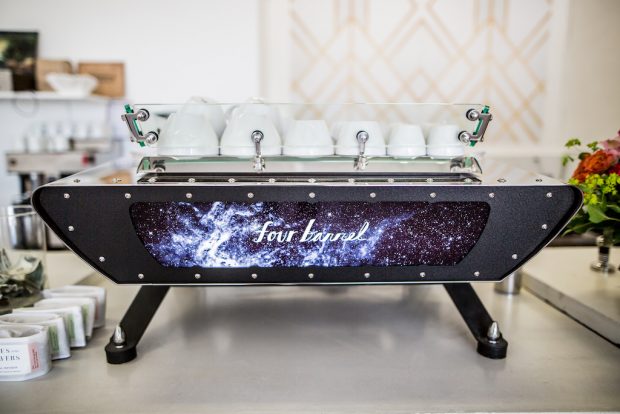 "It's easy for us to communicate that to customers, because we've been so involved," Tim Griffin told Daily Coffee News. "I think we're about as close to being a Four Barrel as you can get without actually being owned by Four Barrel."
It's an involvement Griffin said also informed him of how the multiroaster model feels on the roaster's end. "I used to work in wholesale at both Sightglass and Four Barrel, and I know that having multi-roaster accounts — they're a little unpredictable, and I understand how that lack of commitment looks on the other side," said Griffin, adding that he knows Four Barrel appreciates both the dependable and predictable business as well as the dedication to quality that a loyal account like Young Blood provides.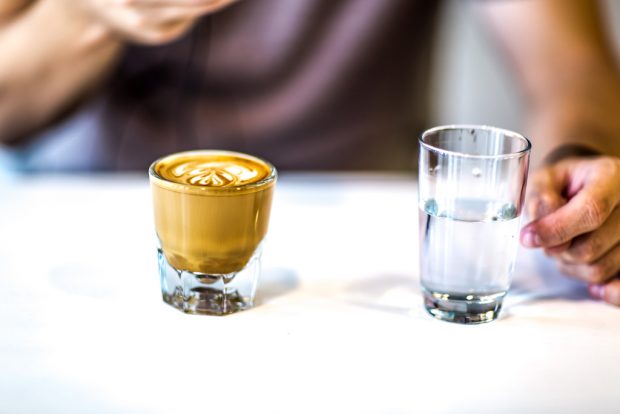 Young Blood, meanwhile, enjoys the closer bond with one supplier as well, especially with one that happens also to be of exceptional quality. "It shows good faith, and I think that it allows us to form a more intimate café-roaster relationship, and that's what we wanted," said Griffin.
Originally, Griffin was part of a plan hatched in Fargo in 2013 for a microroaster based in Minneapolis that borrowed time on another company's production equipment with designs on a brick-and-mortar café later. Those plans all but fell through when the original founding member of the very small team was called upon to dedicate more time to his family's unrelated business. Tim Griffin, however, remained true to the course of providing high-quality, West Coast-style coffee to the Midwest.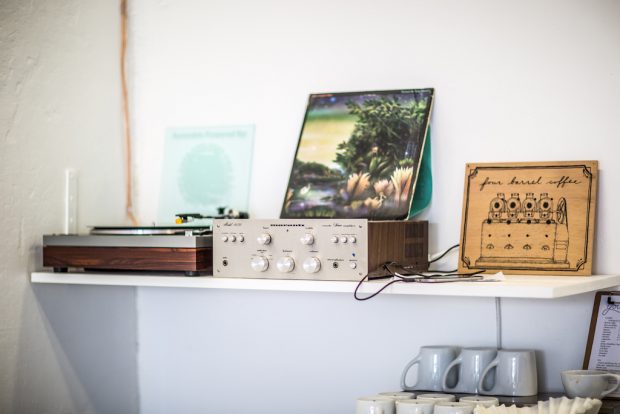 "We're standing on the shoulders of that," said Griffin, who decided along with his partner and wife Elisha to take over the name and the brand, move it to Fargo, and then to trust in the wisdom and expertise of experienced roasters rather than dive headlong and unprepared into an aspect of the business with which they had little experience of their own.
"It's always something that's in the back of my mind. It seems like it would be the natural progression, but I feel like that's a part of the business I'm not confident to do on my own," said Griffin, regarding bringing roasting in-house. "I'd definitely want to have the right people in those positions that really have a grasp on how to do it well."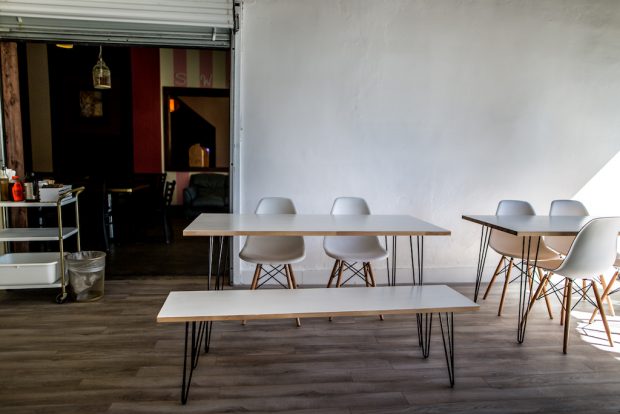 Looking ahead, Young Blood hopes simply to continue rising in the local esteem through excellent coffee as well as excellent service, the importance of the latter of which he learned from working in more saturated markets where differentiation was key.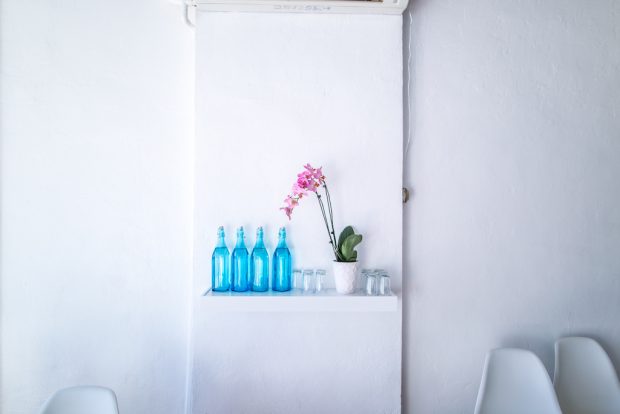 "I could find good coffee just about anywhere in Portland, but it was that customer experience that really set places apart and brought me back," said Griffin. "So we're trying to really focus on that, having more of an interaction so that people come back for that as well as great coffee."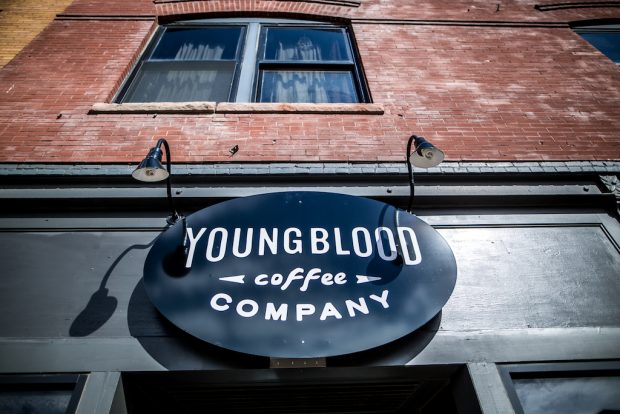 Howard Bryman
Howard Bryman is the associate editor of Daily Coffee News by Roast Magazine. He is based in Portland, Oregon.