When Slovenia-based coffee-stuff-maker Goat Story took its first step onward from vessels to brewers with the G-Drip this past summer, it was in a low-tech, high-design spirit, not unlike its flagship product, the horn-shaped travel mug with a sleeve that doubles as a stand. This fall they've moved forward yet again, keeping certain elements of the earlier design but adding quite a bit more.
Goat Story's latest upcoming brewer is called the Gina, which, like the G-Drip, is ostensibly a pourover device with a minimalist appearance, but one that is loaded with additional features that makes it more versatile and substantially higher tech. And like the Goat Mug, which set a modest $25,000 goal on Kickstarter and raked in over $450,000, the Gina is also being propelled onto the market by a runaway crowdfunding smash of a campaign, currently more than 530 percent funded with more than 40 days left on the clock.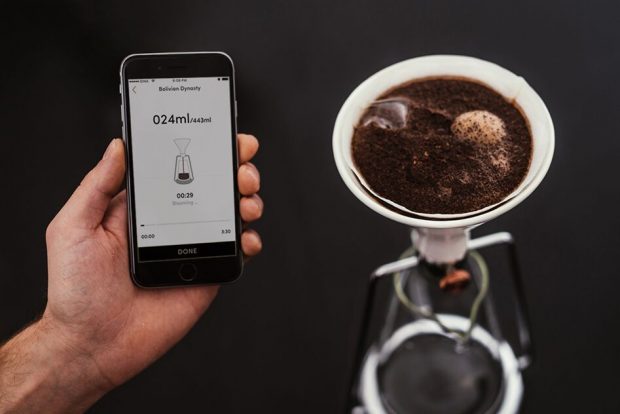 Beneath the Gina's deceptively simple ceramic pourover-style cone is a food-grade stainless steel valve. With the valve wide open, users can make traditional pourover; with it closed, and topped with the included ceramic lid, an immersion brew. With an included additional grounds-holder suspended under the valve and water or ice in the cone, the valve can be set to drip at a slow, steady interval for Kyoto-style cold brew.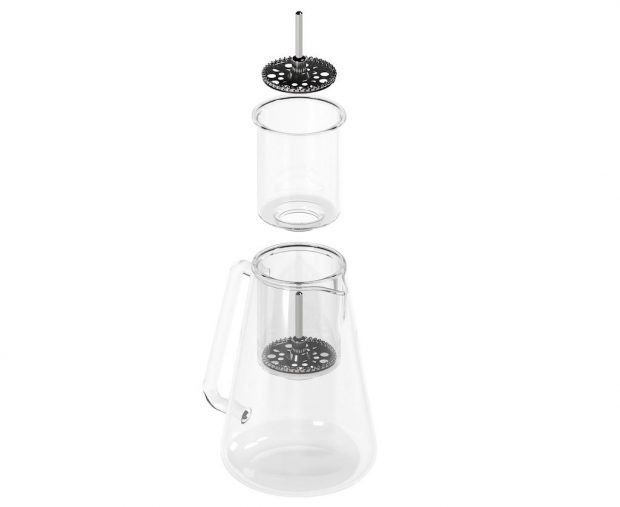 Built into the base is a Bluetooth-enabled digital scale with a rechargeable battery that the company says will last for up 80 brewing hours. The scale depends on a smartphone app to provide its display, although the app also boasts a bevy of additional functionality. There are subtle sound notifications during the brew process to help users through the procedure without having to stare at the timer on the screen, and a "coffee shop" feature, most handily used on tablets, allows a user such as professional barista to monitor up to four Gina brewers at once. Users can also store brewing parameters, calculate brewing ratios, time their cold brew, and network with an online user community all through the app.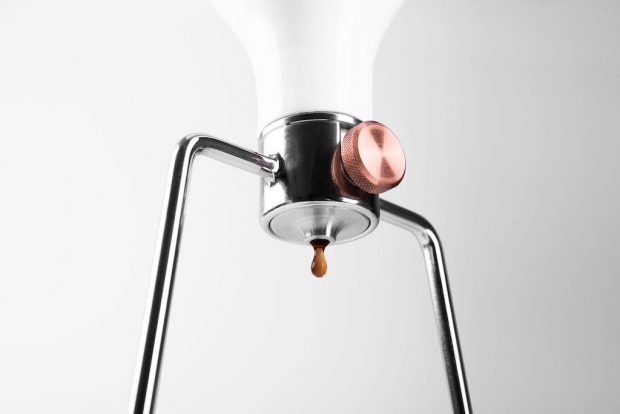 Anze Miklavec, founder and CEO of Goat Story, told Daily Coffee News that the company has partnered with a variety of manufacturers for the various components built into the Gina.
"Everything is completely made from scratch and custom made to fit Gina perfectly," said Miklavec. "One thing we're keeping as our highest priority is to partner up with the most reliable companies that can assure us with the highest quality of products."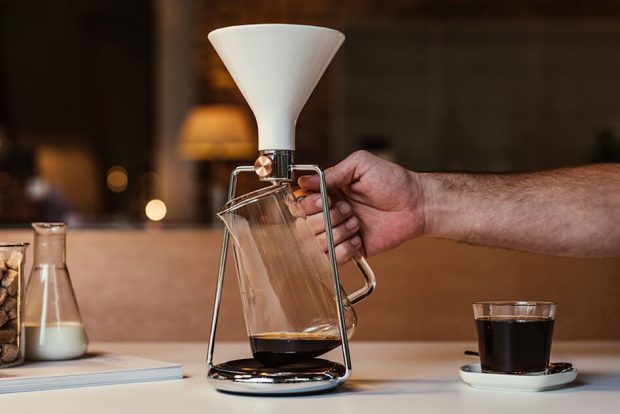 The brewer is capable of batches of up to 25 ounces of coffee, depending on the method. The glass vessel for holding grounds for slow drip preparation will accept Aeropress filters. The Gina brewing cone will accommodate either Hario V60 or Chemex filters as well as the Kone stainless steel filter. Miklavec confirmed that with the valve wide open there is no obstruction of the flow of liquid down into the receptacle, allowing for a pourover process comparable to standard V60. "If we reach our stretch goal of $350,000 we'll also develop our own custom Goat filters," said Miklavec.
As for what might be coming after the Gina, Miklavec said the company is bursting with ideas. "We definitely want to continue innovating in the coffee industry by providing a better user experience in every stage of coffee preparation," he said. "We're hooked on coffee and we have no intention in backing out any time soon."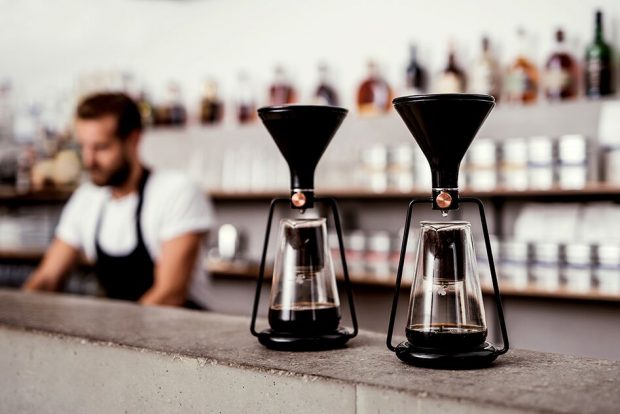 The projected retail price after the crowdfunding campaign has concluded is slated to be $245. The published estimate for worldwide delivery of Gina devices for Kickstarter backers is April 2017.
Howard Bryman
Howard Bryman is the associate editor of Daily Coffee News by Roast Magazine. He is based in Portland, Oregon.