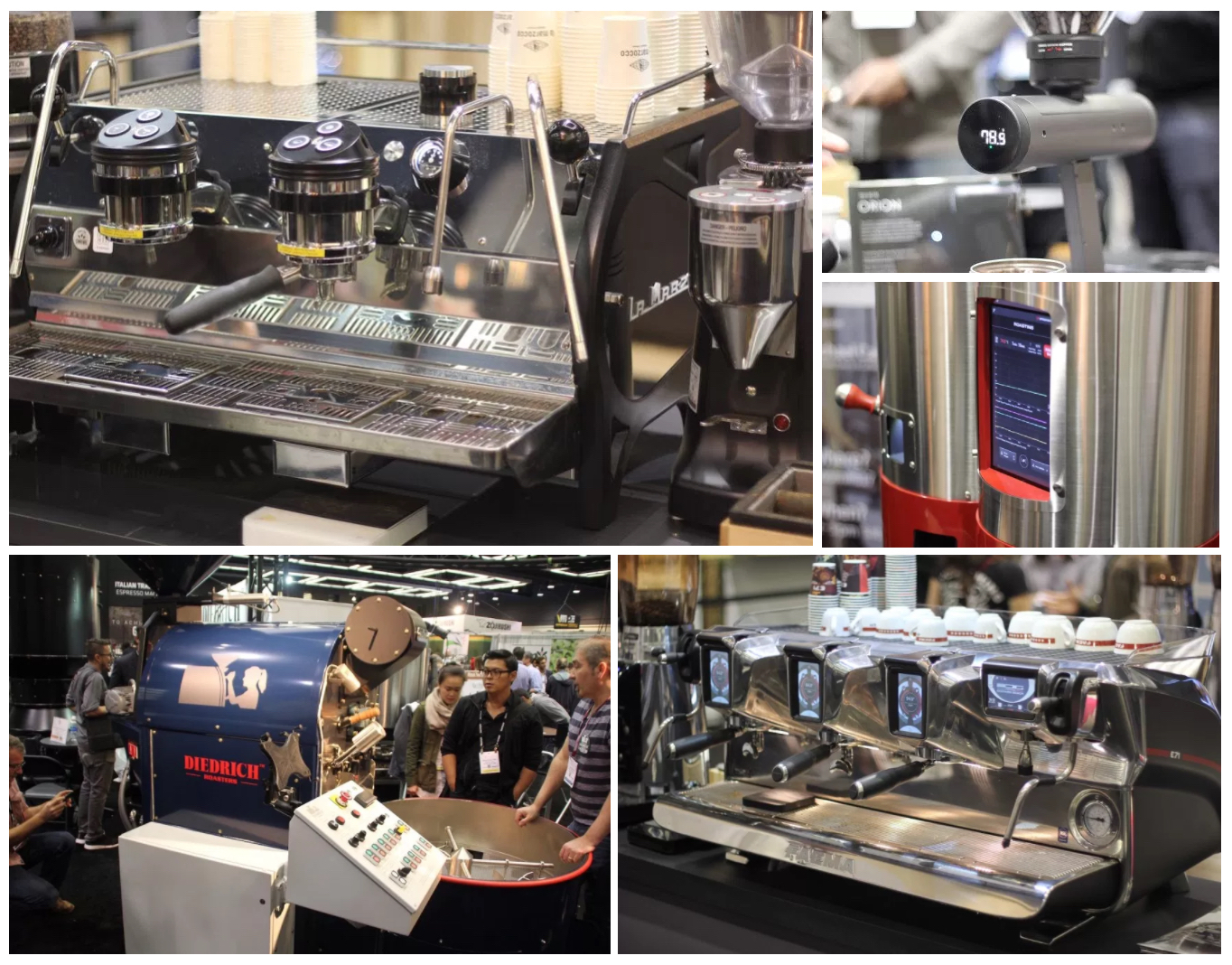 Some people come to compete; some people come to learn; and some people prioritize the many networking opportunities. Yet at the SCA Global Specialty Coffee Expo, the flood of shiny new products typically offers at least a few exciting points of interest to anyone in coffee. Whether one's interest is in roasting, espresso, cold coffee, batch or single-cup brewing, innovation abounds on the showroom floor.
Of course, the product shining the most brightly in our hearts this year is the newly released "Book of Roast" by Roast magazine, yet let's take this opportunity to look outward, beyond shameless self-promotion.
The rapidly industrializing cold coffee segment was well represented this year with new exhibitors displaying commercial-scale wares, among which the BKON Storm stands particularly tall. Faema's latest stride forward in espresso technology, the E71, made its official U.S. public debut, including demos of its three-phase extraction process that can be automated or performed manually by way of its lever-like group-top controller and a 4.3-inch touchscreen interface.
Nicholas Cho's December Dripper was present and provided fodder for some engaged reconsideration of the variables in manual pourover brewing, and the Voga Coffee booth, showing off the company's handsomely and efficiently redesigned Ground Control batch brewer, was steadily humming with interest.
We'll have more product rollout news from the Expo floor to share in the coming days and weeks, but here are a few of the show's standouts, including a new Diedrich roaster, Acaia's whole-bean dosing and packaging scale, the groundbreaking Stronghold S7 Pro roaster, and the La Marzocco Strada ABR.
The Diedrich CR 35
One of the bigger surprises of the show was a new roaster from Idaho-based Diedrich Roasters, the CR 35. "We haven't really changed our systems a lot in the last couple years," Diedrich Relationship Manager Steve Paquin told Daily Coffee News, describing the machine as a CR-series redesign from the ground up that's been in the works for the past year. "We took a lot of the quirky details people wanted and integrated them and re-engineered them so they work."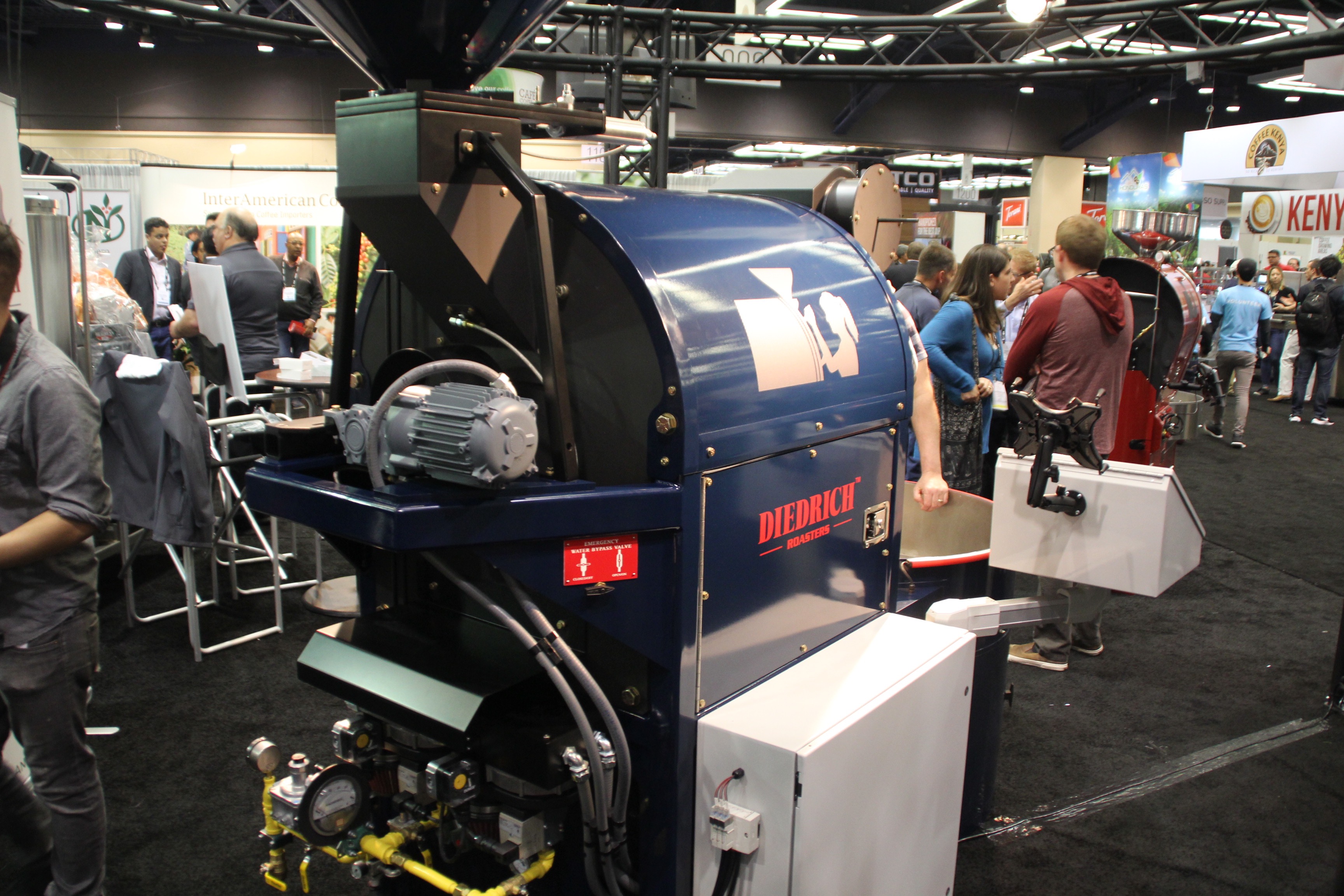 The clearest departure of the CR 35 is of course its 35-kilo capacity, intended to tidily accommodate a half bag, which precipitates the phasing out of Diedrich's 25- and 50-kilo models. Beyond that, the CR 35 offers a variable-speed drum, upgraded bearing system, dual infrared burners, and hinged paneling on all sides of the machine for easier cleaning and maintenance.
Buyers have the option of upgrading to the "super premium efficiency" IE4 motor in advance of it becoming a required industry standard. Diedrich also launched a new oxidizer design specifically for the CR 35, featuring its own efficiency and maintenance improvements over previous designs.
Stronghold S7 Pro Roaster
South Korea's Stronghold Technology made its U.S. debut with the S7 Pro electric roaster, featuring Android-based smart technology designed to easily automate and replicate roasts. The insulated, high-efficiency roasters feature a stirring impeller inside a vertical tower drum, with heat coming in three different forms — convection heat circulating throughout the drum, conduction heat made even by the interior impeller, and radiant heat from a halogen lamp, and roasts can be monitored and controlled from a large touchscreen interface.
Stronghold CEO Jason Woo told Daily Coffee News that the 850-gram-capacity roaster — which starts at $13,500 — has been a popular option in other markets as a shop roaster, where time savings can be achieved through automated monitoring of and response to bean characteristics during the roast, while minimizing energy consumption.
Stronghold is currently selling the S7 Pro direct to U.S. consumers from their Korean headquarters, although Woo said the company hopes to soon open a U.S. office.
Acaia Orion Bean Counter
The latest from high-tech scale-maker Acaia comes in the minimalist, compact form of the Orion Bean Counter, a simple and sophisticated solution for portioning out individual espresso or pour-over doses in a café setting, or retail bags of whole-bean coffee in a roastery. A built-in algorithm provides faster dispensation for larger doses, hastened or restrained by a concealed, motorized auger that turns to gently control the flow of beans from a hopper down to its chute. The measurements are accurate to within half of a gram and are intentionally programmed to err on the generous side by a bean or two, to account for grinder retention.
Acaia Co-founder Rex Tseng told Daily Coffee News that in one of his cafes, the Orion cuts time spent on pre-dosing coffees in half. "For one of our shops that pre-doses into containers, they spend about half an hour. This saves at least half of their time, so it eventually pays off the machine," said Tseng, adding that the same effect would be applied to roasters. The model on display at the Expo was a prototype, which the company says could potentially be tweaked based on feedback during the show. Tseng said that Acaia aims to begin shipping finished production units in the third quarter of this year.
La Marzocco Strada ABR
At the La Marzocco booth the latest addition to the LM line made its U.S. debut: the Strada with Auto Brew Ratio technology. With scales incorporated into the drip tray, baristas can pull shots either in Mass Mode, which targets a specific finished beverage weight, or in Ratio Mode, which dispenses water according to a prescribed ratio after the barista weighs the dosed portafilter on the drip-tray scale.
The ABR system was originally introduced to the Linea line two years ago. Now cafes that prefer the lower-profile Strada machine can pursue that design without sacrificing the latest in La Marzocco's espresso craft technology.