Omaha, Nebraska-based roaster Hardy Coffee Company has opened a new headquarters in North Omaha's Highlander neighborhood, including a cafe, a roastery and a bakery all on site.
Hardy Owners Autumn and Luke Pruitt also last year applied the Hardy brand to their existing enterprises — Bliss Old Market bakery, which opened in 2010 later took over the adjoining Aromas coffee shop space, and the second Aromas shop they opened in 2013. All are now Hardy locations, with the new headquarters giving the company an even heartier brand presence.
"After launching a roasting component to our business in 2015 as Hardy Coffee Co., we began discussing how to better clarify our messaging and communicate who we are as a company," Autumn Pruitt told Daily Coffee News. "But it wasn't until we began thinking through the layout of our new headquarters that we really made the decision to re-brand all components and locations of our company under one, unified brand."
Quality and craft are unifying themes for the brand that were demonstrated early on when the Pruitts shifted Aromas to a local coffee roaster in 2013 and began streamlining the menu, reducing the variety and increasing the quality of syrups and making chai concentrate in-house.
"While I'm sure that the concept is not unique to him, our coffee roaster, Nick Tabor, always says that great customer service begins with a great product," said Pruitt. "For us, it wasn't enough to be kind to people if we weren't constantly improving the product they were purchasing. For us, it was important to do both."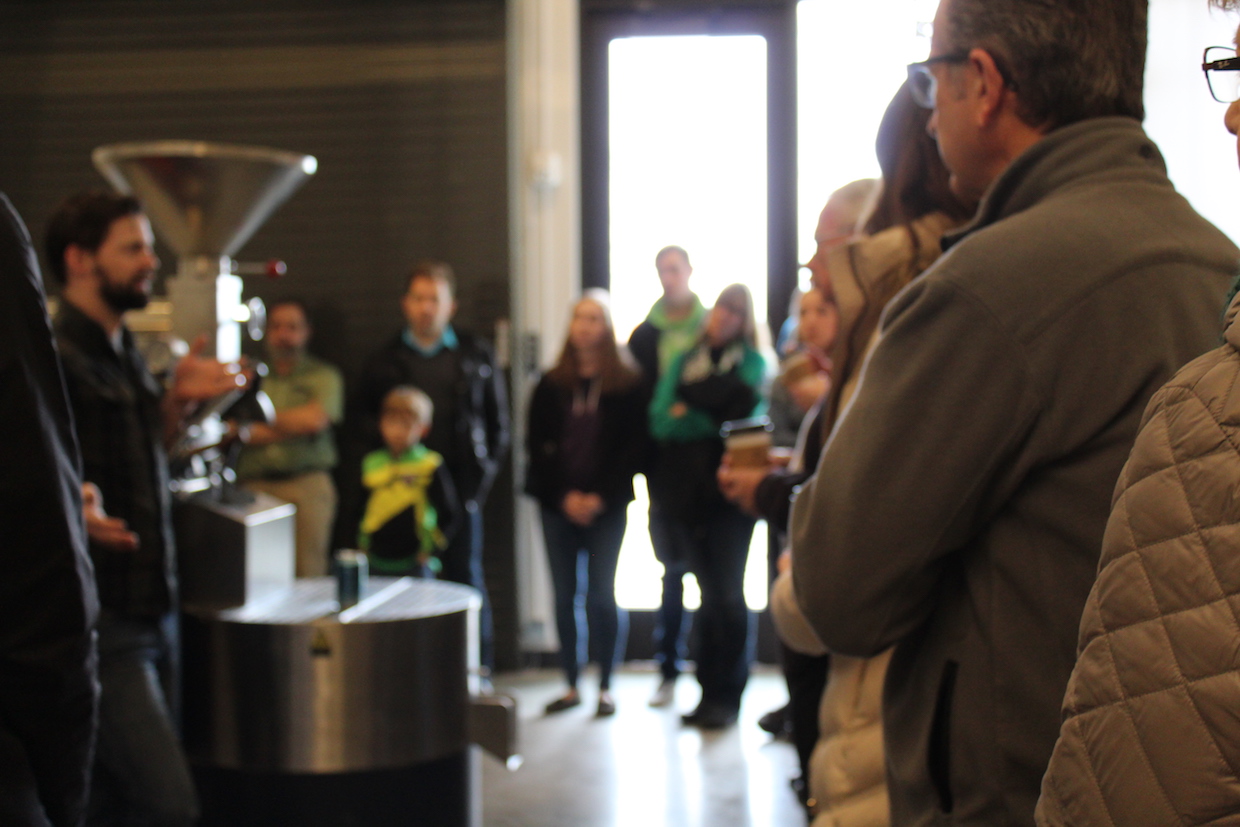 The approximately 3,000-square-foot location in Omaha's transforming Highlander neighborhood includes roughly 660 square feet devoted to roasting production, where greens sourced mostly from Anthem Coffee Imports and Cafe Imports and occasionally through direct relationships with producers are darkened in the company's 10-kilo Mill City coffee roaster. Roughly 1,060 square feet is taken up by bakery kitchen space, and the cafe footprint is a bit over 1,100 square feet.
Restrooms, a generous patio and green space are all shared with other businesses and organizations in the Accelerator building, which is part of the Seventy Five North revitalization project.
"We are eager to share this building with other businesses and nonprofits in this redeveloping, historically as a whole… under-resourced neighborhood," said Pruitt. "This entire project is incredibly exciting."
Revitalization is a core concern for Hardy Coffee both internally and outwardly. Having focused so intently in recent years on reshaping itself from within, the new location also provides a new face and space for the community.
"Whether someone loves a caramel latte or naturally processed Ethiopian, we want them to feel welcome and cared for in our space," Pruitt said. "Visually, our spaces are large, bright and warm. We use a lot of organic material in the designs — wood, concrete, plants."
As the Highlander neighborhood may benefit from the Seventy Five North project, consumers throughout the entire city have benefited from a growing specialty coffee scene.
"While we still have a long way to go as a city, there are actually more than a handful of coffee shop and roaster options now," said Pruitt. "We love seeing this change and finding ways to champion each other. I think having more, local options forces each of us to make decisions on how to set ourselves apart and serve customers even better."
Hardy Coffee Co. is now open at 2112 N 30th Street in Omaha.
Howard Bryman
Howard Bryman is the associate editor of Daily Coffee News by Roast Magazine. He is based in Portland, Oregon.