The nonprofit Progreso Foundation has launched a new green coffee trading platform called Beyco (Beyond Coffee), offering direct connections between potential buyers and sellers with cutting-edge blockchain technology.
The platform officially launched last month during the 2018 Let's Talk Coffee Global event, produced by coffee trading company Sustainable Harvest in Cartagena, Colombia.
Progreso Foundation Managing Director Isabel van Bemmelen told Daily Coffee News that the platform has been in development for about a year. Its fundamental purpose, she said, follows the foundation's driving goal of providing improved market access to coffee producers.
"We are not the ones who buy it or sell it," van Bemmelen said of the coffee being traded on the platform. "We facilitate the trade. We just want to have a lot of potential buyers on it and a lot of potential sellers, and to make that connection."
Through Beyco, producers and potential buyers such as importers or individual roasting companies can create and manage their own profiles. A process akin to friend request on social media allows buyers and sellers to see expanded profiles. On the seller side, profiles may include a complete list of green coffee inventory, updated at any time. Numerous privacy layers built into the system allow sellers to limit what information is available, and to whom.
For van Bemmelen, the platform represents a natural extension of what she already found herself doing through her work as the former program manager for Latin America for the Rabobank Foundation.
"It came out of demand from producer organizations, but also from buyers," van Bemmelen said. "More and more buyers who were looking for coffee were giving me a call — 'Hey, Isabel, do you still have that Mexico Fairtrade,' or whatever — and I would send an email or call producer organizations to find out what coffees they had to offer."
So instead of that intermediary making numerous calls, sending numerous emails and filling out spreadsheets to share coffee offerings at the request of buyers, the Beyco platform is designed to maintain those relationships, and more, but in a far more efficient manner.
The platform allows for producers to upload documentation for each of their available coffees. It facilitates coffee samples and contract negotiations. Once a contract is signed by both parties, all the information is stored in the blockchain, providing a secure, verifiable record of the transaction.
Progreso worked with the Dutch firm Ionita Consulting on the development of the platform and blockchain integration. The group has previously been behind blockchain solutions for complete supply chains for commodities or specialized chain items such as orange juice.
The Beyco platform will continue to grow through three phases. Phase one was the launch. Buyers and sellers can now create profiles. Sellers can create profiles for each of their coffee offerings. Parties can enter into negotiations, and contracts can be signed.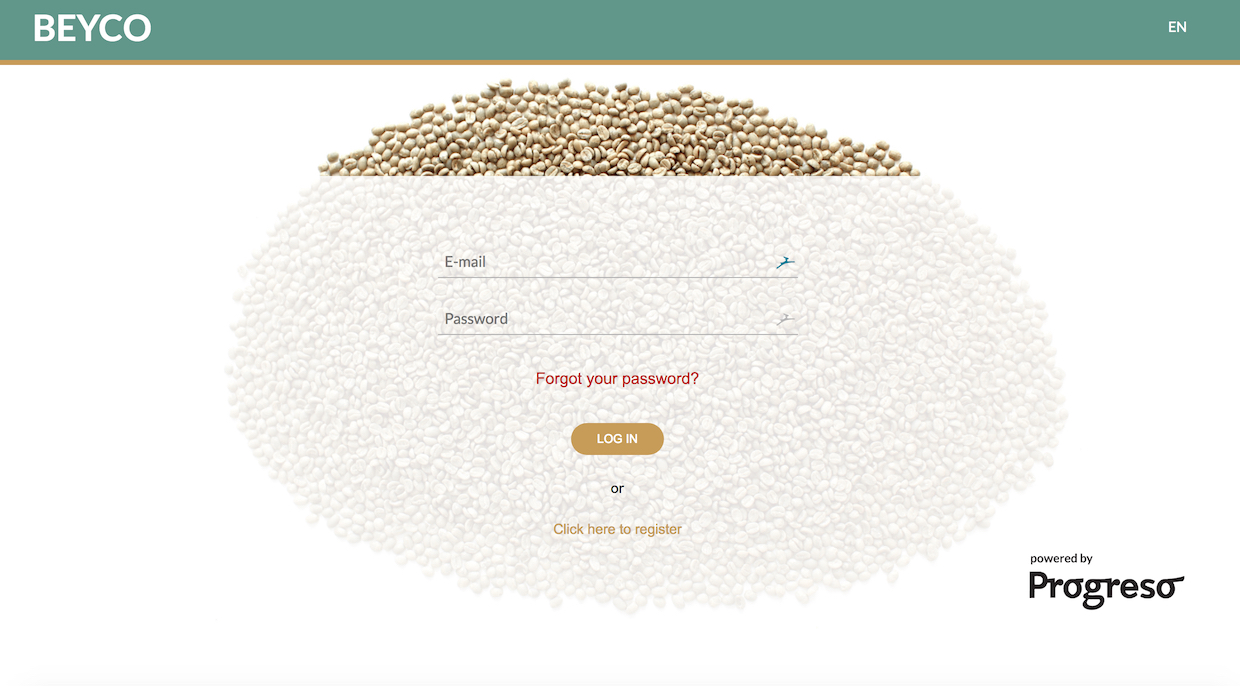 Phase two will involve pre-financing for coffee producers, either directly from the Progreso Foundation or through the involvement of other social lenders. "Of course, we cannot pre-finance all the contracts that come out of this," van Bemmelen said, "but we want to make it feasible that the coffee that is on offer can be exported."
The goal for phase three is to add additional services to the system — such as warehousing, logistics, insurance and/or cupping quality results. Such services could also be recorded into the blockchain ledger. Having such records through the blockchain could also improve producers' access to financing, van Bemmelen suggested, as lenders could review verified data related to payments and other terms.
"We know that input loans are needed, but there are hardly any banks that are willing to provide input finance," van Bemmelen said. "If banks can see what producers are getting paid, they might be more willing."
van Bemmelen recognized that some existing green coffee trading companies may be naturally wary of a system that offers the possibility for such direct connection between roasters and coffee producers. Yet she suggested the platform could actually boost business for importing buyers. The example she used was the potential incorporation of Sustainable Harvest's Tastify cupping app or its Growerstories platform into sellers' Beyco profiles.
"So if you are a roaster and you find a coffee that you're interested, you could see that Sustainable Harvest is involved, then contact Sustainable Harvest to facilitate the logistics for you," she said.
Beyco has officially launched in English- and Spanish-language versions, and the Progreso Foundation is currently working on a Beyco app. As more profiles are added to the system, Progreso is holding its hopes for one desired result. Said van Bemmelen, "It's all about market access for the producers."
Nick Brown
Nick Brown is the editor of Daily Coffee News by Roast Magazine.