A less jittery, jumpy workforce at the National Rifle Association's Fairfax, Virginia, headquarters is probably for the best. But the last thing you want is for the whole building to be "freaking out," which, according to a source of The Trace, is happening now that the NRA has done away with free coffee in order to cut costs:
"The whole building was freaking out," said one former employee who remains in contact with current staffers. Three other sources familiar with the gun group's operations confirmed the story to The Trace.

The coffee cutback is the just latest indication that the NRA is hurting for cash. Membership revenue declined by $35 million last year, and the NRA recently rolled out its second dues increase in as many years. In May, the gun group sued Governor Andrew Cuomo of New York, claiming that his state's zealous regulatory efforts against its Carry Guard insurance program had cost the NRA "tens of millions of dollars" in lost revenue, legal fees, and other damages. (A federal judge recently ruled that the suit can go forward.)
As for exactly how much alertness NRA desk jockies will be missing, a handy new "Caffeine Kick Calculator" might help figure that out. Input the amount of sleep you've gotten, the type of drink and when you drank it, and site will calculate your peak alertness based on a formula gleaned from U.S. Army medical research:
Our calculator predicts the level of alertness and shows it as a cool visual graph, depending on the time you've slept and the dose of caffeine you've ingested. It uses a scientifically proven formula based on research on soldiers in the state of sleep deprivation. If you have a long night ahead of you, just choose one from the most popular caffeinated drinks and pick the time of each separate dose – your anticipated activeness level will be visualized below!
If any Keurig-branded merchandise on the NRA campus remained un-smashed after the coffee company pulled its ads from Sean Hannity's TV show in response to the Fox host's support for disgraced Republican Senate candidate Roy Moore, it's probably gone now — again, for the best, as Keurig's latest machine actually makes beer and cocktails. The Verge took a look at the Drinkworks Home Bar by Keurig:
The appliance looks and acts a lot like a Keurig — it takes single pod servings and turns them into cocktails, alcohol and all. It also pairs with a companion iOS app over Bluetooth to tell users what the machine is doing, enable pod refill orders, and troubleshooting. It even includes a touchscreen so users can make drinks without touching the app. (An Android app is in the works.)

The machine costs $299. Each cocktail pod costs $3.99, or $15.99 for four. There will be 15 cocktails at launch, including a Moscow mule, margarita, mojito, and Long Island iced tea. The pods each have a unique barcode on them that the machine will scan to determine the appropriate temperature and carbonation. The time it takes to make a drink varies. A Moscow mule, for example, takes about 50 seconds while a margarita takes 25 seconds. Users will have to physically remove the finished pods from the machine as there's no garbage bin.
Dunkin' is apparently hard at work in an effort to discover new ways to sling better joe in a hurry. Business Insider explored the Dunkin' Innovation Lab:
The Innovation Lab is where Dunkin' is currently testing out products like self-serve cold-brew taps, order-pickup lockers, and AI technology that can help suggest orders based on customers' gender, age, and mood.

Dan Wheeler, Dunkin' Brands' vice president of strategic initiatives, told reporters on Tuesday that Dunkin' won't shy away from automation as it continues to rebrand. He said that customers should be able to order through a robot and let a human make the coffee, emphasizing all of the on-the-go order options Dunkin' is developing.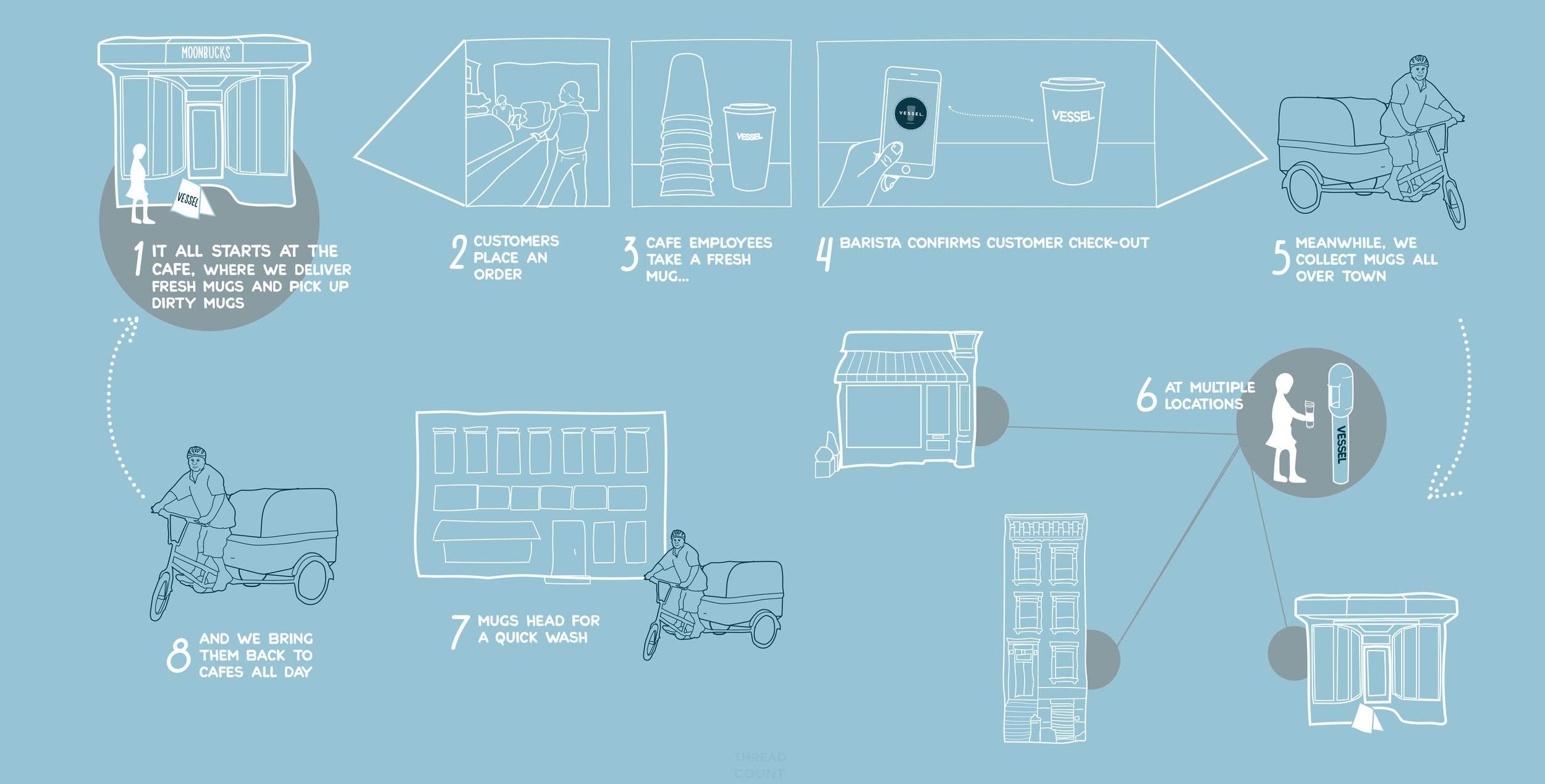 Taking a different approach to takeaway service, Boulder, Colorado-based company Vessel Works is launching a reusable coffee mug-sharing system there after a successful test run in New York City. Founder Dagny Tucker has been talking it up to various media outlets, including Fast Company:
As the system expands–with kiosks to drop off mugs in more locations, such as at transit stations–it will continue to become easier to use. It's also designed to be simple to use for cafes. "I wanted an intervention that was a win for everyone," says Dagny. There's no upfront cost to participate, and the cost that the startup charges the cafes per mug is less, on average, than they pay for paper cups. The containers are easy to stack and store. Vessel cleans the mugs in its own commercial facility, and tracks them to maintain each cafe's inventory. The startup also sends environmental reports back to the cafes. It's easier for cafes than a similar system in Freiburg, Germany, where coffee shops have to handle washing mugs themselves. (Others have also experimented with similar systems.)
Oregon-based coffee chain Dutch Bros. has over two dozen reusable tumblers, cups and bottles among its inventory of branded merchandise. In fact, the company is so deep into non-coffee merch that this week it opened a brick-and-mortar store in Grants Pass, Oregon just for its line of DutchWear apparel and other stuff. NBC News took note:
The store offers branded clothes, shoes, accessories and much more.

Organizers say they are excited to serve their customers in a new way.

"There's a heartbeat in Grants Pass that we really wanted to be close to," said Dutch Bros Retail Manager Dayna Spagnolo, "we're honored to be in the heart of it, and really excited to be available to our customers more days of the week and a little closer to home."
Apparel of a more metaphorical nature came into play this week as Starbucks tightened its mighty green belt. In an effort to bolster profits and look good to its investors, the coffee giant announced that it is laying off 5 percent of its non-retail workers. Bloomberg had more:
The company said it's laying off about 350 corporate employees, most of whom work in its Seattle headquarters. Starbucks had said in September that an unspecified number of job cuts were coming. The coffee chain is restructuring to speed innovation and pump slowing sales.

"Today will be a difficult day for all of us," Chief Executive Officer Kevin Johnson said in an internal email to employees viewed by Bloomberg News. "As we continue evolving our core areas of marketing, creative, product, technology and store development, we are making some significant changes to these areas, as well as other functions across our global business."
The southern English coastal town of Christchurch in Dorset will certainly not be helping poor Starbucks bounce back. The Telegraph reported that the town council has just blocked the opening of a coffee shop in a storefront that's laid vacant for over a year, because there are already 14 coffee shops in the area. Number 15 would simply cross the line, even if its name is Coffee#1:
Peter Hall, a town centre councillor who objected to the application, said: "The applicants said they were going to employ eight people, but allowing the plans could have meant eight jobs were lost elsewhere.

"There was quite strong feeling from local cafe owners and residents that enough is enough.

"There are quite a few empty shops but another coffee shop won't solve that."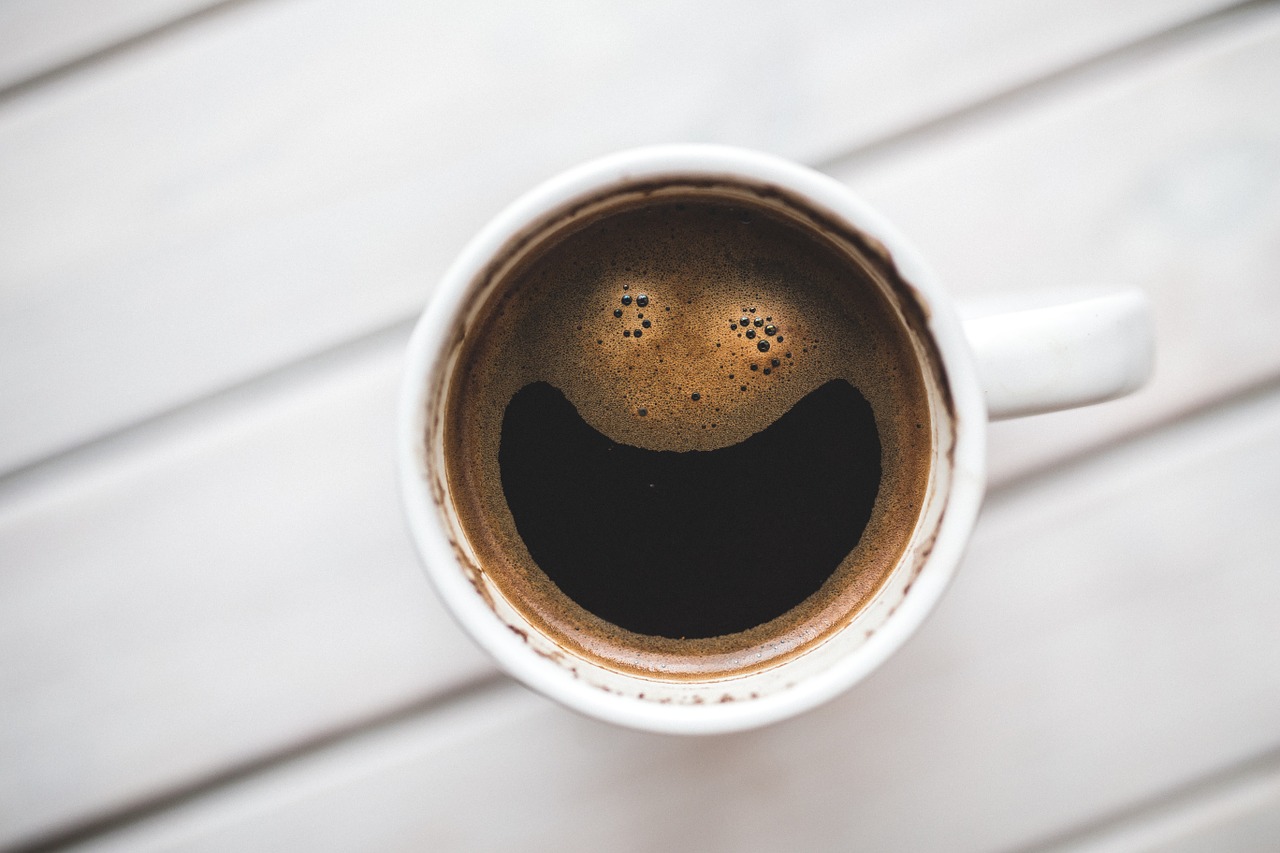 For all the good coffee does for one's health, can there ever really be too much? The latest salubrious point in coffee's favor, according to findings presented by EurekAlert this week, is that its consumption is now associated with a 25-percent lower risk of type 2 diabetes:
The research suggests that a number of factors may be involved including an antioxidant effect, an anti-inflammatory effect, thermogenic effects or the modulation of microbiome diversity. Professor Hermansen's presentation also drew on his own research into coffee compounds such as caffeic acid and cafestol.

Key research findings highlighted in the roundtable report include:
Meta-analyses have suggested that drinking 3-4 cups of coffee per day is associated with an approximate 25% lower risk of developing type 2 diabetes2,3

The inverse association between coffee consumption and type 2 diabetes was shown in both men and women1

Meta-analyses has suggested that both caffeinated and decaffeinated coffee are associated with a reduced risk of type 2 diabetes1,2,3

A number of potentially clinically relevant compounds are present in coffee, including: caffeine, hydroxycinnamic acids notably chlorogenic acid, trigonelline, diterpenes eg cafestol and kahweol, and caffeic acid
Howard Bryman
Howard Bryman is the associate editor of Daily Coffee News by Roast Magazine. He is based in Portland, Oregon.