Passions for music tend to run deeper in coffee shops than they do in most workplaces.
San Diego's Dark Horse Coffee Roasters, founded by musician and audio engineer Bryan Charlson, has always worn its music lust on its sleeve, literally. Its merch section includes a variety of t-shirts that ape the covers of records by such bands as The Clash, the Adolescents and the Descendents, among other music, TV and sports figures.
Now the roasting company has taken that passion across the line from idolatry to actuality with a new, complementary sub-brand and product line: Dark Horse Coffee Records, an all-vinyl record label that will publish and sell fresh LPs of music by local bands.
"There are a lot of musicians at Dark Horse, and in the coffee industry in general," Charlson recently told Daily Coffee News. "I love making music as much as we love coffee."
Charlson said that he had to put music, his first love, on the shelf in order to get Dark Horse up and running, even going so far as to liquidate some recording equipment to help fund the first shop and roastery. Yet at the same time, he'd never forgotten the example set by Starbucks when it dipped its green, high-profile toe into the music industry with its own record label, Hear Music.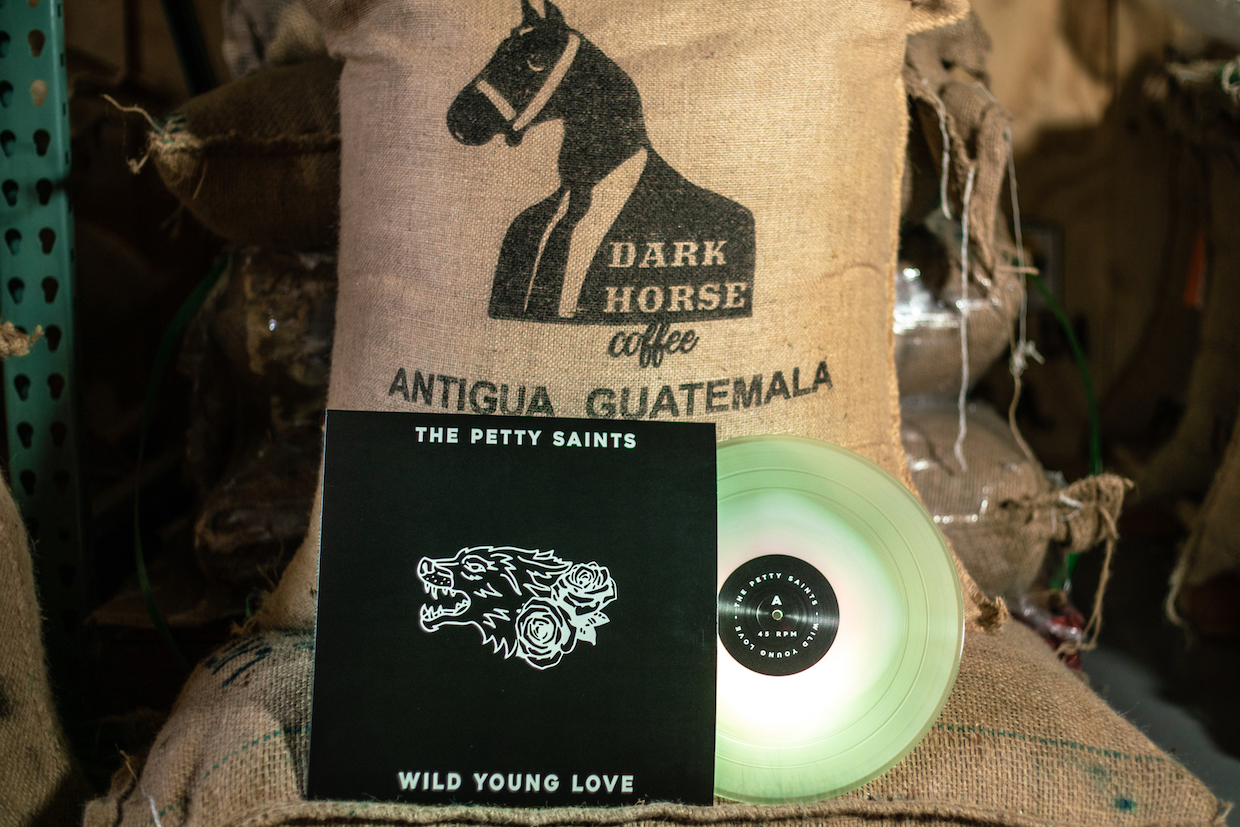 Though Starbucks ceased selling CDs in its stores three years ago, Hear Music is still a thing, and was at least initially momentous enough to sign acts as big as Paul McCartney, Carly Simon, and underground rock heroes Sonic Youth, the cover of whose 1990 album Goo inspired a Dark Horse Coffee t-shirt. Now with five cafes, two more on the way, a cold brew distribution deal and an expansive new headquarters where a 35-kilo Loring Kestrel supports a healthy wholesale business, Charlson has felt free to let the music bug sink its mandibles back in.
Like the Green Siren, Dark Horse will publish new music by active artists and will sell and gently promote the albums in its stores. Unlike Starbucks, however, Dark Horse takes no profit from the endeavor. After expenses, all proceeds go directly to the bands, according to Charlson.
"We are in the fortunate position where we can do cool stuff like record great songs for a rad band and give them all the profits," said Charlson. "[It] just feels right."
The first release by Dark Horse Coffee Records came out last month on Nov. 9. The album, Wild Young Love, is a six-song 12-inch EP by San Diego-based band The Petty Saints, whose guitarist, Brett Reeves, has a close friend who works for the coffee company. Albums for sale directly by the band are pressed on white vinyl, while the vinyl for sale in Dark Horse cafes is green with pink flecks. Daily Coffee News caught up with Bryan Charlson to learn more.
Have you signed any other bands yet? Do you intend to?
Bryan Charlson: We haven't signed anyone new yet. We have some really great demos but haven't pulled the trigger. Our second release is set, and will be announced in January and will be release early spring. It's a six-song coffee concept album, written by Matt Pryor (of the Get Up Kids and New Amsterdams).  We also have started working on a full length album for The Petty Saints that we are hoping to release early summer.
Do you intend for Dark Horse Coffee Records to only release records by San Diego bands?
BC: We want to work mostly with San Diego bands but we don't plan on being San Diego exclusive. Our second release is not a San Diego artist. Matt Pryor is from Lawrence, Kansas.
Have you put much thought into a particular sound or aesthetic direction for the label, or is it a casual, wide-open idea at this point?
BC: At this point it's all about the song. If the songs are great, and we can help, then we want to do whatever to take those songs to the next level.
Have random people been handing in demos since you put the records out for sale?
BC: Yes and I love it. We listen to every demo. I remember handing out demos to labels and bands. I really appreciated when someone took the time to listen and give feedback.
Do you have a plan or schedule in terms of a number of records you want/can put out over a certain amount of time, or in confluence with any other events or expansions?
BC: We are so busy with coffee right now. I'd like to do four releases a year but I think it will be a slow build to that. For the new Petty Saints record, I'll be doing Dark Horse Coffee all day and recording them all night. I don't think I can do that more than four times a year with all the origin sourcing trips and opening new shops.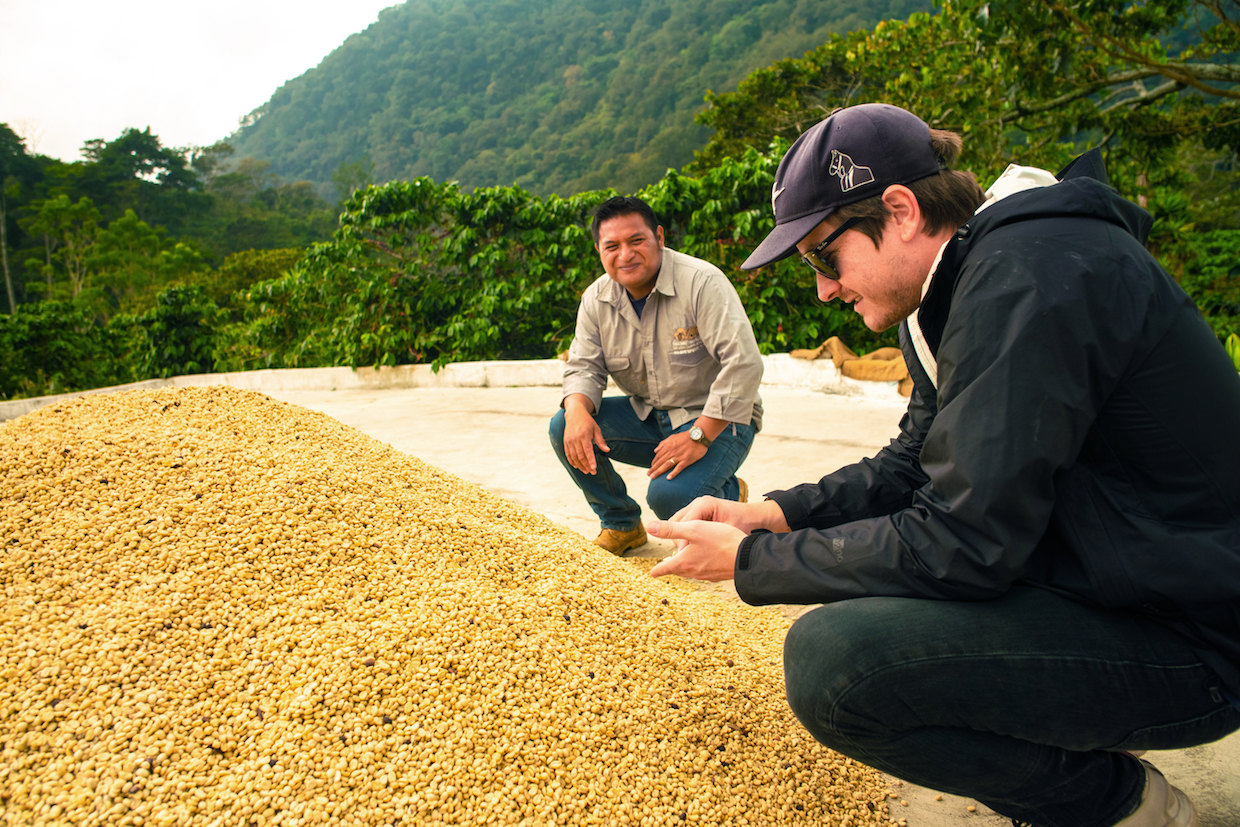 Do you plan on leveraging coffee for sales and promos, like a discount on beans if you buy an LP or vice versa?
BC: Hell yeah. I need to do that. Thanks for reminding me!
Why only vinyl? Do you or the band include a digital download code along with the LP?
BC: Why vinyl? Because there is something special about buying and owning music that is tangible, something to hold and appreciate. And it sounds amazing. But we [also] put it out on all the streaming and digital platforms. iTunes, Spotify etc.
Do you intentionally play Petty Saints music a lot in Dark Horse coffee shops now?
BC: We intentionally play it because that record kicks ass. We let the shops play what they want, and when I hear The Petty Saints playing in our shops, it makes me so stoked.
Howard Bryman
Howard Bryman is the associate editor of Daily Coffee News by Roast Magazine. He is based in Portland, Oregon.