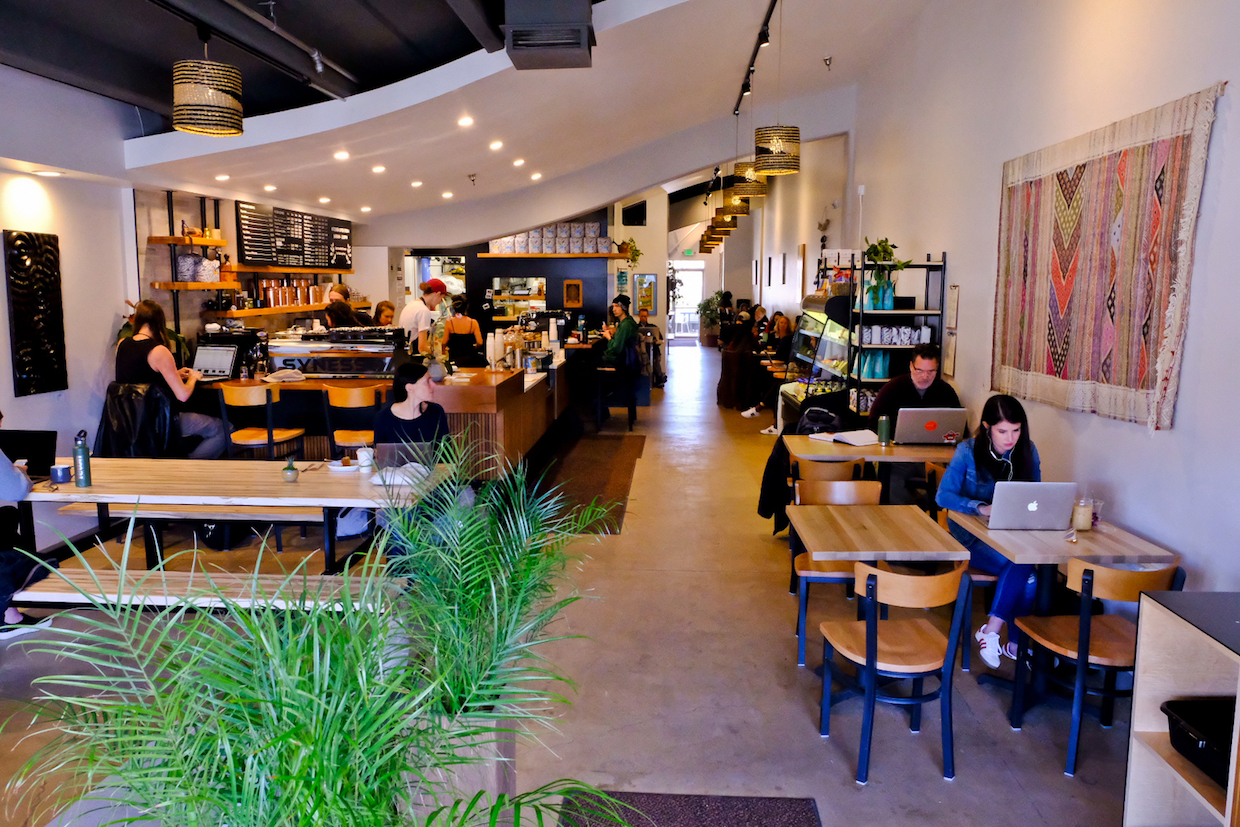 Adding to an already vibrant coffee scene in Boulder, Colorado, multiroaster shop Beleza Coffee Bar has opened at the Community Plaza shopping center. Owners Greg Lefcourt and Nafisa Ramos worked with local design/build firm Wheelhouse Boulder to bring their ideas to reality.
Beleza, the Portuguese word for beauty, is also a slang term used to convey an affirmation or an overall sense of good vibes. Ramos, who plays in a samba band, has travelled to Brazil many times, and Lefcourt's first visit to a coffee farm was in Brazil. While the shop is not Brazilian themed, the name is at the least a nod to their story and the environment they wanted to create.
Offering a selection of coffees from local and national roasters, Beleza will also have a range of food options prepared on site — including quinoa oat porridge, gluten-free yeast-raised waffles, toasts, chia seed pudding, and egg bakes — along with pastries from local baker Lucky's Bakehouse.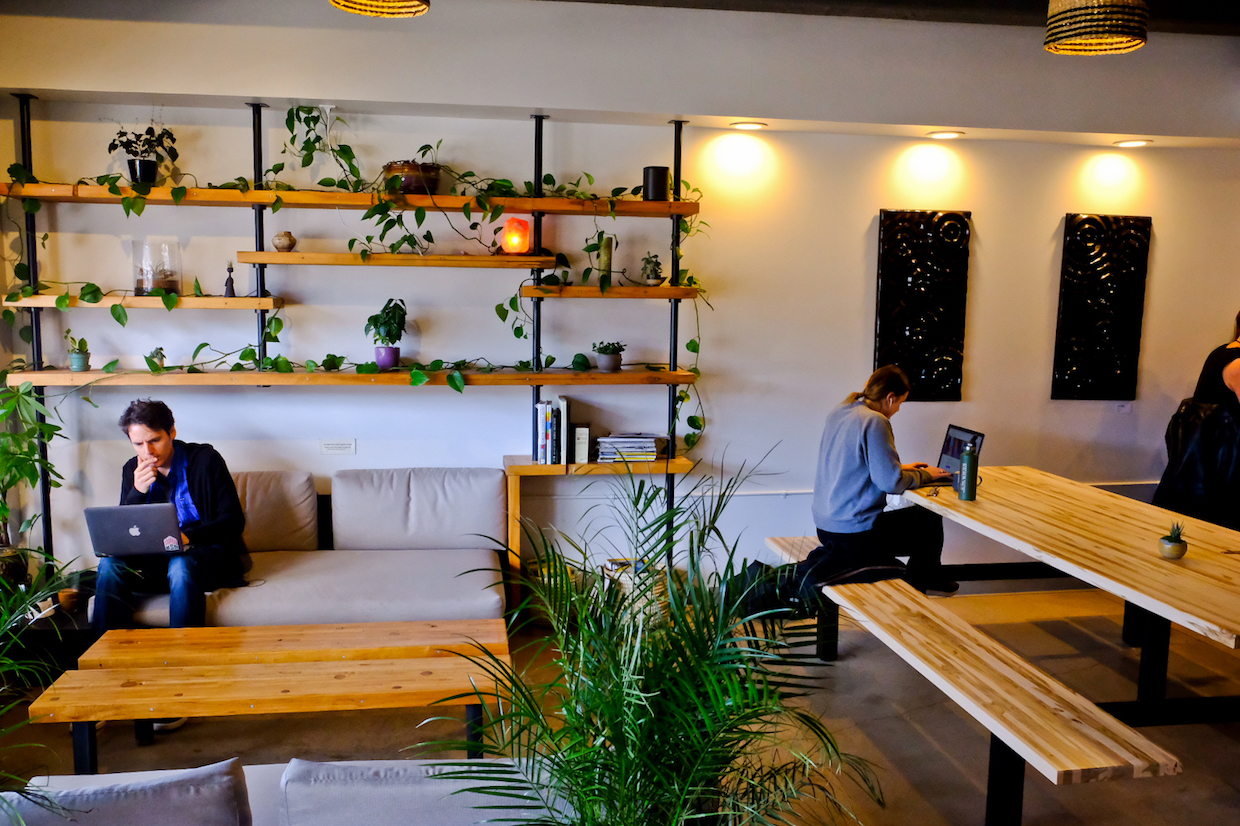 Prior to opening Beleza last month, Lefcourt was a co-owner and retail director of the popular roaster/retailer Ozo Coffee Company. An active member of the specialty coffee community since 2001, Lefcourt has participated in numerous barista competitions and coffee education programs on behalf of Ozo.
"I really enjoy making coffee and serving people," Lefcourt told Daily Coffee News. "Being at the retail level of the coffee supply chain is my sweet spot."
Lefcourt and Ramos, who were both ready for a change in employment, seized this opportunity to go into business for themselves, acting on a vision to bring carefully curated coffee offerings from the roasters throughout the U.S. to people in Boulder.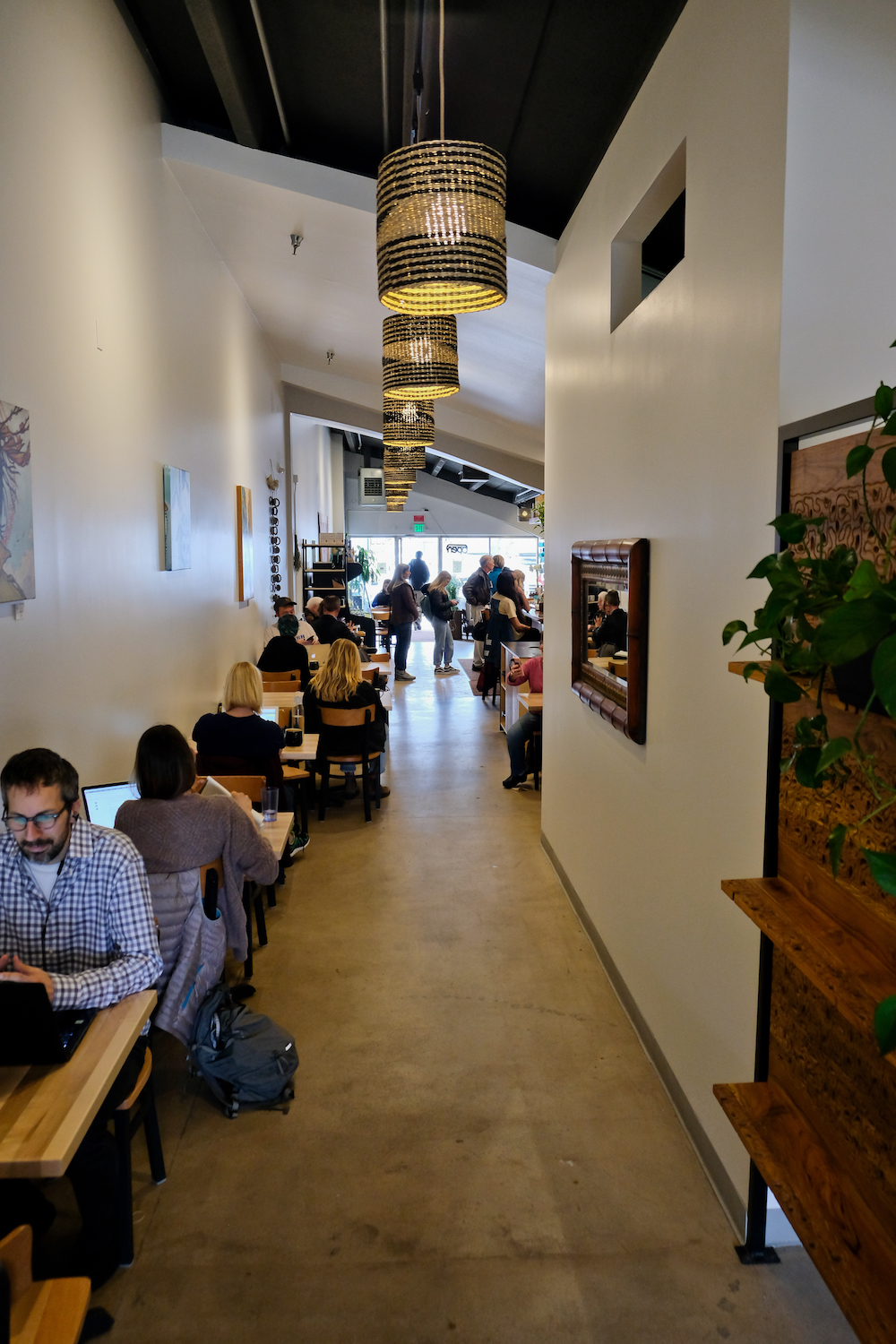 "When our roaster friends take the initiative to source and select their coffee offerings, we trust their ethics, choices, and involvement as they work to make the connections deeper and richer, which raises the bar within our industry," said Lefcourt. "Our job as the final link in the supply chain is to deliver the finished product in all its glory to our customers while we represent all the work of the people before us that contributed along the coffee's journey."
Beleza is serving Lakewood, Colorado-based Sweet Bloom Coffee Roasters, which roasts a flagship blend for the shop, the Beleza Blend.
"We are honored to serve Sweet Bloom Coffee Roasters as our local Colorado anchor," Lefcourt said. "We brew and sell their entire lineup because every coffee they purchase is of the highest quality, consistency, and taste."
The shop will also offer a rotating selection of coffees from out-of-state roasters for four to six month each, starting with Santa Cruz, California-based Cat & Cloud Coffee.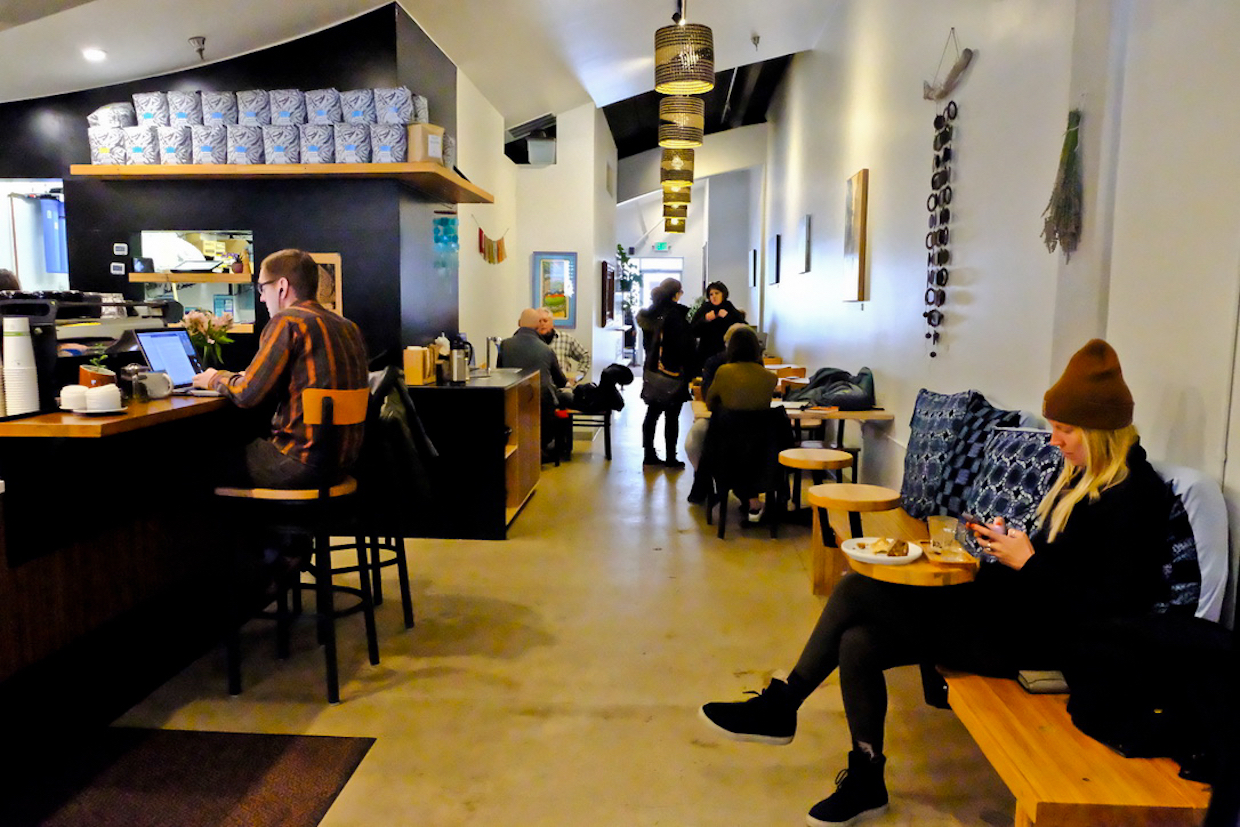 "We selected our first visiting roaster because their coffee is absolutely delicious," said Lefcourt. "The company values and involvement in the coffee world are stellar, and I have developed a relationship with the owners over many years of working in coffee together, but from a distance."
Beleza offers espresso drinks from a 3-group and 2-group Synesso MVP Hydra, alongside a set of Nuova Simonelli Mythos Clima Pro espresso grinders. Brewed coffee is prepared on a Curtis twin 1-gallon brewer, with Malkonig EK-43s and a GH1 batch grinder, and a BUNN 5-gallon hot water tower. Individual brews move through Kalita Wave pourovers and French Presses.
Along with the specialty drinks on the menu, such as a Red Rooibos latte, Golden Milk, Hot Buttered Coffee, and ingredients like toasted marshmallows, and all organic chocolate sauce and syrups, Beleza will be introducing additional drinks Lefcourt and Ramos have discovered around the world.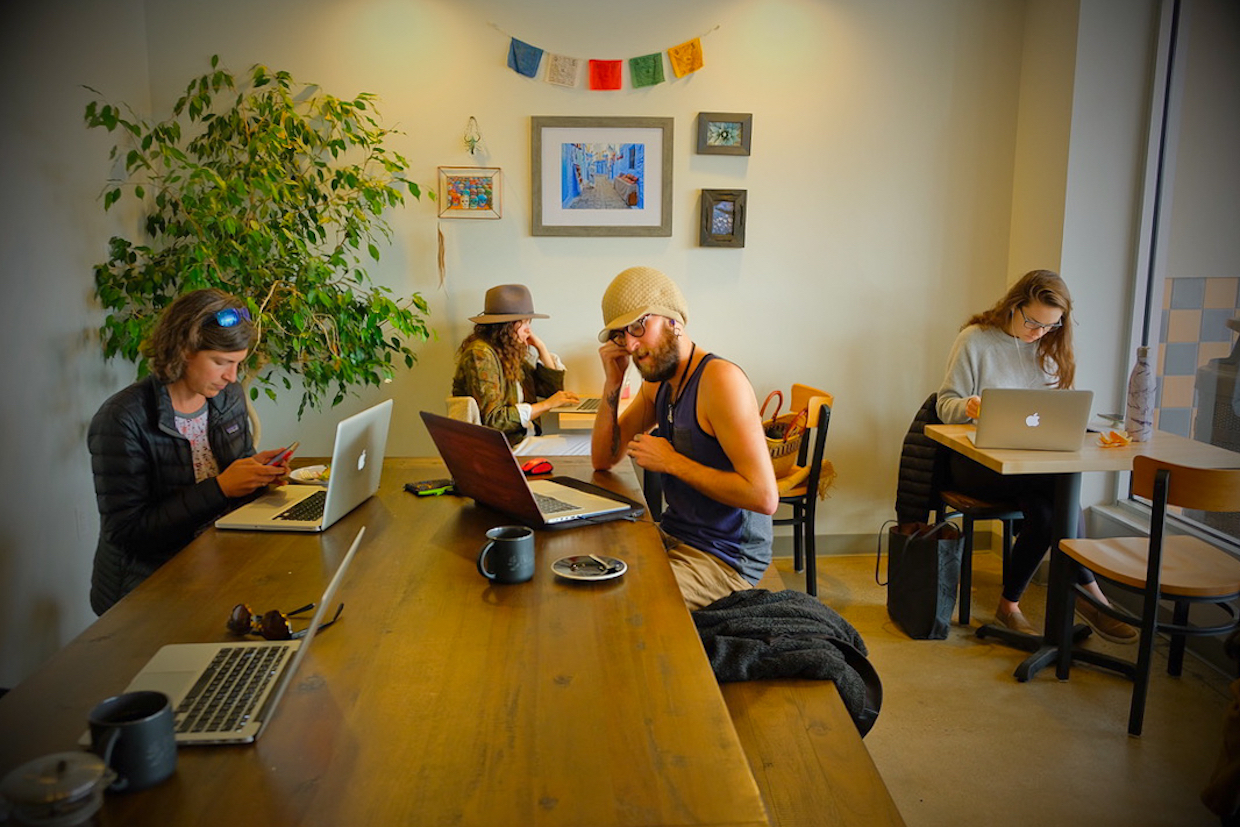 "Our travel across the globe was a huge inspiration for the design in the space," said Lefcourt. "Nafisa and I love finding funky coffee shops, cafes, and restaurants while traveling abroad and we wanted to pull the feeling of travel, leisure, comfort, and adventure into our space."
The shop includes many different seating options, with several community tables, two couches, three bar counters, and a long bench with pillows and platter tables, inspired by something Lefcourt and Ramos saw in Thailand last year. Plants, textiles, and ceramics fill the space and help provide the worldly vibe.
"We hit the ground running and it's been an amazing start to this new adventure," said Lefcourt of Beleza's opening. "The shop has been packed everyday and we've been getting showered with positive feedback and appreciation for remodeling this particular unit in the plaza into a more modern and fresh specialty coffee bar."
Lily Kubota
Lily Kubota is the managing editor and digital content manager for Roast Magazine. She is based in Southern California.