As specialty coffee robots created by California's Cafe X and Texas-based Briggo continue their forward, automated marches, a question has remained: Could the surly and spirited humans of old New York embrace a joe by droid? A new company called Truebird has fluttered in to find out.
Like its predecessors, Truebird pitches its system squarely at the specialty coffee crowd, claiming that its automated coffee kiosks offer drinks that are "consistently as good as those made by the best baristas using the finest ingredients and equipment."
At a Truebird coffee station, customers are able to choose a fresh and locally roasted coffee from a touchscreen menu, then designate a type of milk and an espresso beverage style for the machine to execute. Milk options currently include a whole milk sourced from an upstate New York dairy, and oat milk by Minor Figures.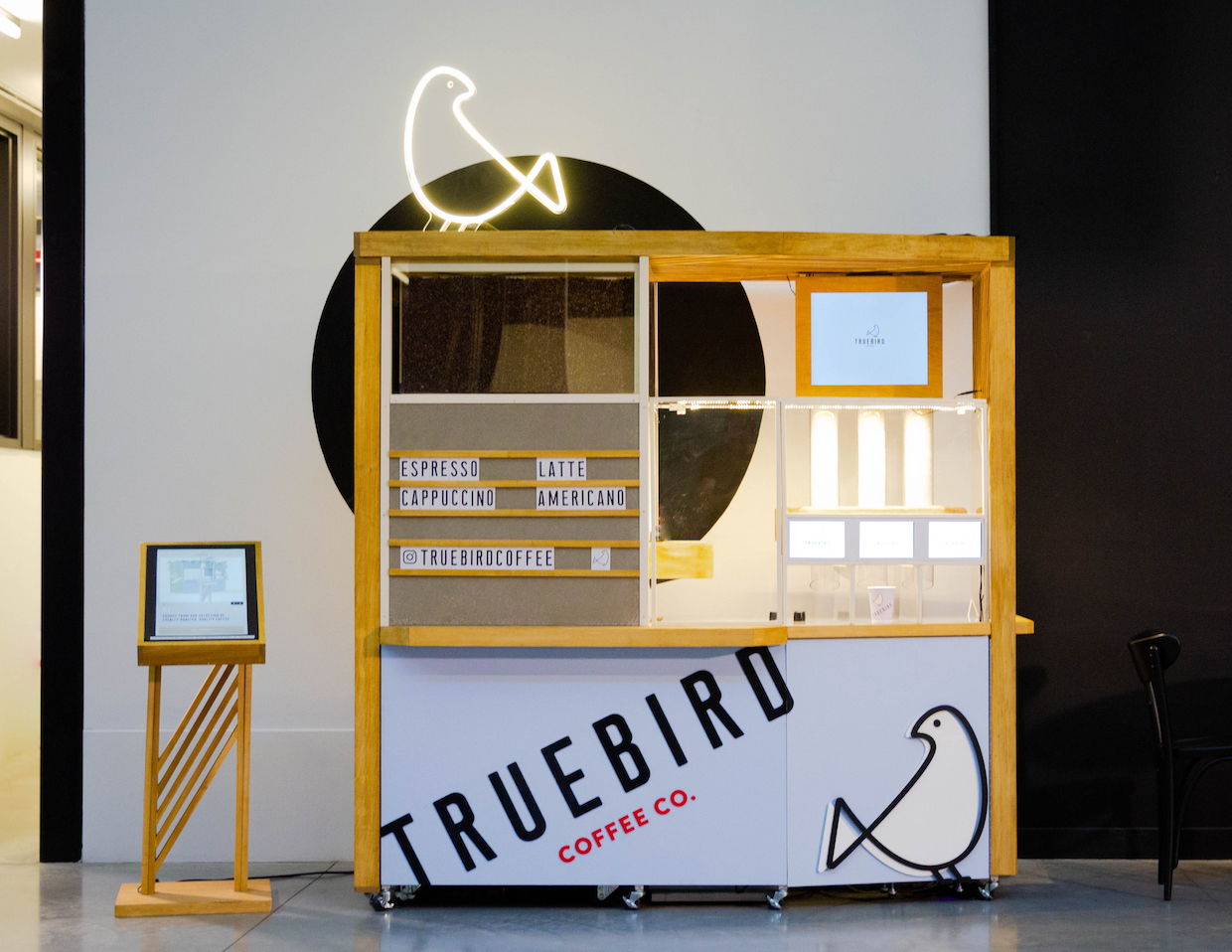 The flat ceramic "standard" burrs of one of the machine's two integrated grinders break the beans. An extraction occurs, and milk is stretched by unseen internals as the customer waits, while a trio of cute, black magnet-driven pucks charmingly coordinate to nudge cups around on the visible surface behind glass.
"We chose our magnetic transport solution versus other options, including an articulated robotic arm, for a variety of reasons, but chief among them was the surprisingly warm, approachable, and magical experience it creates," Truebird CEO and Co-Founder Josh Feuerstein told Daily Coffee News. "We believe a coffee break is not just about the quality of the drink, but about the feel of the experience. We've tried to make every element of our product warm, approachable, and beautiful, from the design of the micro-cafe itself, to the mesmerizing experience of watching your cup glide from the espresso machine towards your hand. We keep that emotional component top-of-mind in our design process. It's a fascinating challenge, especially for an automated product."
Feuerstein's executive and leadership background includes two successful previous start-ups. The first, Site59, was sold to Travelocity for $43 million in 2002. The second, a data science and media company called Intent, remains a profitable, 120-person company in New York City.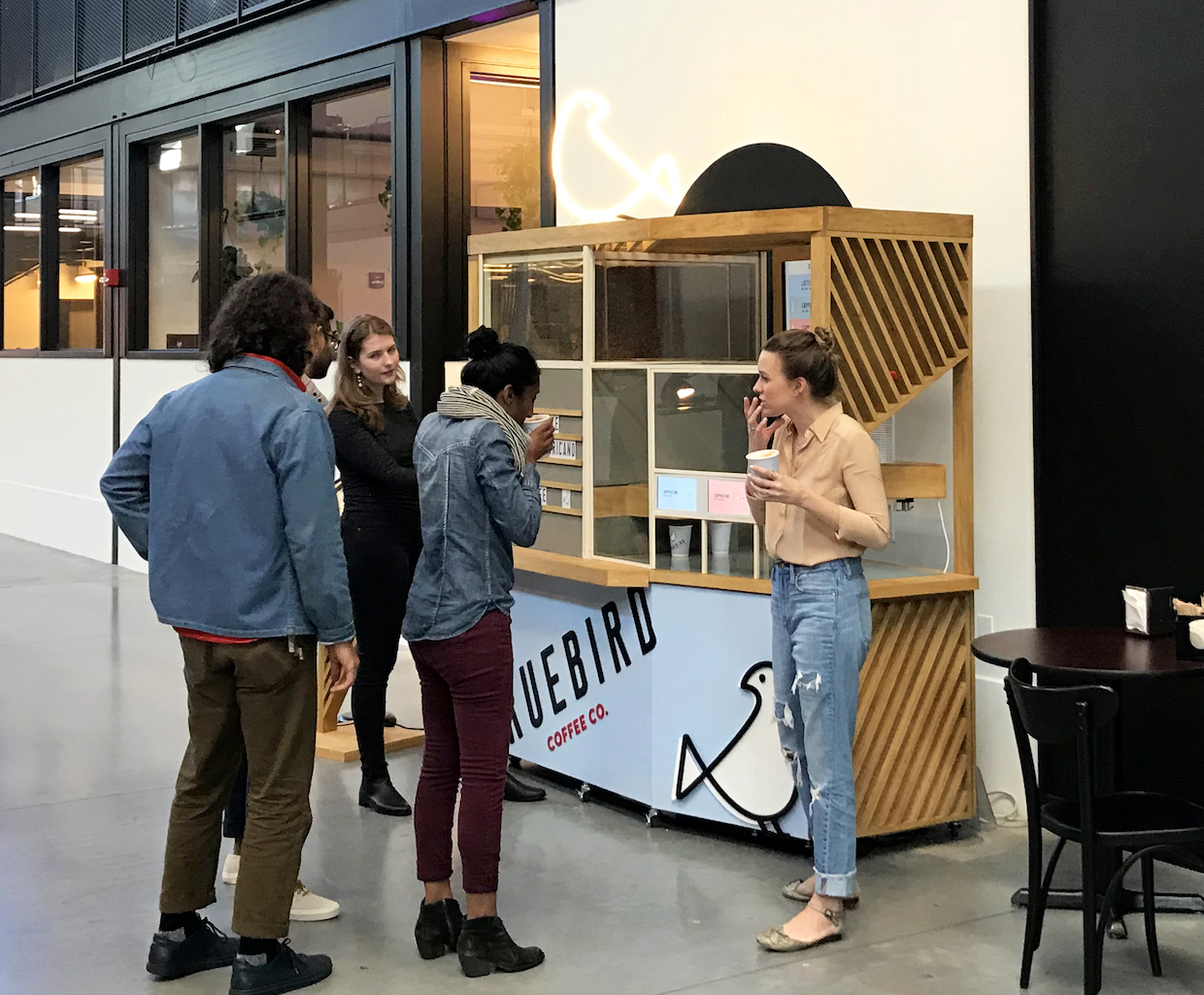 Feuerstein told DCN that the first Truebird "micro-cafe" was designed and assembled at the company's office at New Lab in Brooklyn, then tested for a period of three months starting last November.
"They absolutely loved the coffee, the convenience, and the experience," said Feuerstein. "New Lab will be the first customer for 'V1,' the next evolution of Truebird, which we'll launch this summer."
The Truebird coffee program, currently managed by Daniel Padgett, formerly of Supercrown Coffee Roasters and Black Fox Coffee, currently consists of coffees from Stumptown and Regalia.
"We've even worked with Regalia's owner, Paolo Maliksi, to craft a custom single origin roast profile for Truebird," said Padgett. "We expect to partner with additional roasters as Truebird grows and expands. We will always look for great flavor profiles and consistency at high volumes, and we will source from local roasters whenever possible. We feature our partners' brands prominently in our menu and ordering process, and we plan to roll out additional ways to showcase our partners' brands over time."
The system is programmed to perform custom recipes for each bean, including dose, final beverage volume and a target extraction time, according to Padgett. The machine goes through an automated calibration process every morning, then measures every shot's extraction time as the day goes by and automatically adjusts the grind as needed to consistently achieve target volumes within a 3-second time margin.
Truebird equipment, according to the company, occupies less than half the square footage of competing systems. It fits through standard doors and requires no plumbing for installation. For the rest of this year and next, Feuerstein said the focus will be growth in the New York City area.
"We envision Truebird micro-cafes in a variety of locations over time: office buildings, company dining spaces, hotels, hospitals, and airports, just to name a few," said Feuerstein. "We even envision mobile Truebird mico-cafes at events and festivals over time. The sky is really the limit here."
Howard Bryman
Howard Bryman is the associate editor of Daily Coffee News by Roast Magazine. He is based in Portland, Oregon.