Inside a pair of historic buildings with connections to industry and agriculture, the Farmers Union Marketplace collection of sustainability-minded retail businesses in Eugene, Oregon, is now also home to a coffee company.
Green coffee stored in the cellar of the older of the two buildings, built in 1928 in Eugene's central Market District neighborhood, has been rising via vintage freight elevator to a roastery centered around the San Franciscan SF-25 owned and operated by Farmers Union Coffee Roasters.
"To ensure the highest quality, we roast all of our coffee in 15-pound batches," FUCR Owner Joe Harrison recently told Daily Coffee News. "We arrived at this number by cupping, trial and error, and some advice from other experienced professionals like our friend Charlie Gundlach at Color Coffee Roasters."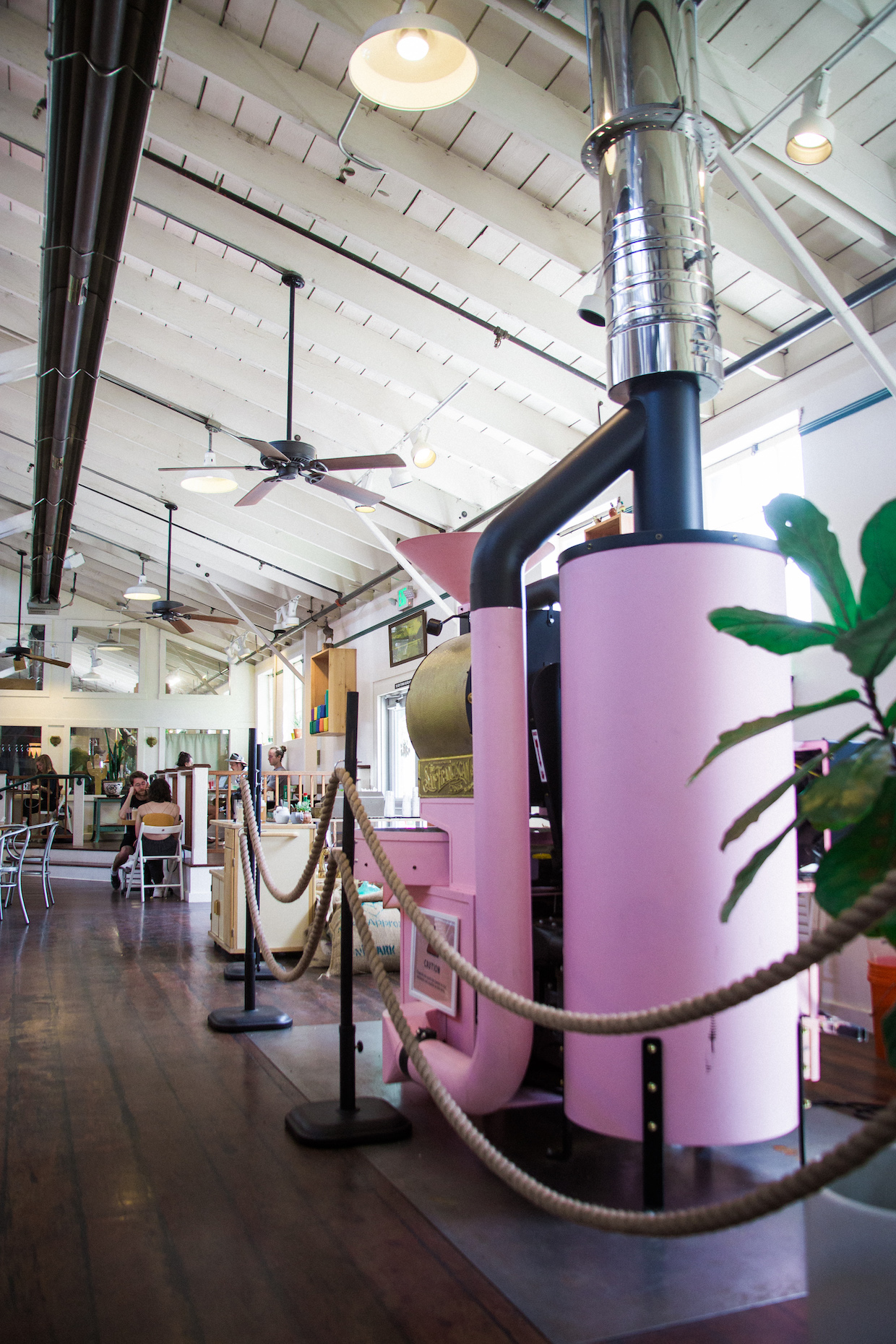 Harrison brings 12 years of industry experience of his own to the roastery, which occupies about one third of the new cafe's total 2,500 square feet. His experience has involved a variety of equipment and roasting styles for different audiences, and includes a stretch as head roaster for Portola Coffee Roasters during which time that company won Roast magazine's 2015 Micro Roaster of the Year award.
That's not to say the roasting operation is all business. Harrison said he hopes the soft matte pink hue of the Farmers Union San Franciscan also makes a statement — one that shows they aren't taking themselves too seriously.
"We want people to be able to come up and watch the roasting operation, and even talk to the person roasting the coffee if they want," said Harrison. "I think it's important to create that connection from the farmer all the way to the person drinking the coffee. Many people have no idea that they are drinking a roasted and brewed seed of a tropical fruit."
FUCR borrows the existing logo from the marketplace organization, but slyly swaps its background bundle of wheat with some fruit-filled coffee tree branches instead. The chicken remains in the logo, though, as what's now a coffee elevator was originally used to receive eggs for loading onto an adjacent rail line for shipping to the East Coast.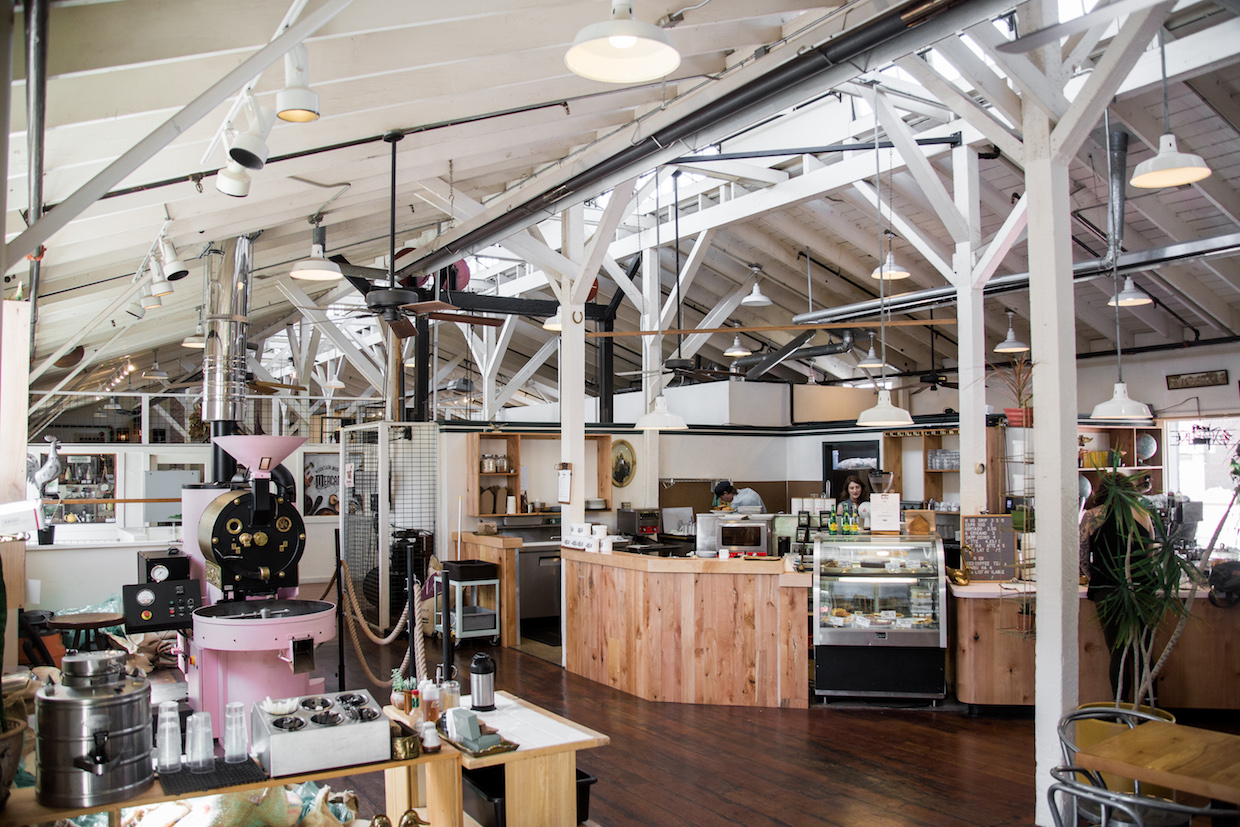 "The elevator is one of the oldest in Lane county," said Harrison. "We load pallets of green coffee straight into the elevator. The elevator and the basement for storage are a huge advantage, as our coffee can be stored at a stable cellar temperature."
The Farmers Union coffee shop interior makes the most of what Harrison described as the building's vintage character, highlighting the original architectural charm with thrifted furnishings and reclaimed wood construction of its bar, 15-foot community table and bench seating.
"Our building is one of the last remaining of its kind in Eugene, and the beauty that comes with a well-worn, well-loved place is something special to us," said Harrison. "There really isn't any other location like it."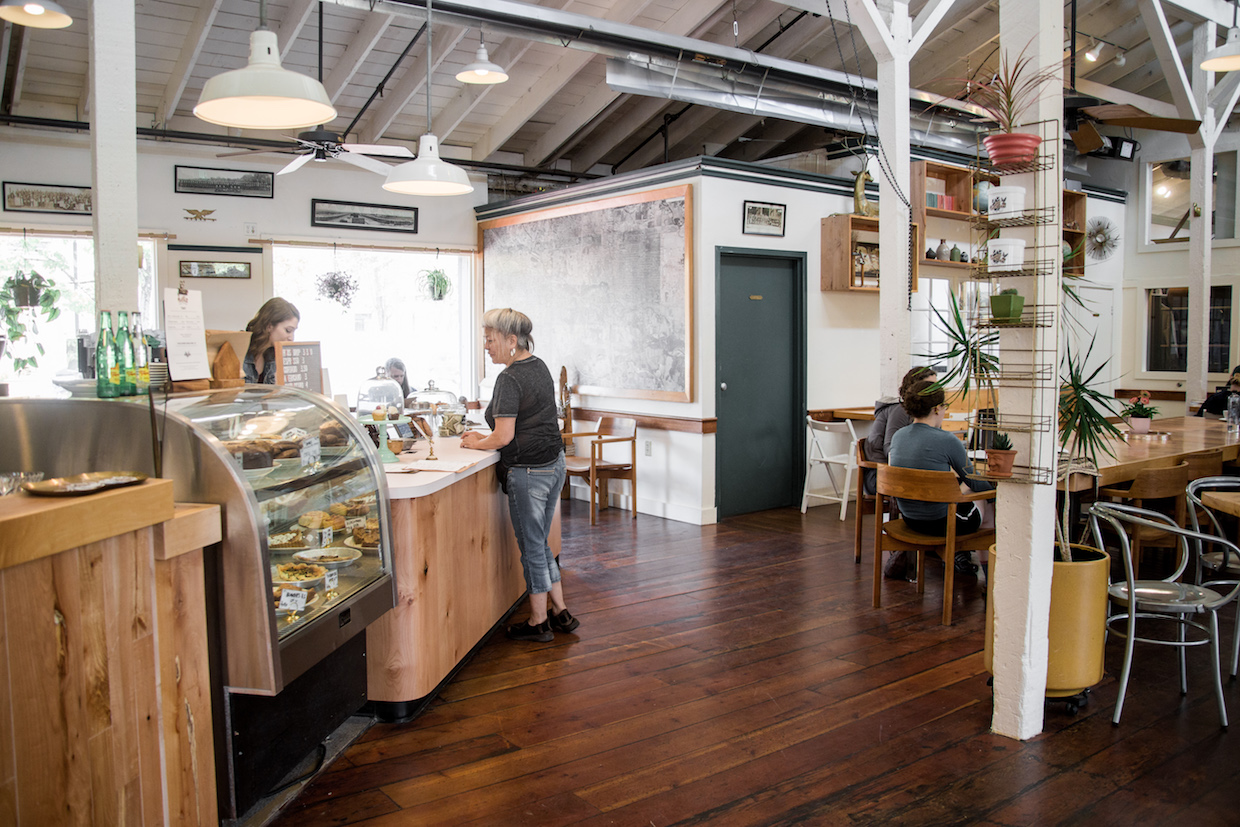 That philosophy also seems to extend to the equipment on the bar, where customizations abound. The shop's two-group La Marzocco Linea is outfitted with aftermarket baskets, dispersion screens, and other accessories. Batch brew is made on a Fetco machine equipped with an aftermarket dispersion screen called The Bed Wetter, designed by Andy Kyres, owner of Montreal-based Tunnel Espresso as well as the co-roasting organization Canadian Roasting Society.
Said Harrison, "It's basically a shower screen to make the new XTS distribute water much more evenly over the bed of coffee."
While FUCR sources its produce locally to commune with the rich regional heritage of agriculture and industry, it also endeavors to be just as "united" with the farmers growing the coffee. Said Harrison, "These are both important concepts for us."
To that end, Harrison said FUCR pays fair and sustainable prices for its coffees to the greatest extent possible, emphasizing contribution to social and environmental sustainability practices wherever it can in its development of hopefully long-lasting relationships with importers and farmers.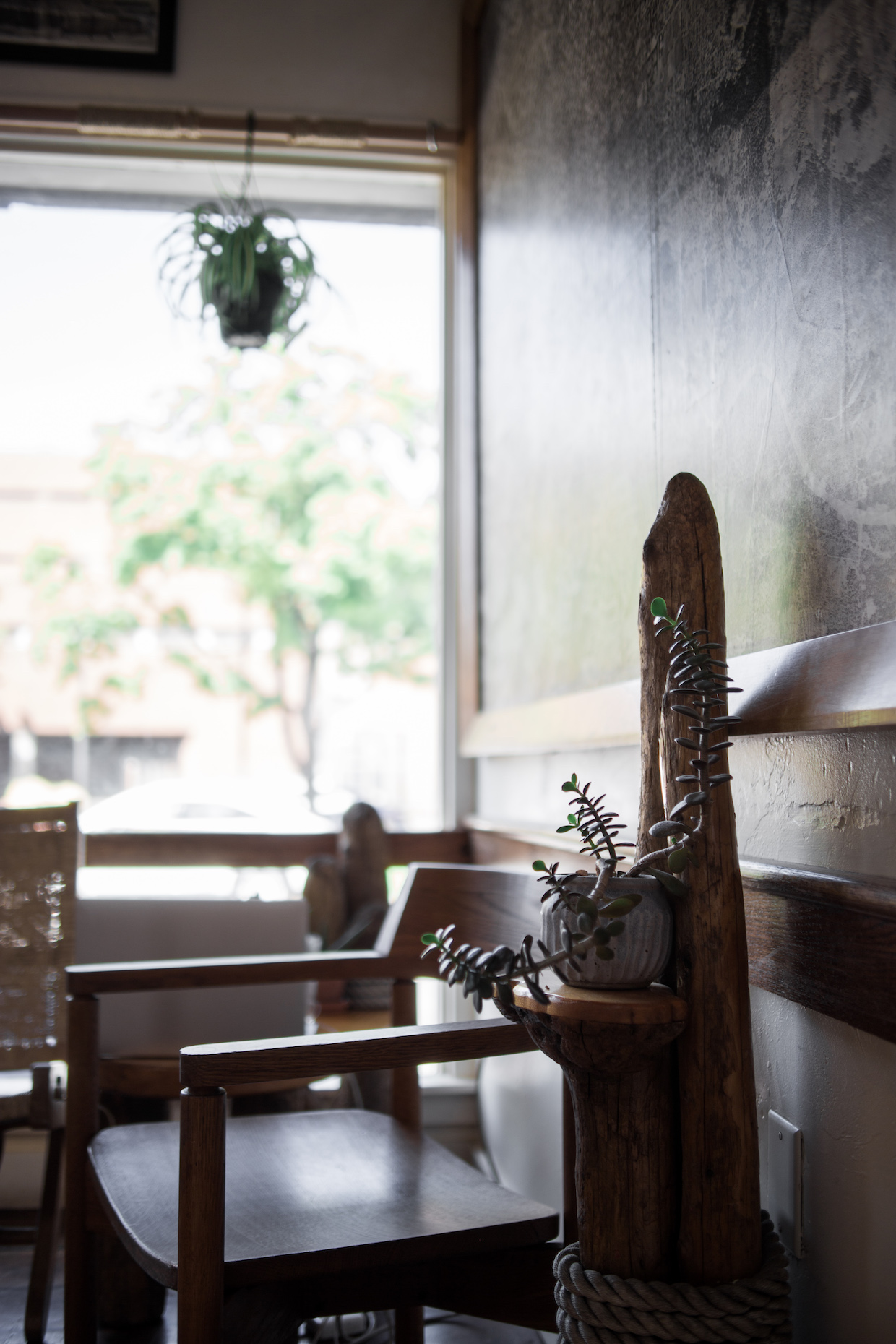 For its impact in Eugene, FUCR sells 95% of retail whole beans in refillable containers and delivers coffee locally in reusable containers that it takes back and sanitizes for reuse, according to Harrison. It also composts as much as possible, and participates in Paper Free Sunday, a practice that originated with The Washburne Cafe in Springfield, Oregon.
"We are tired of all the waste generated by our type of business and are always looking for a better way to reduce our waste," said Harrison. "We have partnered with other cafes in town to make it more of a Eugene thing rather than a Farmers Union thing. During a Paper Free Sunday event we will do our very best to serve drinks to go in mason jars. We would love to see this trend catch on to a broader movement beyond us and expand into something nationwide."
Farmers Union Coffee Roasters is now open at 152 W 5th Ave in Eugene, Oregon. 
Howard Bryman
Howard Bryman is the associate editor of Daily Coffee News by Roast Magazine. He is based in Portland, Oregon.