A small coffee joint between Alexandra Park and Little Italy in central Toronto features a design element that flips traditional coffee retail design upside down — and on its side.
At Milky's Coffee, the ceiling, walls and flooring are wrapped with a modular flooring system that recalls patterns derived from traditional inlay decoration, according to the Toronto-based firm Batay-Csorba Architects, which led the design on behalf of Milky's Founder Fraser Greenberg.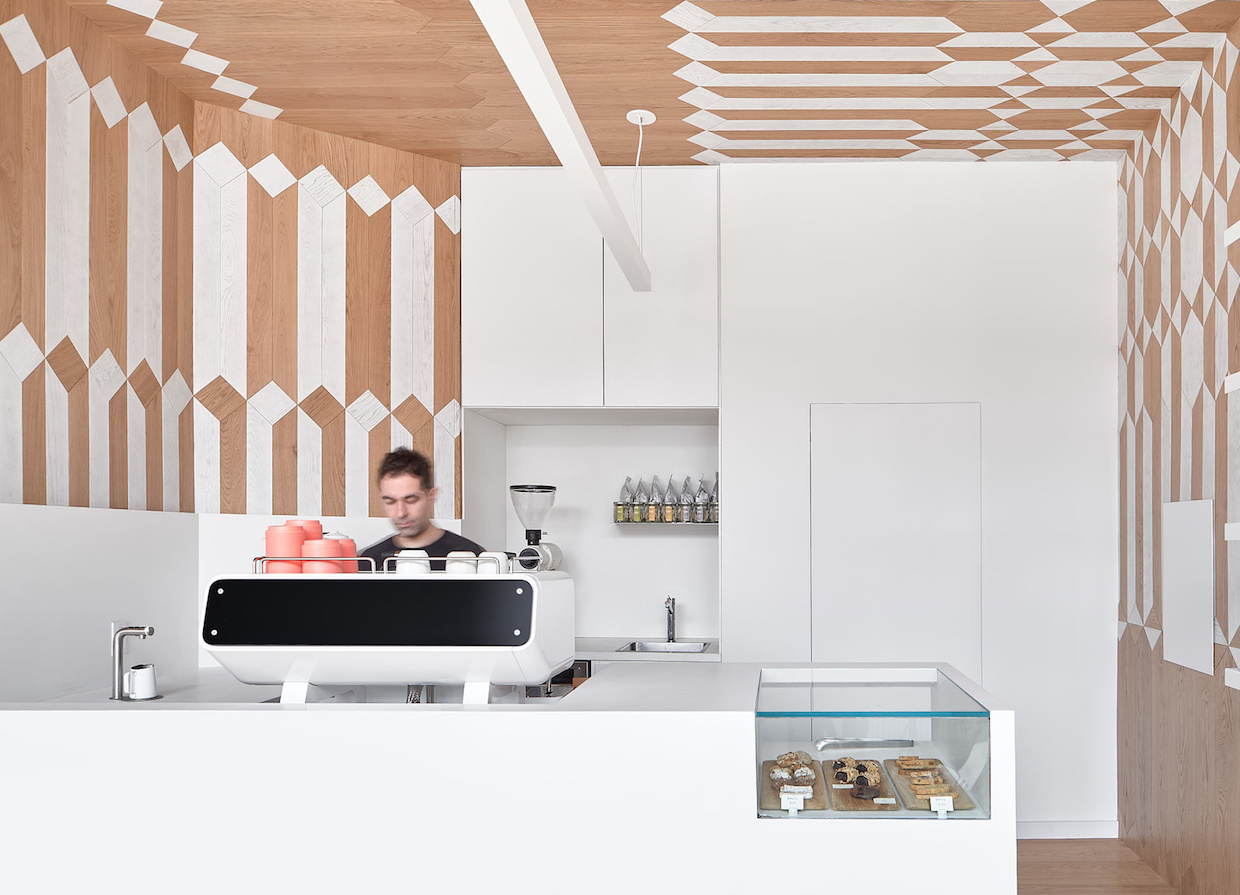 "In Milky's, the modular logic of this system is instead used as a framework for disrupting such static patterning, with interlocking pieces of light and dark wood producing a high-contrast tessellation which expands and contracts, shifts and realigns in a series of strata, enveloping the customer in a sort of 'caffeinated' space," the firm states. "All other elements within the space become camouflaged within this graphic counterpoint; thin metal shelves run along its lines, equipment is powder-coated white to fall into the background, and the street face opens with glass to the ceiling, casting the interior in vivid light such that the dynamic patterning becomes the predominant focus of the space."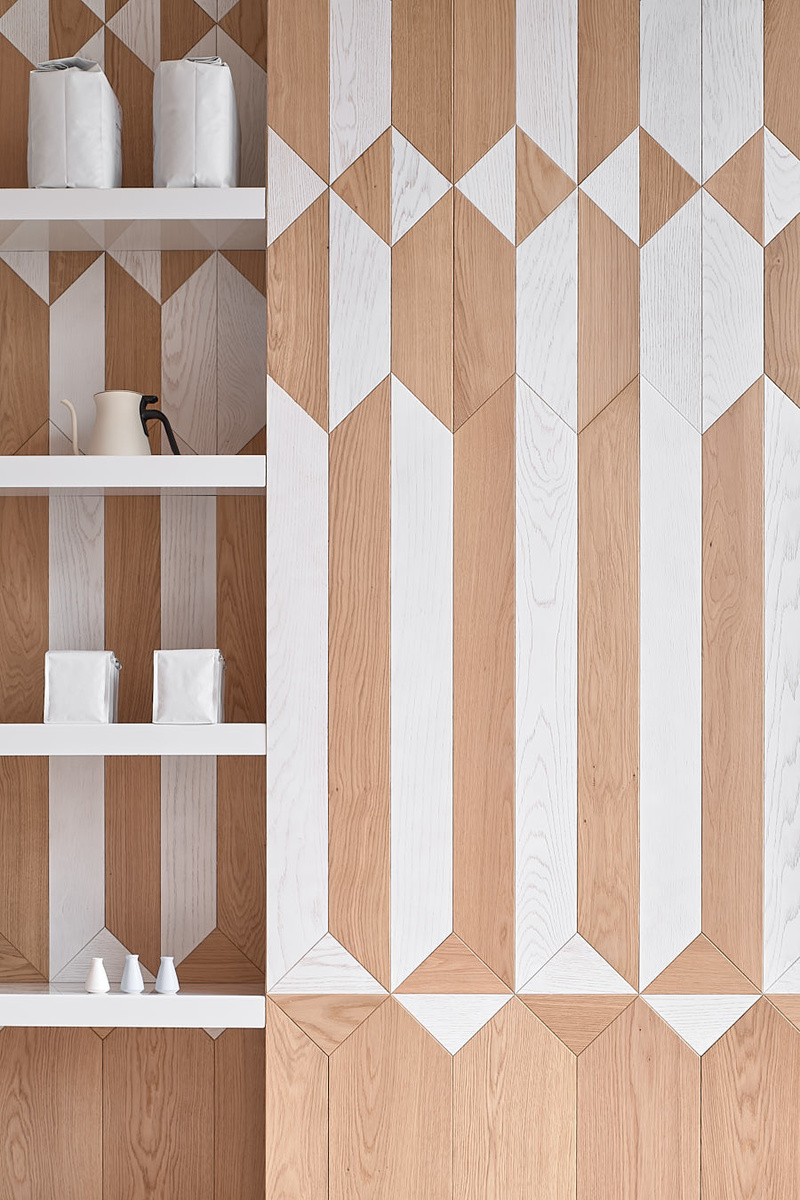 The aforementioned white powder-coated equipment includes a two-unit under-counter batch brewer from the Swedish Hipster brewer-maker 3Temp, an all-white Mahlkonig EK43 and a 2-group Sanremo Opera machine. These delightful gadgets plus others geared toward manual brewing help execute a straightforward espresso menu plus a small menu of custom drinks that change with the seasons.
At only 300 square feet and entirely without furniture for guests, save for two ultra-thin white shelves in front of each of the windows, the cafe is primarily focused on quick delivery — while hopefully taking full advantage of the short time spent with each customer.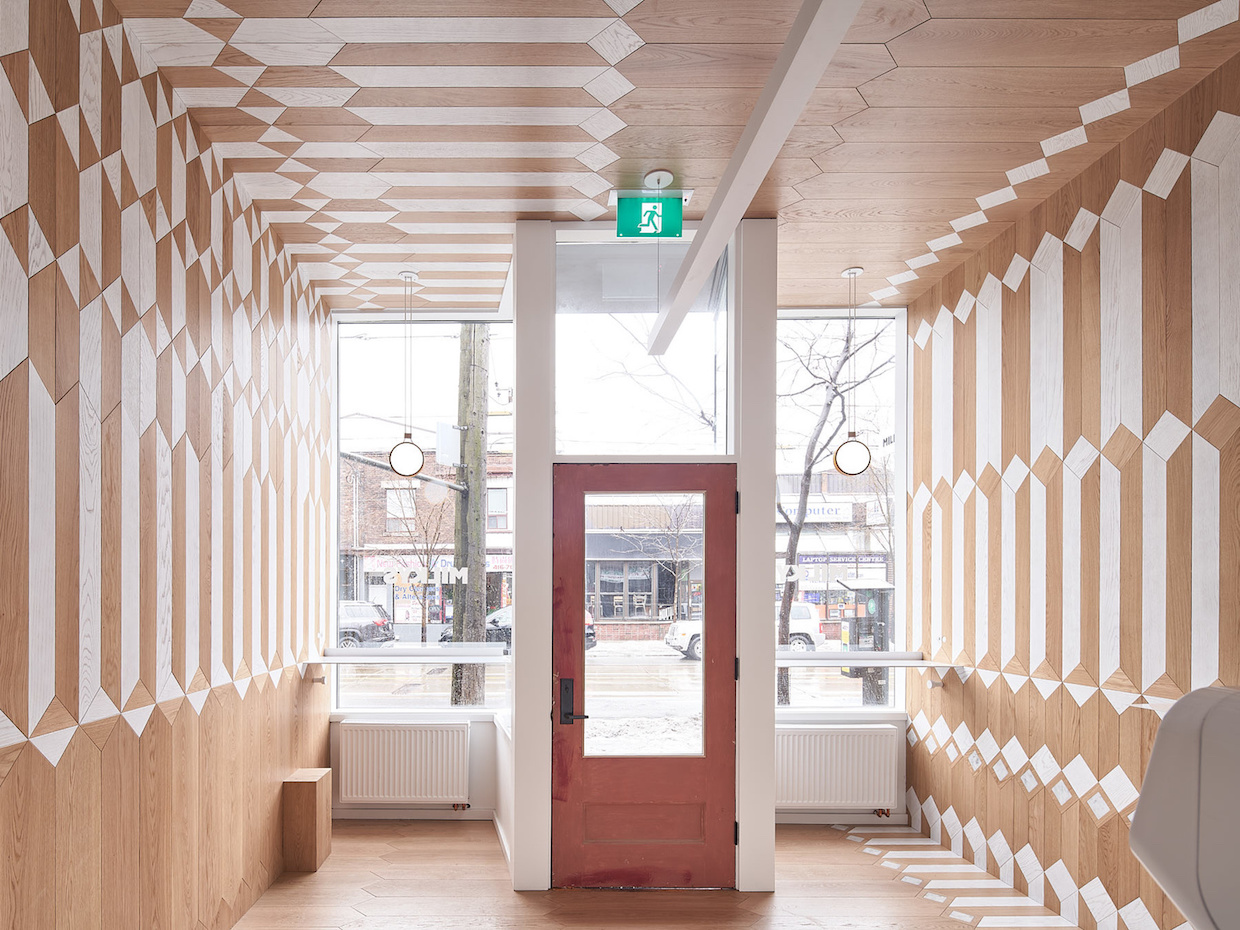 Said Batay-Csorba Architects, "Rather than the dim and muted interiors which characterize the typical cafe, which have adopted many of the behaviors and functions of a public study space, Milky's reconceives of the neighborhood coffee shop as a distinctive experience able to define the course of the visitor's day in a few moments."
Nick Brown
Nick Brown is the editor of Daily Coffee News by Roast Magazine.