Visitors to the small town of Canton, North Carolina, might detect an odd scent in the air as they explore the area. It's the smell of freshly milled paper that emanates from the Evergreen Packaging paper mill, founded as Champion Paper in 1893.
The town formed around the mill, and while some Cantonians may perceive this industrial presence as a stigma that undermines what they might consider the town's finer points, most folks, such as Papertown Coffee owners Russ Grimmett and Liz Rhine, wholeheartedly embrace the identity.
"Rather than being sensitive about it, the town has been leaning into it, hence our name," Grimmett told Daily Coffee News, also pointing out a beer by Canton-based BearWaters Brewing Company called Smells Like Money medaled at the 2017 Great American Beer Festival in the Belgium Strong Specialty Ale category.
In addition to its well-regarded craft brewery, the town about a half hour west of Asheville can now boast of having a purveyor of fine, modern specialty coffees. Papertown Coffee opened its doors June 1, offering the town a multiroaster program prepared on top-shelf equipment on par with anything available in larger neighboring towns and cities.
"We were told repeatedly that a small town like Canton wouldn't want or care about specialty coffee, that we should carry a dollar cup or Folgers, but we've found that to be immediately and wholly inaccurate," Liz Rhine told Daily Coffee News. "We've heard countless locals say 'finally,' when they walk in the door. We are, of course, fielding orders translated from the major chains, but that's to be expected about anywhere and people seem relieved to finally have a coffee option in town other than Starbucks. Most people we've interacted with would prefer to buy local and [they] appreciate that we're bringing a higher quality product to town."
Papertown Coffee rotates its offerings from among "the highest quality roasters in the Carolinas," according to Rhine. Currently these include Asheville's Mountain Air Roasting, Hex Coffee from Charlotte, Boone-based Hatchet Coffee, and Methodical Coffee and Springbok Coffee from Greenville and Charleston, South Carolina, respectively.
These beans are then treated to the burrs in a pair of Nuova Simonelli Mythos grinders for extraction on a 2-group Modbar AVR installation with built-in scales. A Mahlkonig EK43 grinds for Curtis batch brews and pourovers poured from Fellow Stagg kettles. Still and nitro cold brew coffees are on tap behind the counter from a kegerator.
Said Rhine, "The current roasters we're using are from connections Russ made as an equipment service technician, but we're constantly trying new roasters and we'll be changing it up regularly."
Grimmett and Rhine first met at Joe van Gogh in Durham, North Carolina, in 2008, where Grimmett was a trainer. The two eventually married, and Rhine worked at a variety of different shops while Grimmett went on to become an equipment service technician for Stumptown Coffee in Seattle from 2011 to 2015. He then transitioned into a similar role for North Carolina-based espresso and specialty coffee equipment dealer and distributor VP Coffee.
The duo now live directly upstairs from the coffee shop, in a 550-square-foot apartment they renovated along with the roughly 750-square-foot retail space.
Grimmett said the building, constructed in 1910 next door to Canton's Imperial Hotel, spent a portion of its life housing the Canton Enterprise newspaper.
"Much of the other history is murky, so we've just tried to preserve as much of the existing architecture as possible," said Grimmett.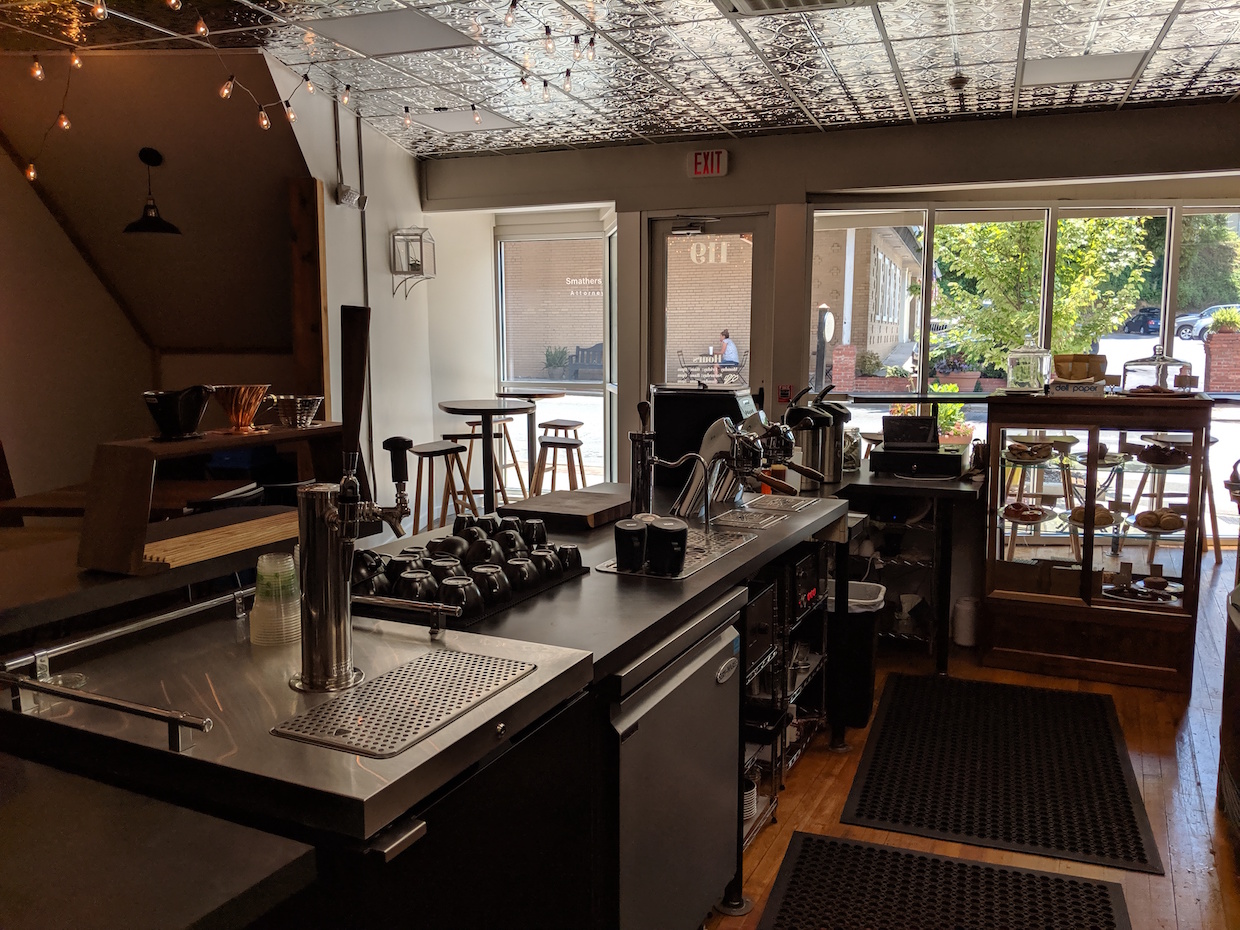 A new tin ceiling glints over the original tiles that now surface the counter, the original hardwood floor and some exposed plaster and brick. Locally made wooden furniture echoes the walnut wood from the handles of the Modbar.
"The feel we were going for, which was pieced together over the months, is cozy but still bright enough to read a book," said Grimmett. "When we talked to people around town before we started construction, they expressed a desire to have a community space downtown. That's part of the reason we went with Modbar, to remove that obstacle between the barista and customer."
Following praise for the company's cold coffees, Grimmett said a bottled cold brew product could eventually come about. The company would also like to pursue more partnerships with other local businesses to help support and forge the town's small business community.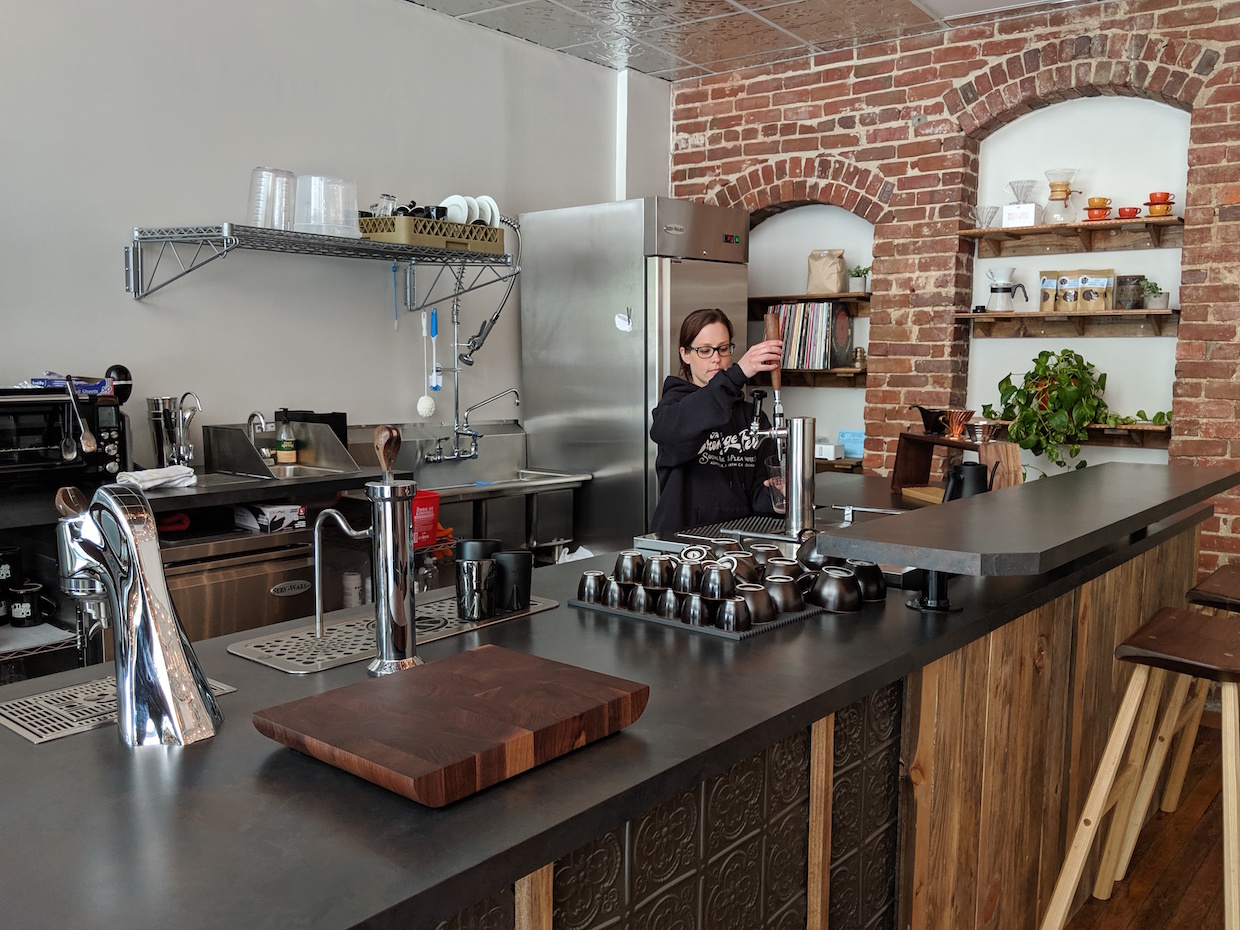 Public coffee education — perhaps tying in the paper theme with a class on filtering — is another idea. Yet with a staff of two that's still unpacking in their apartment upstairs, duty trumps whimsy.
"We've been too focused on getting the doors open to have much of a sense of humor lately," said Grimmett, "but once we catch up on sleep, I'm sure the puns will start flowing."
Papertown Coffee is open now at 119 Main St. in Canton, North Carolina.
Howard Bryman
Howard Bryman is the associate editor of Daily Coffee News by Roast Magazine. He is based in Portland, Oregon.