The robotization of specialty coffee has increased by dozens of arm lengths with the proliferation of a new robot barista system from South Korean coffee chain Dal.komm Coffee.
The company now has robot barista kiosks — called b;eat, which is short for "best of quality" and "eat" — at 45 and counting of its more than 200 retail locations throughout Korea, Singapore and Malaysia.
Dal.komm's first iteration of the robotic arm could only receive drink orders via menu kiosk and a mobile app, and its capability was limited to just a few drink items. The new b;eat robot — specifically called the b;eat2E — was developed in a collaboration with KT Corporation, South Korea's largest telecommunications company.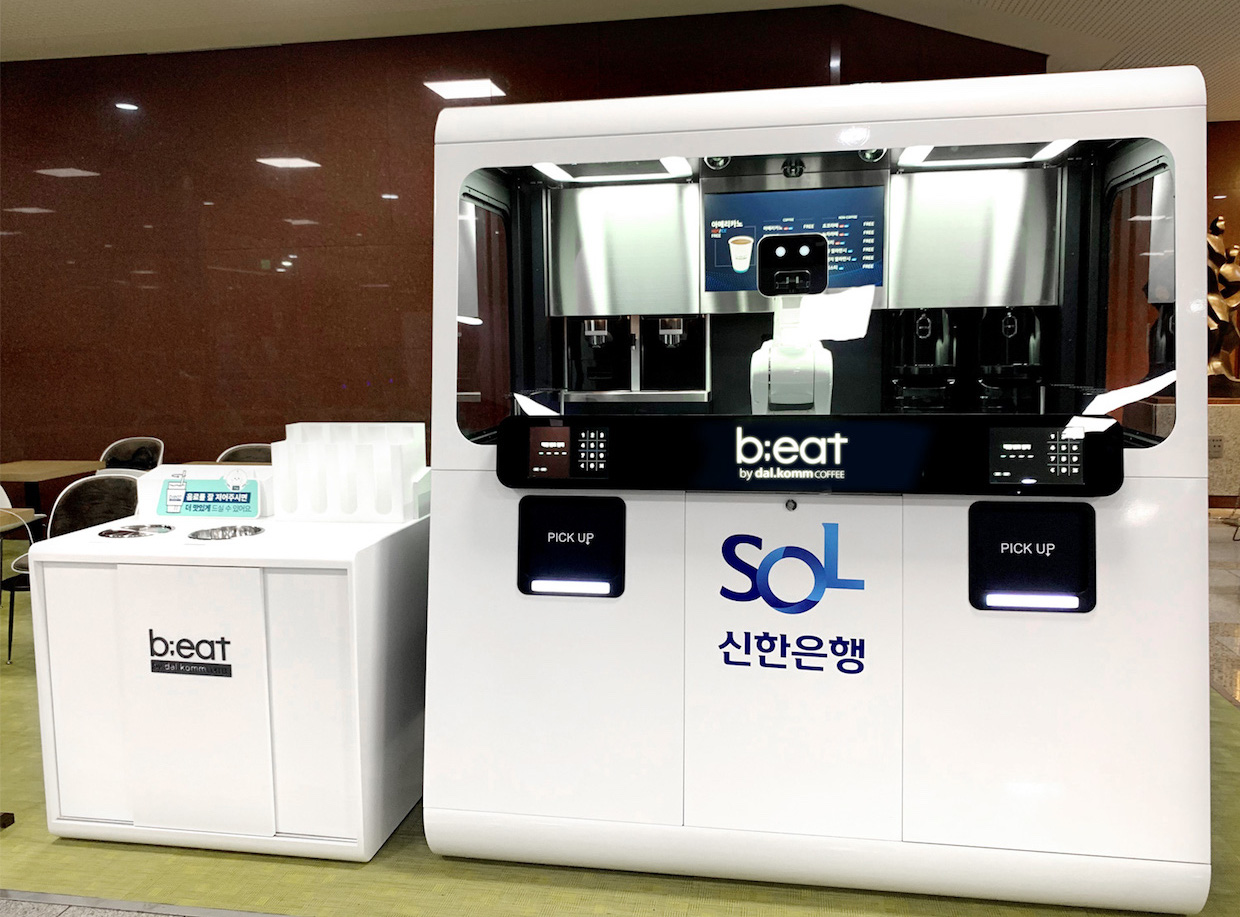 The new model can communicate directly with customers through the same mobile app, except now it can receive voice orders, recommend drinks, answer customers' questions and even wave its arms to passers-by. The Dal.komm robot barista can brew as many as 90 coffee-based drinks per hour, while working on as many as 14 drinks simultaneously, according to the company. It takes approximately 300 coffee-based drinks before restocking of beans and milk are required.
Director of the b;eat robot program David Kang told Daily Coffee News via email that Dal.komm was eager to be a pioneer in the robot barista game. The company started by taking existing industrial robots and combined them with fully automatic coffee machines.
Within a year of development, humans were able to interact with b;eat through voice command and through the multi-layered mobile app. B;eat has most recently implemented a CCTV system and voice recognition software that analyzes each customer's order to provide a variety of services such as drink recommendations.
"In Korea, they drink a lot of cold drinks," Kang said. "Juice and chocolate drinks for people who don't drink coffee are also popular."
All of the coffee-based drinks prepared by b;eat use a blend roasted by Dal.komm composed of a four separate coffees sourced from Brazil's Southern growing regions near São Paulo. The Brazilian blend is roasted to roughly a 55.6 on the Agtron color meter on an Italian-made Petroncini drum roaster. Dal.komm managers, referred to by the company as "b;eatvisors," visit each of the b;eats once a day to replenish supplies and clean the machinery. The machine can also run diagnostics on its own, and perform some routine cleaning and maintenance on itself.
South Korea has established itself as a global leader in robotics technology with roughly 710 robots per 10,000 manufacturing workers, according to a recent report from the New York Times. However, South Korea also has some of the world's highest numbers of specialty coffee cafes and Q-graders per capita, according to numbers from the Specialty Coffee Association and the Coffee Quality Institute.
There may currently be a peaceful coexistence between the robots and human coffee professionals, but the proliferation of robot baristas must surely pose some small existential threat to the barista profession, for better or worse, at least at the entry level.
While not operating on the scale of Dal.komm, a number of startups in the United States have dived headfirst into the robotic coffee pool. Among the early players in this emerging field of automated "specialty" coffee retail, are: Cafe X, a San Francisco-based company that has received approximately $17 million in venture capital funding, and the Austin, Texas-based vending brand Briggo, which has expanded to seven locations, with two new high-profile airport locations on the way this year. Most recently, a new robotic barista kiosk called Truebird swooped into New York.
Dal.komm hopes to someday introduce its b;eat robots to the U.S. Yet for now, the company seems much more comfortable about the use of the expensive technology in its home market.
"We have had a lot of inquiries about opening cafes in the U.S.," said Kang. "We hope that companies that understand the U.S. market better than us will actively proceed with their businesses with robotically operated cafes."
Craig Batory
Craig Batory is a writer, marketer and coffee professional working and living in Detroit.