Opening a beautiful specialty coffee shop can be an arduous uphill climb, but with their worldly influences, technical knowhow and personal drive, DreiBerge Coffee owners Andrea and Ryan Cummings were ready for the ascent.
Within a 1,400-square-foot space inside an environmentally progressive mixed-use development in the East Village district of Des Moines, Iowa, Dreiberge Coffee is helping locals and travelers alike reach new coffee heights.
The word "DreiBerge" derives from the German words "Drei" and "berg," which translate to three and mountain, respectively. While that actually refers to the couple's three children that are all named after real mountains, patrons could just as easily consider the three peaks of DreiBerge's name and logo as representative of quality, community and sustainability.
The environmental ethos is literally built into the business, situated as it is within a brand new building's unique and eco-friendly construction out of dowel-laminated mass timber. There are about 200 mass timber buildings scattered around the U.S., but the Des Moines building made headlines for being the first to use the dowel-laminated material, which is heralded for containing no chemicals, VOCs or metal nails, and almost no glue.
While the off-gassing avoided in the absence of such toxins provides better indoor air quality for people in the building, mass timber also supports responsibly managed North American forests that act as carbon sinks. The production of each ton of mass timber is said to sequester 1,655 kilograms of CO2 from the atmosphere.
The attractive natural tones and the fascinating way in which the timber layers and interlocks gave the DreiBerge team a formidable base from which to build out the rest of the shop. The company hired out its electrical, HVAC and plumbing work, while working with Jason Wilson of Dane Fabrication in building the shop's tables, bars and seating.
"We built and installed almost everything ourselves in the shop, from cabinets to countertops," Andrea Cummings told Daily Coffee News. "We've worked hard to keep everything visible — no kitchen area, no walls, no large storage areas. Everything we need fits into the cabinetry and equipment we have. Everything is simple, functional and clean. We wanted to bring a simple, warm, and beautiful space to Des Moines where community can be fostered."
Having lived in Germany, the Pacific Northwest and the Midwest, the couple's love of rugged nature and appreciation for certain aesthetics are also carried forth. Live-edge counters and tabletops bring the forest indoors, while hanging pendant lights, white walls and clean, unadorned surfaces recall Scandinavian influences.
DreiBerge's embrace of all things local, meanwhile, extends both to consumers and suppliers. A kids' play area and abundant communal seating options bring various factions of the town together, while locally crafted pastries, kombucha and teas from local tea provider Kettle/Black Teahouse are featured items. The shop's espresso, cortado, cappuccino and latte cups all hand-thrown by Ames, Iowa-based ceramics company Alfar Pottery.
By no means an afterthought, the espresso drinks delivered in those unique ceramics are prepared on a three-group Sanremo Cafe Racer espresso machine and dual Mahlkönig Peak grinders paired with a Puqpress auto-tamper. A Curtis ThermoProX generates the shop's batch brew, while a Poursteady automated pourover machine hypnotically drizzles water for efficient and consistent single cups.
Ryan Cummings sources green coffees through a number of origin-specific small companies such as Cafe Con Amor Farmers Project coffees, Mountain High JZ Coffee, Dos Niñas, Benchmark Coffee Traders, and more. He then roasts the company's lineup of strictly single-origin coffees to highlight the unique qualities each farm has to offer, using a Diedrich IR-7 owned by another local shop.
"We were planning an IR-5 for our shop but ran into issues with the city and permitting," said Cummings. "Renting while getting off the ground ended up being a great decision for us. With the volume we are already pushing, a larger roaster will be in our future."
Not only do they plan on bringing roasting on their own roof, but sourcing, too, will in the future be done as directly as possible.
"I think this gets thrown around a lot in the speciality coffee industry but we can't emphasize this enough," said Cummings. "Having grown up in Iowa, many of our family are farmers. We understand the challenges of market pricing and quality control. With our shop opening this year and doing all the work ourselves, we didn't get a chance to visit farms, but we will definitely be making trips to origin within the next year."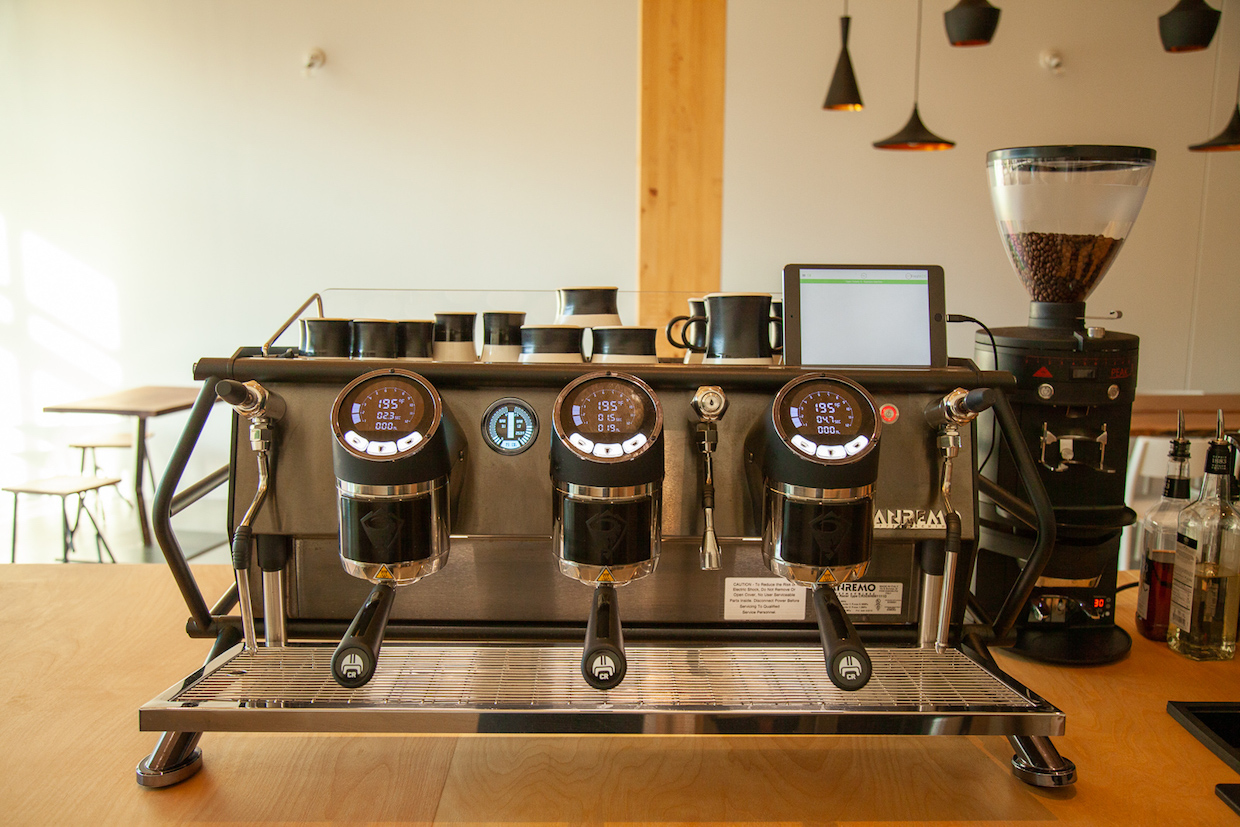 DrieBerge Coffee is open now at 111 E. Grand Ave. in Des Moines.
Howard Bryman
Howard Bryman is the associate editor of Daily Coffee News by Roast Magazine. He is based in Portland, Oregon.