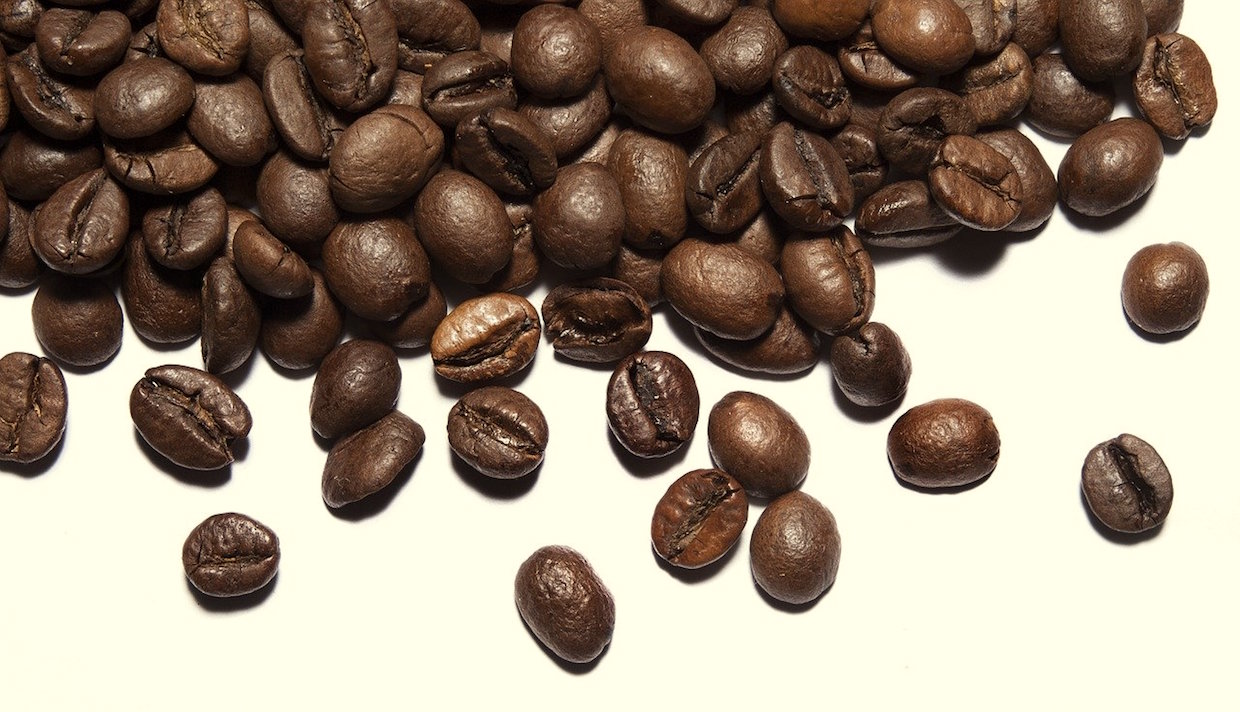 Since 2014, the Specialty Coffee Retail Price Index (SCRPI) has tracked online retail prices charged by a representative group of United States and Canadian specialty coffee roasters.
SCRPI reports typically come out every quarter. However, anticipating many current and expected disruptions during and after the COVID-19 crisis, we began collecting SCRPI data on a monthly basis to provide some insight about how the online market for specialty coffee is changing during the pandemic.
What we found is that the majority of the specialty coffee roasters tracked by SCRPI directly addressed consumers about the pandemic and the effects it is having on its operations. Meanwhile, on the whole, per pound retail prices for roasted coffees trended significantly down beginning in April, particularly on the higher-priced end.
The Roasters
This representative group of roasters includes those whose products have received a large amount of attention from Coffee Review, winners of many Good Food Awards and past winners of Roast magazine's Roaster of the Year awards.
The list is balanced in terms of geography, with 10% coming from Canada and 42% coming from the more coffee-obsessed western United States. It also ensures that Fair Trade roasters are appropriately represented. Twenty of the 60 SCRPI roasters were on the FairTrade USA or FairTrade Canada websites in early 2014.
At the end of each fiscal quarter, researchers visit the online stores of each SCRPI roaster and record the lowest and the highest prices for available coffees. (To avoid skewing the upper-end observations, we always ignore any Blue Mountain, Civet, Gesha and Kona coffees.)
The SCRPI During the Pandemic
These two groups of prices are averaged to create a retail price index for the lower and upper ends of the specialty coffee market. The following graph shows how these two indexes have trended since the middle of 2014. In roughly six years, lower end prices for specialty coffees have risen a cumulative 9.9%, while upper end prices have risen 44.1%. (Over the same period, incidentally, the New York 'C' price was down 26.7%.)

After increasing during the first quarter of 2020, retail prices for specialty coffees fell by 7.7% in April, as "safer at home" and other COVID-19-related restrictions became widespread throughout the U.S. and Canada.
At the lower end of the market, the average of the lowest prices charged on SCRPI websites fell 2.0% to $17.25 per roasted pound. At the upper end of the market, the average of the highest online prices fell 10.8% to $29.55.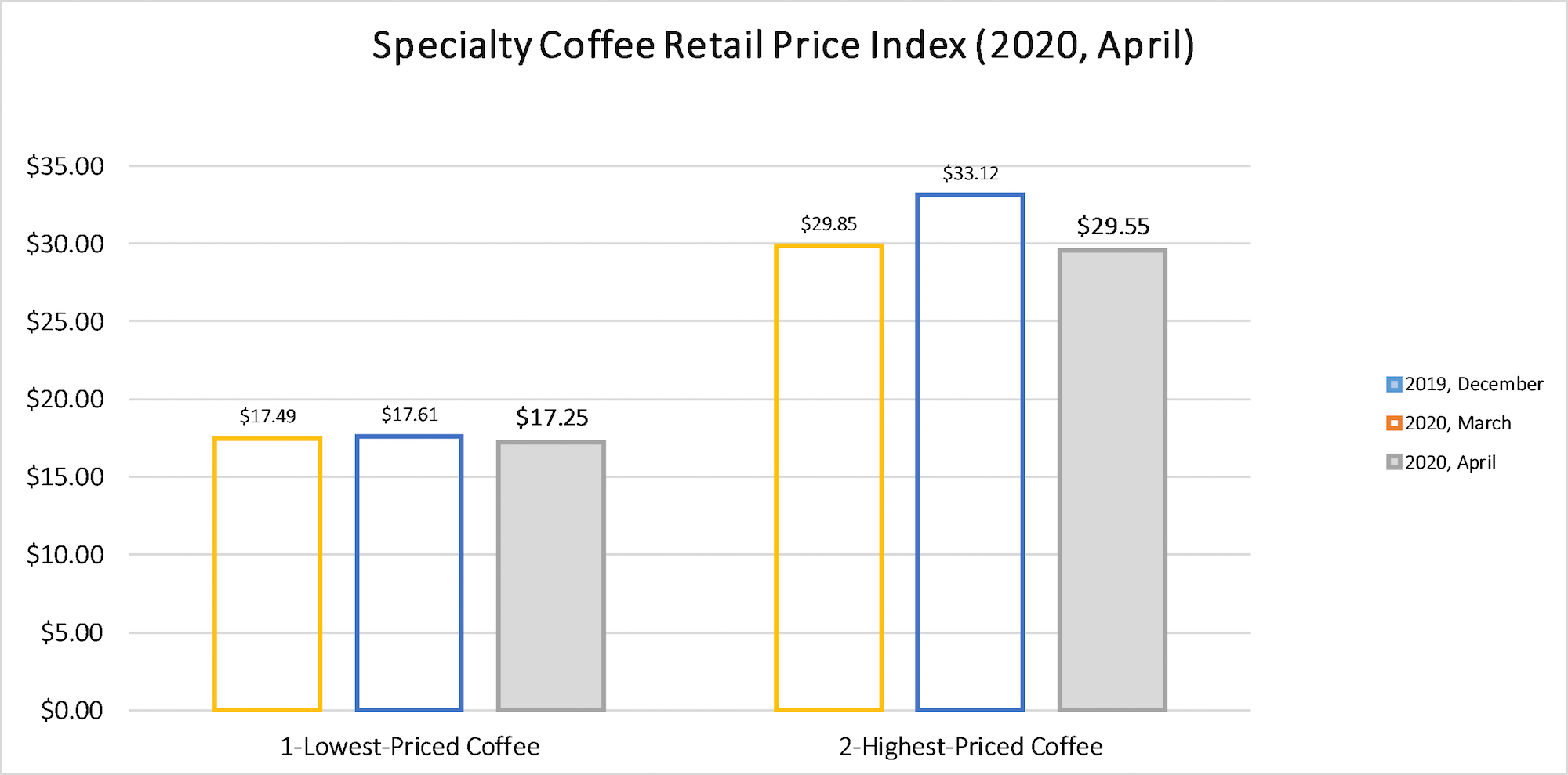 There was considerable stability at the lower end of the market, with the lowest prices remaining unchanged in 37 online stores. The remaining SCRPI roasters split between price increases and decreases, with the average of 9 price decreases (-$2.86) exceeding the average of 8 price increases (+$0.66).
At the upper end of the specialty market, the highest online prices remained unchanged in 28 online stores. In 15 cases, the highest-priced coffees decreased by an average of $19.94 per roasted pound. In 11 cases, the highest-priced coffees increased by an average of $16.01 per roasted pound. These month-over-month average changes were dominated by the removal of seven high-priced "fancy" coffees, against the addition of just one.
What Roasters Are Communicating Online
Of course, retail prices are not the only things changing during the COVID-19 crisis. As we reviewed 57 SCRPI websites at the end of April, we also recorded announcements directly from roasters' websites that related to COVID-19. More than half (32) of these SCRPI websites made references to specific business adjustments.
At least six SCRPI roasters wanted customers to know that they remained open, while soothing potential customers by reporting health and security adjustments.
Another six roasters let customers know that they were remaining open, but that they should expect shipping delays or other disruptions. For example, one prominent roaster offered customers "Free Standard Shipping on Individual Orders" but asked them to "Expect Delays in Shipping and Customer Service due to COVID-19."
In at least three cases, roasting operations had been temporary closed — citing the health and safety of staff and customers — with at least one of those offering a tentative date for reopening.
Many SCRPI roasters also operate cafes. In eight cases, roasters reported that their cafes remained open, but that they were switching to curbside and takeout sales. In six other cases, roasters reported that their cafes are (temporarily) closed, while emphasizing online options.
As they worry about their own companies, owners of specialty coffee roasters are also working to support their employees and their communities. In addition to grassroots efforts afoot through GoFundBean or ComeTogether.coffee, at least four SCRPI roasters and cafes are supporting baristas with online tip jars and special blends directly through their sites.
These are not the only ways SCRPI roasters are actively supporting community causes. At least two others are providing support for essential workers. When they announced a "FUEL THE FRONTLINES!" initiative on April 19, Wisconsin's soon-to-be-renamed Kickapoo Coffee Roasters noted how, "in the last few weeks, the coffee community has come together to rally for those on the frontlines. From hot coffee deliveries to hospitals to virtual tip jars for service industry workers, coffee roasters and cafes across the country have moved swiftly and creatively to show up how they can."
These efforts are a clear testament to the important roles that specialty coffee roasters and shops play in our economy and in our many communities.
We know that COVID-19 is creating considerable uncertainty and flux as specialty coffee roasters, and the cafes they operate, experiment with a range of adjustments. In the coming months, we will continue to monitor these many changes, impacts and initiatives.
Peter Roberts and Kayla Bellman
Peter Roberts and Kayla Bellman are part of the team that runs the Transparent Trade Coffee program. Peter is the Emory University professor who founded Transparent Trade Coffee and the Specialty Coffee Transaction Guide. Kayla is a graduate of Emory University's Master's in Development Practice program, and a long-time Transparent Trade Coffee research assistant.