As more robots make coffee, humans at the University of California San Diego are finding that coffee also offers robots a little extra pep in their step.
Roboticists at the Jacobs School of Engineering have determined that ground roasted coffee is an ideal material with which to fill little rubber booties affixed to walking robots' feet to serve as flexible pads that can help the machines walk up to 40% faster on rough surfaces such as wood chips and jagged gravel.
The intent is to help robots serve more effectively as interplanetary explorers and as as search-and-rescue tools traversing perilous disaster sites.
Each robo-foot designed by the UCSD team consists of an internal support structure within a flexible latex ball that is loaded with loose, dry coffee grounds. When lifted and moved through the air, the feet remain soft, yet when pushed against the ground, they conform to the shape of whatever they step on and then stiffen through a phenomenon referred to as "granular jamming."
"The basic principle is that loosely packed coffee grounds flow like a liquid, but lock together like a solid when air is removed," study co-author and UCSD Prof. Nicholas Gravish told Daily Coffee News. "You can see this in action when you buy a new bag of vacuum packed coffee. It feels solid, much like a brick, but when you cut it open all of sudden you can squish the back and reshape it."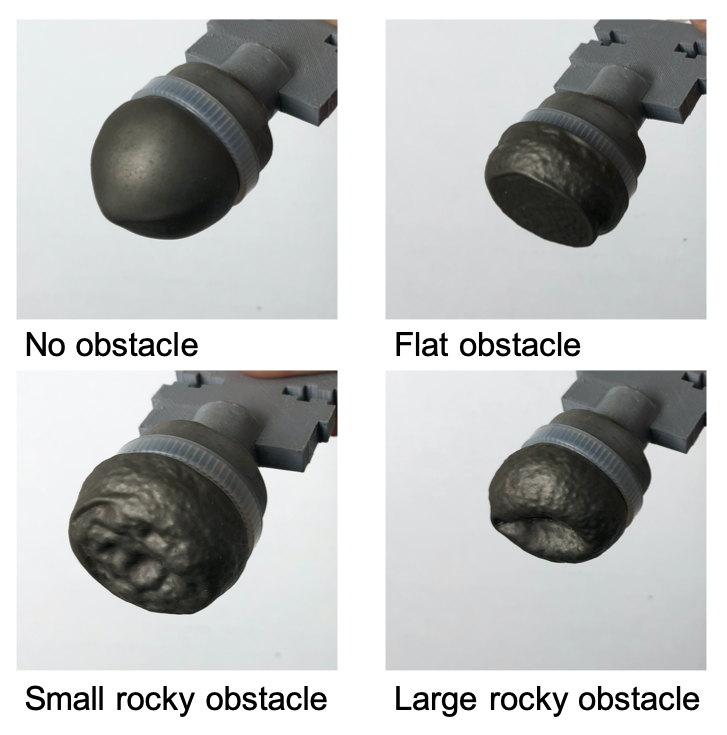 Primary author Emily Lathrop, a Ph.D student at UCSD, will present the report co-authored by Department of Mechanical and Aerospace Engineering Professors Gravish and Michael T. Tolley at the RoboSoft conference taking place virtually this year from May 15 to July 15.
The grounds become sturdy when jammed together passively, under the weight of the robot as it walks, which assists the robots on flat terrain. Active jamming occurs on sharp and uneven surfaces when the machines vacuum the air out of a latex ball after it has conformed to the shape that it's stepping on, for surefootedness as the robot moves itself forward. In both situations, the coffee feet offer robots better traction, higher speed and less effort in walking through tricky situations.
Coffee was a fit choice for this application because it is light and relatively inexpensive, according to Scientist, which was especially true of the particular coffee they used at least in part out of convenience. The research team deployed Folgers Classic pre-ground medium-roast coffee into their robo-feet, as this is what they had lying around at the lab.
Said Lathrop, "Coffee is a staple of the grad student diet."
Yet what also makes coffee ideal in general is the inherently diverse particle size distribution in a typical coarse grind.
"[Ground coffee] particles have high friction and are randomly shaped, which can help enhance the jamming effect when the coffee is compressed," said Lathrop. "Coarsely ground coffee can help increase the granular jamming effect compared to more finely ground beans because they feature a range of particle sizes, so the smaller particles can help fill the gaps in the larger particles and help the coffee jam together when vacuumed."
Howard Bryman
Howard Bryman is the associate editor of Daily Coffee News by Roast Magazine. He is based in Portland, Oregon.