October 2020 will mark nine years since Andrea and Jon Allen founded Northwest Arkansas' Onyx Coffee Lab.
Nearly a decade later, their "Never settle for good enough" ethos has manifested as four cafes, a roastery, barista training center, and two 2020 US Coffee Championships: Andrea Allen is the reigning US Barista champ and Elika Liftee is the reigning US Brewers Cup champ, placing just above Onyx's Lance Hedrick, who finished second.  
This week the company took another major step forward, unveiling a complete rebrand for all packaging and the website.
"The bag we were selling in, nor the brand as a whole, were representative of who we are now," Jon Allen recently said by phone. "We've matured from rebellious upstart to being more thoughtful about what we're fighting for and why."
The design work began in February 2019 and was led by Jon Allen and longtime Onyx collaborator and independent creative director Jeremy Teff.
The most striking change is the introduction of a new color palette that invites consumers to thematically explore the approximately 50 coffees that Onyx features each year. The brand's original three color system (black, white, and gold) has expanded to a whopping 10.
The colors were chosen to evoke the cupping notes of each single-origin or blend offered and for their replicability across associated packaging, merchandise, and apparel. 
Here's the color key, according to Onyx:
Black = Foundation and Rare

Concrete / Dark Gray = Complex

Green = Natural and Origin-specific Processing

Light Gray / Stone = Balance

Mustard = Spicy

Peach = Geometry Blend 

Pink / Rose Quartz = Tropical and Floral

Red = Limited-run Micro-lots

Royal Blue = Long-term Producer Partnerships

White = Developed Roasts and Rich Flavors
Previous hand-lettering has given way to modern and cleaner typography. Teff shared that they chose Simon Walker's neoclassical Room 205 font for the company's name and Hindia Studio's sans serif Coltrane typeface for the word "Coffee." The brand's signature is represented by a new, lighter, hand-lettered script. 
Visually speaking, Onyx increased its glyph count to 10, to help accelerate consumer fluency in the language and culture of coffee.
Packaging has also undergone a dramatic transformation, starting with boxes replacing bags. The new box top and top 20% of the box front serve as a marquee featuring producers' names and narratives, along with vital statistics for the coffees inside. 
Materials have advanced to include compostable, plant-based mailers; biodegradable, recyclable boxes; and 60% compostable and renewable bags. Coffees now come in package volumes of 4 ounces, 10 ounces, 2 pounds and 5 pounds.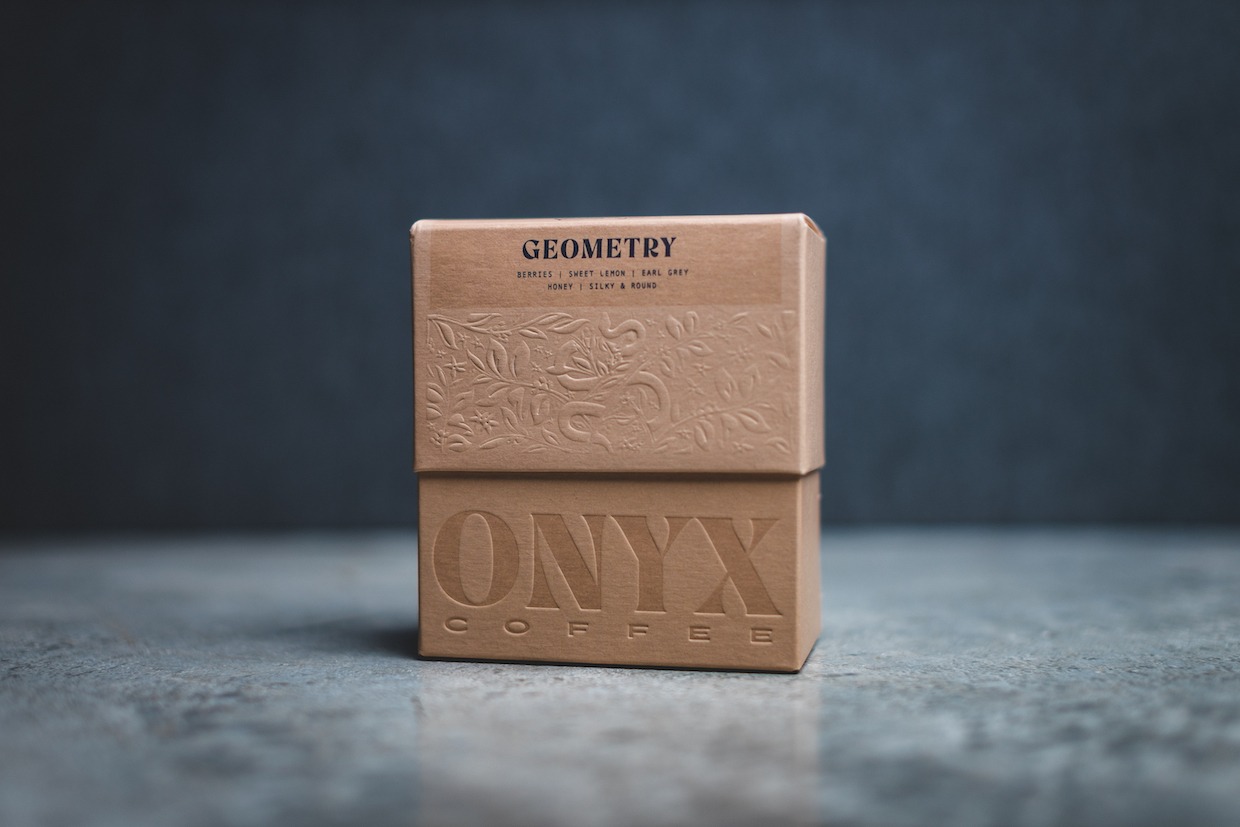 The website has been redesigned as a quasi-laboratory experience for consumers. Brewing video tutorials covering filter coffee and espresso will be provided for each coffee, and a "Find My Roast" feature will cue consumers into roast data, shedding light on how roast affects flavor profiles and descriptors. Transparency infographics and guides will also be available online.  
With the rebrand, Onyx is accentuating its translucence, shifting the focus away from itself to its producer partners, coffees, and customers. 
"Coffee has become so undervalued that we've made it our mission to help raise the floor and ceiling about what people think coffee is and can be. For about $8 per cup, we can present you with the best coffees in the world. That's impossible in nearly every other product category," Jon Allen said. "'Never settle for good enough' is how we hold ourselves accountable to an unwavering and never-ending pursuit for quality."
Brian Gaffney
Brian Gaffney is an NYC-based management consultant for PriceWaterhouseCoopers (PwC). A professional problem solver and self-described 'coffee adjacent,' Brian brings his experience in brand, marketing, and strategy to specialty coffee to help connect coffee producers to end consumers.