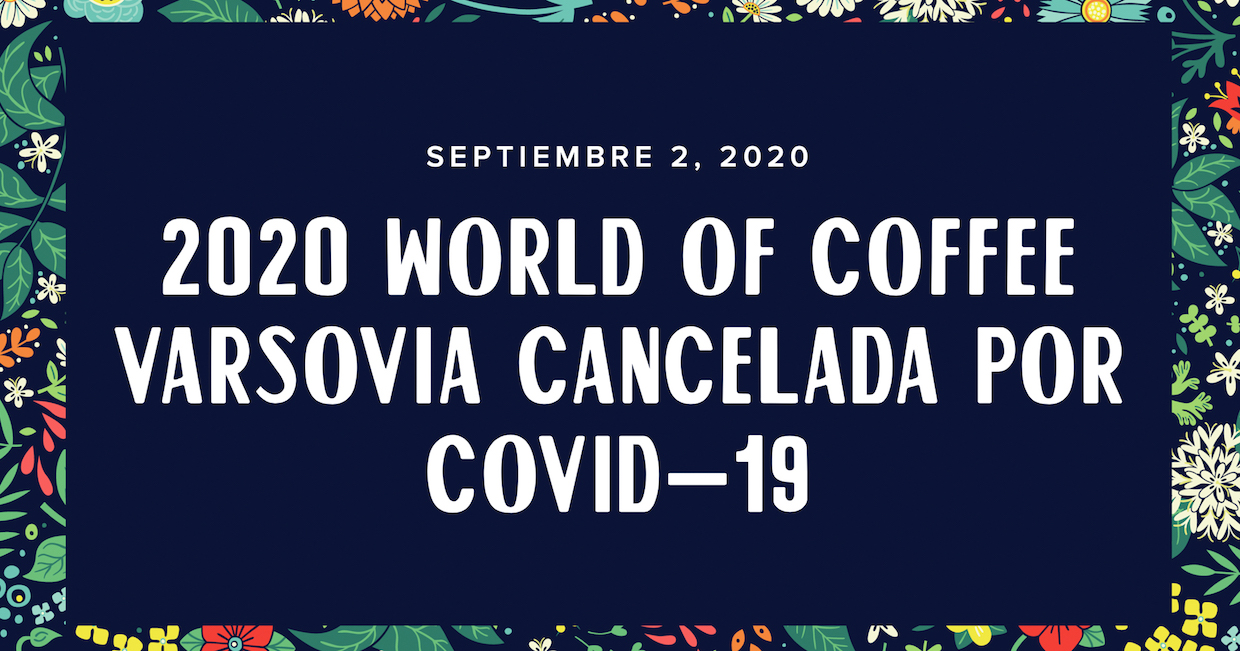 Traducción por Mara Magaña
HOY, EN LA SPECIALTY COFFEE ASSOCIATION (SCA), NOS SENTIMOS TRISTES DE ANUNCIAR LA CANCELACIÓN DE LA WORLD OF COFFEE TRADE SHOW 2020 QUE ESTABA AGENDADA PARA LLEVARSE A CABO EN VARSOVIA, DEBIDO A LAS ACTUALES PREOCUPACIONES POR EL CUIDADO DE LA SALUD.
En marzo, anunciamos que la World of Coffee Varsovia, que originalmente tendría lugar en junio del 2020, se pospondría a octubre de este mismo año debido a la actual pandemia de coronavirus. En julio, anunciamos que la World Coffee Championship 2020, agendada para realizarse en Melbourne y Varsovia, fue cancelada oficialmente.
La difícil decisión de cancelar la World of Coffee 2020 se tomó en estrecha comunicación con los expositores, nuestros socios en la sede de la Expo PAK y otros socios comerciales locales. La World of Coffee está programado para viajar a Atenas del 24 al 26 de junio de 2021 y la SCA planea llevar la feria comercial a Varsovia en junio de 2022.
Si se registró para asistir o exponer en la World of Coffee 2020, revise su bandeja de entrada para recibir un correo electrónico con información importante sobre un crédito automático de dinero pagado para la World of Coffee 2021 en Atenas.
Si no ha recibido un correo electrónico, póngase en contacto con nuestro equipo de eventos. Para preguntas de los asistentes, comuníquese con Manu Varanattu en [email protected], y para preguntas de los expositores, comuníquese con Margaret Andreucetti a [email protected]
Si bien las circunstancias globales aún dificultan reunirnos en persona, en la SCA seguimos comprometidos con conectar a nuestras comunidades cafetaleras a nivel mundial a través de medios digitales y regresar a las reuniones físicas tan pronto como sea prudente. Visite nuestro sitio web para conocer más sobre nuestras iniciativas, incluidos nuestros muestrarios digitales New In Coffee y Design in Coffee, además puede visitar nuestra sección SCA News para encontrar videos, podcasts y muchas más opciones de conectarse y participar. Quiero agradecer a cada uno de nuestros expositores, asistentes, voluntarios y patrocinadores por su paciencia y comprensión mientras navegamos por este año enardecido y plagado de vicisitudes. Nuestra industria está demostrando su resistencia y determinación. Juntos sortearemos esta tormenta y nos encontraremos mucho más fuertes la próxima vez que nos veamos en persona.
Gracias,
Yannis Apostolopoulos 
Director Ejecutivo
Asociación de Cafés Especiales (SCA)