Blip Roasters has plopped back down into Kansas City, Missouri's West Bottoms neighborhood, opening an expansive and multifaceted coffee shop and roastery.
Inside a 19,000-square-foot space in the industrial neighborhood to which Blip has become so closely aligned since originally launching there six years ago, the new Blip location also includes a motorcycle accessories shop, a screen printing operation, a conference room, and office space available for lease.
Coming at the end of August, the opening represents a remarkable feat for the KC-born roasting company, which has managed to survive a series of unfortunate events over the past five years.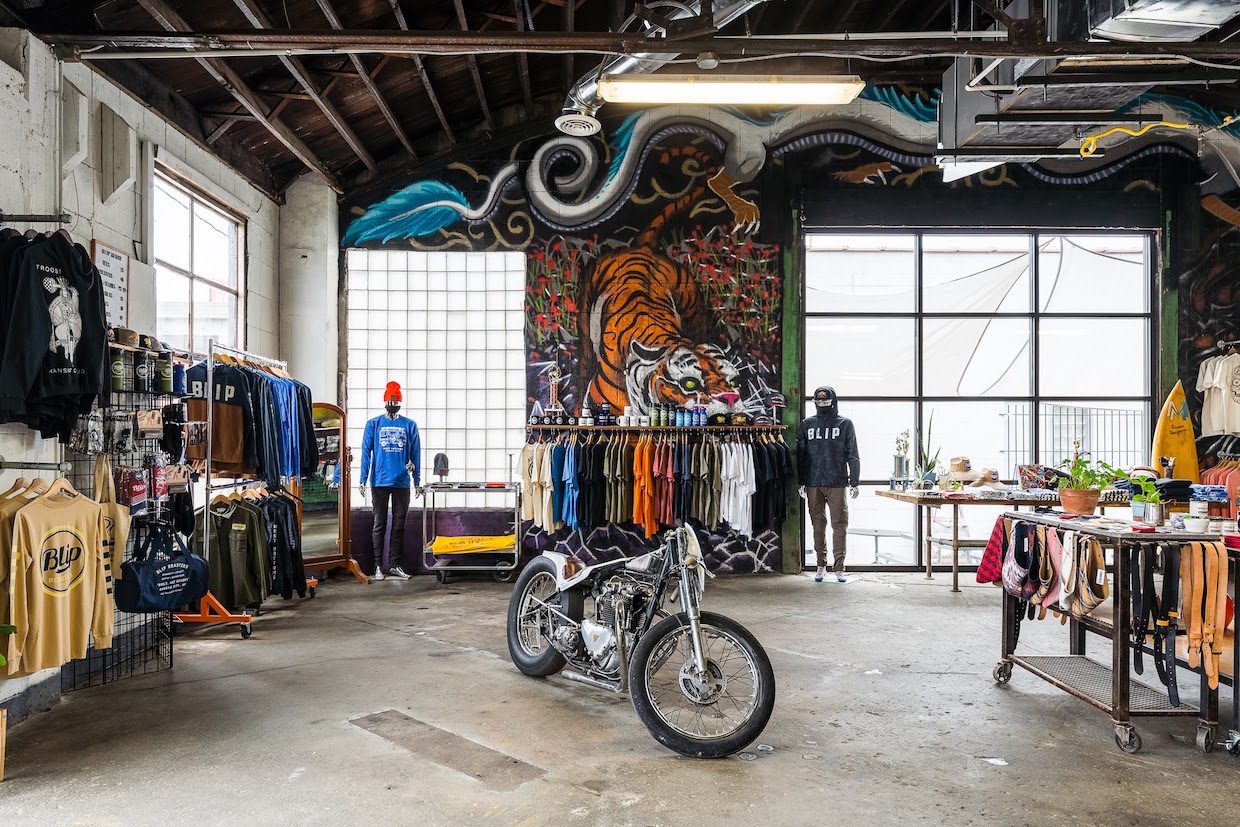 The original Blip roastery in West Bottoms was destroyed by a fire in early 2016, just months after Blip had opened its first cafe there. With the help of public donations, the company was able to pick up the pieces and reopen in West Bottoms in the Spring of 2016. At the beginning of 2019, Blip opened a second cafe at 30th and Troost.
Then 2020 came, and you-know-what happened. As the fallout from the COVID-19 pandemic took its toll on the business, Blip Roasters Founder Ian Davis made what he described to the Kansas City Business journal as the crushing decision to lay off staff and close up shop.
"After discussing with staff, Blip shut down both locations in mid-March, ahead of city-wide shelter-in-place mandates," Blip Operations Manager Danna Suellentrop told Daily Coffee News. "Our entire small but amazing staff was laid off. The Troost location was shut down permanently and the intention was to reopen the West Bottoms location when government mandates lifted and staff felt safe returning to work."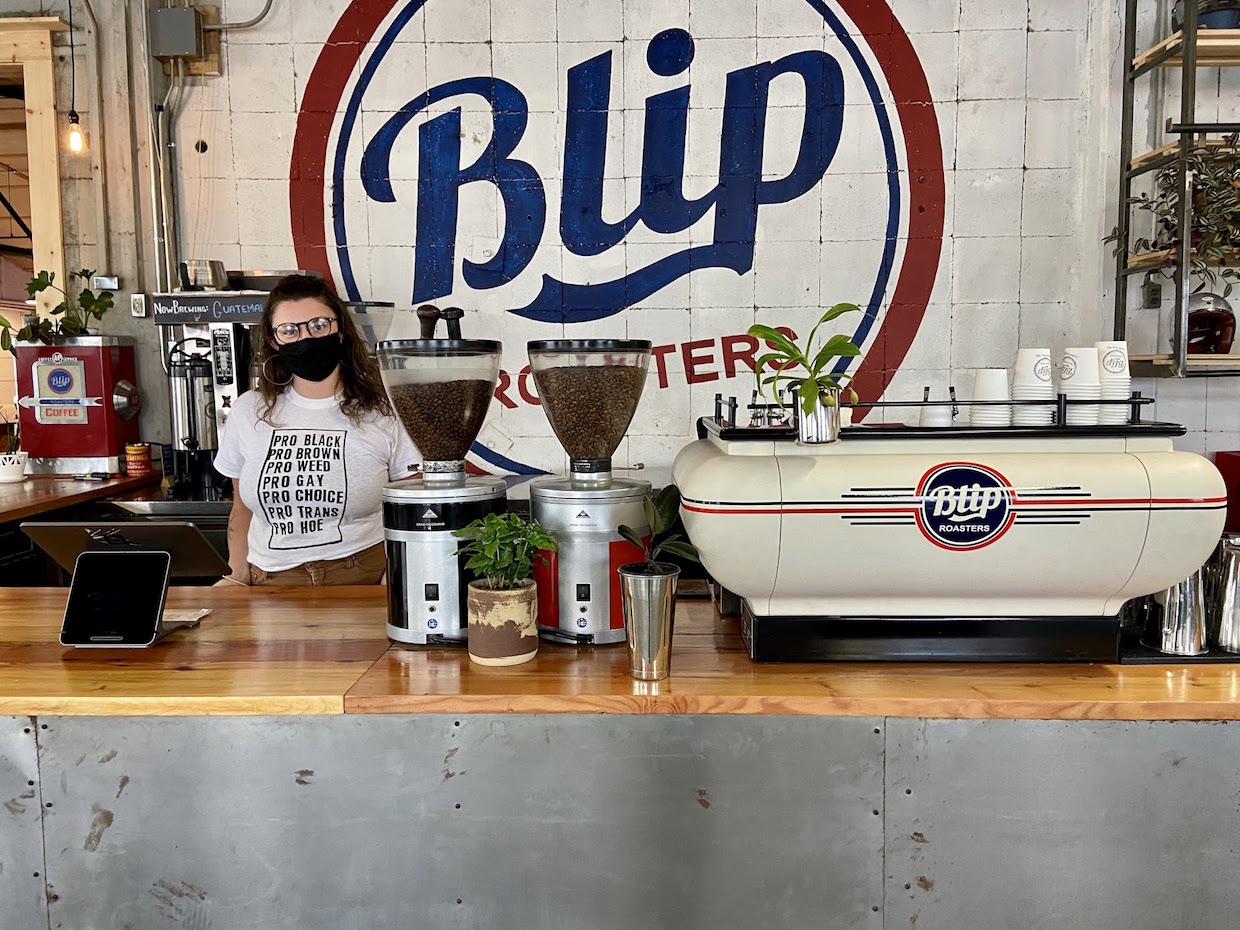 Suellentrop said the intention had long been to open a larger West Bottoms location, and the forced break due to the pandemic provided the time to do just that.
Now re-staffed and operating inside sprawling industrial digs, Blip is offering a full complement of single-origin and blend-based espresso drinks alongside drip coffees, while a new tap system helps deliver draft ice coffee, cascara tea, a house-made chai latte with oat milk and a rotating dairy-free latte, which as of this writing was a cinnamon sugar almond milk latte.
Coffees for those drinks, online orders and wholesale clients are coming from a three-person team that watches over a 5-kilo US Roaster Corp machine on site.
"There has been an emphasis on purchasing sweeter coffees," Suellentrop said of Blip's evolved sourcing approach. "Over the years we have been privileged to use our coffee purchasing power to partner with small family farms with connections to Kansas City. This month, we are launching a collaboration with Doña Fina family farm in Quezaltepeque, Guatemala."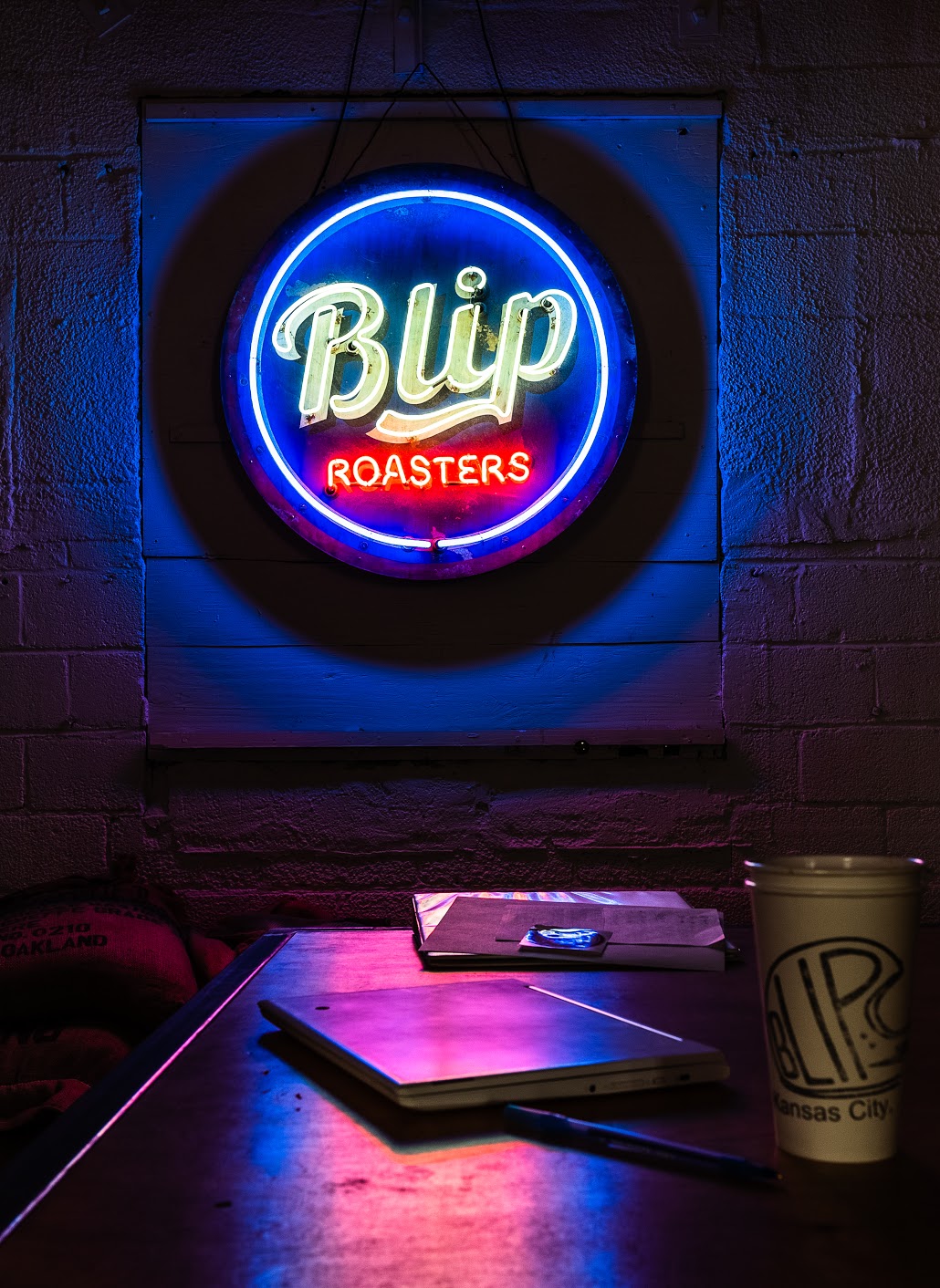 Oozing raw industrialism, the interior of the new shop highlights the built-in aesthetic while offering some some custom artwork, a giant Blip logo, and tailor-made fixtures and surfaces, such as the wooden bar top that was made by a West Bottoms woodworker. Those elements pop out from the exposed rafters in the barrel ceiling, and the cement block walls.
The industrial feel also complements the motorcycle accessories and apparel side of the business, which has grown from the personal passions of Davis and a community of bikers who began appearing at the shop on Sunday mornings, a tradition that has carried on through the years.
Blip is now a licensed dealer for Bell and Biltwell helmets and gear, as well as Rev'it apparel. Said Suellentrop, "Pre-pandemic, we hosted rides, showcases, competitions, new motorcycle releases with Triumph and Royal Enfield, and race watch parties."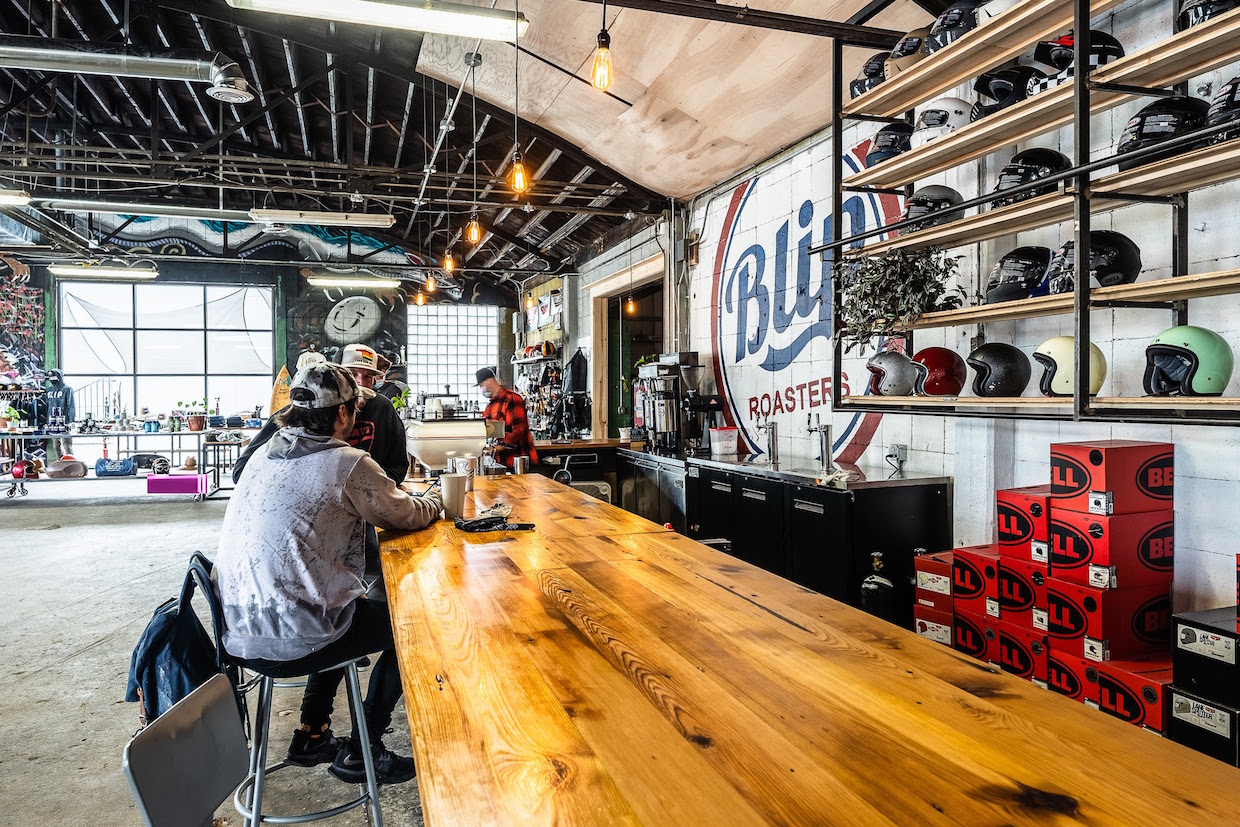 Someday such parties may become a thing again, but for now Blip is playing it safe for the protection of its staff and guests, Suellentrop said. Due to house safety protocols, the large space currently only offers seating for seven guests, while carry-out service is available, and masks are required. Suellentrop noted that Blip baristas have undergone coffee-specific sign language training to better communicate with deaf or hard-of-hearing guests.
Suellentrop added that as the pandemic softens (hopefully), Blip plans to expand its food operations, bring screen-printing in-house and host larger events.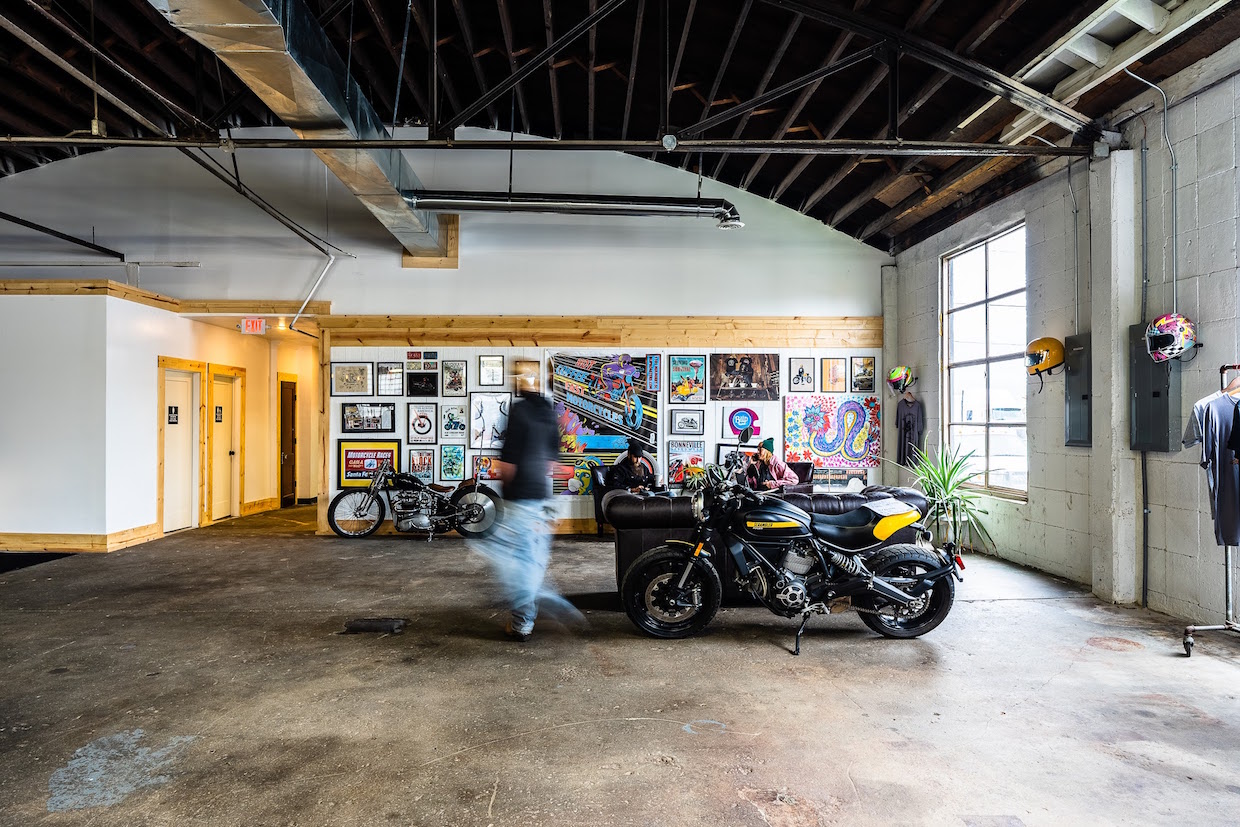 Blip Roasters is now open at 1301 Woodswether in Kansas City's West Bottoms neighborhood. 
Nick Brown
Nick Brown is the editor of Daily Coffee News by Roast Magazine.