A mere few decades ago, specialty coffee was considered something of a fringe market. Yet as its market share has grown, so too have specialty coffee's own fringes, especially at the very highest end.
Despite the ongoing price crisis and a 2020 pandemic affecting producers and consumers at large, the demand for what is perceived to be the most special of specialty coffees continues to hold strong, if recent auction results from sources such as Cup of Excellence or Best of Panama are any indication.
One company that has been operating at the fringiest of specialty's coffee fringes is Frinj Coffee (styled by the company as FRINJ), the three-year-old agricultural venture offering California-grown coffee.
Frinj grew out of the Good Land Organics farm along California's Central Coast. The company officially incorporated in 2017, bringing its first California-grown arabica coffees to market. Each year since, the company has increased its output through its own estate coffees while it plans to fold in coffees grown through a replicable model at other California farms.
For Good Land Organics and Frinj Coffee Founder Jay Ruskey, a longtime farmer and sustainable agriculture expert, enthusiasm the market has shown for Frinj coffees isn't merely a business opportunity; it's the continuation of a decades-long experiment in progressive and locally focused agricultural practices.
Ruskey's interest in sustainable agriculture started at the age of 17 when he spent a summer working in heavy fungicide programs and soil sterilization for a cut flowers operation.
That negative impression of unsustainable ag practices then propelled him into his own family's avocado and cherimoya farm before he began taking leading roles in California's then-nascent sustainable food movement in the 1990s.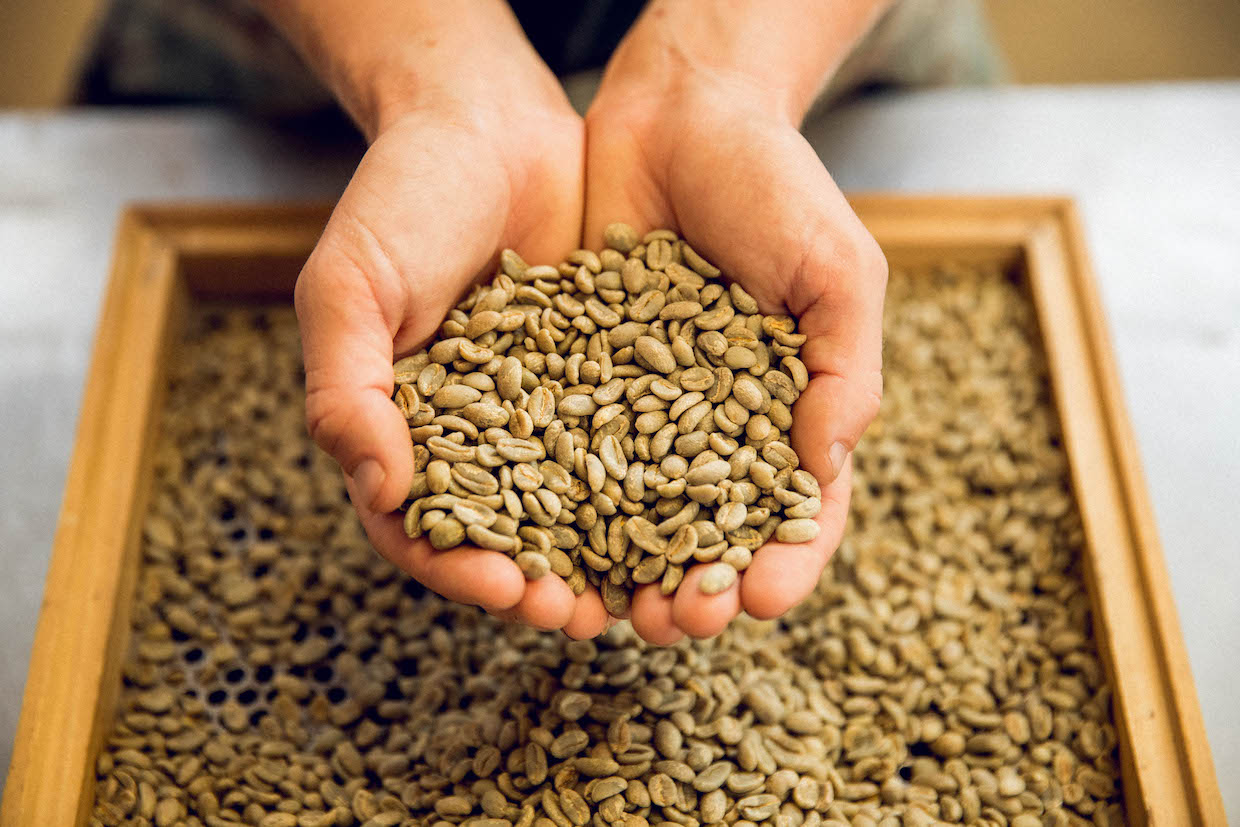 We recently asked Ruskey via email more about his background, sustainable coffee production and the scaleability of California coffee on the fringes:
[Note: This interview has been shortened for readability.]
Can you tell us more about your background in sustainable agriculture, particularly how it ultimately lent itself to coffee? 
In 1993, I joined the California Rare Fruit Growers Association (CRFG), where I became co-chair and later a director at the parent CRFG organization. For five years, one of my tasks at the chapter was  overseeing monthly meetings, which included farm operations visits. I toured almost every type of ag business on the central coast. I saw a pattern of problems presented by traditional agriculture, which I thought could be improved with sustainable ag innovations. I began working with suppliers of bulk, organic fertilizers in exchange for getting them local distribution deals. By 2002, I was practicing sustainable ag through cover crops on my farm.
Once I started selling at Whole Foods, I earned the California Certification Organics Federation (CCOF). Soon after, I began harvesting my first coffees, which I grew on my farm with Hass avocados.
At that time, there was little fertility information available about organic farming of tree crops, forcing me to try to use conversion calculations to find organics substitutes for conversion nutrition… Eventually, in 2000, the coffee was introduced with my experimentations with other major crops and ultimately led my layered ag systems approach because I heard shade was good for them. I had interplanted some coffee and fruit trees, and during the drought of 2014-2017, I had to limit my water usage. I intentionally increased the interplanting of coffee, avocados, passionfruit, dragon fruit, and many other crops to form layers, all sharing watering and cultivation. I applied the same water cycling and nutrition.
Today, the system has evolved into a more applicable and replicable system.
Was there an "a-ha" moment when you first considered coffee, or when you realized coffee could be a viable crop grown in the continental United States? 
In 2014, our Good Land Organics Caturra coffee received 91 points and was ranked 27th in the world by Coffee Review. What made that unique was twofold. We were the only contenders who grew the coffee from the coffee production side, handled post-harvest, and roasted it. The other contenders were roasters, who bought their coffee from a farm or importer. I realized that there was something to be said about controlling all parts of the process to ensure peak quality.
Can you quantify how much interest you're receiving in coffee from participating farmers? 
We have 67 participating farms within the FRINJ network, and roughly 2/3 of those farms are in San Diego County with the remaining in Ventura and Santa Barbara Counties. We get a lot of traction from what I call "over-the-fence marketing." If one farmer sees another farmer doing something successfully, it drives interest.
This year, we are moving from the first-adopter farmers to the mainstream. As orders are getting bigger and earlier, farmers with smaller plantings are comfortable enough to expand their plantings. In the last season, we had almost a 50% growth in new farmers from last year, and we are getting expansion from our current growers.
What do you think is possible for California-grown coffee in terms of scale? How much volume is possible? And what does that market look like? 
For perspective,  According to the USDA Coffee: World Market and Trade Report,  the global coffee harvest for 2020/21 is forecasted to around 176 million bags at about 132 pounds per bag. That is over 20 billion pounds of Arabica coffee on the market! If we converted every acre of California avocado land to coffee, our impact on the market would be less than 1/10 of 1%.
FRINJ will never affect the traditional market, nor do we want to… In many ways, we are creating our market, which is emerging from an existing market. I don't see us hitting any limit for the next 10 years to keep the quality standards. It's similar to what is happening with the California craft brew market. I thought that would have hit its peak years ago, but it just kept growing.
– There's no denying that the coffee industry has long benefitted from cheap labor (and sometimes slave labor) to capture more value for actors farther downstream, particularly the global north. Growing coffee in California must require exponentially higher costs of production than in, say, Guatemala or the Democratic Republic of Congo. How can this be reconciled when you start talking about increased volume and scale? 
Everyone immediately concludes that growing coffee in California is impossible because it is so expensive. Yet, this state produces a majority of the United States' food production and is the most diversified growing region globally. Like blueberries and strawberries, many crops are just as labor-intensive as coffee, from my farming perspective. Yet these crops account for over $4 billion worth of farm revenue for California. When you look at things in this light, we see that producing a non-commodity coffee can make sense.
The problem here is that the farms growing coffee in Guatemala and the Congo get under 5% of the total value of their crop back. Then, you factor in that the crop takes four years before it gets to production and turns a profit. It's insane how this system sustains itself when small farmers with commodity prices are held so low.
From what I can tell, the current coffee supply chain has too many nodes, or points, that allow other handlers to take ownership and margins on the coffee. Ideally, each touchpoint is taking away revenues from the farm to ensure that the farmer can get their fair return.
Furthermore, coffee is sensitive to environmental changes, so mishandling the crop degrades it quickly. The challenge becomes: how will the farmer that is producing high-quality coffee ensure that the quality degradation is low and that they will be kept out of the commodity market. What system will reward this farmer's efforts? This is a problem, not just for the coffee farmer, but for other farmers who grow within these regions and worldwide.
Is there a demonstrated consumer interest in California-grown coffee? 
We just completed an independent market research study on this very topic. We discovered many things about our target consumer's buying preferences and interests. First, as a region, California was not as important as the level of care and support we put into our farmer relationships and the quality of our brand. Consumers like to vote with their dollars and know that their money is going to a farmer, just like at a farmer's market. Getting a high quality and more profound coffee experience matters to them.
Three Questions With Jay Ruskey
What about coffee inspires you most?
I like the prospect that I can breed new coffee plants on my farm — propagate, test, and deliver them to other farms, who can then make money from these crops by harvesting them and sharing them with other people. It is a full-cycle evolution that we participate in every day.
What about coffee concerns you most? 
The crop's inability to adapt to climatic and economic change. Perennial crops are stubborn, and most farmers with small to medium farms are working with old trees. How can we get them to replant new varieties that will put them into this specialty market, especially when they have to give up three years of production income? I am not sure how to fix this, but we're working on it.
What would you be doing if it weren't for coffee? 
Farming another crop and pushing it to the fringe of its industry.
Nick Brown
Nick Brown is the editor of Daily Coffee News by Roast Magazine.