Sean Grorich used to put people to sleep for a living. Now he's waking them up.
The former nurse anesthetist is pursuing his passion for coffee through the roasting startup Pinky Promise, which is making a pledge of quality and transparency in Sturgeon Bay, Wisconsin.
After establishing Pinky Promise at the dawn of 2020, Grorich spent about eight months turning roughly 1,700 square feet of space into a working roastery. Online sales launched last month.
"The business was named from our tradition of 'pinky promising' with our daughter, if she ever questioned whether we would follow through on something that we had agreed to do," Grorich told Daily Coffee News. "Once the promise was bonded, she felt secure that we would follow through."
Located in the gateway to the tourist-heavy Door County peninsula, Pinky Promise now sources green coffees primarily through Minneapolis-based Cafe Imports for roasting on 6-kilo-capacity Mill City Roasters machine.
After years of reading magazines and consuming information online on the art and craft of roasting, Grorich received formal training from Mill City while applying the data-driven mentality carried over from his years as a healthcare provider.
"With my science background in the medical field, I approach roasting with that mindset," said Grorich. "But knowing that coffee beans don't follow a textbook prescriptive way of roasting, I bring in the art and craft."
Grorich's daughter, now age 13, looks forward to someday helping with the venture, while  Grorich's husband, Josh Puetz, chips in on matters of technology, marketing and business.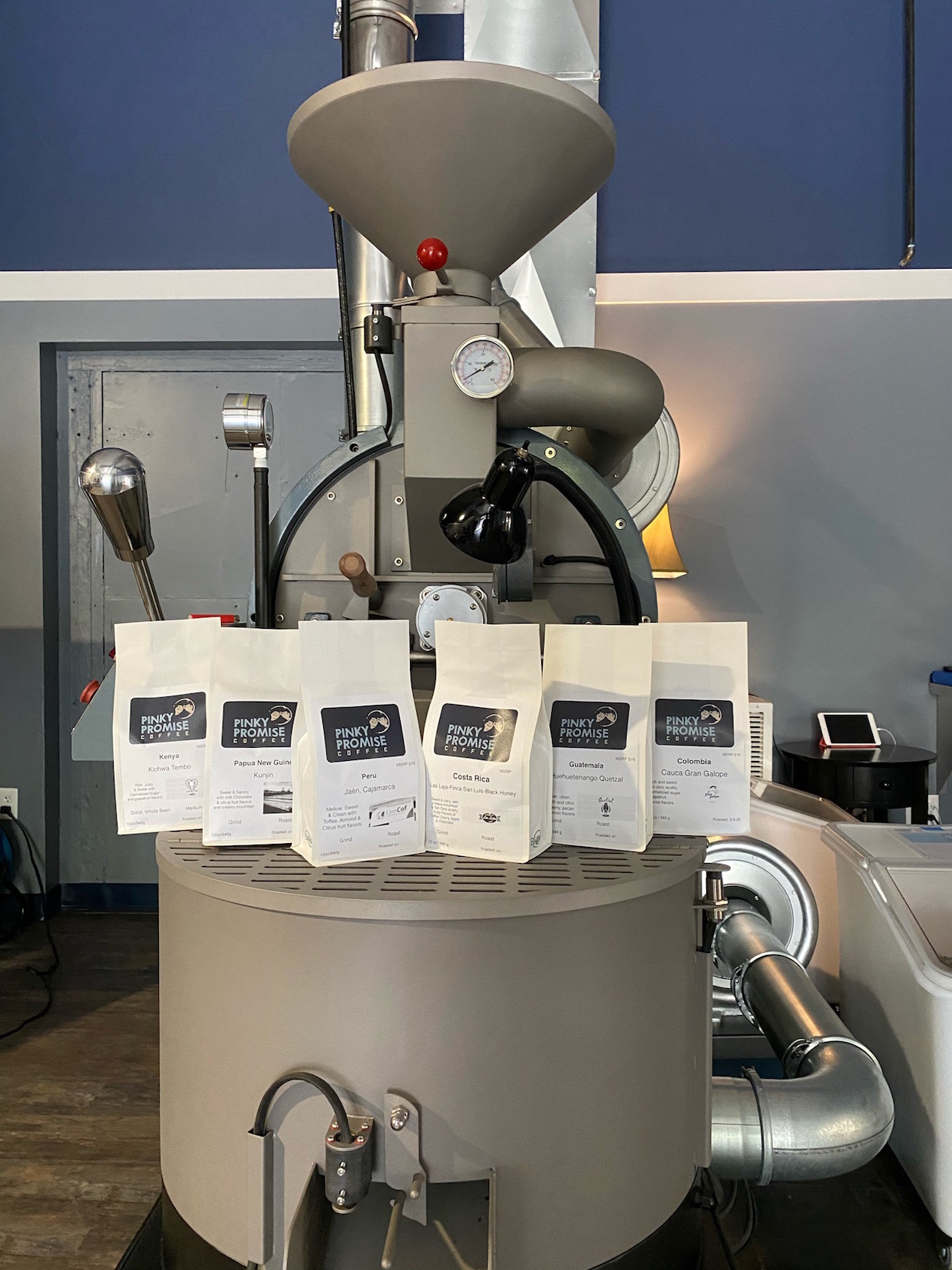 With roughly 2,500 square feet remaining inside a century-old building, Pinky Promise has plenty of room to grow, including someday potentially opening a retail cafe to serve passing tourists and full-time residents alike.
"Door County has increasingly had more and more of a year-round presence as more people find that there are many things to see and do during the other seasons," said Grorich, who used to vacation there with Puetz before settling there full-time. "My hope is that my coffee will be consumed by many of the tourists in as many of the restaurants and coffee shops as I can get my coffee beans into."
Howard Bryman
Howard Bryman is the associate editor of Daily Coffee News by Roast Magazine. He is based in Portland, Oregon.