The latest player to enter the beepety boopety field of robotic baristas is Robo Esso, a Colorado startup offering a franchise model whose own robot barista cafe recently powered up.
The coffee-minded human in charge of Robo Esso is Matthew Jones, a coffee roaster and retailer who said he was forced to close his own Black Hawk, Colorado, coffee shop  — Buffawhale Coffee & Tea, previously called Mountain Mocha — due to the COVID-19 pandemic.
Now in a corporate center and industrial complex in Golden, Colorado, where Buffawhale had been roasting, the first Robo Esso retail cafe is preparing drinks with robotics technology coming from Danish multinational robotics company Universal Robots.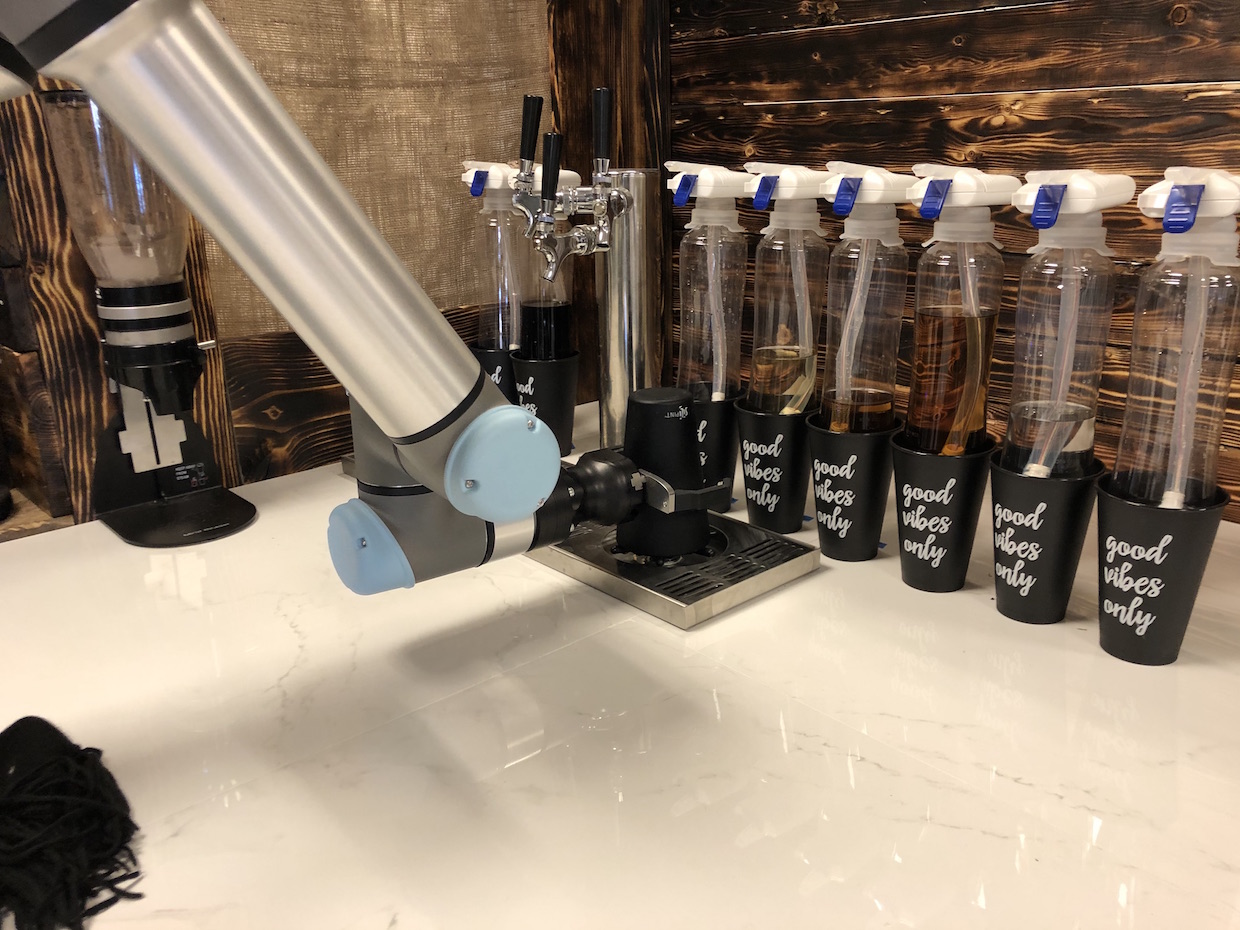 Robo Esso is also currently taking pre-orders for franchising that involves equipment setup and customization, training and technical support services, with no robotics or programming experience required.
"This is more like a license model," Jones recently told DCN, noting that the model involves a monthly fee rather than some sort of major purchase of a robot. "The goal is to make it accessible to small businesses as much as possible. We expect most customers to make it their own, rebrand it."
Robo Esso's own robotic kiosk offers no fewer than 13 drinks, including traditional espresso-based drinks, teas and a kombucha.
"Using off the shelf equipment used by current coffee shops allows Robo Esso to customize its menu faster, offer more drink varieties and [be] less expensive than any other robot coffee shop available today," Robo Esso said at the official public launch of the business earlier this month. "Robo Esso's goal is to make automation affordable and accessible for small businesses and aspiring entrepreneurs."
Jones estimates that maintaining a Robo Esso coffee stand requires no more than two hours a day, including connecting milk taps, quality control on the espresso, powering up the robot, restocking, and a "simple wipe-down every few hours per recommendation of the health department."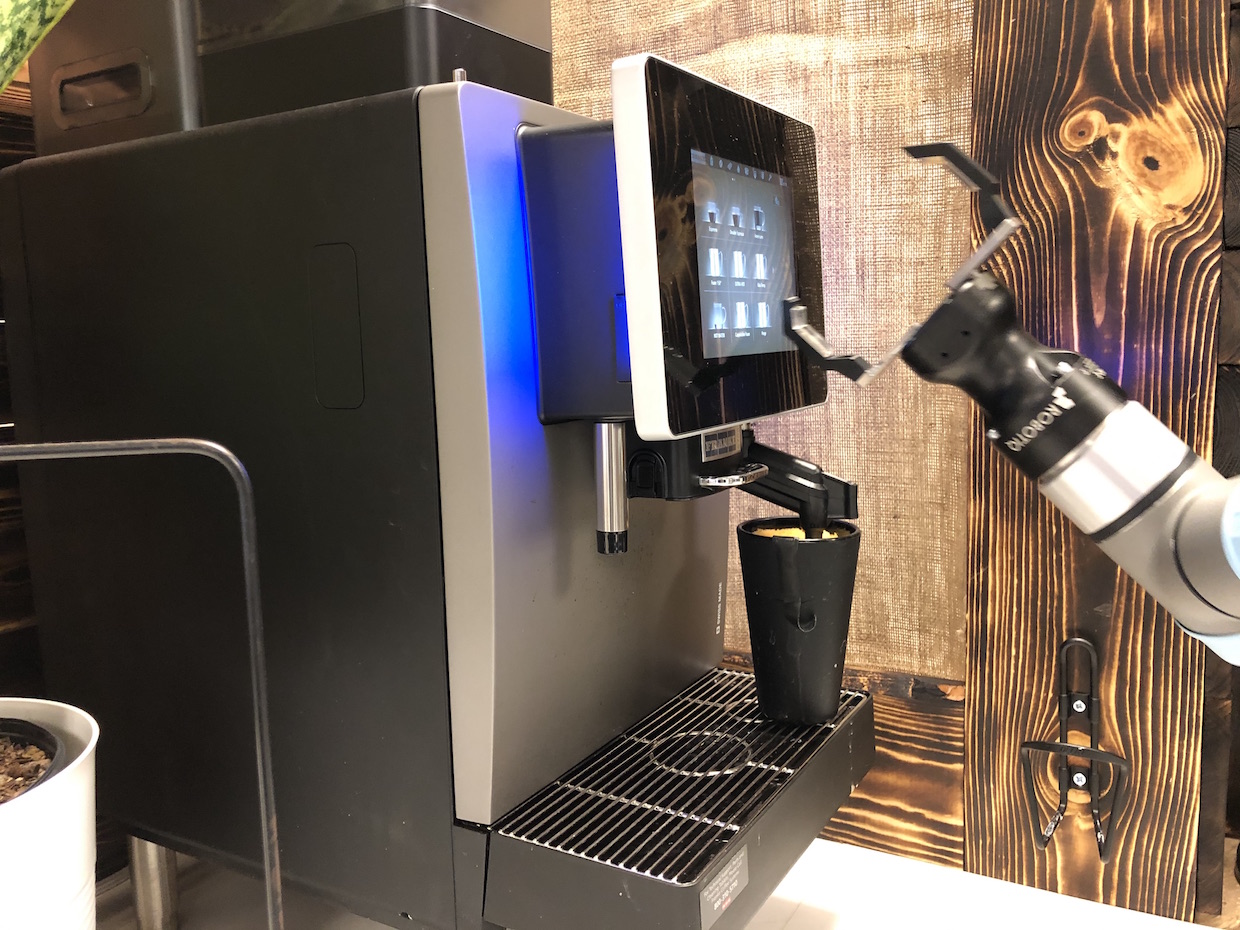 To this point, the coffee robot revolution has had mixed results for purveyors. Cafe X, which received a healthy dose of venture capital from Silicone Valley while opening up multiple Bay Area locations, has since closed three of its downtown San Francisco locations while leaving two airport locations open.
A robotic arm at J Coffee in Portland, Oregon, is preparing espresso drinks. Backed by a development team in Belarus with U.S. offices, a new robotic cafe system called Rozum launched earlier this year. New York is home to the Truebird Coffee Co. brand of robotic specialty coffee kiosks, while Coca-Cola-owned coffee giant Costa Coffee recently acquired robotic coffee kiosk company Briggo.
Jones suggested the Robo Esso system would encourage customization and unique branding, to help purveyors stand out as more automation technology filters into the retail market.
"With automation I think the human element is taken out of it too often, making it a cold experience," Jones said. "Allowing people to incorporate more of the human element is what a coffee shop is all about — it's a warm experience. I don't want to take that away from the coffee culture."
The Robo Esso cafe is now open at 741 Corporate Cir Ste L, in Golden, Colorado. 
Nick Brown
Nick Brown is the editor of Daily Coffee News by Roast Magazine.