As the strategy of freezing roasted, whole-bean coffee has been cautiously promoted by a number of specialty coffee companies in recent years, a new product from Australian specialty coffee company Toby's Estate called Freezus offers customers a pack of freezer-ready, individual vacuum-sealed portions.
Designed to extend the freshness and peak flavors of some of the company's higher-end coffees, Freezus arrives in a cool blue box embossed with a chilly-looking diamond pattern containing two 50-gram portions of fresh whole-bean coffee packed in valved, foil-lined bags, intended for consumption sooner rather than later. There's also a set of five 20-gram, vacuum-sealed bags to be tucked into an icebox between the peas and popsicles.
"Our goal is to make freezing coffee accessible to cafes and at home, all over the world," Nich Rae, head of coffee for Toby's Estate, told Daily Coffee News. "Moving into 2021, freezing will be a big focus for our offerings."
The initial Freezus offering is a honey-processed Gesha from Costa Rica the company describes as yielding floral notes that give way to ripe strawberry, cantaloupe and red papaya flavors with undertones of vanilla and subtle mandarin acidity. The limited release will be the first of many, according to the company, though it has yet to determine how frequently new Freezus packages will be issued.
"At Toby's we think freezing is here to stay… but right now [Freezus frequency] is the very question we are asking ourselves," said Rae. "We have some very special coffees lined up for the start of 2021, but we think Freezus will be more than a limited release coffee."
Another possibility is the expansion of Freezus into a service, allowing customers to elect for any coffee they want to be split into 20-gram vacuum-sealed doses for easy freezing.
"These are the conversations we are having right now and definitely something we will look to explore very early in 2021," said Rae. "We are lucky to already roast over 100 single-origin lots annually of very high-quality coffee — you wouldn't cellar a $10 bottle of wine — so we have a lot to choose from."
One of Australia's largest specialty coffee companies, Sydney-based Toby's Estate approaches its 20th anniversary in business next year with more than 800 wholesale customers worldwide and owned and licensed cafés in Australia, Singapore, Philippines, Indonesia and the Middle East. The former licensees of the Toby's Estate name in the United States rebranded from Toby's Estate Brooklyn into Partner's Coffee last year.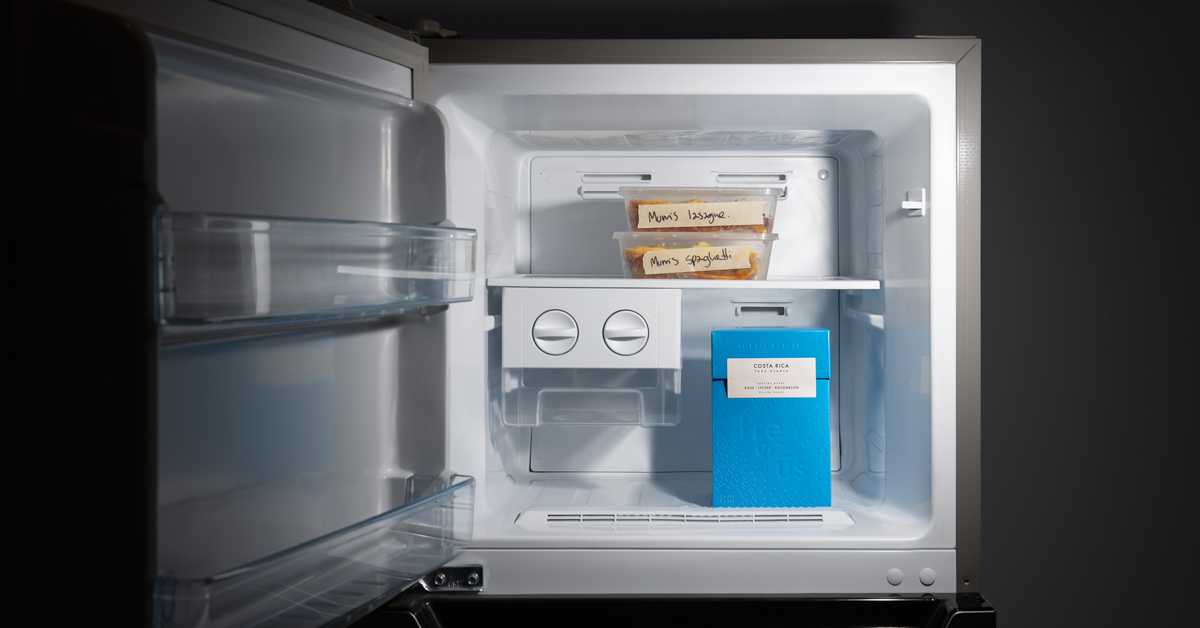 Rae said Freezus coffees will be available to Toby's Estate wholesale customers as well as to the company's own cafes.
"Some cafes are freezing coffee, but it is rare," said Rae. "As the space grows I think you can expect Freezus to become a stable offering in a lot of cafes, and definitely our flagship cafe in Chippendale."
The Freezus Costa Rica Vara Blanca package is available now through late January for $40.00 AUD (roughly USD$30 as of this writing) through the company's website. International customers can email the company directly for purchases to be shipped overseas.
---
[Editor's note: The headline of this story has been updated. The initial headline incorrectly suggested the Freezus coffees may have been packaged or shipped frozen.]
Howard Bryman
Howard Bryman is the associate editor of Daily Coffee News by Roast Magazine. He is based in Portland, Oregon.