Italian coffee grinder manufacturer Mazzer has marked the 50th anniversary of the release of its original Jolly model espresso grinder with the release of the feature-rich Mazzer Super Jolly V Pro.
The original Super Jolly came five years after the Jolly in 1976 and remains a popular choice for light volume commercial use as well among prosumers. For the Super Jolly V Pro, Mazzer said it re-engineered the entire machine with efficiency, usability and sustainability in mind. The latter is achieved largely through increased use of recyclable metals, which comprise 93% of the machine, the company says.
"In the last five years Mazzer completely re-engineered and redesigned its product line," Mazzer Marketing Manager Cristina Scarpa told Daily Coffee News. "We introduced features which allow baristas to customize their grinders according to coffee origin, roast profile or weather conditions, and we worked a lot to streamline operations. Our labs are now focusing on the equipment which will be in the coffee shops in the years to come."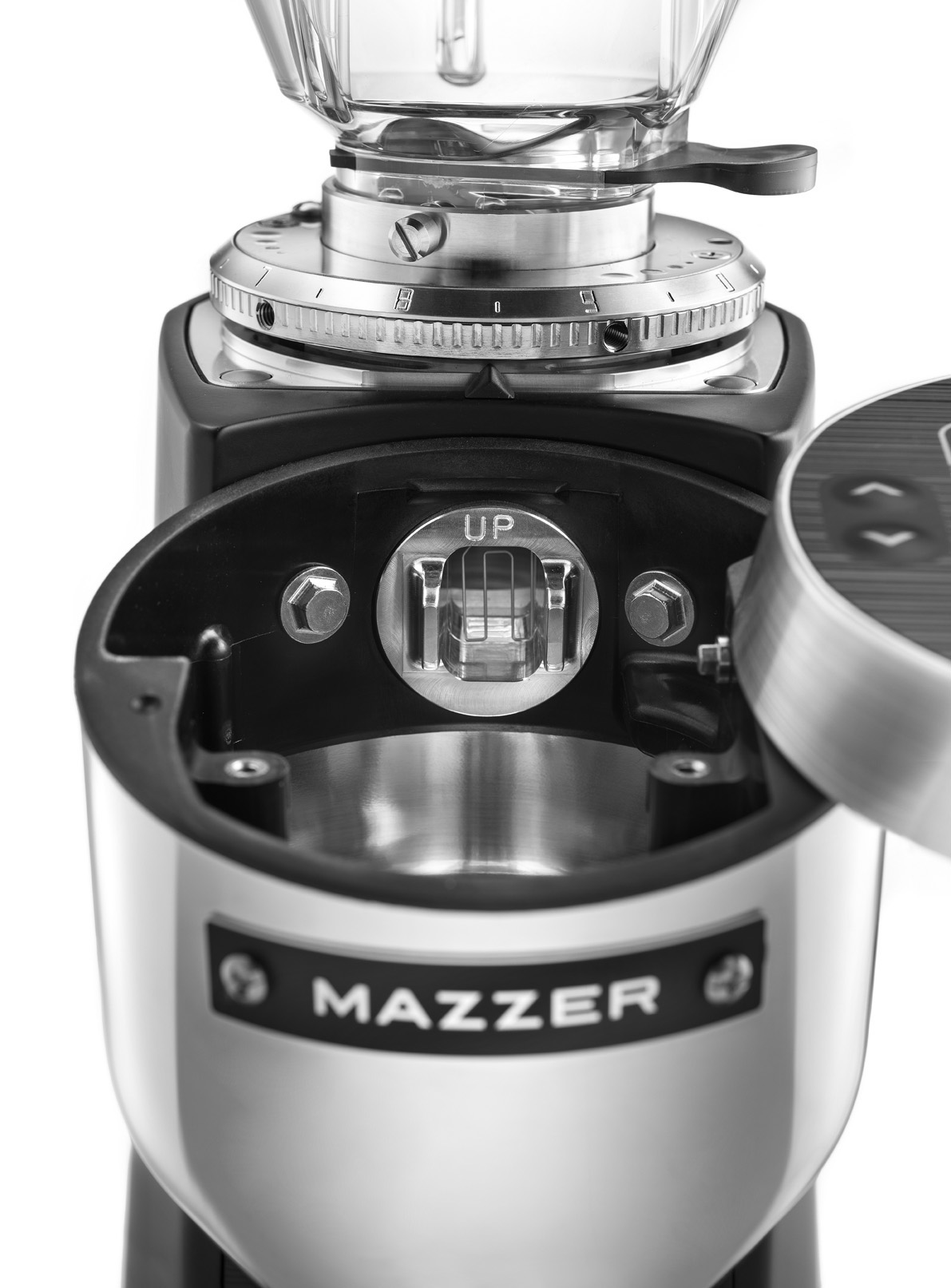 The V Pro includes a redesigned "flow control" grind chamber exit chute that is easily removable and aims to reduce clumping and static, thereby improving dose accuracy when using the grind timer.
The machine's 64-millimeter flat burrs, manufactured in the company's factory in Venice, have been redesigned for greater productivity throughout what's a wider range of adjustability than found in the Super Jolly. The burrs are also accessible in the V Pro for cleaning without losing the grind setting. Mazzer says the new model also offers lower overall grinds retention. A newly adjustable portafilter holder includes a grind activation button.
The V Pro also features the "memory track" settings collar, which the company has introduced on other models in recent years, allowing users to continually index the grind setting, positioning the numeral zero at the point where burrs touch (which naturally shifts over time as burrs break in).
A dual-fan cooling system keeps the grinder's parts and coffee cooler, and a new digital display provides settings, usage stats, notifications and optional connectivity with a smartphone app.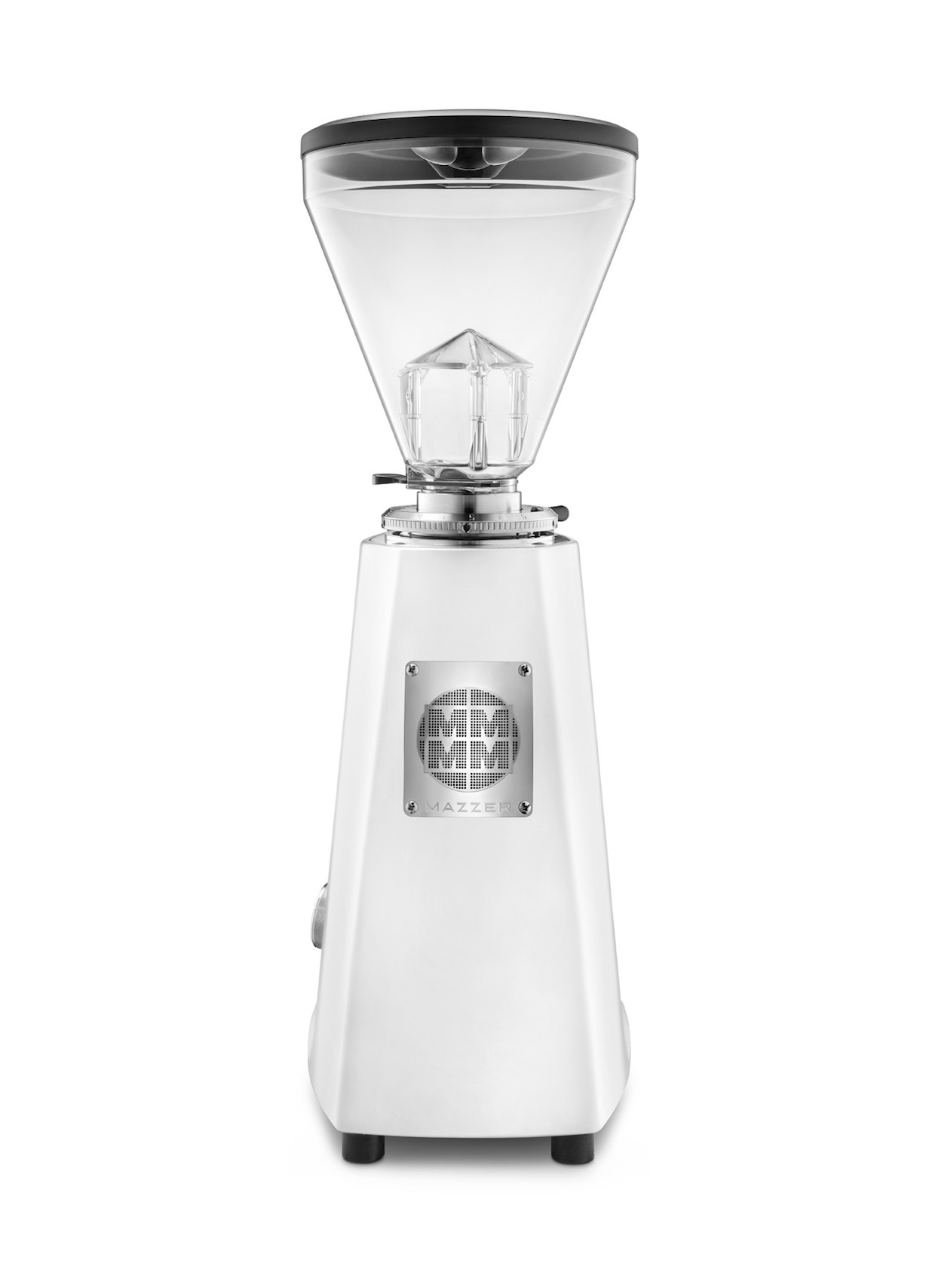 With updated versions of all its top models now out in the wild, Mazzer's vision for the future is of further enhanced precision, ergonomics, and IoT features, such as machines that self-adjust based on information shared wirelessly and automatically between grinders and brewers, Scarpa said. Mazzer's research department is also exploring new types of burrs.
Said Scarpa, "The most important thing is that we are listening to the coffee community working to respond to their needs."
Pricing information for Super Jolly V Pro sales in the United States has not yet been announced. Scarpa said the V Pro is currently in production and will be delivered to the U.S. later this Spring.
Howard Bryman
Howard Bryman is the associate editor of Daily Coffee News by Roast Magazine. He is based in Portland, Oregon.