From the relatively new Canvas Coffee House in Newport News, Virginia, comes an even newer specialty coffee micro-roaster called Canvas Coffee Roasters.
The roasting operation found its start about a year after Canvas founders Daniel Haskett and Alex Hoyes opened the Canvas cafe in 2019. The duo went back to the easel, so to speak, creating a new vision for the business in broad strokes.
"We weren't entirely sure whether we would become coffee roasters, however we knew this was a great opportunity to explore," Alex Hoyes told Daily Coffee News. "With a degree in biology and an elevated sense of coffee quality, coffee roasting was an outlet for utilizing both my creative and science background."
At the same time that business at the Canvas cafe was slowed by the COVID-19 pandemic, sales of roasted coffees went on an upswing through the end of 2020, inspiring the launch of a separate roasting brand for direct-to-consumer and wholesale sales.
"We split the two entities into the House and the Roastery in January 2021 to better manage our income from cafe sales and production sales," Hoyes said, noting that the business jumped from a 1-kilo Mill City Roasters machine to a 10-kilo Mill City over the course of its first year. "The pandemic definitely pushed us in the roasting direction… Most people viewed the pandemic as a high hurdle to overcome, yet we saw it as an opportunity to shift our business model towards roasting and production."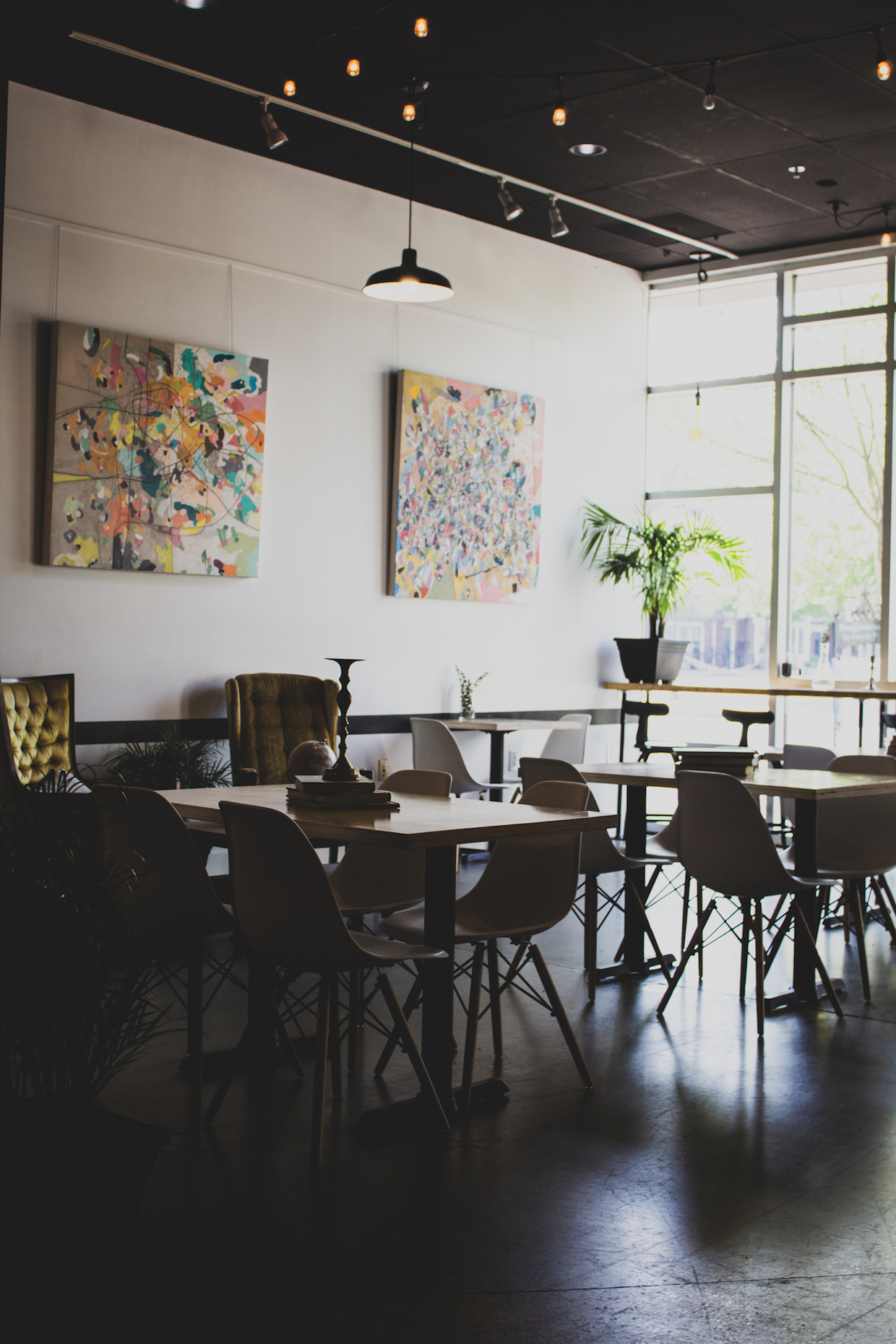 Roasting occurs in a warehouse 10 minutes away from the approximately 1,500-square-foot cafe, where Canvas coffees are prepared in drip, cold and espresso forms.
The space itself is designed to provide creative inspiration to all who enter. A black ceiling, black and white walls, wood surfaces and plant life make way for rotating works of art.
"One of our favorite details is that the space is always changing," said Hoyes. "We feature various artists on our walls – from abstract art to photography. In this sense, we treat our cafe area like a new canvas existing as a blank slate."
Meanwhile, Hoyes recognizes that the green coffees reaching the roastery are not blank slates; they instead carry marks left by their nature and by the people who produced them. These are marks Hoyes aims to highlight rather than paint over.
"I see the creation of coffee from the bean to the cup as a relay, and as a roaster, I am receiving the baton from the producer and passing the baton to the barista, so to speak," said Hoyes. "Since the roaster is the intermediate, my approach is simple: to highlight the producer as best as possible in order to showcase the bean's potential while simultaneously presenting a bean that can be manipulated by the barista as efficiently as possible."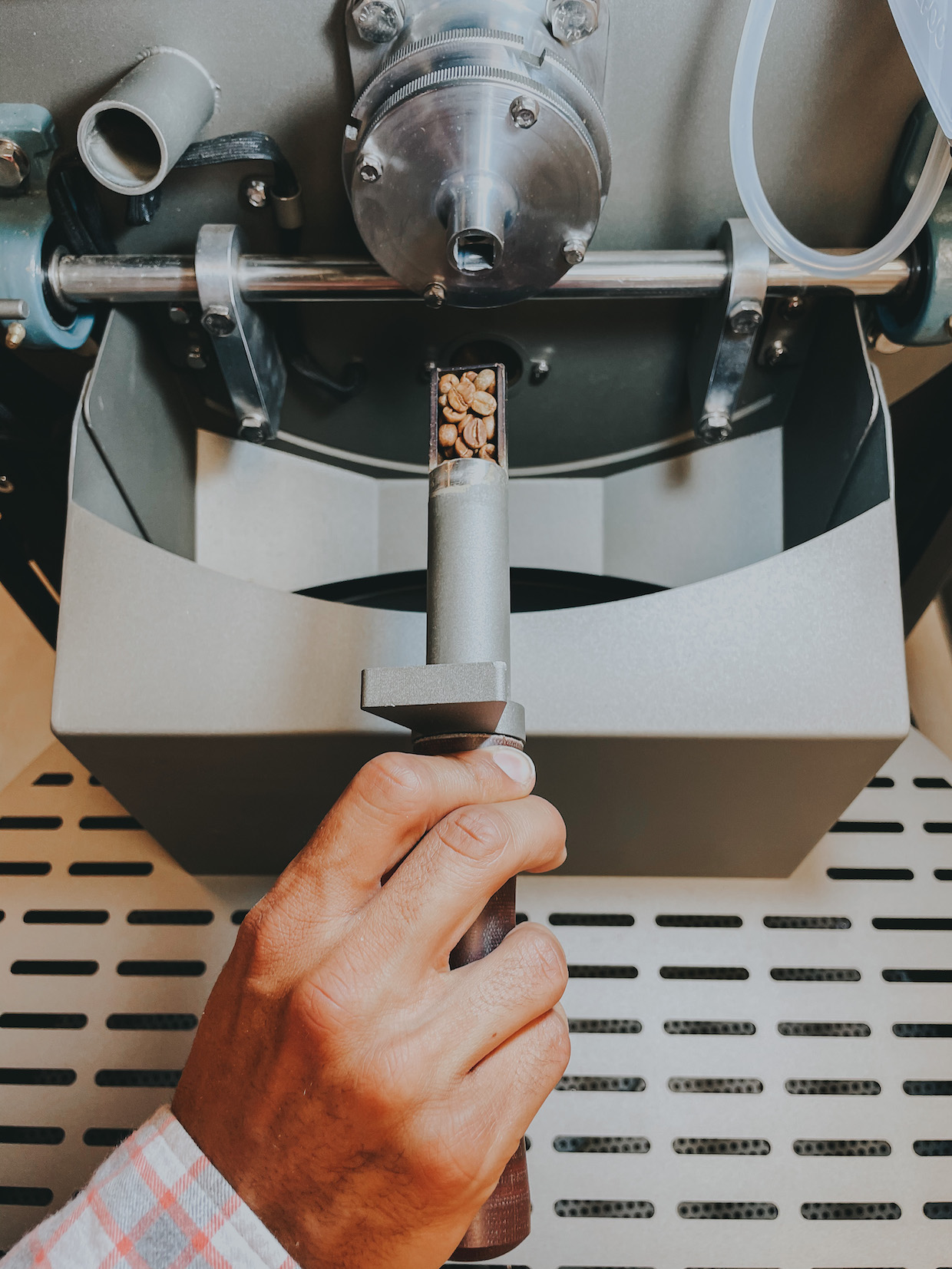 Canvas Coffee Roasters anticipates growing into another larger or additional roasting machine soon, with hopes of reaching more baristas at home and in bars throughout the country.
"Our emphasis is to create coffee communities that are collaborative rather than competitive," said Hoyes. "Many pioneers of great coffee already exist, and we feel that Canvas can be another catalyst to help influence the specialty coffee scene in the U.S."
Canvas Coffee House is now open at 2710 William Styron Square S. in Newport News, Virginia. 
Howard Bryman
Howard Bryman is the associate editor of Daily Coffee News by Roast Magazine. He is based in Portland, Oregon.