In a converted shipping container on the grounds of the Garden Oaks shopping center in Houston, Little Dreamer Coffee is offering some eye-opening coffees.
A Synesso S200 espresso machine and Mahlkönig E65 grinder fit inside the 162-square-foot, sea foam green container to make drinks using beans roasted by Little Dreamer Co-Founder and licensed Q Grader Matt Toomey.
"We dream smart," Toomey told Daily Coffee News. "Bigger is not always better."
Toomey is also known in Houston coffee circles as the founder of Boomtown Coffee, which he launched in 2011.
"Little Dreamer is different from Boomtown in that my experience as a business owner prior to opening Boomtown was nonexistent," Toomey told DCN. "Opening Little Dreamer, I was able to combine my collective experiences and apply them to my efforts. I'm older — wiser?"
Toomey, who cut business ties with Boomtown in 2019 but remains friendly with the group, added a key partner this time around, his real-life partner Anna-Marie Toomey. While the business is just starting up, the Toomeys' focus is deeply entrenched.
---
Related Reading
---
"'Proof is in the cup,' is our motto," said Matt Toomey, borrowing a colloquialism he attributed his mentor Ken Palmer, whose decades in the industry have included owning a farm in Costa Rica and training under Alfred Peet. "Our fundamental approach to sourcing, roasting and brewing coffees has not changed much."
For execution, Little Dreamer turns to a 3-kilo Mill City Roasters machine located in Northwest Houston, as well as to equipment owned by Cleo Roasting Co. and by District Coffee Roasters, both of whom have 12-kilo Diedrich machines.
"Coffee fam is the best fam," said Toomey, who also expressed gratitude to Red Light Coffee Roasters in Galveston for providing space early on in the venture. "I did consulting with [Red Light] to help their roastery and cafe jumpstart, and they reciprocated with support when it was needed most."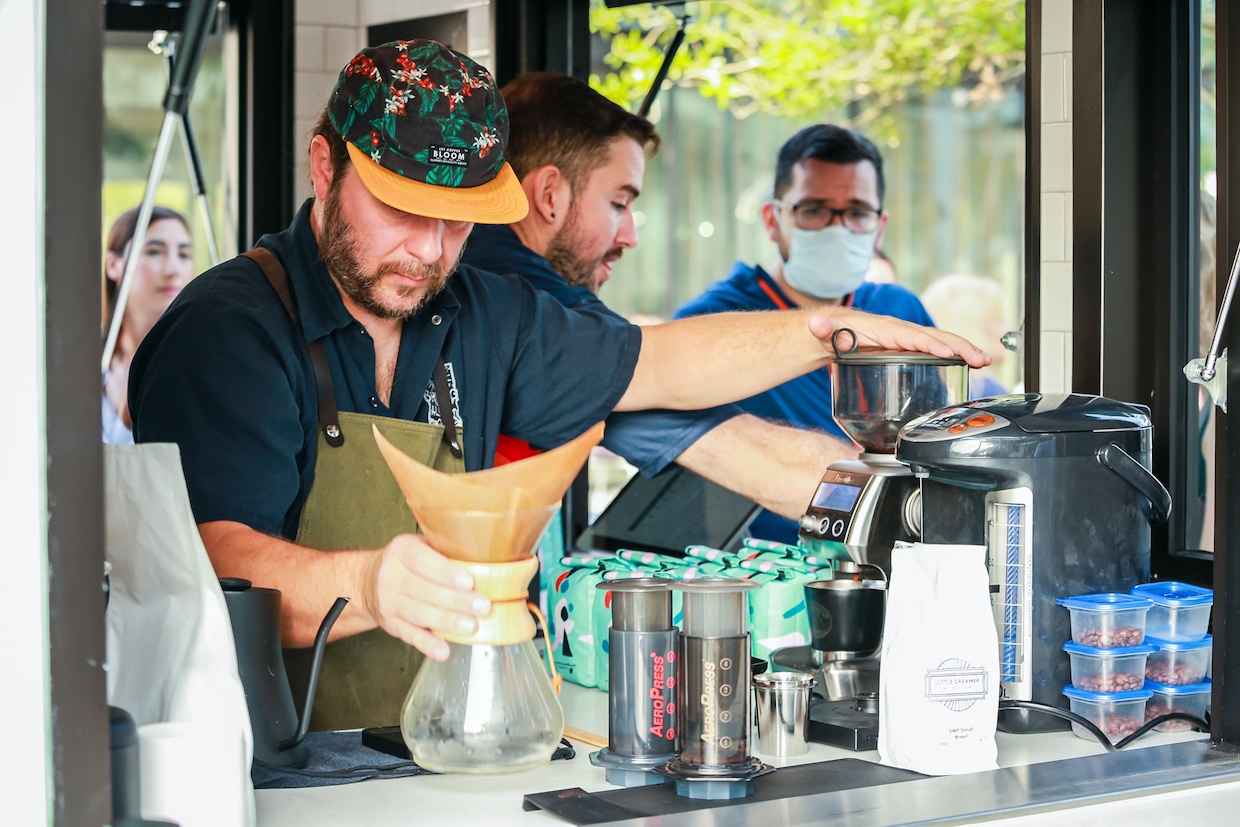 Toomey sources green coffees through numerous importers — including Catalyst Trade, Odyssey Coffees, Royal Coffee, Atlas Coffee Importers, Caravela and more — prior to profiling for the sweet spot in each.
"I'm a feeler," said Toomey. "There is no secret or mysterious methodology, just thoughtful intention and consciousness. Coffee is so complex with such variability that it would be short-sighted to pigeonhole any coffee into one profile. The collective imperfections yield perfection."
---
Little Dreamer Coffee is now open at the Stomping Grounds at the Garden Oaks Shopping Center on N. Shepherd Drive in Houston. Tell us about your new coffee shop or roastery here. 
Howard Bryman
Howard Bryman is the associate editor of Daily Coffee News by Roast Magazine. He is based in Portland, Oregon.