Slow Bloom Coffee Cooperative has grown up fast in Redlands, California, following the demise of long-running local coffee company Augie's Coffee.
This past spring, the worker-owned coffee cooperative formed mostly by former Augie's employees in late 2020 opened its first brick-and-mortar retail shop under its own name.
Not only did the opening on Redlands' north side give local coffee lovers a much-needed dose of high-quality coffee and food, it also nourished the spirits of workers who'd long sought better working conditions and greater autonomy.
Augie's made national headlines in 2020 when the 10-year-old company closed all five of its retail locations and ultimately laid off 51 employees, citing pandemic-related issues. A union seeking to represent Augie's workers accused the company of retaliating against unionization efforts, which led to a formal complaint issued by the National Labor Rights Board. That case is now closed.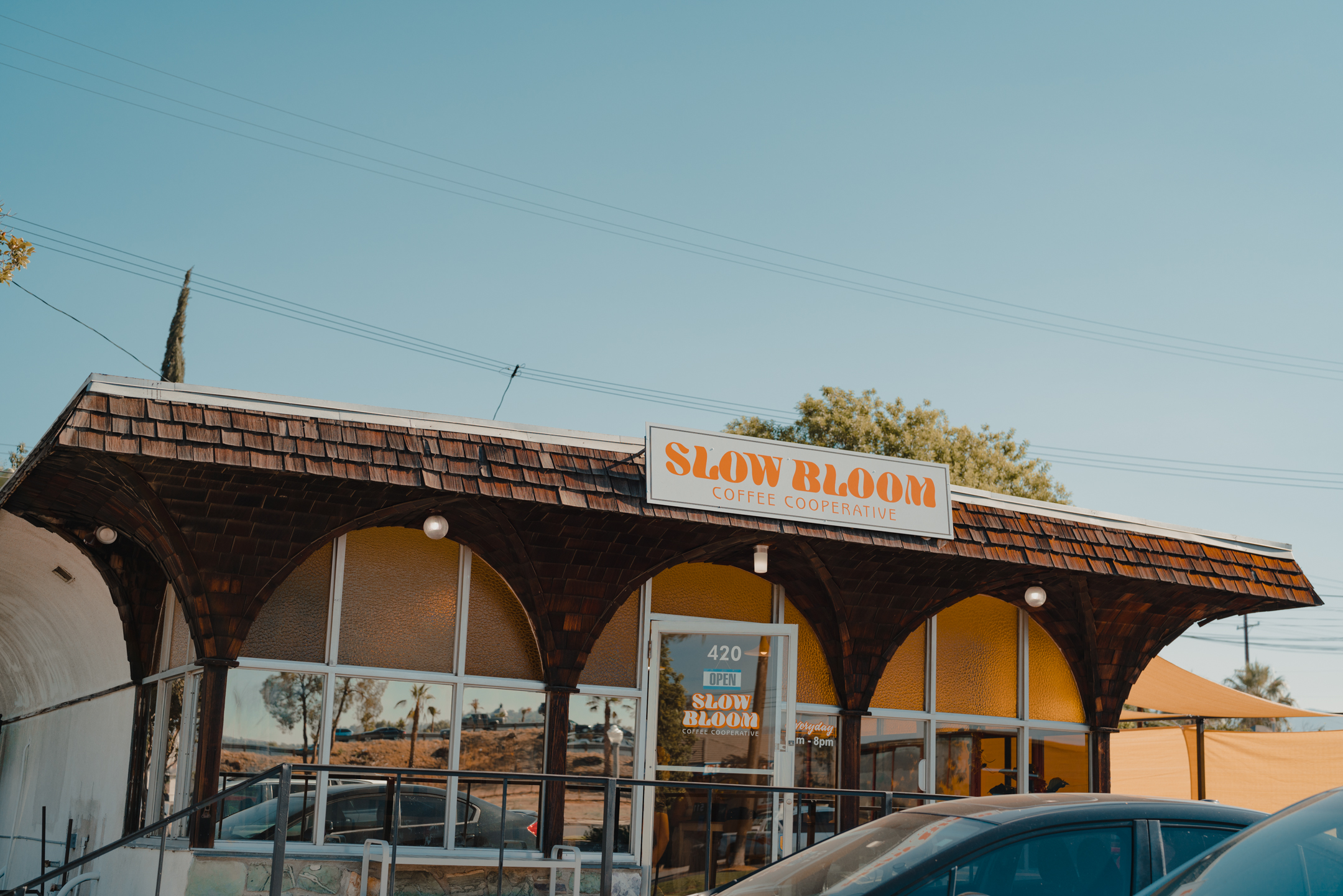 To raise cash for fired Augie's staffers who were ineligible for unemployment insurance, and for a future coffee shop, Slow Bloom's founders started roasting coffee on equipment owned by like-minded Glendora-based coffee business Reverse Orangutan while selling bags of beans at events. A Kickstarter campaign to support Slow Bloom's development raised more than $36,000 in December 2020.
Those funds plus a loan allowed the fledgeling cooperative to lease and build out the new cafe space, where the menu is intended to be affordable to working people, including $2 drip coffees and no up-charge for alternative milks.
"We try to offer something for everyone," Slow Bloom Lead Roaster Kelley Bader told Daily Coffee News.
Amidst the current summer heat, Slow Bloom is offering a house-made horchata cold brew, while a drink called Mint Conditions features distilled cold brew shaken with mint, cucumber, and lime. The shop also infuses its tonic water for espresso and tonic drinks with seasonal ingredients, currently including local lemons and mosaic hops.
Coffees primarily from Guatemala, Ethiopia, and Colombia are sourced through importers such as Onyx Coffee, Catalyst Trade, and Cofinet prior to being roasted by Bader on a 10-kilo Mill City Roasters machine owned by fellow Redlands company Amend & Revise Coffee Roasters.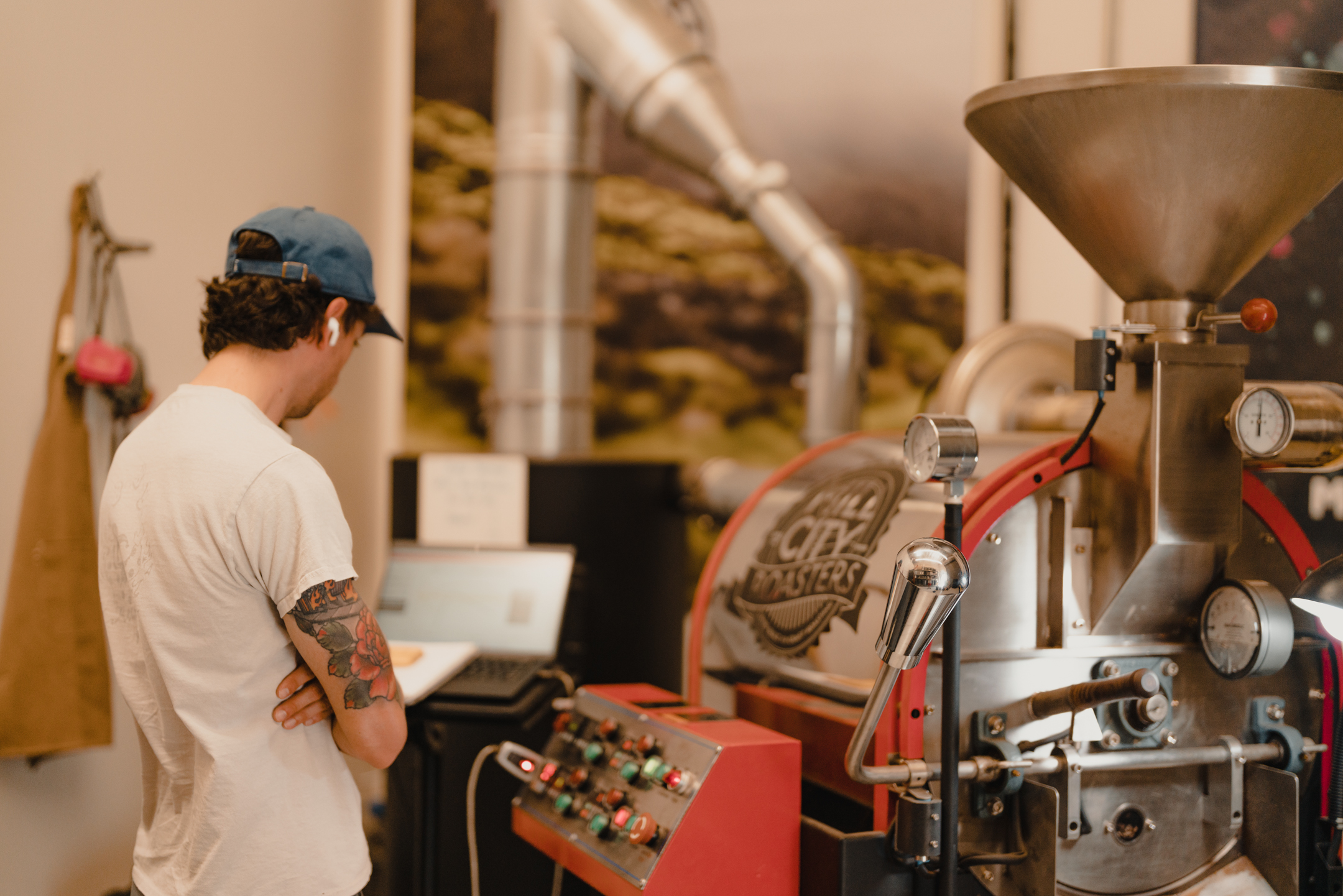 "We've come to understand the coffee from these countries during the roasting process; we've seen a lot of sustainability work done through these importers on behalf of farmers and co-ops, and we know how to work with the profiles in our shop," said Bader. "As a shop, we have always loved naturally processed coffees for their sweetness and fruit forwardness, but we are currently growing more excited about experimental fermentations every day."
Inside the 888-square-foot retail cafe, white-painted Victoria Arduino Mythos grinders and 3-group Synesso S300 espresso machine shine through the stained and textured glass windows. Seating is available inside above the Portuguese terrazzo floors or outside on a shaded patio.
"I think [Slow Bloom's] branding coalesces well with the midcentury modern look of the building," Bader told DCN. "We originally wanted our branding to feel somewhere between 60s/70s California counterculture and a vintage working class aesthetic, to pay homage to our core values — and there's a connection through all of that I think."
The 15 founding members of the Slow Bloom Cooperative regularly meet in full or in committees, while the cooperative structure also supports a three-person board currently composed of Bader, Evan Costello and Jina Edwards.
"We have disagreements for sure, but we've yet to reach an indecision that needed to be settled any other way than talking it out, which is a huge benefit of being a relatively small group," said Bader.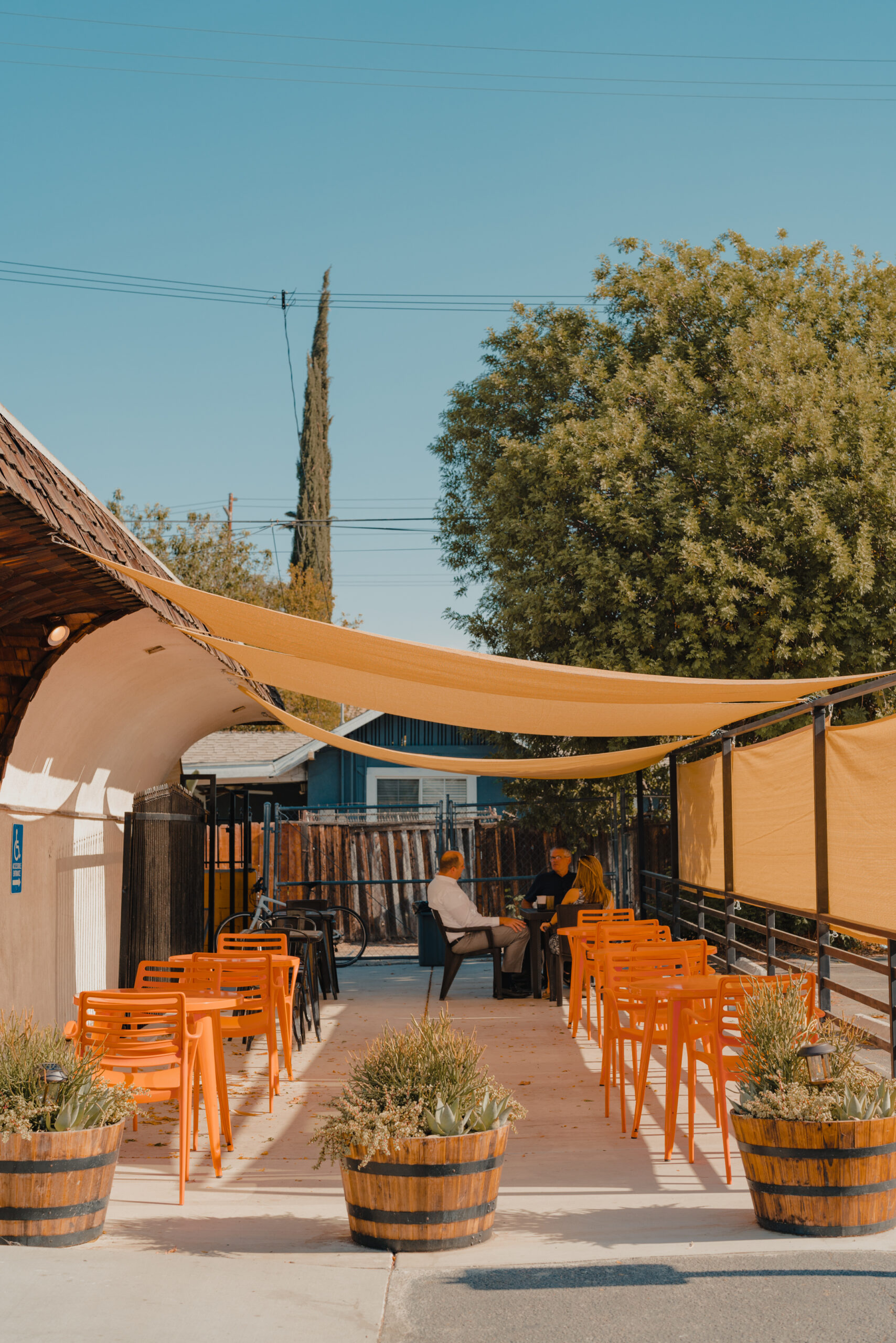 All members are also members in the United Electrical, Radio and Machine Workers Local 1011, and all are currently earning $18 an hour plus a cut of pooled tips, a wage that started at $15 per hour less than six months ago. Bader said the cooperative is now exploring corporate dividends.
"We're still very new to this, still very aware that little to no one else has ever done what we are doing in this industry, so we pace ourselves," said Bader. "We are 15 owners sharing a bank account, and it takes a lot of trust, accountability, and transparency that I think would benefit the industry as a whole if it could come to stomach it."
[Editor's note: This story has been updated. The original version said Reverse Orangutan is located in Burbank. The company is located in Glendora.]
---
Slow Bloom Coffee Cooperative is located at 420 W. Colton Ave. in Redlands. Tell DCN's editors about your new coffee shop or roastery here. 
Howard Bryman
Howard Bryman is the associate editor of Daily Coffee News by Roast Magazine. He is based in Portland, Oregon.