One family's complete rotation around the coffee landscape has resulted in the opening of the 360F Specialty Coffee Roasters in Coral Springs, Florida.
The young roasting company owned and operated by Marcela and Juan P. Calderón is a natural specialty-focused offshoot of a number of family businesses, including the the South Florida wholesale roasting business That Coffee Roasters, which is owned by Juan's father, and a network of farms in Valle Del Cauca, Colombia.
The younger Calderons opened a small 360F bar adjacent to the their roastery about three months ago, offering guests tastes of freshly roasted coffees through various methods, including espresso powered by a SanRemo Cafe Racer.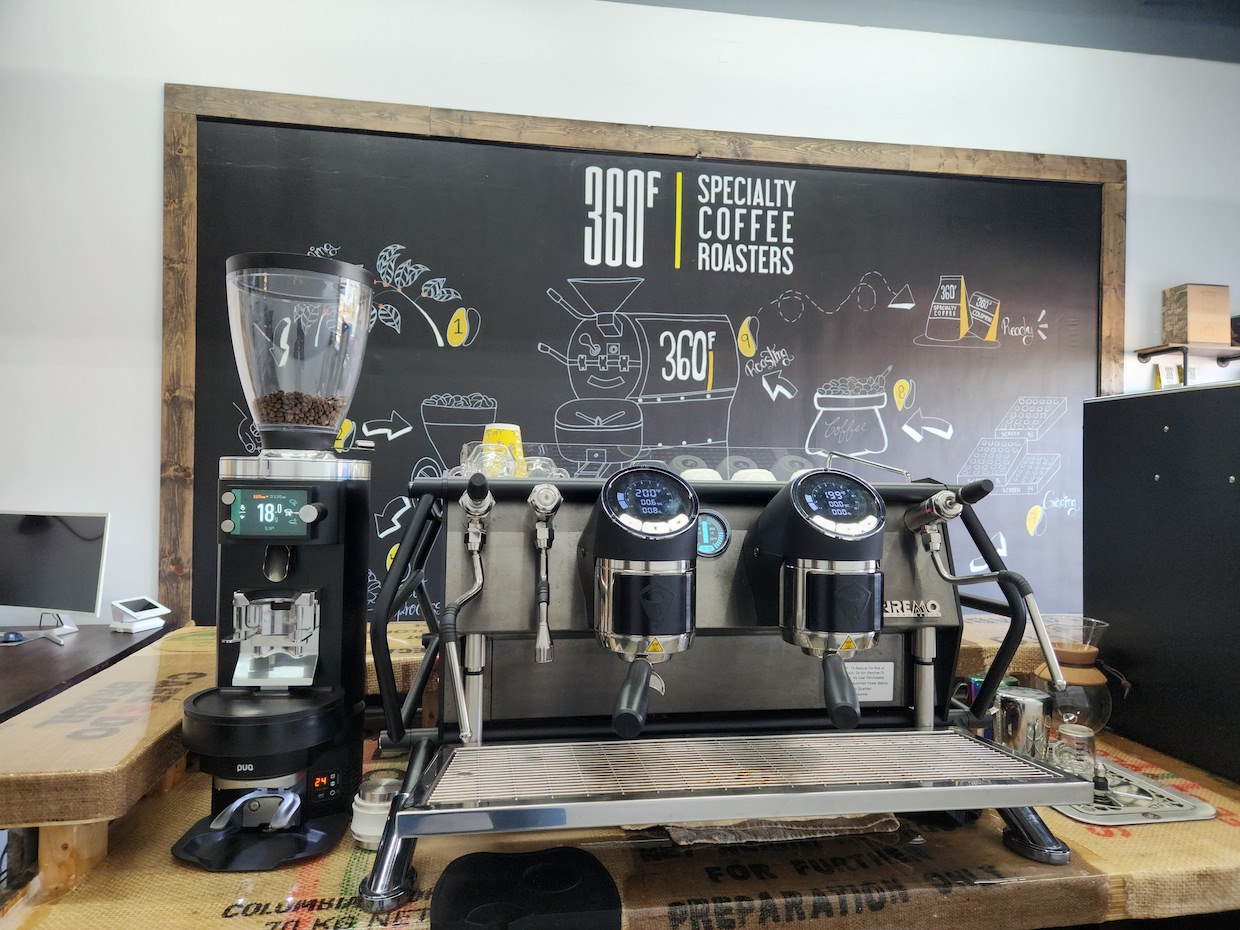 The approximately 1,200-square-foot space is split roughly in half between the roastery and showroom, and is intended to also accommodate the roastery's wholesale clients. Juan P. Calderón told DCN said the company plans to add tours and other educational group experiences for broader public exposure in the coming months.
"A lot of people don't know how the process goes," Juan P. Calderón told Daily Coffee News. "We wanted to show it. Up here in the community they're like, 'Oh my God, I didn't know it was a cherry.' So [the showroom] informs people more about the coffee and where it comes from."
Roughly textured corrugated metal around the bar area mimics the look of well-traveled shipping container, while jute coffee sacks lay under clear epoxy on the bar top. A mural on the wall depicts coffee's journey from the farm to the roaster.
The aromas of roasting coffee fill the front of the house from a San Franciscan SF1 single-pound sample roaster, while a sliding door offers glimpses of a Diedrich IR-12 machine and green coffee storage in the roastery, where years of accumulated coffee experience are being applied.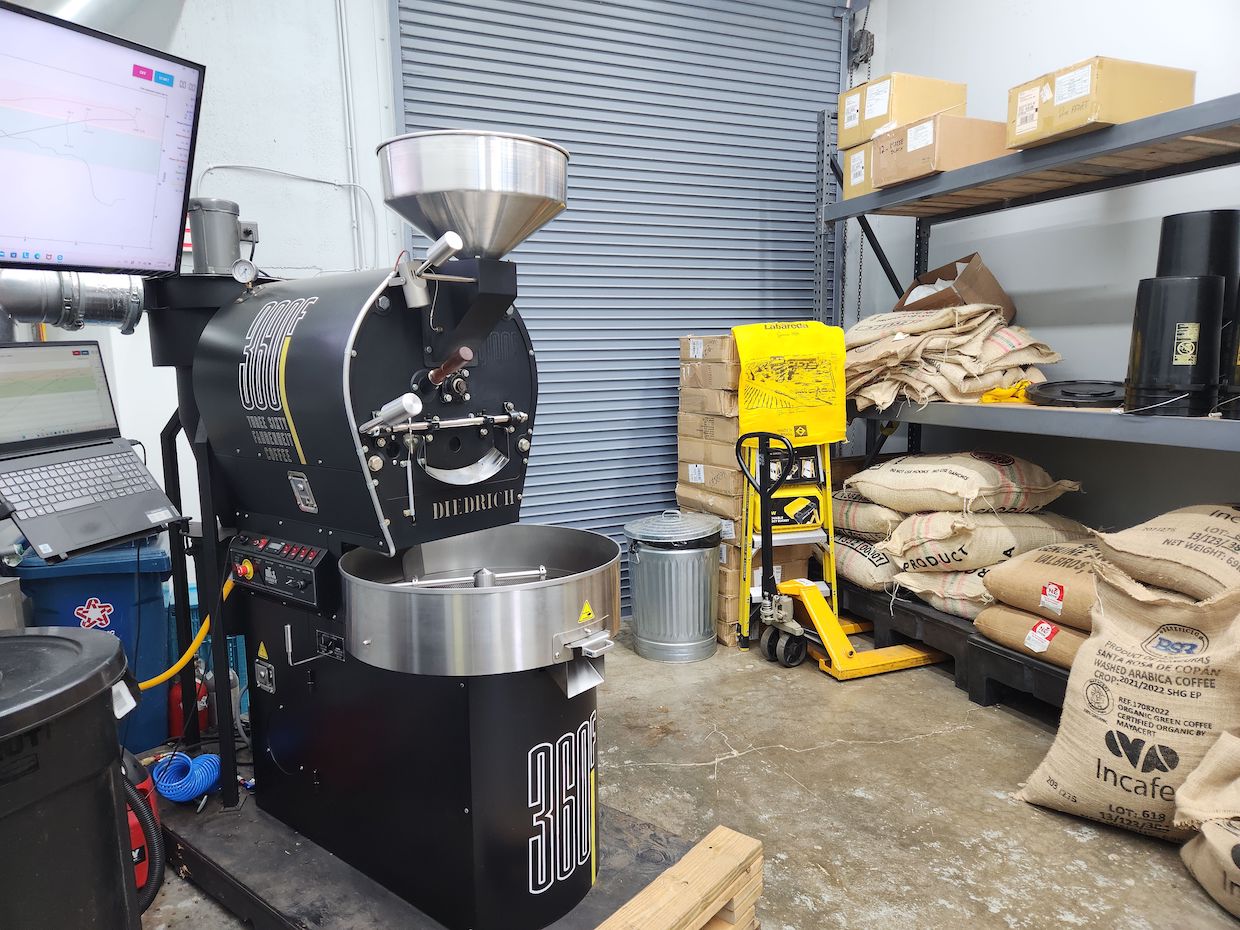 Juan P. Calderón's father, Juan M. Calderón, moved his family from Manizales, Colombia, to the Miami area in the 1990s. In partnership with family members owned farms in Valle Del Cauca, he then launched an importing and roasting company called Coffee Grain Group. After his cousin and primary business partner passed away, Coffee Grain Group dissolved and Juan M. Calderón started anew with That Coffee Roasters, which today roasts for numerous wholesale and private-label accounts.
"I worked with my dad for like 15 years in this new business," Juan P. Calderón told Daily Coffee News. "They do mostly commercial. They roast on a Probat from 1965… He still does it the old-fashioned way, by eye and color and crack. So that's how I learned, and then I decided to take a couple classes with the SCA, get certified and get more into the specialty side of the business."
In 2021, the younger Calderón started roasting on the Artisan-connected Diedrich IR-12, building up a selection that now includes four single-origin Colombian coffees, two blends, and single-origin coffees from Honduras, Guatemala, Costa Rica, Ethiopia, Indonesia and Brazil.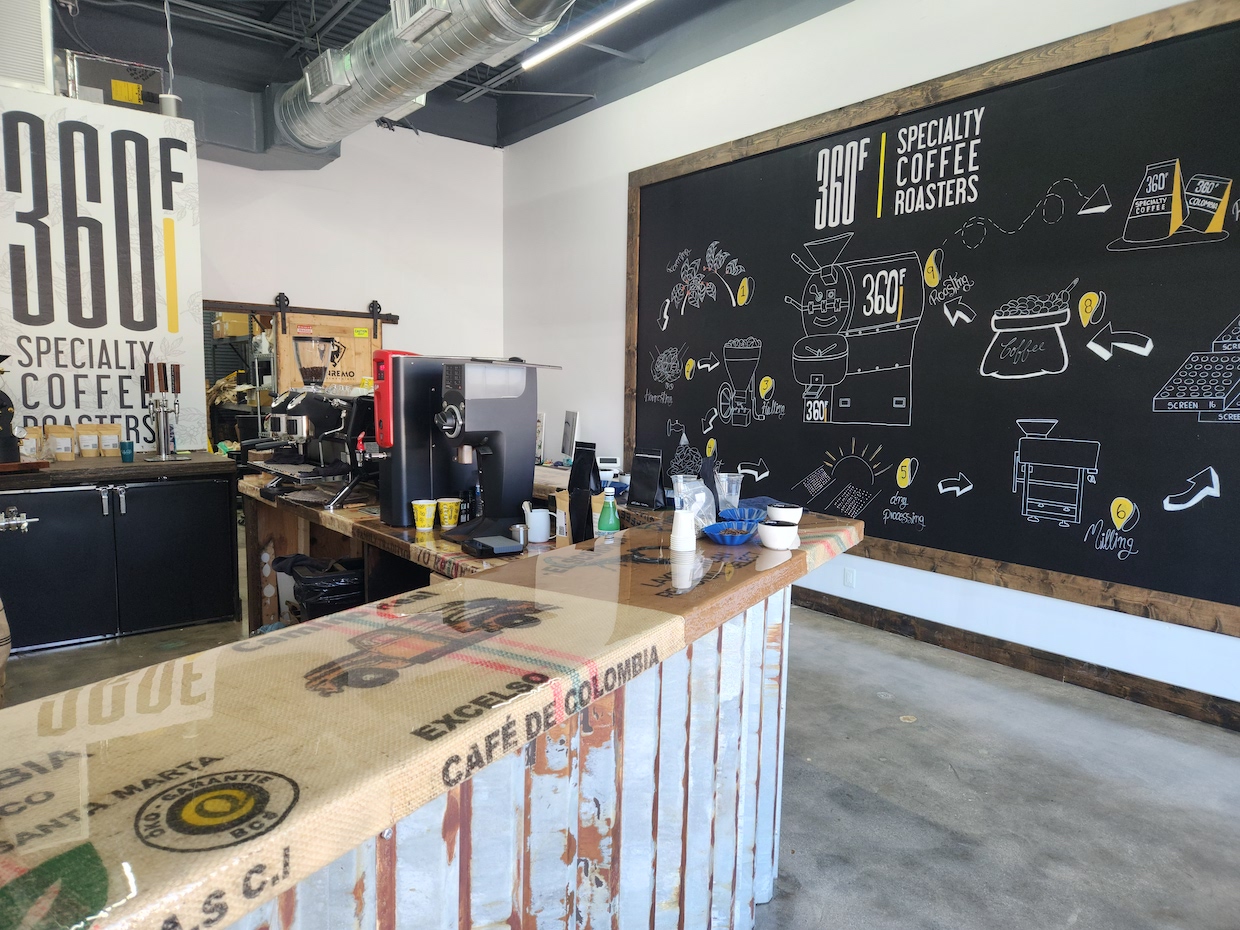 Many of the greens are currently coming through Kansas City, Missouri-based Anthem Coffee Imports, although some coffees come from direct connections in Colombia.
While the wholesale market remains 360F's primary target for growth, the storefront will continue to be a resource promoting specialty coffee in the area.
"This community up here didn't have a lot of places to go 10 years ago, five years ago. It was just family-oriented, a lot of sports complexes, not a big scene happening in Coral Springs," said Calderón. "Now they're opening up a new city hall and they're growing. Tourists are coming from Boca. It's great. it's a growing community and we can do something big here."
---
360F Specialty Coffee Roasters is located at is at 10722 Wiles Road in Coral Springs. Tell DCN's editors about your new coffee shop or roasting business here.
Howard Bryman
Howard Bryman is the associate editor of Daily Coffee News by Roast Magazine. He is based in Portland, Oregon.