High-end specialty coffee grinder and accessory maker Weber Workshops has just launched a WDT (Weiss Distribution Technique) tool called the Moonraker.
The Moonraker is designed to redistribute and de-clump ground coffee inside 58-millimeter portafilter baskets prior to tamping for espresso.
As a mechanized alternative to the handheld style of WDT tool, as well as those that rest atop a portafilter baskets with an array of fixed needles that travel in circles, the Moonraker is a basket-top tool containing a system of gears that moves its needles in non-circular, spirographic paths.
"WDT has become a staple in the 'ultimate puck prep' repertoire of the world's specialty coffee baristas," Weber Workshops Founder and CEO Douglas Weber said in an announcement shared with DCN. "We knew it could be done better with a good design and solid engineering, and we spent months developing our own geared movement and product to take the guesswork out of perfect puck prep."
Weber Workshops will present the Moonraker alongside numerous other espresso-related products at booth 962 at the Specialty Coffee Expo this week in Portland, Oregon. Weber told DCN that reigning U.S. Barista Champion Morgan Eckroth plans to use the new distribution tool in this year's U.S. Championship, which takes place alongside the Expo. (See DCN's complete 2023 Expo coverage here.)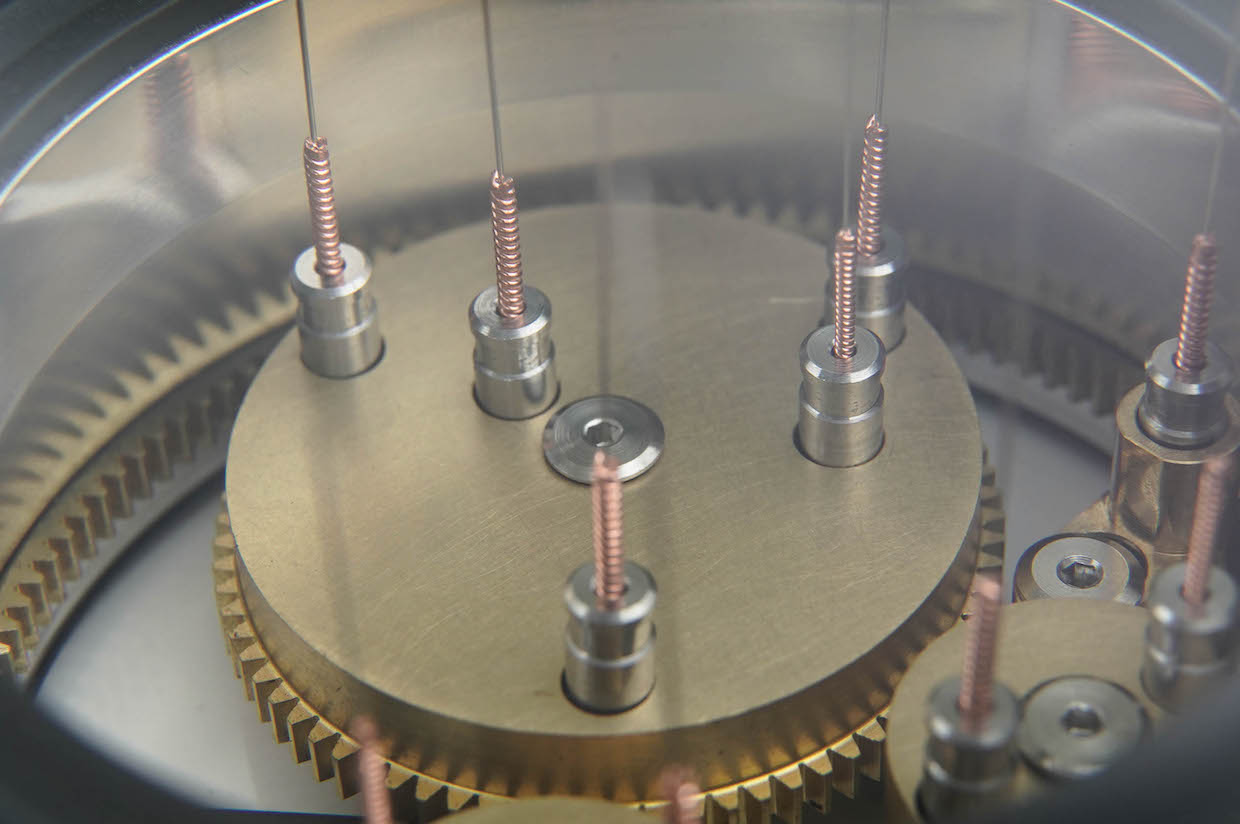 For the Moonraker, a total of 10 needles in two different heights and thicknesses are suspended by magnets in specific positions on the underside of the Moonraker's interlocking gears. An elastomer strip on the bottom edge of the Moonraker clings to the rim of the basket so the tool stays put during one-handed operation.
Users twist an outer ring of the tool like a dial for the gears to turn, driving the needles in non-repetitive paths that result in a de-clumped and homogenized bed of grounds for even compression by a tamper, according to the Moonraker's creator. The smooth, hypnotic motion of the gears remains visible to the user through the strengthened glass top surface of the device.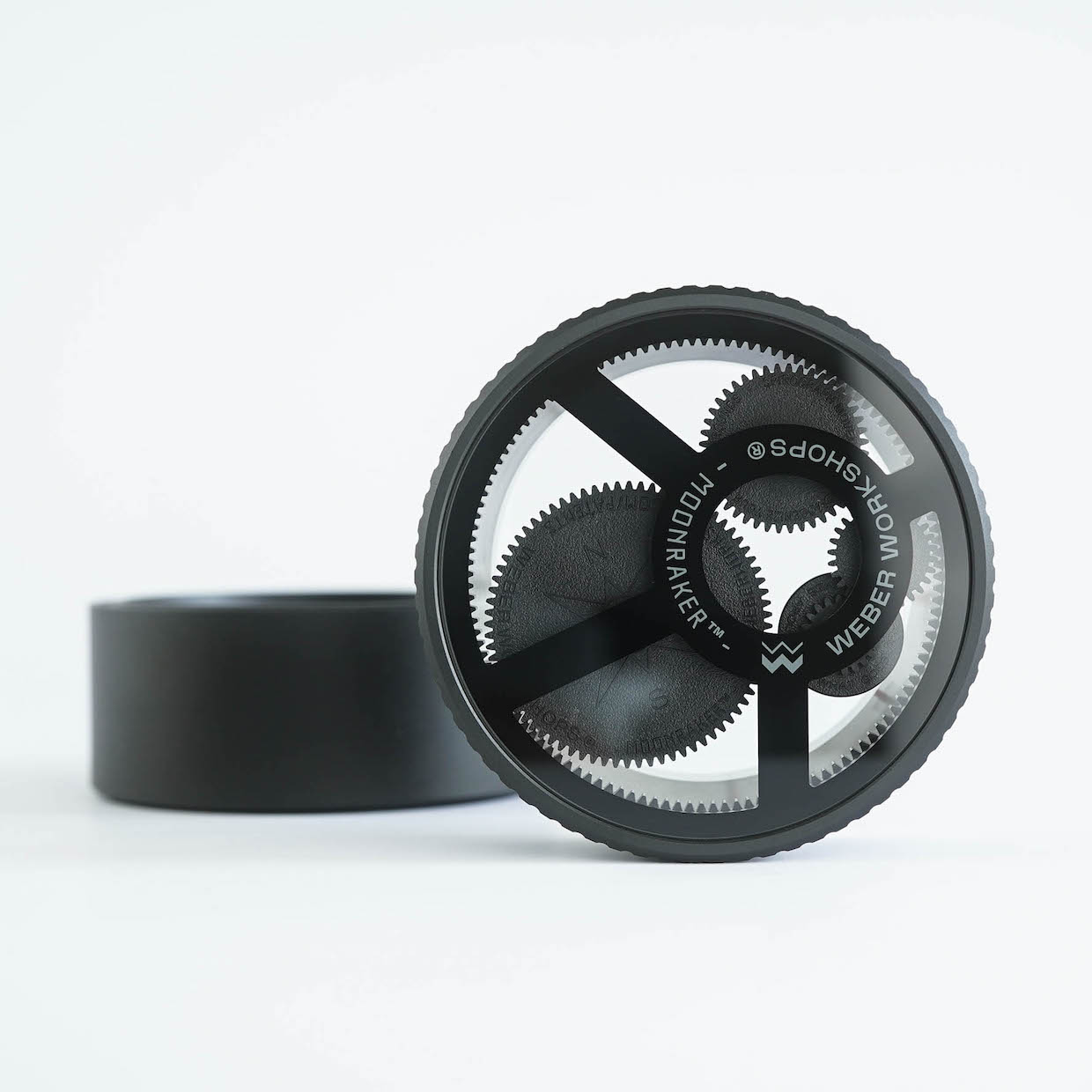 Its stainless steel needles come in gauges of 300 and 200 microns. These are cut to two different heights for stirring at various depths into the basket. The device will ship with 20 spare needles that can also be trimmed by the user to custom heights for non-standard baskets.
Also included is a machined and anodized aluminum stand to hold the Moonraker on the counter when not in use, and a cleaning brush for keeping dust off the gears and glass.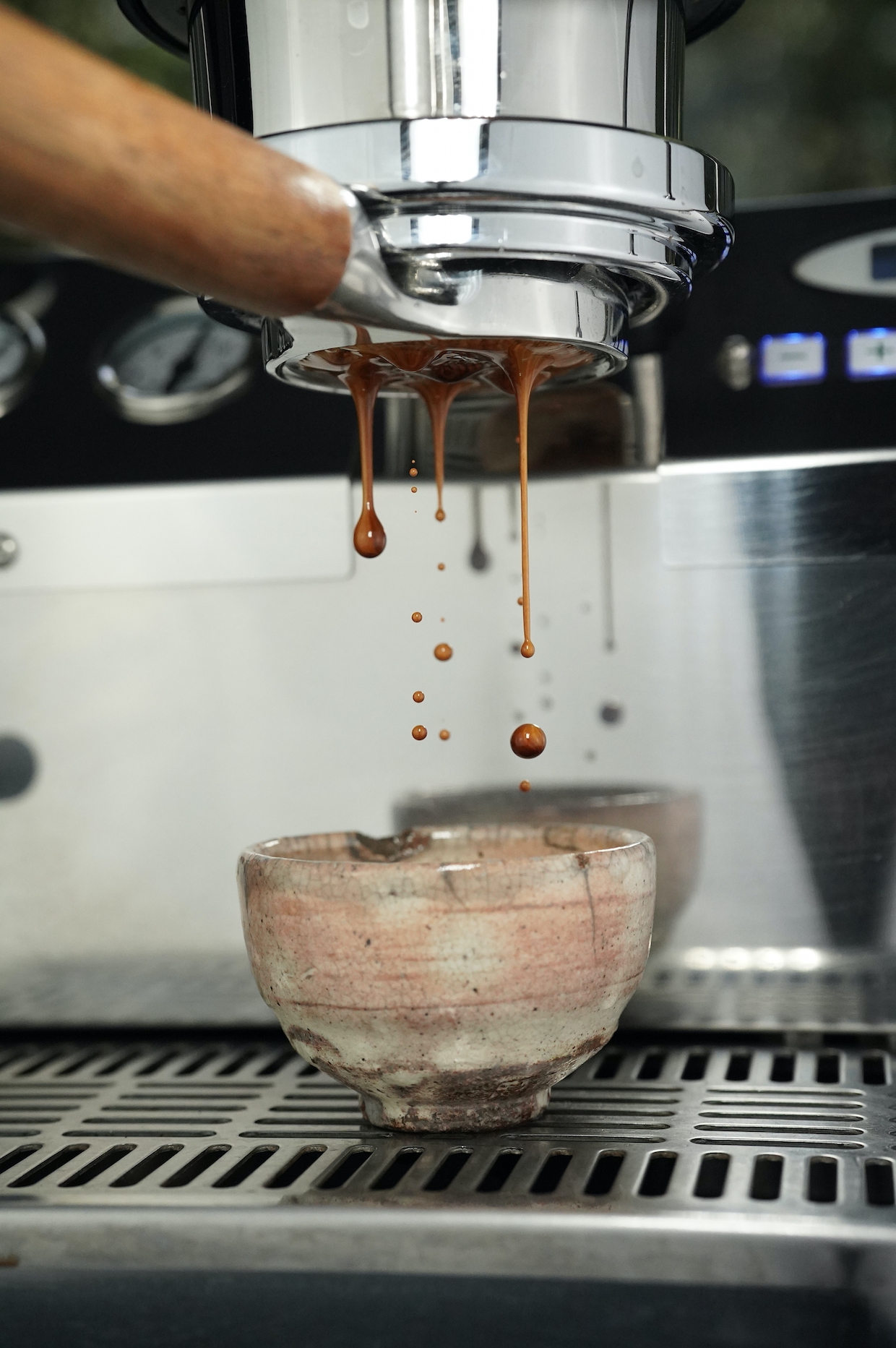 Two other Weber Workshops products — the Unibasket espresso filter basket and a new edition of the Spring Clean automatic espresso group head backflush device — have been entered in the Best New Product awards at this week's Expo.
Sales of the $275 Moonraker have immediately sold out, and the company is now accepting only pre-orders. Sales of a $475 "ultra" version, featuring solid brass gears, are expected to launch later this year.
---
Does your coffee business have news to share? Let DCN's editors know here.
Howard Bryman
Howard Bryman is the associate editor of Daily Coffee News by Roast Magazine. He is based in Portland, Oregon.