The owner of a new coffee house in Phoenix is being criticized after he posted a picture of himself with two homeless men sleeping outside his shop to the company Facebook page.
David Marsh opened Red Hut Coffee & Espresso late last month. In a botched attempt at social media engagement, he posted a photo of himself lying on the ground next to two men who he says were drunk and sleeping. Local CBS5AZ has the full story:
"I do have friends that do social media marketing, and they said you always want to be edgy, be funny, and I chose to do something that was offensive and I strongly apologize," said Red Hut Coffee owner David Marsh. He said this all started two weeks ago, when a couple of men, believed to be homeless, were seated outside his business.

"A third man came up. They start beating him. I don't know why," Marsh said. "I went out and said, 'Guys, you can't do that. Stop.'"

Marsh said he gave them some pizza and coffee. But he also posed next to the men, who weren't looking at the camera, with a thumb's up sign. And he posted it on Facebook.

"I said my new friends look like they could use some black coffee, certainly not trying to be offensive," Marsh said.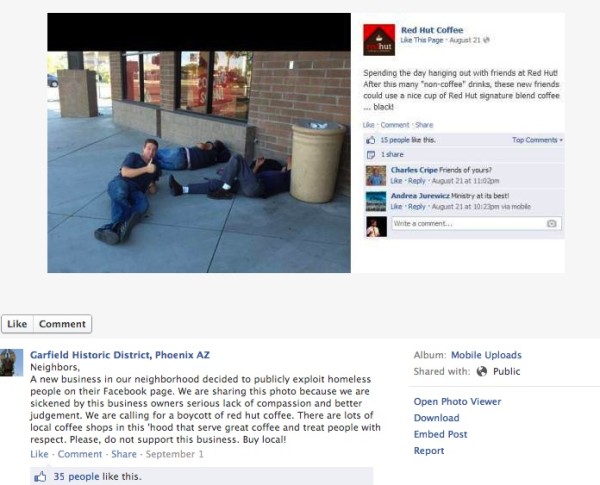 As a result, several local groups, including the local Historic District, have called for boycotts of the new shop. To his credit, Marsh has been contrite, fully admitting that the post and photograph were disrespectful and in poor taste. After numerous criticism's sent to Red Hut's Facebook page, Marsh pled for forgiveness, writing:
FB Friends … I lightheartedly posted a pic 2 weeks ago not intending to be offensive. I realize now that it appeared insensitive and arrogant. I apologize and ask your forgiveness and understanding. I will continue to look for ways to share my heart with those less fortunate. For years we have enjoyed the shops and businesses in and around the arts district. In our search for a location for Red Hut, we were excited to find a corner building on 7th St and Roosevelt that would allow us to be a part of the community and offer our products and services to commuters. I will do my best to let you see that I live in peace with all people and I seek to better my surroundings with love.
Nick Brown
Nick Brown is the editor of Daily Coffee News by Roast Magazine.