(press release from Paradise Coffee Roasters. Claims not verified or endorsed by Daily Coffee News)
RAMSEY, Minn. – Paradise Roasters, the boutique craft coffee roaster in Ramsey, Minn., is re-establishing a presence in the local market after more than ten years as a primarily web-based company. The specialty coffee company offers a wide range of high quality coffee focusing on unique varietals, rare origins and exceptional quality backed by over 20 coffees rated 94+ points on CoffeeReview.com .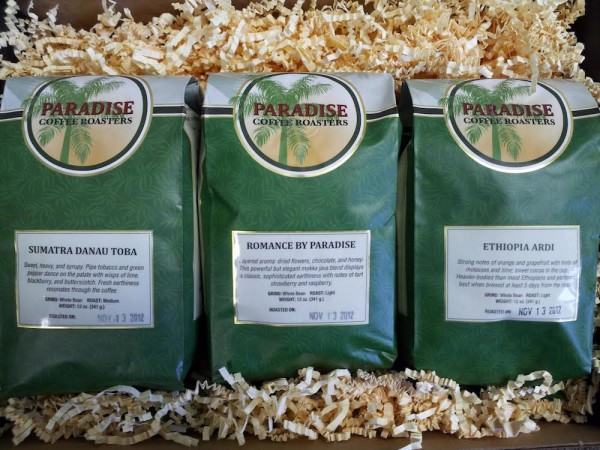 "We are bringing high end specialty coffee to the masses," says Brian Foster, Director of Sales and Training. "Our goal is to make rare and unique coffees more accessible to the greater Twin Cities."
In lieu of any storefront or café presence in the Twin Cities, Paradise Roasters hopes to establish a presence in local grocers and food co-ops  providing more opportunities for coffee drinkers to experience the difference Paradise offers. Talks are in place with several retail outlets and they recently began supplying Nomad World Pub.
"We have cafes and home consumers all over the US distributing and buying our coffees, even a large account in Hawaii," says Natalie Schultz, General Manager and Director of Marketing. "We're turning our focus back to our home turf.  Minneapolis and St. Paul have a booming specialty coffee scene and we're excited to bring our style of coffee to the table."
In 2014, Paradise Roasters plans to offer several brand new coffees not commonly found in the average café or roaster, including a rare Thailand origin and a 100% Hawaiian espresso blend.
"The original founder of Paradise Roasters, R. Miguel Meza, still works with us to source the kind exclusive coffees on which he originally built the company," says Schultz. Meza established the upscale reputation for the business which still rings true today.
"Our vision hasn't changed, but our audience has," says Schultz. "Customers are more knowledgeable about what they're drinking and often crave an experience with coffee beyond just a caffeine fix. Our coffee selections embrace this desire and deliver a distinctive and accessible product previously categorized as a luxury good."
Currently, Paradise Roasters coffee can be purchased online at www.paradiseroasters.com or  over the phone by calling 763-433-0626.
Nick Brown
Nick Brown is the editor of Daily Coffee News by Roast Magazine.