The July/August 2014 issue of Roast Magazine is now shipping. If you're not yet a Roast subscriber, become one here.
Below are previews of three of this issue's feature stories, including explorations of accounting and finance practices for coffee roasters, cooling methods and theory, and the latest on coffee waste as a potential fuel source.
Read. Learn. Enjoy. Subscribe.
COFFEE COUNTS
Accounting and Finance for Coffee Roasters
by Andi Trindle Mersch
photos by Bruce Mullins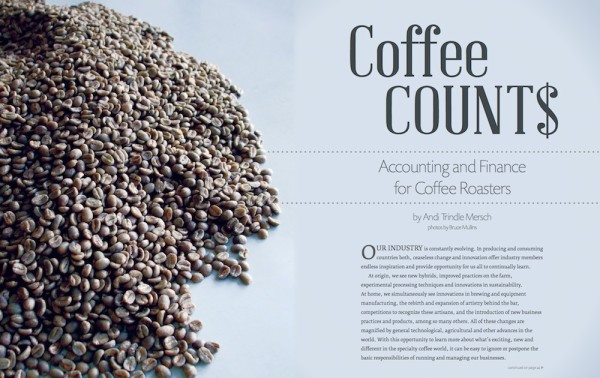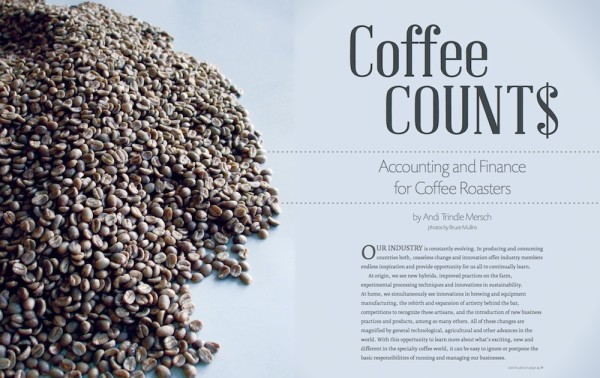 At origin, we see new hybrids, improved practices on the farm, experimental processing techniques and innovations in sustainability. At home, we simultaneously see innovations in brewing and equipment manufacturing, the rebirth and expansion of artistry behind the bar, competitions to recognize these artisans, and the introduction of new business practices and products, among so many others. All of these changes are magnified by general technological, agricultural and other advances in the world. With this opportunity to learn more about what's exciting, new and different in the specialty coffee world, it can be easy to ignore or postpone the basic responsibilities of running and managing our businesses.

Not only do we too often under-prioritize the essentials, but many of us still lack a solid understanding of business basics—fundamentals such as accounting and finance. Understanding the principles of accounting and finance and the underlying details of inventory management, cash-flow projections, tax management and market basics are essential to ensuring the sustainability of any business.
HOW TO BE COOL
Cooling Methods and Their Impact From Roast to Cup
by Christopher Schooley
photos by Nolan Dutton of Ozo Coffee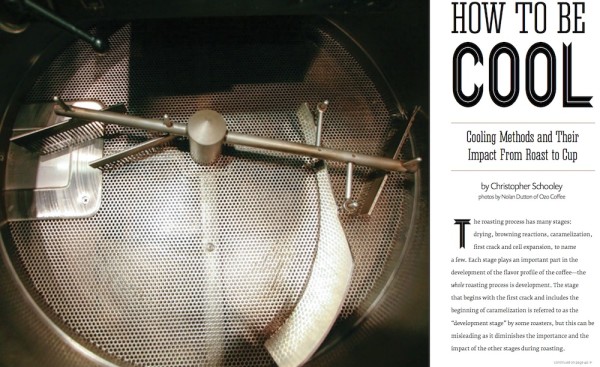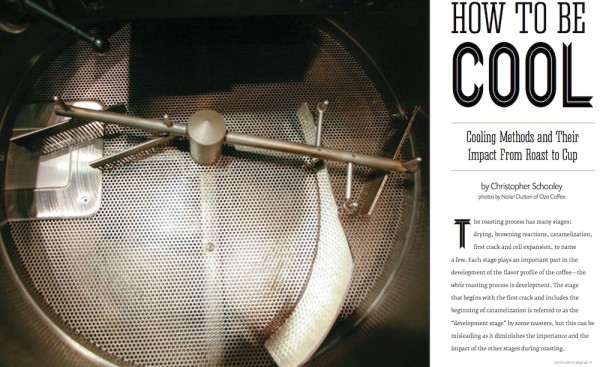 The roasting process has many stages: drying, browning reactions, caramelization, first crack and cell expansion, to name a few. Each stage plays an important part in the development of the flavor profile of the coffee—the whole roasting process is development. The stage that begins with the first crack and includes the beginning of caramelization is referred to as the "development stage" by some roasters, but this can be misleading as it diminishes the importance and the impact of the other stages during roasting.

One such stage that can be easily overlooked is the cooling stage. While it doesn't happen in the roaster itself, properly cooling the roast has a dramatic impact on the cup.
FUEL FOR THOUGHT
The Concept and Imminent Reality of Producing Fuel From Coffee Waste
by Rhodri Jenkins
photos courtesy of bio-bean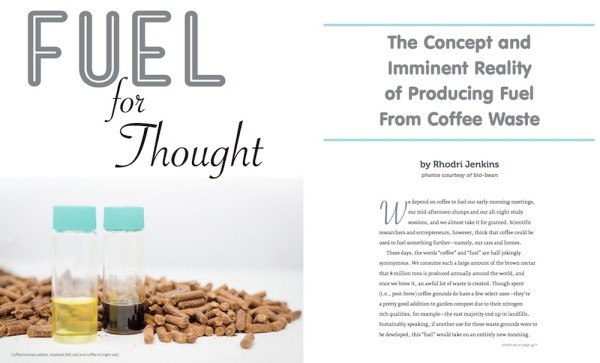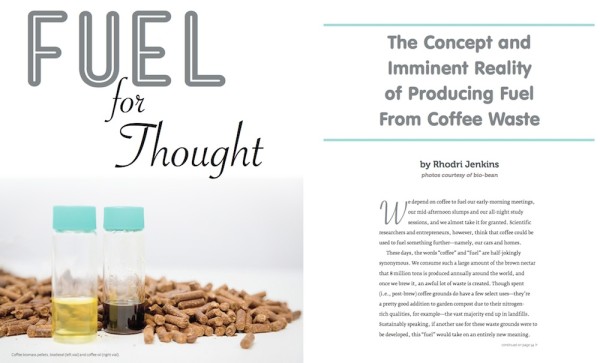 We depend on coffee to fuel our early-morning meetings, our mid-afternoon slumps and our all-night study sessions, and we almost take it for granted. Scientific researchers and entrepreneurs, however, think that coffee could be used to fuel something further—namely, our cars and homes.

These days, the words "coffee" and "fuel" are half-jokingly synonymous. We consume such a large amount of the brown nectar that 8 million tons is produced annually around the world, and once we brew it, an awful lot of waste is created. Though spent (i.e., post-brew) coffee grounds do have a few select uses—they're a pretty good addition to garden compost due to their nitrogen-rich qualities, for example—the vast majority end up in landfills. Sustainably speaking, if another use for these waste grounds were to be developed, this "fuel" would take on an entirely new meaning.
Nick Brown
Nick Brown is the editor of Daily Coffee News by Roast Magazine. Feedback and story ideas are welcome at publisher (at) dailycoffeenews.com, or see the "About Us" page for contact information.